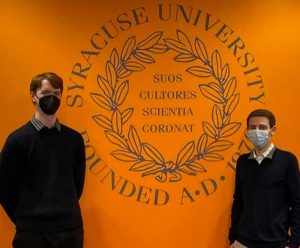 On February 26, 2021, students in Falk College's Sport Analytics program hosted the inaugural Football Analytics Blitz, a case competition for undergraduate college students from around the country. This virtual competition was led by Sport Analytics students Zak Koeppel '21 and Ben Ayers '22, who saw a void in analytical competition opportunities for students interested in football.
"The SABR Diamond Dollars baseball case competitions were influential to growing my professional skills, so I wanted to give an opportunity similar to that for students whose primary focus is football," Koeppel said.
With the help of Assistant Professor Dr. Jeremy Losak and Sport Analytics Academic Advisor Francesco Riverso, the Syracuse University students partnered with Pro Football Focus (PFF), the data supplier for all 32 NFL teams. Koeppel and Ayers worked with Eric Eager, PFF's vice president of research and development, who also served as a judge for the competition. PFF provided competition teams with facet grade and play-by-play data, which the teams were required to use in their analysis. PFF gave members of the overall winning team free memberships to its services.
The competition featured 20 teams from 14 college and universities, including Carnegie Mellon University, Colorado School of Mines, Duke University, Iowa State University, Northwestern University, Syracuse University (four teams), University of Central Florida, University of Michigan, University of Notre Dame (three teams), University of Oklahoma, University of Pennsylvania, Villanova University, Wake Forest University (two teams), and Yeshiva University.
Teams were tasked with solving the prompt of "Optimizing the Pass/Run Ratio in Different Sections of the Field." They were given one week to analyze the prompt and create a 30-minute PowerPoint presentation that was presented live via Zoom on competition day. Teams incorporated play-by-play data to break down what they believed the optimal pass/run ratio is within five zones of the field. They applied those ratios to two NFL teams from the 2020 season, evaluated play-action rates of their teams, and summarized their findings.
Judges for the competition came from five NFL teams and four sport analytics companies, including Charlie Adkins (Arizona Cardinals), Ben Baldwin (The Athletic), Ben Brown (PFF), Sean Clement (Baltimore Ravens), Shuler Cotton (Buffalo Bills), Eric Eager (PFF), Jeremy Hochstedler (Telemetry Sports), George Li (Indianapolis Colts), Matt Manocherian (Sports Info Solutions), Weller Ross (Houston Texans), Brad Spielberger (PFF), and Daniel Stern (Baltimore Ravens).
"This event was very well thought out and planned, and that showed in the types of solutions that teams proposed," Eager said. "Much of analytics centers around the question that is asked, and the prompt of this competition was relevant to the ideas that are constantly being explored by teams and analysts of the NFL and college football."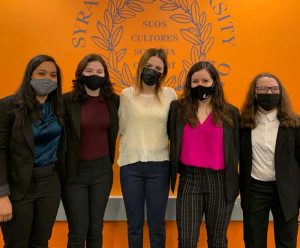 Teams were separated into four virtual competition rooms, where they presented to judges via Zoom. The four room winners were the University of Pennsylvania (room 1), University of Oklahoma (room 2), Syracuse University (room 3) and Duke University (room 4). The judges then selected the University of Oklahoma (Steven Plaisance, Paxton Leaf, Grady Lynn and Jack Polk) as the overall winner of the competition.
The Syracuse team that won its room featured Sport Analytics majors Kylie Dedrick '23, Alison Gilmore '24, Mackenzie Mangos '22, and Marissa Schneider '24, and Sport Analytics minor Jenna Elique '22.
"Sport analytics is a fiercely competitive industry," said Li, a senior football strategy analyst for the Indianapolis Colts. "For these students to have a forum where they can put their talents on display and get feedback from industry professionals can go a long way toward differentiating themselves."
Syracuse University Sport Analytics Director Dr. Rodney Paul said the plan is for the Football Analytics Blitz to become a yearly event in Falk College.
"The students did an incredible job with the competition," Paul said. "I thank them, along with Dr. Losak and Francesco, for having the vision and drive to create this exciting event. I'm extremely proud of all of our student teams, especially that our all-female team won their room at the competition."
Learn more about Syracuse University's bachelor's degree in Sport Analytics.