Scholarship Helps Molly Gross Find Her Career Path Through the Sport Venue and Event Management Program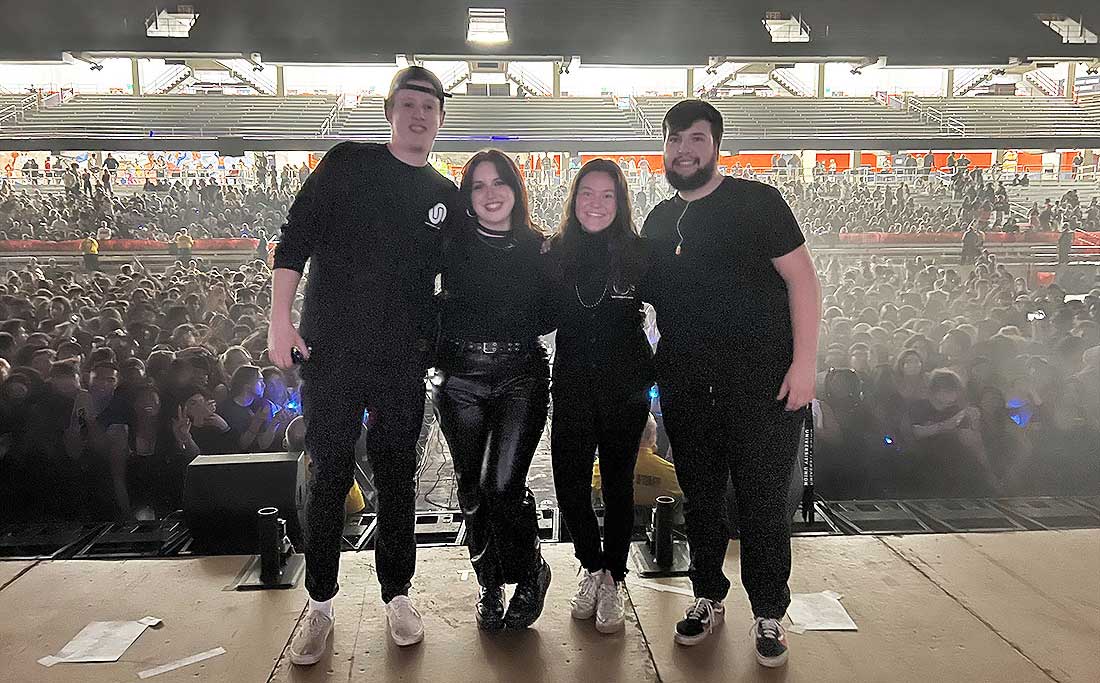 As vice president of University Union, Molly Gross (second from right) helped organize events such as the Block Part on April 29, 2022, at the JMA Wireless Dome that featured A-Trak, 070 Shake, 2 Chainz, and Baby Keem. With Gross in the photo are, from left to right, Beck Patrone, Mackenzie Glaubitz and Mo Morris.
Molly Gross is proof that it's never too late in your academic career to change your career goals.
In the spring of 2022, Gross was set to graduate with a public health degree. She was a work-study student in the Falk College admissions office, and Director of Admissions Deborah Golia asked Gross if she was excited about graduating and starting her career.
"I said, 'Actually, I don't know.' I was stressing a little bit because I didn't know if that's what I wanted to do anymore," Gross says.
Gross had more conversations with Golia and her staff and told them she had enjoyed organizing concerts as a member of the University Union.
"With Molly's public health background, she initially considered a PA (physician assistant) program for graduate school," Golia says. "However, during her time at Syracuse University, she was involved with the student union organizing events, where she realized her passion was in live music and events.
"She contemplated finding a job and then potentially pursuing graduate school," Golia adds. "But as a student employee in the Falk admissions office, we kept driving her to consider the Forever Orange opportunity."
The Forever Orange Scholarship provides half the tuition for students who enroll full-time in a qualifying graduate degree or certificate program at Syracuse University. The scholarship is automatically available to graduating seniors who are eligible for admission and commit to attend graduate school immediately after graduation.
Golia connected Gross with Michael Veley, director and chair of the Department of Sport Management at Falk College, who met with Gross to discuss the department's one-year Sport Venue and Event Management (SVEM) master's program.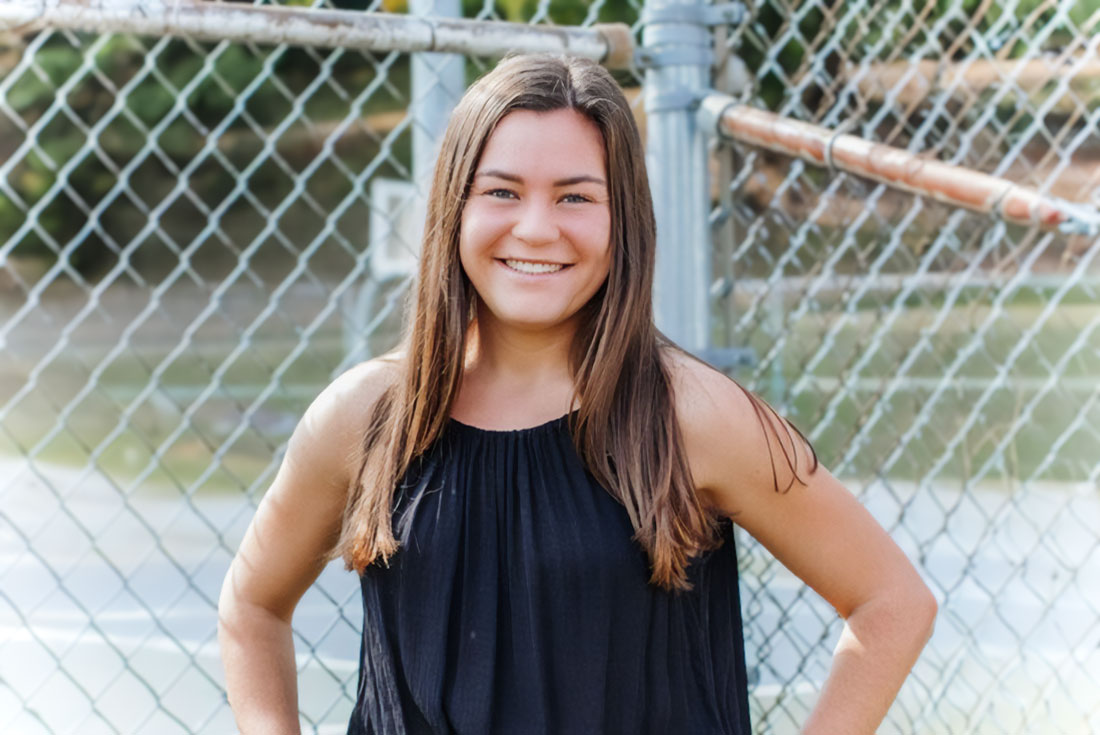 Molly Gross says Syracuse University "gave me the opportunity to learn so many different things and working with UU (University Union) was an experience that really formed where I am now."
"I talked it over with my parents and the (Forever Orange Scholarship) was a large factor because I don't know if I could have gone without it," Gross says. "I looked at the (SVEM) program and the connections it has and the value it brings that could help me learn more about the industry and help me get more exposure and progress faster in that career."
Gross' decision was a smart one as she received the 2023 Outstanding Graduate Student Award from the Department of Sport Management and is now the event manager for the Oak View Group entertainment company based in Atlantic City, New Jersey, about an hour's drive from her hometown of Cinnaminson, N.J.
We recently caught up with Gross to talk about how her passion for the live music industry developed at Syracuse University, the value of her public health degree, and her new position coordinating live events. Here's that conversation:
Q: You entered Syracuse University as a biology major but then switched to public health as a sophomore. What prompted that change?
A: I took one (public health) class in the first semester of my sophomore year, and it was a service-learning class where we worked with an organization in Syracuse (Vera House) and helped them in any way they needed and produced a project out of it. The class was really engaging, and after that class I switched over to public health because I was thinking that maybe I'd go to the medical side and PA school.
I didn't really think about staying at Syracuse (for graduate school) or switching to the event side until the end of my senior year. I was vice president of the University Union, and in high school I never had exposure to the entertainment world to even know that was what I wanted to do. Syracuse gave me the opportunity to learn so many different things and working with UU was an experience that really formed where I am now.
Q: Where did you get your love of live music?
A: Where I grew up, there's the River Line (train) that would take us to Camden, New Jersey, and we would go to what's now called the Freedom Mortgage Pavilion. They would have concerts all summer and my friends and I would go no matter who was performing. I always liked being in that environment; I love seeing people attend events and get excited and follow their favorite performers.
Q: You started the SVEM program in July of 2022 and worked closely with the staff at the JMA Wireless Dome. What was that like?
A: Both in the Fall and Spring semesters we had (Dome Director) Tom Forgione and (Associate Director) Tom Benzel as professors and it was great to hear about their experiences because they have worked in so many positions and places within the entertainment industry and in the Dome.
In the Fall semester, we had a 'secret shopper' event where Tom gave us tickets to a basketball game and we acted as if we were spectators, but we were really observing the environment. How were the security lines? How were ticket takers and concession staff interacting with guests? How clean was the area? So, we were thinking critically about our experience and reporting back to him.
Q: Did the program involve any additional experiential learning?
A: The way the program was structured, it was as much about the experience you gained outside of the classroom as inside. We had projects where we reached out to network with people; looked into different jobs that we wanted to potentially hold one day and what path could get us to that; and made phone calls to ask other people about their different experiences in the industry.
I worked in the (Syracuse) Oncenter box office, Syracuse amphitheater, and with the operations team in the Dome, I felt like they were always encouraging us to use our time outside of the classroom as wisely as possible. It was always in the back of my mind that if I was going to spend this money and time in this program, I was going to make the most of it. I was going to spend every second trying to gain as much as I could, whether it was working this event at the dome or that event in the community. It's always shown me that it comes back around and the experiences I had with those things did help me later.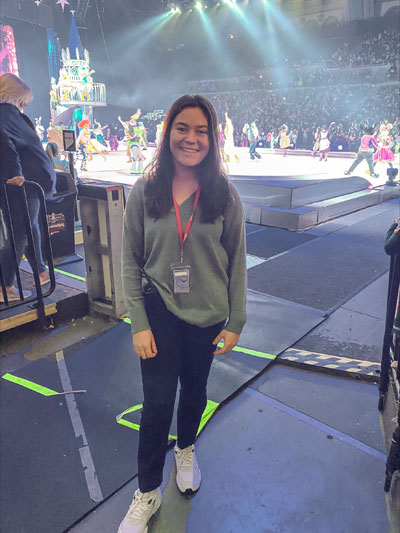 Q: What are you doing in your current position in Atlantic City?
A: SVEM has us do a nine-credit practicum and I did that in the summer (of 2023) as an event coordinator at the Convention Center and Boardwalk Hall in Atlantic City. I was recently promoted to event manager, and I work between the client and the building to make sure they have everything they need, whether that's setting up, connecting with food and beverage, or their internet and AV (audio-visual) needs.
At the Convention Center, our clients are conventions, trade shows, meetings, and luncheons. At Boardwalk Hall, it's concerts, indoor auto racing, Disney on Ice and events like that. I go from working a convention from 7 to 4 on a Monday to working a concert on Friday night. I really like that about my role; I'm getting to see it all.
Q: What role does your public health background play in your career?
A: The general manager where I work right now is put in situations where he has to make decisions or plan for situations that you might not ever think you had to, like he was leading a lot of the decision-making when COVID hit and had to decide certain plans and procedures for the company and the venue. I hope to get to one of those positions one day and I think that what I learned in the public health program at Syracuse will always be valuable.
And whether I use it in my career or not, it's also been valuable to my life in general, understanding the complexities of health and the world. There were so many classes where we talked about the social determinants of health and how everybody is experiencing different things that affects their health. Understanding that diversity helps no matter what you're doing.
Q: What would you say to other students who may be in the position that you were in as they approach graduation?
A: Always have the conversation. If you're not happy where you are, talk to an advisor and have that conversation. With how the majors are structured, time is limited, so I would act on it sooner than later. I know if I'm feeling that way, I'd rather act on it than regret it later.
I don't think any decision is final. Just because you make a decision now doesn't mean everything is closed off forever.