Graduate student values the public health program's experiential learning opportunities as she seeks to improve health equity around the world.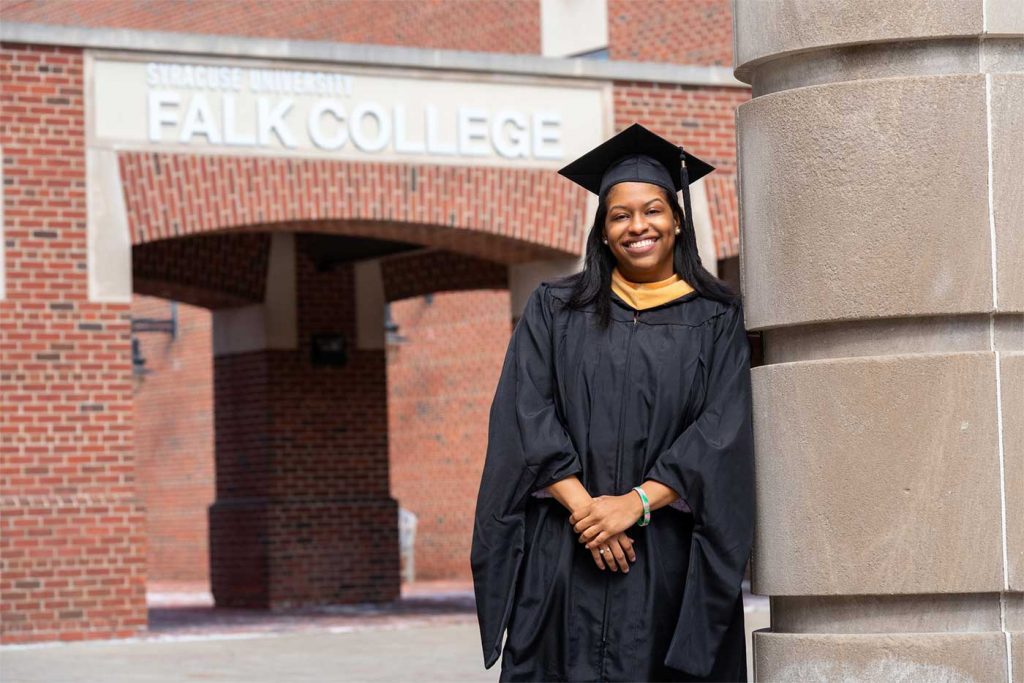 When Kennedy Hagens '20, G'21 took her first public health class at Syracuse University, it wasn't long before she reimagined her future. "It was a course on social determinants of health titled Health Disparities and Underserved Populations," she says. "I loved that class so much I thought, 'I have to take more classes like this.'"
Until then, Hagens had planned on a career in medicine, but her introduction to public health inspired her to consider health care from a new perspective. She changed her major from biology and earned a bachelor's degree in public health. This summer, she'll receive a master of public health (M.P.H.) degree as a member of the inaugural cohort of the accelerated B.S./M.P.H. program at Falk College. "When I came to the public health program, I was embraced with open arms—and it really feels like I have a family in Falk," says the Bowie, Maryland, native. "What I've enjoyed the most about the program is that we were given a lot of opportunities to put what we learned into practice."
The experiences that Hagens mined proved highly influential. She gained valuable insights on global health, health disparities, policy differences and how vital access is to quality health care. This fall, she'll enroll in the health law program at the University of Maryland Carey School of Law. "I want to be the person who can change these policies and provide more health equity around the world," she says. "That's my ultimate goal."
The Orange Attraction
Hagens' concern for the health of others has played a prominent role in her life since she began volunteering at hospitals as a teenager with aspirations of becoming an oncologist. When her mother suggested Syracuse University as a college destination because of its strong academic reputation and big-time sports atmosphere, Hagens—a high school basketball player and huge sports fan—found what she was looking for on a campus visit. She was accepted early decision and participated in SummerStart, a program that introduces incoming first-year students to campus through classes and activities. "One of the best decisions I made was doing SummerStart," she says. She embraced campus life and became a loyal member of Otto's Army, serving as president her senior year. She was also an active member of the Iota Upsilon Chapter of Alpha Kappa Alpha Sorority Inc. "As time went on, Syracuse has become a home for me," she says.
As a graduate teaching assistant, Hagens has shared her enthusiasm with undergraduates in several courses, including one of her favorites—community health promotion. "I like the students a lot, and it's been a really fun experience," she says. "And the classes align with my career goals."
Real-World Experiences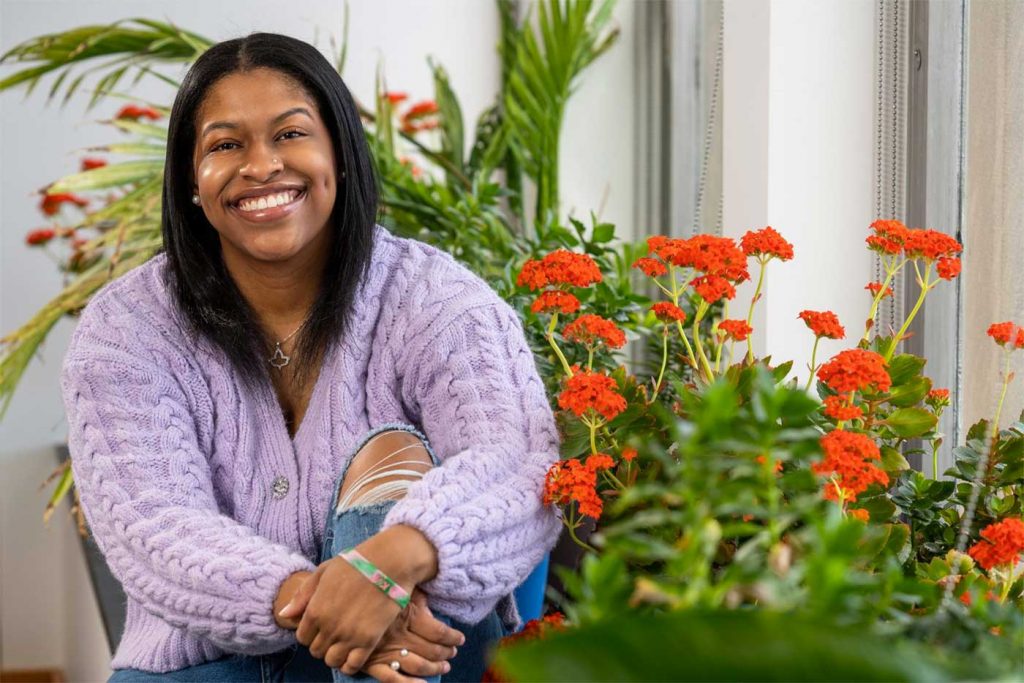 At Falk College, one of Hagens' seminal experiences was a course on refugee health that matched her with a family that had fled the Democratic Republic of Congo and resettled in Syracuse. Along with helping the single mother and her five children adjust to their new lives, she worked to ensure they had access to good health care and learned about the struggles they encountered. Back home, she built on that experience as a refugee integration specialist with the Ethiopian Community Development Council in Arlington, Virginia, helping families with housing and other issues. "I had to remind myself that some of the situations would be unlike anything I'd seen before," she says. "My biggest takeaway was that there should be better policies in place to make their transition easier. I also saw that there's not one solution to the health disparities that people are facing. It's a much bigger problem than I first realized—and it stems from race and socioeconomic differences."
Through a series of internships, class projects and jobs, Hagens expanded her knowledge and understanding of patient-care issues and ways to improve health outcomes. At the MedStar Washington Hospital Center, she logged time advocating for cardiac patients' care. Through an internship and, later, her senior capstone project, she worked at Hematology/Oncology Associates of CNY, where one of her focuses was on patient communication and how interaction impacts the patient experience. "I helped them find better ways to communicate with their patients," she says, noting the practice added touch-screen monitors so patients could watch videos that helped them better understand information shared by doctors. She also completed a service-learning project with SUNY Upstate Medical University's Office of Diversity, Equity and Inclusion, working on ways to increase student diversity and create safe spaces as well as evaluating textbooks from a race and ethnicity perspective. "It was a great experience," she says.
Public Health and the Pandemic
When the pandemic broke out last spring, Hagens worked for several months as a contact tracer for Onondaga County, which further illuminated for her the role—and challenges—of public health. "All of those things I learned in my undergraduate courses came into play—the different frameworks and the social determinants that are stopping certain people from dealing with the pandemic and why it's so challenging for some people to even understand how serious the virus actually is," she says. "I try to explain everything I can about COVID-19, and I'm always encouraging people to get vaccinated."
For her M.P.H. capstone project, she's focusing on health disparities associated with COVID-19 in South Africa. "For portions of my research, I talked to students who go to school in South Africa," says Hagens, who assisted with a South Africa HIV research project as an undergraduate. "It was interesting to hear their accounts about the disparities as well as how COVID-19 has been impacting them."
Hagens can trace her concern about global health disparities to travels with her family in Europe and the Caribbean, where she noticed how health care policies and challenges varied from country to country. "In my mind, I thought, 'This could be so much better,'" she says.
Her time at Syracuse turned that interest into a passion. Her experiences also taught her about herself and the importance of welcoming opportunities. "I want to be remembered at Syracuse for embracing every new experience and trying my best to provide the same opportunities for the people who will come after me," she says. "I want to leave an impact that tells people the sky really is the limit. They can do anything they want on this campus. They just have to put themselves out there."
~ An SU Story by Jay Cox originally published on May 11, 2021.