Photo credit: Melanie Tacher
Equipping students who are passionate about having a global impact by reducing health disparities produced by economic, social, and environmental inequalities.
Many threats to health exist today-from biomedical challenges, such as infectious diseases and chronic illnesses-to psychosocial challenges, such as poverty and violence. Ecological and cultural factors shape the meanings that health practitioners and families attribute to health and illness, and how these connotations influence choices made regarding care practices, exposure to potential dangers, requests for assistance, and responses to interventions. With small class sizes that have individualized attention to support varied student career paths in the exciting field of global health, the MPH incorporates the study of cultural health norms and practices and integrates the study of historical experiences of ethnic groups and their culturally determined patterns of dealing with issues of health and illness. The program introduces students to methods and statistics in public health and, through the program's global health concentration, focuses on applications in the global community, culminating in a 6 to 8-week U.S. based or international placement during the 1st or 2nd summer of the program. These placements are structured experiences designed to provide a real-world application of principles and skills learned in the classroom. International site partnerships exist in Kenya and India. Our faculty come from diverse backgrounds with extensive experience in the Caribbean, Canada, Europe, East Asia, Africa, and the Middle East that will offer students valuable exposure to issues and lifestyles of these cultures. The varieties of faculty disciplines offer students more than the traditional perspective that will add in-depth knowledge from multiple perspectives. The program seeks to develop a new group of public health professionals who are trained to meet the needs of the local, national, and international community. The global perspective of the program will be invaluable for graduate students interested in meeting the needs of the increasingly diverse population of New York State and the United States. The program's combination of theory and practice allows students to work in policy, research, and service settings. Unique features of the program include:
Understanding multi-faceted challenges (environmental, physiological, social, psychological) on health
Ecological and cultural contexts of health/well-being and relationship to health practices
A global perspective to understanding public health and implementing public health programs
Understanding how to develop international partnerships for practice
Opportunity to engage in global health practice with established SU and world partners
Why this degree makes a difference in society today…tomorrow…
Our globally focused advanced degree in public health teaches students about the public health issues and solutions that vary across cultures and countries, providing an important foundation for global public health work. With this unique worldview, our MPH trains students in seeking out best practices around the globe and applying them to address specific international public health initiatives. The combination of academic coursework and a global internship requirement prepares students to implement critical public health agendas, from investigating causes of illnesses and epidemics, developing effective disease prevention policies, to designing educational and wellness programs in countries without advanced public health practices.
Sample Courses
The MPH is a 42-credit hour graduate program designed to provide students with core knowledge, research, and practice skills necessary for the advancement of evidence-based public health. The program's global health concentration emphasizes an evidence-based understanding of complex determinants of population health combined with practice and evidence-based strategies for developing, implementing, and evaluating programs and policies in global settings. These applied competencies are acquired in relevant coursework and reinforced by application during an international practicum placement. Sample courses include:
Development and Evaluation of Global Health Programs
Infectious Disease: Epidemiology and Control
Health Equity and Social Determinants of Health
Analysis of Public Health Data
Environmental Determinants of Global Health
View all course requirements and electives
---
What Our Students Are Saying
---
Our Facilities
Students are actively engaged in ongoing practice and research projects that are local and global, using a highly interdisciplinary collaborative approach across multiple laboratories, centers, and institutions on the Syracuse University campus and beyond. Collaborative research projects are funded by numerous grants from multiple agencies, including the National Institutes of Health (NIH), National Science Foundation (NSF), ADA-PARC, and New York State. Students can immerse themselves in practice and research projects working with faculty and community partners. Collaborative research projects funded by the National Institute on Disability, Independent Living, and Rehabilitation Research, part of the U.S. Department of Health and Human Services, include ADA-PARC and the Community 4All Project. The Genesis Health Project is a community-designed, culturally-sensitive initiative to reduce health disparities, obesity and its related health risks and to promote healthy lifestyles among African Americans. Opportunities to understand the impact of community violence from public health perspectives continue to result in faculty-student publications in academic journals. The Syracuse Lead Study explores how very low levels of lead in children's blood can affect cardiovascular health throughout life, a multi-year, on-going research project supported by the National Institutes of Health and has an international reputation.
---
Experiential Learning
Students complete a 200-hour applied practice experience (APE) in the summer after year 1 or year 2 of study. This experience provides students opportunity to demonstrate program competencies in an applied practice setting located in U.S. or international contexts. Practice related activities may include health promotion, designing and implementing health education projects, implementing health policies, understanding diversity, and improving health literacy. These purposeful opportunities provide students valuable hands-on experience that translates well into future professional roles in global health. Faculty and staff advisors have extensive connections in the global health field, which translates into tremendous international networking opportunities for students.
Research
Students have the opportunity to engage in ongoing research projects in local and global settings. Faculty and students adopt an interdisciplinary collaborative research approach that frequently bridges multiple laboratories, centers, and institutions, including the Syracuse University campus, Upstate Medical University's Research Institutes and Centers and Upstate Medical University faculty, as well as research centers and faculty at SUNY College of Environmental Science and Forestry. View public health faculty research projects.
---
Careers
MPH graduates find employment within government and non-government organizations. A variety of job titles exist in the field of public health, from opportunities in health promotion and disease prevention in developing countries to health consequences of trauma, violence, war, and displacement. Students interested in this career path are encouraged to also achieve proficiency in a second language. Career paths for MPH graduates include the following sectors:
Development agencies with national and international scope where graduates are involved in implementing, managing and monitoring development activities, such as WHO, UNICEF, UNFPA, UNDP, The World Bank, European Center for Disease Prevention and Control, International Red Cross, Save the Children, etc.
Private companies, consultancies and industries dealing with health such as pharmaceutical and medical companies, the food industry, patent organizations and private consultancy firms.
Government bodies and public authorities where graduates are involved in policy related activities, such as Ministry of Foreign Affairs, National Board of Health and Ministry of Refugee, Immigration and Integration Affairs.
Universities and research institutions where graduates are involved in research.
Positions for MPH graduates vary in job title and organization type. For example, public health practitioners could work as:
In-country field consultants, advisors, counselors
Disaster relief-support technicians, specialists
Organization development specialists
Program evaluators, analysts or advisors
---
Accreditation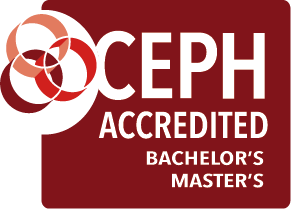 The MPH is accredited by The Council of Education for Public Health (CEPH), is the independent agency recognized by the US Department of Education to accredit academic public health programs. The CEPH board of Councilors acted at its June 1-3, 2022 meeting to accredit the Syracuse University Public Health Program for a five-year term, extending to July 1, 2027. The self-study report is available by request from the Department of Public Health.
---
Financial Support
Limited department financial aid is available in the form of graduate assistantships and scholarship credits for students enrolled in a master or doctoral program. Financial aid is determined based on merit. Additional information regarding graduate financial aid can be found on the Syracuse University Graduate Student Aid page.
---
Getting Admitted
The admissions requirements for this program include an undergraduate degree with a minimum cumulative 3.2 GPA, TOEFL scores (for international applications), undergraduate transcripts, three letters of recommendation, and a resume and personal statement.
---
Learn More:
For additional admissions information, contact the Office of Admissions at falk@syr.edu, or fill out our online form:
Return to top