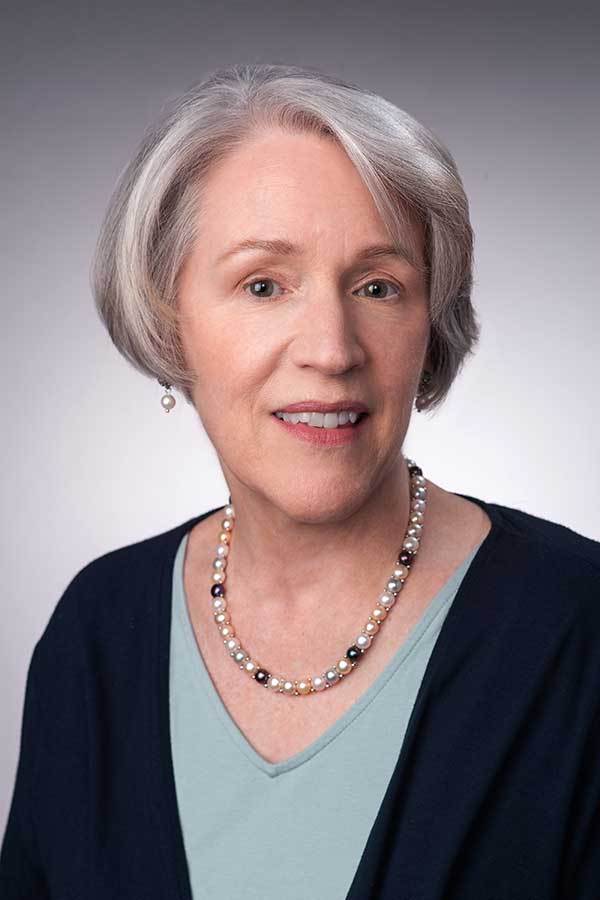 Kay Stearns Bruening, Ph.D., RDN, FAND, associate professor in the Department of Nutrition and Food Studies in the Falk College, has been named Associate Dean of Academic Affairs for Falk College effective August 1, 2023. In her new role, Bruening oversees program review, curriculum development, and accreditation for Falk College academic programs.
Previously, Bruening was an undergraduate director in the Department of Nutrition and Food Studies and director of the Nutrition Assessment, Consultation and Education (ACE) Center. Bruening has also served as a program reviewer for the Accreditation Council for Education in Nutrition and Dietetics (ACEND) for 21 years and as a Program Representative on the ACEND Board. Most recently, Bruening was instrumental in Falk College's early transition to ACEND's Future Education Model and the successful accreditation under these new standards. This was a multi-year effort that started in 2019, when Syracuse University was accepted as a demonstration cohort to participate as a pilot program of ACEND's vision to implement competency-based learning to prepare nutrition and dietetics professionals for future practice.
"Falk College is highly regarded for our curriculum, pedagogy, and student success," says Bruening. "Throughout the college, our curriculum blends theory and research with practical experience, preparing our students for leadership and innovation in critically important professional fields. I am thrilled to serve in this new capacity as Associate Dean and advance Falk College as a leader in education and professional practice."
Employment outcomes for all majors and the ability of students to seek additional educational goals are excellent throughout Falk College. Accredited programs and license-bearing degrees have an outstanding level of success. Falk College meets, and often exceeds, standards for four accrediting bodies: Accreditation Council for Education in Nutrition and Dietetics, Commission on Accreditation for Marriage and Family Therapy Education, Council on Education for Public Health, and Council on Social Work Education. Falk's professional programs are consistently among the nation's strongest in licensing exam pass rates.
"Kay brings a wealth of expertise in educational instruction and design," says Diane Lyden Murphy, M.A., M.S.W., Ph.D., Dean of Falk College. "Her work in the Department of Nutrition and Food Studies has kept this program at the forefront of nutrition and dietetics education, as evidenced by our accreditation and favorable licensing exam pass rates. Falk College is privileged to have her leadership in a new capacity as Associate Dean."
Bruening's teaching and research interests center around medical nutrition therapy, and she is published in dietetics education. She has collaborated with international dietetic education programs in Chile, South Korea, Qatar, and the United Arab Emirates, and collaborates with local medical researchers on detection of adult malnutrition and developing food-based programs for adult weight management and related comorbidities. She is a Fellow of the Academy of Nutrition and Dietetics, belongs to three dietetic practice groups, and completed advanced training in child and adolescent weight management. She holds a courtesy faculty appointment with the Department of Medicine at Upstate Medical University, where she is a co-instructor on an elective nutrition course for medical students.
She earned a Ph.D. in clinical nutrition from New York University, M.A. in nutrition from Syracuse University, and B.S. in biology from St. Lawrence University.
Kay succeeds Eileen Lantier, R.N., Ph.D., who is concluding her 17-year tenure as Senior Associate Dean of Faculty, Curriculum, and Alumni on August 24, 2023. Under Eileen's leadership, Falk College has successfully launched a wide range of new residential and online academic offerings, sustained accreditation with its four accrediting bodies, and achieved remarkable student outcomes from its signature theory-to-practice model.
Eileen has served more than 39 years at Syracuse University as a faculty member and administrator. Prior to her role as Senior Associate Dean in Falk College, she taught nursing at Syracuse University and championed the use of educational technology in healthcare. Prior to her work in academia, she led a professional career in nursing, working in several area hospitals and clinical settings. She earned a Ph.D., M.S., and B.S., all from Syracuse University. Eileen will retire in January 2024.
"I have served with Eileen since the very beginning of my deanship in 2005. Eileen has demonstrated extraordinary leadership to the great benefit of Falk College and has been instrumental both in developing new academic disciplines at Syracuse University–such as public health, food studies, and sport management–and maintaining excellence and accreditation in our longstanding professional licensing programs," says Murphy. "Falk College thanks Eileen for her service and lasting positive impact at Syracuse University, her passion for excellence in education, and her deep personal commitment to our students and their success."
At the end of August 2023, Murphy concludes her tenure as Dean of Falk College, a position she has held since 2005. She is succeeded by Jeremy S. Jordan, a seasoned academic with extensive experience in sport and recreation management. Jordan's appointment as Dean of Falk College begins September 1, 2023.