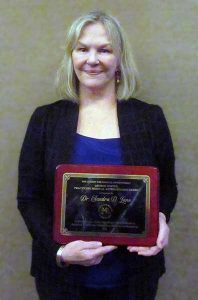 The American Anthropological Association honors Professor Sandra Lane for multidisciplinary teaching, research, scholarship.
Falk College professor of public health, Sandra D. Lane, received the 2019 George Foster Award for Practicing Medical Anthropology in recognition of outstanding contributions to applying theory and methods in diverse contexts that demonstrate a significant impact on policy. The award was presented at the American Anthropological Association's annual conference in Vancouver, Canada on November 22.
Her impact on the field of medical anthropology is demonstrated both inside and outside of the classroom, including extensive mentorship to undergraduate and graduate students across the Syracuse University campus as well as high school students in the local community. Lane is the Laura and L. Douglas Meredith Professor of Public Health, with appointments in the Department of Anthropology in Syracuse University's Maxwell School and in the Department of Obstetrics and Gynecology at Upstate Medical University.
Along with Robert A. Rubinstein, distinguished professor of anthropology in the Maxwell School, Lane developed a model that links the community-participatory analysis of public policy with pedagogy, known as Community Action Research and Education, or CARE projects. This model integrates action anthropology and community-based participatory research with teaching by bringing students out of the classroom to address health disparities in their communities.
Lane's CARE projects help students and professionals gain the understanding and skills to take action in partnership with community members and other organizations. One of these projects focused on lead poisoning in rental housing, a topic that was recently covered on the WCNY public television program, CONNECT NY. She has also led CARE research projects on food deserts in Syracuse, neighborhood violence, and healthcare for the uninsured. These CARE projects resulted in 16 journal articles where 75 student and 22 community members collaborated as co-authors. The student co-authors include undergraduates and graduate students in anthropology, public health, medicine, education, physician assistant training, and several high school students.
In 2015-2016, Lane chaired the National Academies of Science, Engineering and Medicine's committee that wrote the Framework for Educating Health Professionals to Address the Social Determinants of Health. This report proposed a conceptual model to help organizations, educators and communities collaborate to address health inequalities.
The World Health Organization defines the social determinants of health as the conditions in which people are born, grow, work, live, and age, and the wider set of forces and systems shaping the conditions of daily life. An essential element in Lane's approach with all students is that innovative learning strategies must encompass experiential, community-oriented, problem-based and other types of transformative learning to identify the social determinants that lead to health disparities.
The Framework publication led to extensive discussions among faculty in five upstate New York institutions including Syracuse University's Departments of Anthropology, Marriage and Family Therapy and Public Health; University at Buffalo's School of Social Work; Le Moyne College's Physician Assistant Program; The Sage Colleges' Nursing Program, and; Upstate Medical University's Medicine and Bioethics. The collaborators' network, called the Route 90 Collaborative, supports faculty interested in implementing the framework in their curricula.
Professor Lane's work recognized for this award also includes her doctoral study with collaborators from Egypt and the United States conducting ophthalmological research that was integral to UNICEF's SAFE strategy policy; her work as an anthropologist with a Centers for Disease Control (CDC)-funded research team that evaluated the public health costs and benefits of needle-syringe exchange in 12 cities in the United States and Canada, and; her work with the Onondaga County Health Department where she led the team that wrote the first two successful Healthy Start grants, from the federal Health Resources and Services Administration, totaling nearly $10 million. She later became the founding director of Syracuse Healthy Start, a multi-agency, community-based project to reduce infant mortality among infants of color.
Lane's current areas of research focus include the impact of racial, ethnic and gender disadvantage on maternal, child, and family health in urban areas of the United States and the Middle East.