Syracuse University Sport Analytics Students Excel at Basketball Negotiation Competition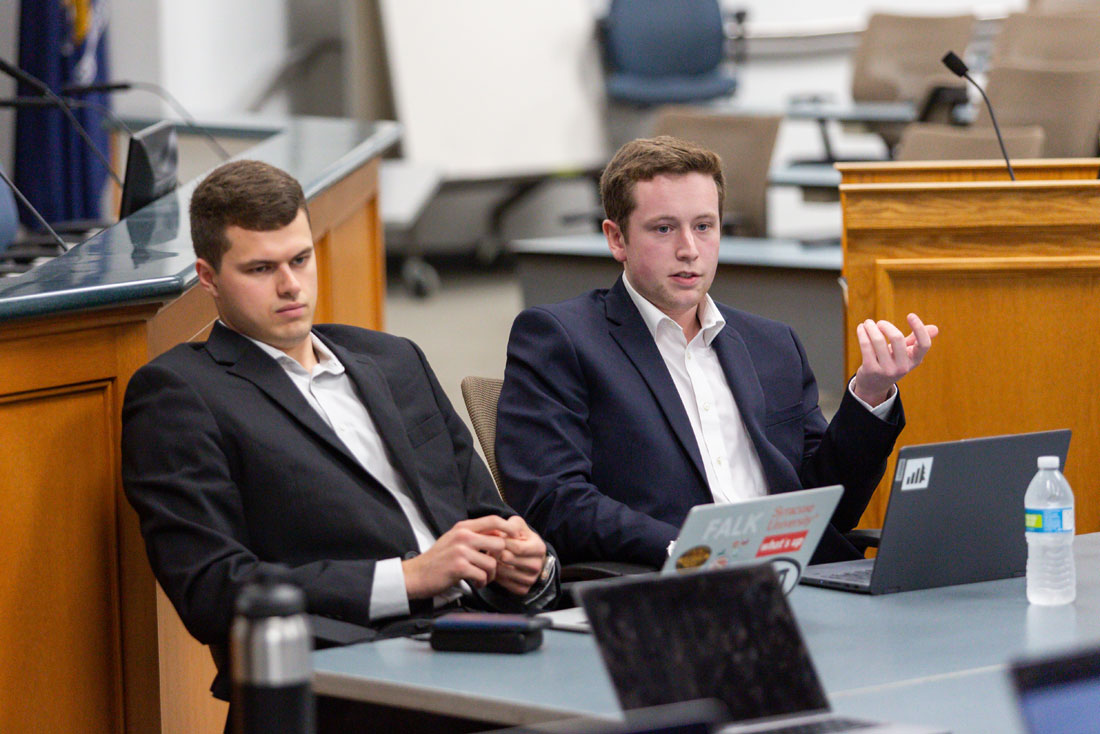 At the Tulane Pro Basketball Negotiation Competition, Syracuse University's Preston Klaus (left) and Jackson Hett were the youngest team in the event and finished just two votes shy of the winning team.
Syracuse University students Jackson Hett and Preston Klaus aren't studying law, but they proved they can negotiate with some of the best law students from around the country.
Sport Analytics major Hett '23 and Sport Analytics alumnus Klaus '22, MS '23 recently finished second at the Tulane University Pro Basketball Negotiation Competition (TPBNC) in New Orleans, Louisiana. The competition annually attracts competitors from top law schools across the United States and high-profile judges from the NBA.
"I was thrilled to place second overall in the competition," says Hett, who's from North Berwick, Maine. "In a field of over 40 teams, my goal was to make the final round. As the event progressed, I did believe that we could win. We gave it our best effort, but came up just short."
Department of Sport Management alumnus Chris Robinson '15 created the event while he was a student at Tulane Law School. The competition randomly assigns students to act as an agent or a team to represent an active NBA player who is eligible for free agency in the summer.
Both sides negotiated, seeking to come to a legal contract under the NBA's Collective Bargaining Agreement. The competitors were judged on Negotiation Ability/Strategy, Basketball/NBA Collective Bargaining Agreement Knowledge, and Strength of the Deal.
"We were told this year's negotiations were the most competitive and that we were just a few votes shy of winning it all," says Klaus, a Palm City, Florida, native who graduated from Sport Analytics last year and is now studying finance at Syracuse University. "Even in defeat, we knew we made a positive impression and exceeded expectations."
In the first two rounds, Hett and Klaus faced off against law students from Loyola University Chicago/Chicago-Kent College of Law and University of California, Berkeley. After negotiating against the University of Massachusetts, Syracuse's Hett and Klaus were one of four teams to reach the final round, where they negotiated against third-year law students from Tulane in front of 32 NBA executives.
In the final negotiation, Hett and Klaus placed second by two votes. It was the highest finish by a non-law school team in the competition's history, and they were the youngest team in the event this year.
"The department is very proud of Jackson and Preston for not only taking the chance to enter this top-notch competition, knowing it was stacked with law students and graduate students, but to then finish second is unbelievable," said Sport Analytics Director Rodney Paul. "It truly shows how talented they are and how Falk College Sport Analytics is making a name for itself around the country in these types of competitions and conferences. Jackson and Preston are destined for success in the sport industry."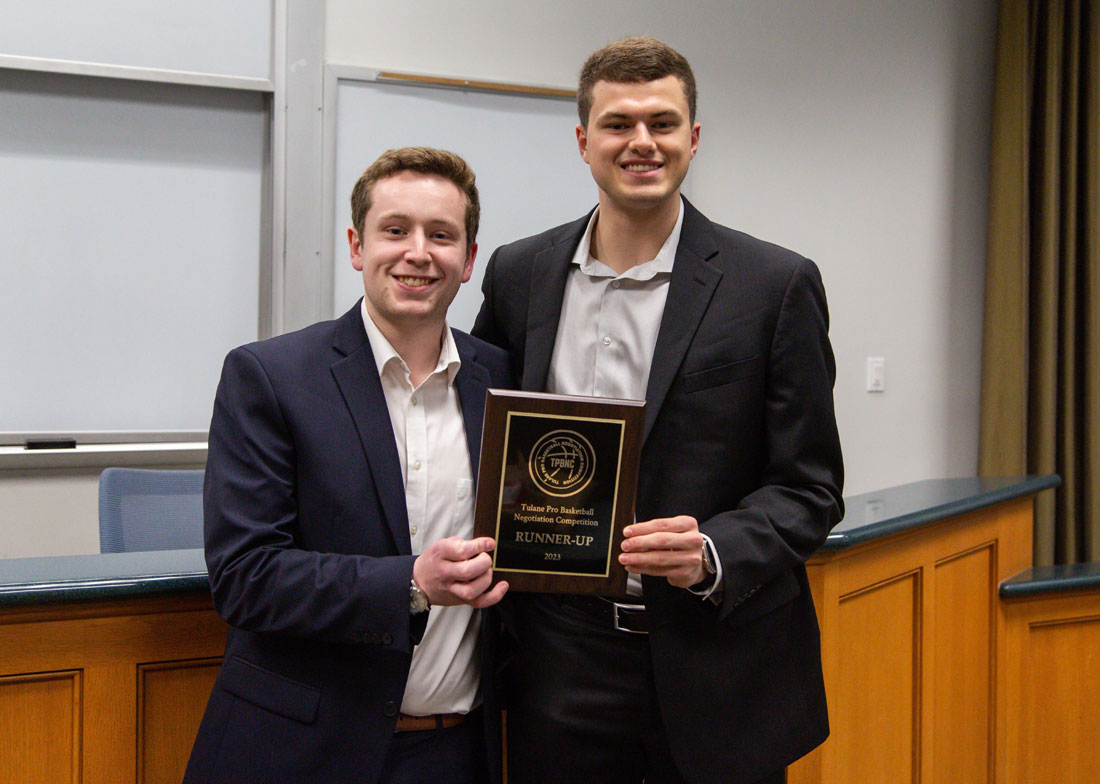 Jackson Hett (left) and Preston Klaus display their runner-up plaque after earning the highest finish by a non-law school team in the history of the Tulane Pro Basketball Negotiation Competition.
To learn more about their performance at the TPBNC, we asked Hett and Klaus about their passion for sport analytics, their negotiating strategy, and what it was like to reach the finals. Here's that conversation:
Q: Why did you want to study sport analytics and what brought you to Syracuse University?
Klaus: I wanted to study sport analytics because I've always had a love for math and wanted to combine it with my passion for sports. Syracuse University was the best–and at the time, only–place to get this analytical focus using sports data, all built into one academic major. As a bonus, I was able to graduate early and use my fourth year to earn a finance master's degree.
Since I enrolled, I've honed my interest toward the NBA salary cap sector and upon graduation in May I'm looking to work for a team in basketball operations and strategy.
Hett: I wanted to study sport analytics because I have loved basketball my entire life and realized I had a passion for statistics during high school. I chose Syracuse University because this is the perfect major for me and brought together my passions and talents. During my childhood, I crafted NBA big boards and watched or played basketball almost every night. I plan to work in an analytics or strategy department for an NBA franchise in the future.
Q: What made you decide to enter the TPBNC that was filled with law students?
Hett: The main reason I decided to enter the TPBNC was because of the mentorship of Chris Robinson. I worked with Chris when he was in charge of Edwards Robinson Sports, a consulting company for a large NBA agency. Although his role ended when he was hired by the Utah Jazz, I kept in touch and he encouraged me to apply to the TPBNC.
Last year, I did not decide to pursue the opportunity because I didn't think I could compete with law students. This year, I knew we could be competitive because Preston has studied the intricacies of the NBA Collective Bargaining Agreement and I was confident in my knowledge of basketball.
Klaus: TPBNC was something I have personally been looking to compete in for a couple of years since it is the premier competition for NBA salary cap and strategy. Since basketball operations is an extremely competitive position, this was my best chance to showcase my capabilities in front of people who are working my dream job and get my name on their radar. It was a welcome challenge; to be the best, you have to beat the best.
Q: Can you describe your assignments at the TPBNC and how did you divide your duties for the assignments?
Klaus: Before the competition, we created a presentation designed for (San Antonio) Spurs' ownership regarding Devin Vassell's upcoming contract extension. This helped decide who we went up against; the competition committee tried to match up teams of equal skill.
At Tulane, there were three preliminary rounds and one final round. Given my finance background, I mostly handled the salary cap side during negotiations, while Jackson focused on finding player comparisons. However, before the competition, we both prepared statistics on our player, discussed what the other side might propose, and decided on an initial and walkaway price.
Hett: We acted as the Minnesota Timberwolves in a negotiation for Jaden McDaniels; as the agent for Grant Williams in a negotiation with the Boston Celtics; and as the New York Knicks in a negotiation for Josh Hart. Finally, we acted as the agent for Spencer Dinwiddie in a negotiation with the Brooklyn Nets. Preston focused on creating cap sheets for each team while I focused on finding comparable players and talking about the basketball side of things.
Q: Describe the feeling you had as you moved on and what was it like negotiating against third-year law students in front of 32 NBA executives?
Hett: As the event progressed, we felt like we were a competitive team since we competed against two of the top four teams on the first day. At first, it was nerve-wracking negotiating in front of so many NBA executives. We knew we just needed to focus on the task and tune out everything other than the students in front of us. We knew we were prepared, and the previous negotiations helped us build confidence.
Klaus: In the preliminary rounds, we faced law school teams from Chicago, a team in last year's final four, and last year's winner, UC Berkeley, which both made this year's finals. We knew if we could go toe-to-toe with them, we could do well against anyone.
The final negotiation in front of Tulane third-year law students was tough because we only had 90 minutes to prepare and 25 minutes to negotiate. I was less intimidated by the judges after the earlier rounds, but accuracy was even more critical because no mistake would slip by a full room of NBA executives.
Q: How did the Sport Analytics program at Syracuse University prepare you for this competition and your future professional careers?
Klaus: Our sport analytics background proved to be a hidden advantage. Going against law students, we needed to find an edge and were able to do that analytically. Our player comparisons gave us a huge upper hand, which we sourced via advanced statistics. I hope to be doing similar projects in my future career, using my unique skillset.
Hett: I have learned through the Sport Analytics program how to build an argument using statistics. Additionally, my experience as president of Syracuse University's Basketball Analytics Club helped me prepare for the TPBNC. I am confident all the skills I have developed at Syracuse make me a competitive applicant for the jobs that will help fulfill my professional dreams.
This article from The Athletic looks at how the competition became a "retreat" for present and future NBA executives (an account from The Athletic is required).