The Couple and Family Therapy Center
The Couple and Family Therapy Center offers no-cost, confidential therapy services to families, couples, and individuals who are coping with life's challenges. Some of the issues most frequently addressed at the Center include resolving relationship difficulties; exploring and affirming diverse gender experiences; easing communication struggles; helping a troubled child, teenager, or family; moving beyond family violence or substance abuse; or dealing with emotional distress such as anxiety or depression, grief, and loss. The Couple and Family Therapy Center serves diverse clients from across Central New York.
It is located in Peck Hall, which provides a comfortable therapeutic atmosphere. Rooms provide flexibility in treatment options, from talk therapy to play therapy and sand tray interventions. Therapists are masters and doctoral students in the Marriage and Family Therapy Department at Syracuse University who work closely under the supervision of licensed faculty. Advanced technology affords students excellent training oversight and ultimately improves the quality of service to clients.
The Center features the Gender Expansive Support Team (GEST), which provides a unique opportunity for students who want to gain training and experience working with individuals, couples, and families with a transgender/gender-expansive experience. In addition to their general caseload, GEST therapists help families become more attuned to each other as they navigate through the process of gender exploration and/or transition. This may include general therapy and/or providing letters of support for medical gender transition.
Additionally, students have the opportunity to work with diverse populations such as adolescents and youth in the justice system, families of color with low income and resettled refugees in Syracuse.
Syracuse University Adolescent Diversion Program (SU ADP): The SU ADP Program is a collaborative effort between the Adolescent Diversion Part Court in Syracuse, the Center for Court Innovation, and Syracuse University's Marriage and Family Therapy Department. SU ADP assists youth presenting as high risk who are involved in Syracuse criminal court by helping them find value in themselves, school and community. Graduate student therapists provide trauma-informed therapeutic services and support to youth and their families in home and community settings. The goals include improvement of the functioning of youth, reduction in recidivism rates, and increased family communication.
Community Connections:
In collaboration with Syracuse Community Connections, specialized MFT graduate students provide individual, couple, and family therapy at the Syracuse Model Neighborhood Facility, Inc. This facility provides services to predominately African American, low-income residents and neighborhoods in the City of Syracuse. Through the SCC and MFT collaboration, people accessing other services at this facility can now access mental health services without costly insurance co-payments or traveling to an unfamiliar location.
Resettled Refugees:
The Couple and Family Therapy Center has ongoing relationships with several community agencies that serve resettled refugees. Partnerships include Peace Inc. Head Start where students provide clinical services and engage in research. Students can also take a course on Migration and Mental Health to learn more about working with this population. Opportunities for community-engaged research are also available.
Contact Us
The Couple and Family Therapy Center is located at 601 E. Genesee Street. Day and evening appointments are available Monday through Thursday. For more information, call 315-443-3023.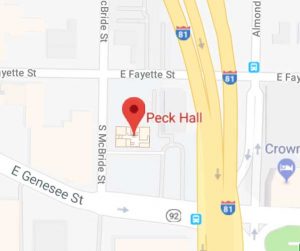 Our Location:
Peck Hall
601 East Genesee St
Syracuse, NY 13202