The Couple and Family Therapy Center
The Couple and Family Therapy Center offers no cost, confidential therapy services to families, couples, and individuals who are coping with life's challenges. Some of the issues most frequently addressed at the Center include resolving marital and couple difficulties; easing relationship or communication struggles; helping a troubled child, teenager, or family; moving beyond family violence or substance abuse; or dealing with emotional distress such as anxiety or depression, grief, and loss. All therapists practice from a family systems perspective, focusing on relationships and strengths within clients, couples, and families.
The Center also features the Trans Team, which involves student therapists providing LGBTQ affirmative therapy and assisting clients who are preparing for gender transition. The Trans Team was created in 2008, providing a unique opportunity for students who want to gain training and experience working with transgender people and their loved ones.  Students volunteering for this team attend specialized training, where they learn about a gender-affirmative approach to therapy and how to support transgender clients through the readiness process for medical gender transition.  In addition to their general caseload, therapists on the Trans Team work with transgender individuals, couples, and families, providing general therapy, helping families become more attuned to their transgender family member, navigating with clients through the process of gender transition, and providing letters of support for medical gender transition.
The Couple and Family Therapy Center serves diverse clients from across Central New York. It is located in Peck Hall, which has been recently renovated to provide a comfortable therapeutic atmosphere. Rooms are designed to provide flexibility in treatment options, from talk therapy to play therapy and sand tray interventions. Therapists are masters and doctoral students in the Marriage and Family Therapy Department at Syracuse University who work closely under the supervision of licensed faculty. Advanced technology affords students excellent training oversight and ultimately improves the quality of service to clients.
The Couple and Family Therapy Center is located at 601 E. Genesee Street. Day and evening appointments are available Monday through Thursday. For more information, call 315-443-3023.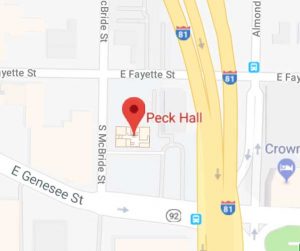 Our Location
Peck Hall, 601 East Genesee St
Syracuse, NY 13202