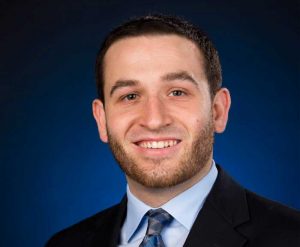 Sports Business Journal's (SBJ) New Voices Under 30 inaugural list announced in January 2020 recognizes 30 accomplished professionals who, as today's young influencers, embody the skillsets needed to lead the next generation in sports business.
Two Syracuse University alumni are featured in this select group of 30 under 30. Matt Samost, a graduate of Falk College's sport management program, is currently vice president of new ventures for Tampa Bay Sports & Entertainment. Megan Rand, an alumna of the School of Architecture, is an architect/associate at Populous architectural and design practice specializing in sports facilities.
The New Voices Under 30 selection process was announced by SBJ and founding partners Anheuser-Busch and Turnkey Search in 2019. After convening a select group of industry executives, the review process began. Applicants were evaluated for achievements, influence and individual impact on the organization or the sports industry, and their blueprint for the future.
"We have always wanted to spot the 'new influencers,' those fresh voices representing generation next. That's why we're introducing a new platform that will recognize potentially the next generation of leaders in sports business," writes Abe Madkour, publisher and executive editor of SBJ.
In his role as vice president of new ventures for Tampa Bay Sports & Entertainment (TBSE), the parent company for the Tampa Bay Lightning and Amalie Arena, Samost oversees emerging properties such as digital network internal start-up The Identity Tampa Bay and esports internal start-up Bolts Gaming. He previously served as a business analyst for the organization. He also worked as the senior business intelligence and data warehouse developer for the Kraft Analytics Group, an entity of the Kraft Group that also includes the New England Patriots and New England Revolution.
"I entered Syracuse University needing to push myself outside my comfort zone," says Samost. "I needed opportunities to grow as a leader and public speaker and was fortunate the SPM program afforded me so many chances to grow and improve, both in the classroom and through extracurricular activities and experiential learning."
Samost graduated summa cum laude from the sport management program in 2013, where he also completed his senior thesis as part of the University's Honors Program. On social responsibility and giving back to the local community, the values instilled in Samost through Falk College's sport management program, he notes the TBSE organization has a strong commitment to the community, where each employee participates in volunteer opportunities throughout the year.
"Matt exemplified excellence in every sense as an undergraduate student," says Michael Veley, Rhonda S. Falk endowed professor, and director and chair of sport management. "He was extremely intelligent and exuded strong leadership qualities, motivation, and civic engagement. Matt was visionary and an analytical thinker. He has parlayed all of these attributes into a distinguished career, and while we're very proud of his accomplishments to date, I assure you, he's only getting started!"
Read more on Syracuse University's Alumni Association website