Networking, Professional Development, and the School Spirit Award: Falk College Dietetic Intern Maddy Baker Recaps the Food & Nutrition Conference & Expo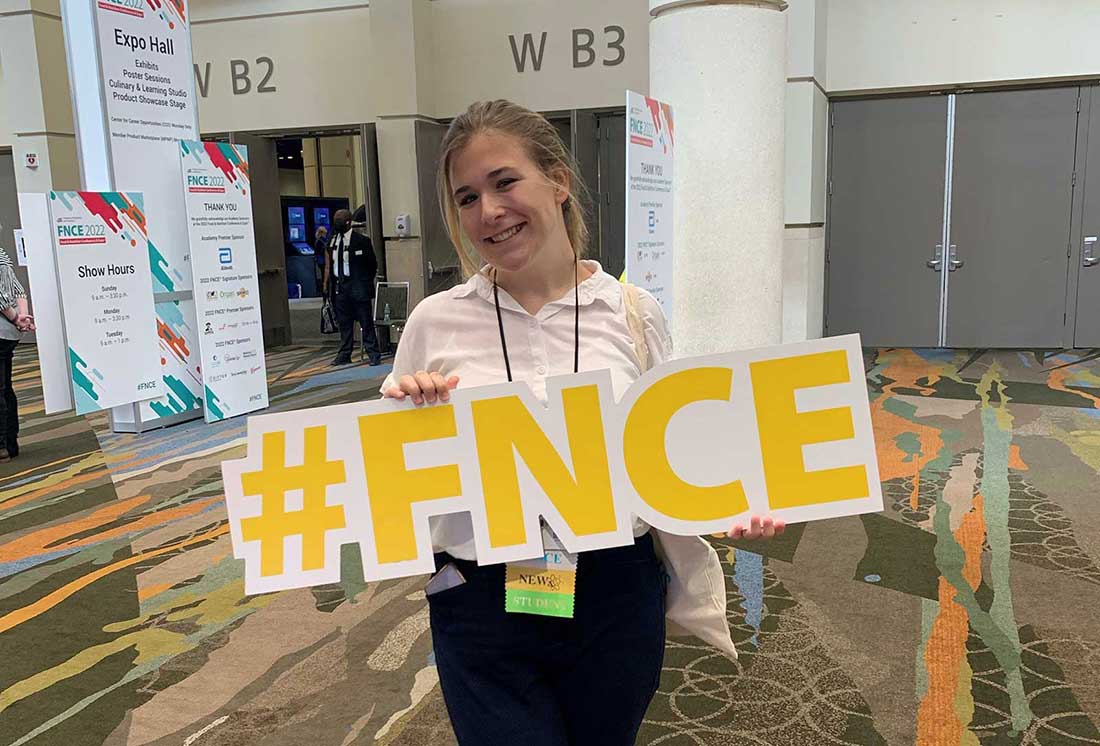 Each year, the Academy of Nutrition and Dietetics holds the Food & Nutrition Conference & Expo (FNCE). The Academy comprises the largest group of food and nutrition professionals in the world, and each year members from around the country travel to experience everything FNCE has to offer.
Unfortunately, the COVID-19 pandemic put a halt to FNCE. But after being held virtually for the past two years, the Academy and nutrition community was excited to welcome FNCE back in person this October in Orlando, Florida.
This year's cohort of dietetic interns from Syracuse University were encouraged and supported by Falk College to attend FNCE. All 10 interns, along with multiple Falk nutrition faculty, traveled to Orlando for a weekend of networking, professional development, and fun!
FNCE 2022 did not disappoint and offered countless educational sessions, an impressive expo floor, and exciting networking opportunities. Each intern expressed immense gratitude for the opportunity to attend this inspiring event. As future dietitians, this was a valuable experience that inspired us as young professionals and reminded us of the important field we are working to enter.
When asked by our director to reflect on my experience, I noted that, "Connecting with other students and dietitians and hearing about their experiences and passions is inspiring and confirms that I am on the right track in becoming a dietitian."
The conference was held from Oct. 8-11. After an exciting opening ceremony and hearing from Academy President and Syracuse University alumna Ellen Shanley, the conference began. There were sessions throughout each day, varying from topics such as sustainability to inflammation and malnutrition to cultural differences and accessibility.
There was truly no shortage of opportunities to learn. When the interns were not attending sessions or checking out research posters, we visited the expo floor. This year, more than 200 organizations attended FNCE. Brands and companies big and small showcased their products and services and to no one's surprise, it was delicious!
Orlando showed its Orange spirit that weekend with representation from Falk College! Assistant Professor Jessica Garay presented research posters with student contributions titled "The Effect of a 3-month Lacto-ovo Vegetarian Diet Intervention on Diet Quality" and "The Effect of a 3-month Lacto-ovo Vegetarian Diet on Inflammation."
Associate Professor and Undergraduate Director of Nutrition Kay Stearns Bruening presented a future practice poster titled "Focused interdisciplinary learning experiences improves awareness of interprofessional health profession skills."
One of the most exciting events of the weekend was when the Syracuse University Dietetic Internship accepted the School Spirit Award. The interns and director Nikki Beckwith attended a reception with Academy President Shanley and heard words of professional advice from multiple academy board members. Nikki and interns were honored to accept the award from alumna Shanley and show their Orange pride!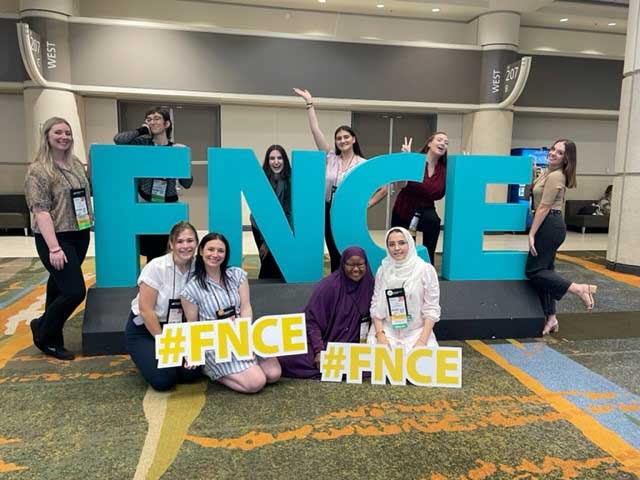 The Syracuse community was so proud that one of our interns, Rebecca Garofano, presented this year. Rebecca and her research partner, Helen Midney, presented on their research titled "Food Solidarity: Lessons from a Farmworker Community's Food Pantry Garden." (In April, Garofano was honored with the Outstanding Dietetics Student Award by the New York State Academy of Nutrition and Dietetics.)
All nutrition students hear about FNCE and the amazing opportunity it provides, however after experiencing it firsthand, the Syracuse University dietetic interns agree that this is an understatement. Having the opportunity to travel as a program was a memorable experience. We left with knowledge and insight on diverse topics, connections to professionals in the fields, and memories we will always treasure.
Editor's Note: Baker was joined in Orlando by nine other dietetic interns who are graduate students and will complete their internships in May: Asma Bukhari, Dahabo Farah, Rebecca Garofano, Natalie Krisa, Olivia Mancabelli, Maureen Philzone, Jennifer Pope, Sydney Teeter and Shenna Tyer. If you're interested in a career in nutrition and dietetics, learn about the programs offered through Falk College on the Department of Nutrition Science and Dietetics webpage.
—Maddy Baker '23, Dietetic Intern, Department of Nutrition and Food Studies