Graduate School Names Excellence in Graduate Education Faculty Award Winners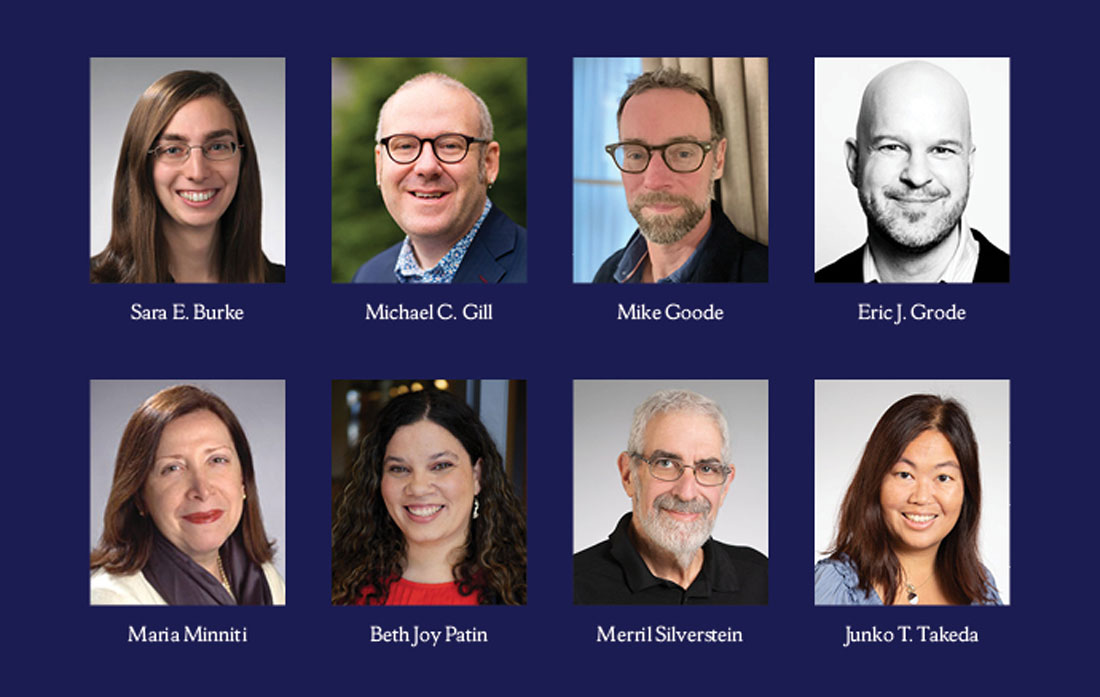 Eight faculty members are recipients of 2023 Syracuse University Graduate School Excellence in Graduate Education Faculty Recognition Awards. The honor is presented to faculty members who have a significant, positive influence on graduate education through their commitment to superior graduate teaching, dedication to departmental and community presence and work in research initiatives.
Winners were selected by an interdisciplinary committee of graduate students. They will be recognized at an award ceremony and reception on Thursday, April 20, along with the recipients of the Outstanding Teaching Assistant award. The ceremony is at 3:30 p.m. in the Syracuse University Sheraton, Regency Ballroom C.
The award winners are:
Merril Silverstein, professor of sociology and inaugural recipient of the Marjorie Cantor Endowed Professorship in Aging Studies in the Maxwell School of Citizenship and Public Affairs, and professor of human development and family science in Falk College
Sara E. Burke, assistant professor of psychology in the College of Arts and Sciences
Michael C. Gill, associate professor of disability studies and cultural foundations of education in the School of Education
Mike Goode, professor of English and William P. Tolley Distinguished Teaching Professor in the Humanities in the College of Arts and Sciences
Eric J. Grode, associate professor and director of the Goldring Arts Journalism and Communications program and associate professor of magazine, news, and digital journalism in the S.I. Newhouse School of Public Communications
Maria Minniti, professor of entrepreneurship and emerging enterprises and Bantle Chair in Entrepreneurship and Public Policy in the Martin J. Whitman School of Management
Beth Joy Patin, assistant professor of information studies and co-founder of the Library Information Investigative Team research group in the School of Information Studies
Junko T. Takeda, professor of history and inaugural Daicoff Faculty Scholar in the Maxwell School of Citizenship and Public Affairs
Scholarship and Graduate Mentoring
Silverstein, principal investigator of the Longitudinal Study of Generations, says his method of mentoring graduate students "involves shepherding them through their graduate programs and integrating their course requirements with product-oriented goals." He encourages students to attend and present at conferences, introducing them to notables in the field and professionally socializing them to the norms, procedures, and logic of scientific inquiry as well as to hone their critical thinking skills.
Burke's research focuses on intergroup bias, including stereotypes, discrimination, prejudice, and experiences of stigma. She says her "top career priority is providing compassionate, individually tailored expert guidance to doctoral students." Burke offers accessible information about her Intergroup Bias Lab research findings and its lab manual. She demonstrates a commitment to diversity and inclusion by creating a welcoming environment through her in-depth explanations and exclusive videos of the "R" statistical computing environment, material that supports learning the R computer programming language.
Gill's research interests include feminist and queer disability studies; intellectual disability and sexuality; intersections with gender, race, and science; and masculinity studies. He says he approaches his teaching "with a goal to generate and foster student interest while presenting diverse materials and methodologies…that connect to [students'] experiences and needs and encourage them to critically engage with communities of which they are a part." Gill helped establish the Engaged BIPOC Scholar-Practitioner Program and has advised students who participate in the Graduate School's Future Professoriate Program.
Goode specializes in late 18th and early 19th century British literature and culture with writings on historical reenactments, living history museums, the gender of history, the erotics of historicism, the comic public sphere and the ethics of the postmodern condition. He says he fosters graduate student success by "working very closely with individual students to develop their thinking, writing, teaching and presentational skills."
Grode's approach to ensuring a fulfilling graduate experience starts by understanding students' goals, ambitions, deficits, and gifts. He says he creates opportunities to fully prepare his students to enter the job market "by fortifying them with the tools they need then offering continued mentorship as they pursue their careers."
Minniti specializes in international migration, immigrant politics, the sociology of religion, race and ethnicity and qualitative methods. She mentors students from a holistic perspective by "being present, available and involved, treating…each student as an individual with untapped potential" and providing practical guidance, encouragement, and insight to help them navigate their entry into their professions.
Patin says she believes that "two of the most rewarding tasks in academics are teaching and mentorship…imparting knowledge to the next generation of scholars and researchers." She is recognized for creating an environment where students become critical thinkers and informed individuals who explore and challenge the status quo and who understand why the concept of culture is important in today's society.
Takeda specializes in early modern European history, France, Mediterranean, economic globalization, state-building and revolutions, migration, history of medicine and disease and Asian-American history. She says she "tries to provide as many opportunities as possible for my students to start learning professional skills and to develop their own confidence early in their careers." She and a colleague helped develop the CNY Humanities Corridor working group and provide an inclusive and friendly venue for Ph.D. students to share their research.