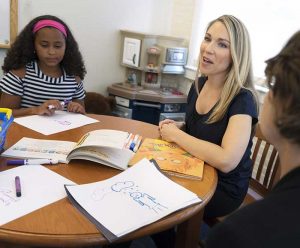 Marriage and family therapy is one of the fastest-growing mental health disciplines. The Bureau of Labor Statistics projects 16 percent growth in employment of marriage and family therapists from 2020 to 2030, as compared to the projected 8 percent average growth for all occupations. These therapists evaluate and treat mental and emotional disorders and other health and behavioral problems and address a wide array of relationship issues within the context of the family system.
In Falk College, marriage and family therapy students receive extensive clinical training while practicing under the close supervision of faculty and staff who are licensed marriage and family therapists in the field and either American Association for Marriage and Family Therapy (AAMFT) Approved Supervisors or Approved Supervisor Candidates.
Graduate students must provide 500 direct client hours of therapy. For every 5 hours of client contact, students must receive 1 hour of supervision. Supervision must include review of video recordings or direct observation of therapy sessions.
A portion of the required hours are completed at internship sites, while the remaining hours are completed at the Couple and Family Therapy Center located just off campus in Peck Hall. Operated by the Department of Marriage and Family Therapy, the Center offers individual, couple, family, and group therapy to the larger Central New York community, serving clients of all ages, identities, and demographics.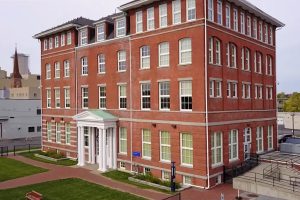 "The Couple and Family Therapy Center has played a significant role in my growth and development as a training therapist," says Abigail Seubert, a graduate student in marriage and family therapy. "Through my work with clients along with the support from our on-site supervisors I have learned how to navigate complex family systems, remain neutral in couple's conflicts, engage children in teletherapy, and care for myself following challenging sessions. The Couple and Family Therapy Center has laid the foundation that I will continue to build from as a new therapist throughout my career."
In 2021, 19 therapists provided 5,256 therapy sessions to 341 individuals.
"The Center remained open throughout the pandemic and was able to offer telehealth services through HIPAA compliant Zoom," says Tracey Reichert Schimpff, director of clinical services. "Remote services enabled the Center to serve clients from an even wider geographical area and reach those who would not have been able to travel to Syracuse for therapy."
All services are free for all clients, which allows the Center to serve those who may not otherwise be able to afford therapy. To further reach underserved populations in Syracuse, the Center has built community partnerships with organizations such as PEACE, Inc. Head Start and Syracuse Community Connections. The clinic also specializes in working with transgender and gender expansive individuals and their families.