With the support of a faculty mentor, two senior nutrition majors—and foodies—study the benefits of a vegetarian diet.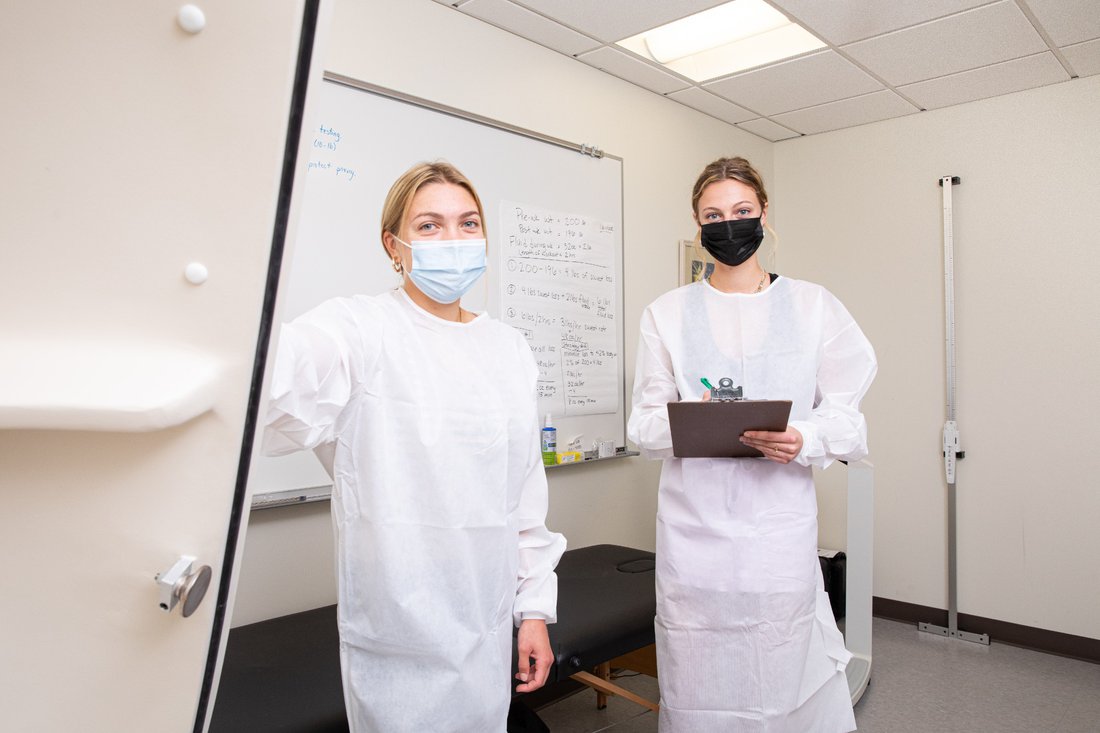 Samantha Jezak '22 and Olivia Templeton '22 are really passionate about food. From Jezak's business fromsamsplate to Templeton's Instagram feed, their love for good, healthy food is apparent. So, it's no surprise that these two foodies who study nutrition at Syracuse University's Falk College teamed up for a study on the benefits of a three-month vegetarian diet among adults.
Jezak and Templeton began with a small group of participants last semester and are enrolling more this fall. Working under Assistant Professor Jessica Garay, they are measuring changes in diet quality and inflammatory markers to identify when the benefits of switching to a vegetarian diet become apparent. The results will provide insight into whether a lacto-ovo vegetarian diet—consumption of some animal-derived products, such as eggs and dairy—is combative against inflammatory diseases, such as diabetes, heart disease and cancer.
Both Jezak, a nutrition science major, and Templeton, a nutrition major, were eager to conduct research. It was one of the reasons they both chose to attend Syracuse University. Aware of their interest in leading their own research, Garay gave them guidance regarding the existing research on the benefits of a vegetarian diet. The two seniors noted that many studies failed to address a timeline of how long a person had been following the diet. Jezak, who is interested in inflammation in the body, felt it was important to address the length of the diet when recruiting people for a vegetarian study. "That's why we took this approach of analyzing when we see the effects of a vegetarian diet and how that affects inflammation," Jezak says. The two are hoping this study provides more information on if and when changes occur in the body while on a vegetarian diet. Specifically, they are investigating how biomarkers, diet quality, body composition and stress are affected by making this dietary change.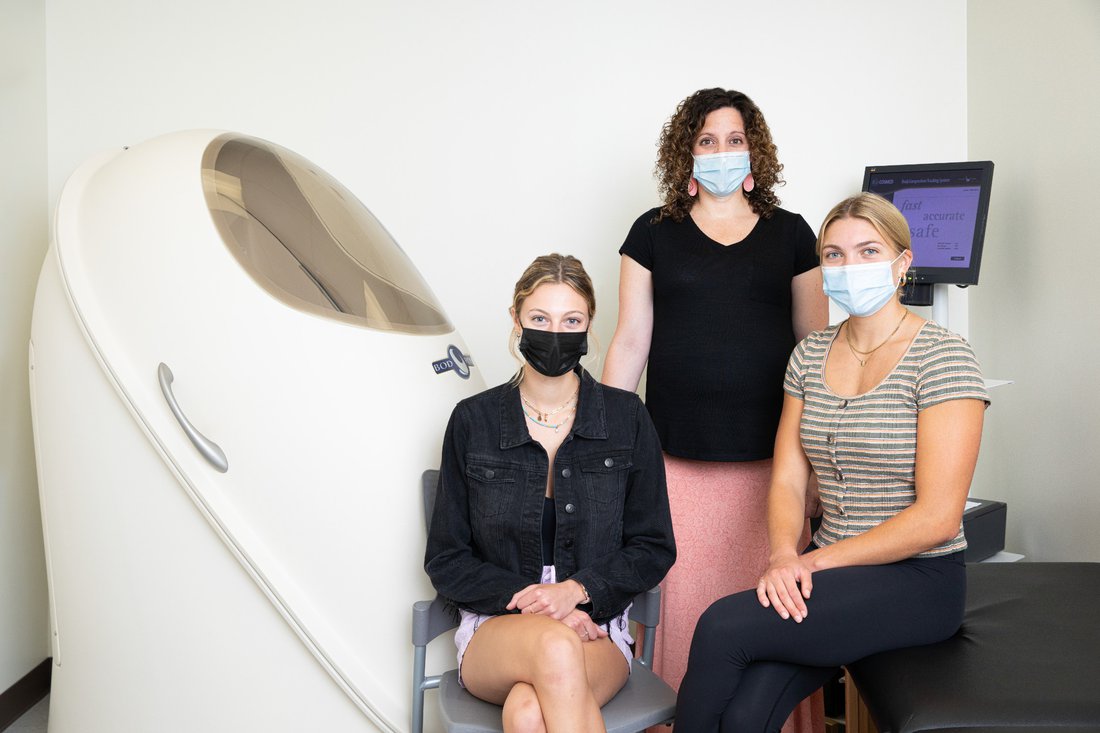 Diving into the Study
The duo started the pilot study last spring with four participants. They began with an informational lecture on how to follow a vegetarian diet correctly. After that, the study participants came into the lab three times every six weeks. In addition to a questionnaire that addressed how participants were feeling, Jezak and Templeton conducted more scientific tests using a finger prick and saliva samples. For these, they were looking at biomarkers, omega-3 levels, cholesterol, blood lipids and C-reactive protein. "We're getting a bunch of inflammatory markers to see how they're changing, which ones are changing and when," Jezak says.
This fall, they utilized Facebook groups to open the study to the greater Syracuse community and are continuing the study throughout the semester, using the winter and spring to analyze the findings and write about them for their Honors theses.
Jezak and Templeton, who are also both scholars in the Renée Crown University Honors Program, focus on different things when analyzing results. Jezak, as a nutrition science major, is focusing more on the the biomarkers, while Templeton, as a nutrition major, is concentrating on how the participants are feeling throughout the process. "Because this was such an expansive project, we're able to work on collecting the data together and analyzing separate parts of it," Templeton says.
The research team is waiting to analyze the results of the pilot study. They've frozen the omega-3 and saliva samples and will send those to the lab along with the samples collected this fall. Once those results are in from the lab, they'll review alongside diet records, which will be used to determine diet quality. "People said that they were feeling better, not craving meat as much, and feeling a lot more confident on the vegetarian diet and that they may continue it," Templeton says of the early feedback from pilot study participants.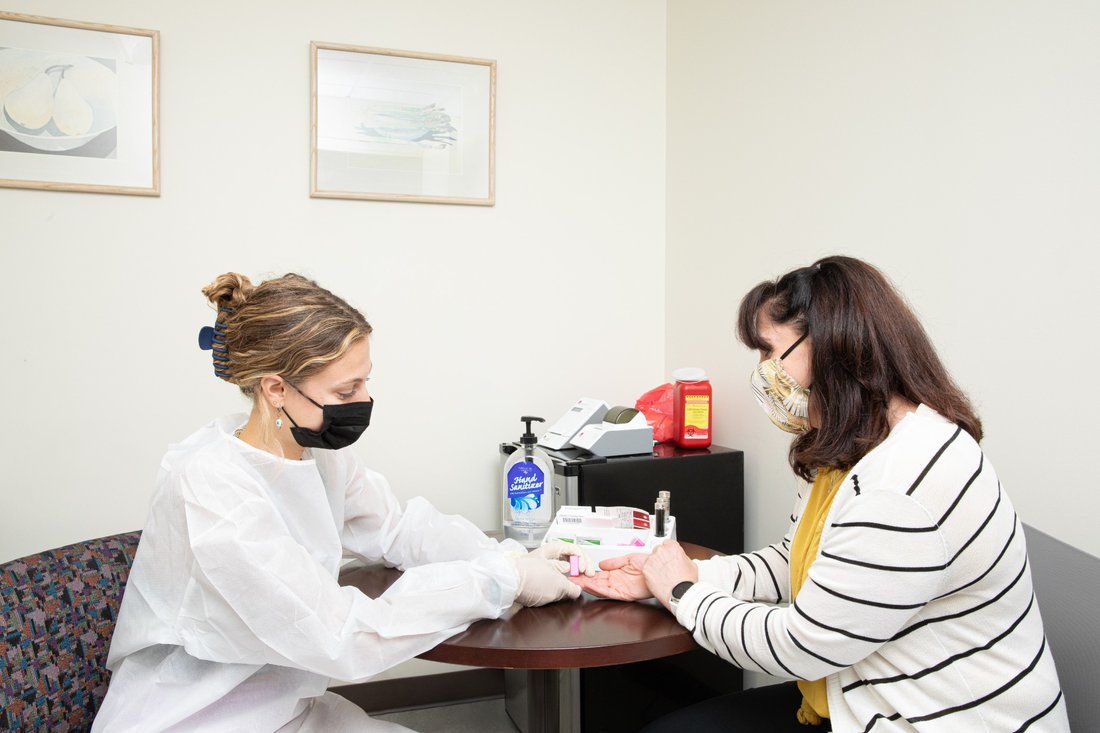 Funding the Research and a Mentoring Relationship
The study was funded by the Syracuse Office of Undergraduate Research and Creative Engagement (SOURCE), which supports undergraduate participation in faculty-guided scholarly research. They initially received $5,000 for the project and the duo recently received an additional $1,000 expansion grant. Jezak says the SOURCE staff was incredibly helpful with crafting the application, offering tips on what information to include or exclude. Students interested in getting a SOURCE grant for their research should talk to their professors and department. SOURCE student research mentors also hold weekly office hours to assist students.
"SOURCE really is a great example of what we have here at Syracuse," Jezak says. "I'm thankful for their assistance and for being able to do this type of research as an undergraduate."
Both Jezak and Templeton are grateful to Garay for guiding them through the research process. Under her tutelage they've learned how to operate the lab equipment necessary for the study, and she's been a great resource for sharing ideas. "She's really been instrumental in this research," says Templeton. "She's been there for anything that we might need help with."
Jezak adds, "I came to Syracuse excited to do research, but I give so much credit to Professor Garay, because she is the one who pushed us to do our own study. Professor Garay is so excited and passionate about what she does, and it's not just us that she has been there for. She has other students who work under her, and she is just as involved with their studies and getting the ball rolling on their research." Templeton says Garay often will email students articles and research she thinks they'd be interested in learning more about.
Garay has enjoyed assisting Jezak and Templeton with their research. "It has been a pleasure to work with both Sam and Olivia because they are highly motivated and share a strong interest in the topic. I am looking forward to mentoring them through this process and as they complete their honors thesis," Garay says.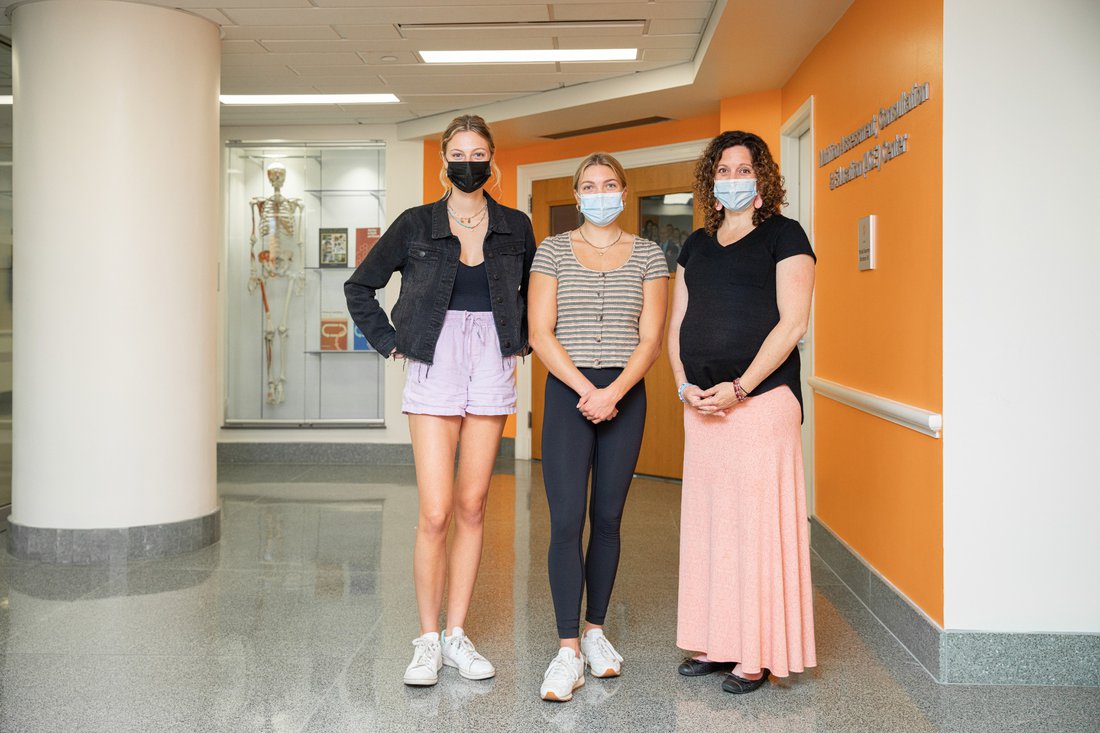 Looking Beyond Graduation
Both seniors are looking forward to what comes next. Jezak is applying to the Fulbright Program, where she hopes to continue her research in nutrition in Australia and is also applying to Ph.D. programs in the U.S. in molecular nutrition. Templeton is looking into a dietetic internship as she aspires to become a dietician nutritionist. She plans on earning a master's degree as well, specializing in gut health.
Both are grateful for their research experience and are confident it will help with their future endeavors. "I feel lucky in the sense that I have had the opportunity to do my own research, since many students do not have this opportunity until graduate school. This has also given me the opportunity to leave a mark on the nutrition field before I even receive my undergraduate degree," Templeton says.
Adds Jezak, "I simply feel more prepared and confident in my ability to conduct research. I am appreciative that I get to pursue my passion and use it to better the health and life quality of others."
Adapted from an SU Story by Lisa Maresca originally published on October 12, 2021.