Falk College Sport Analytics Students Continue Impressive Performances at National Competitions
In their professional careers, students from Syracuse University's Sport Analytics program will have to adjust to adverse situations, think on their feet, and meet demanding deadlines.
If recent events are any indication, they'll do just fine in the real world.
Eight Sport Analytics students from Falk College competed in the AXS National Collegiate Sports Analytics Championship in early February and finished first in the Game Analytics category and second in the Business Analytics competition as Syracuse University was the only school to have a team finish in the top four of each category.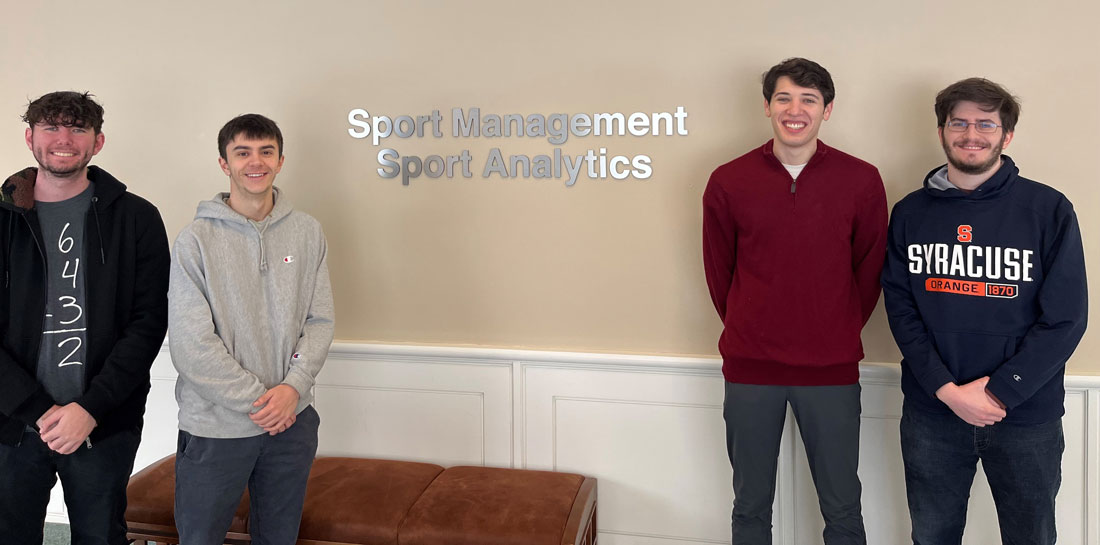 The Game Analytics team from Syracuse University included, from left to right, Matthew Gennaro, Alexander Borelli, Sam Gellman and Benjamin Wachtel.
The Game Analytics team included Alexander Borelli '23, Benjamin Wachtel '23, Sam Gellman '23, and Matthew Gennaro '23. The Business Analytics team featured Eli Miller '22, G'23, Kylie Dedrick '23, Shane Halpin '22, G'23, and Corey Goldman '23.
The eight students qualified for the second half of the national championship by finishing first in both team categories in the first half, which was held virtually. The second half was scheduled to be in-person at Baylor University in Dallas, Texas, but after flying to Washington, D.C., the students had to compete virtually because ice storms cancelled the connecting flight to Dallas.
The students had to turn around and fly back to Syracuse, where the next morning they were given just six hours to create a presentation out of the information they were provided.
"The overall competition mimicked real-world situations, which is a wonderful situation for our students, and was challenging, both in terms of doing the analysis and picking out how to present their results in the time allotted," says Rodney Paul, director of Syracuse University's Sport Analytics program and a professor in the Department of Sport Management at Falk. "Winning the Game Analytics portion and finishing second in the Business Analytics competition is a testament to the talent of our students, and we look forward to competing in both events and defending our national title in Game Analytics next year."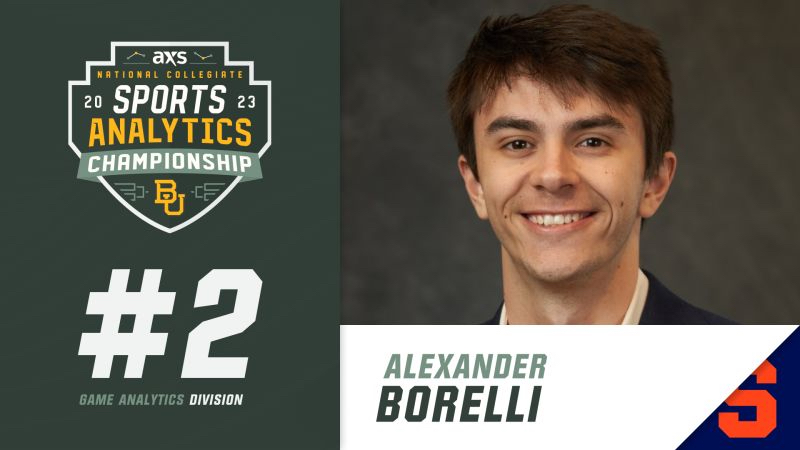 More than 150 students from across the country competed in both competitions. In the final individual rankings, Borelli finished second overall in Game Analytics, and Miller and Dedrick ranked 3-4 in Business Analytics.
Borelli says while it was disappointing that they couldn't participate in Dallas, it was still "an amazing experience" to present virtually to industry professionals who are in positions that he hopes to hold one day.
"It was awesome seeing the program take first place in Game Analytics and playing a role in that success," says Borelli. "It means a lot to me and the program as Dr. Paul and the rest of the faculty have put a lot of work in to set us up for success in these competitions."
The Game Analytics competitors analyzed Big 12 Conference basketball data. The Syracuse team of Borelli, Wachtel, Gennaro, and Gellman finished ahead of teams from Roanoke College, Trinity University, and University of the Pacific.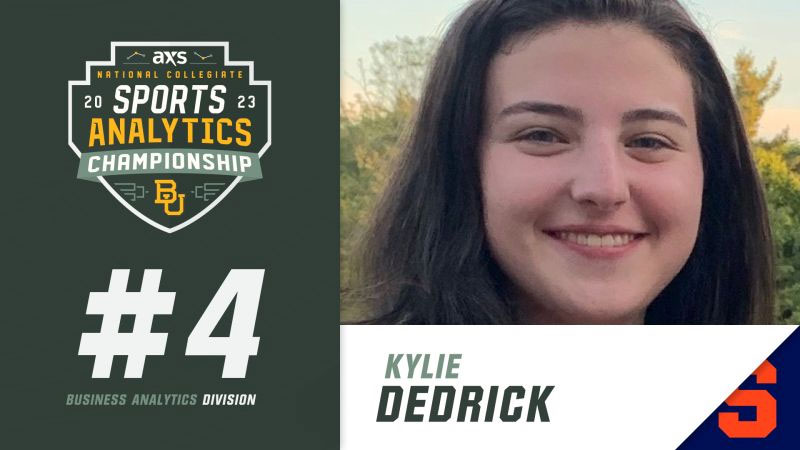 In Business Analytics, Syracuse's team of Miller, Dedrick, Halpin and Goldman finished second to the University of Iowa and ahead of Texas Christian University and Baylor. Dedrick says the six-hour limit for the presentation was challenging, but "showed me what I am able to accomplish in a short period of time."
"It was an amazing feeling to represent the Sport Analytics program, especially being one of the few women in the program," Dedrick says. "Placing fourth boosted my confidence in terms of my analytical skills and my ability to see a project through on my own."
Miller says the national championship allowed the students to put into practice what they learned in the Sport Analytics program since arriving at Syracuse University.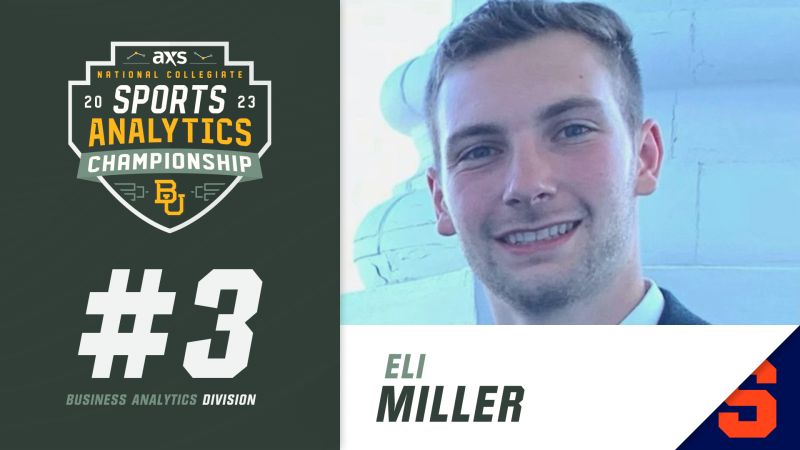 "The finals in this competition allowed us to showcase these abilities as well as meet many amazing professionals from the sports industry," Miller says. "I was happy to help the school by finishing as well as I did, and I hope that this competition has piqued the interests of industry professionals and allowed them to truly see how special this program is."
Austin Murphy Named Best Undergraduate Researcher
Sport Analytics student Austin Murphy '23 won the undergraduate research competition at the Academy of Economics and Finance conference Feb. 8-11 in Orlando, Florida. Murphy's paper, which was based on his senior thesis, was titled "The Madness of March: Using Betting Spreads to Identify Selection Bias in the NCAA Basketball Tournament."
"Austin combines a natural intuitive ability in performing research with great data analysis and writing skills," Paul says. "He also is a terrific presenter; his presentation at the conference was a pleasure to watch and was well received."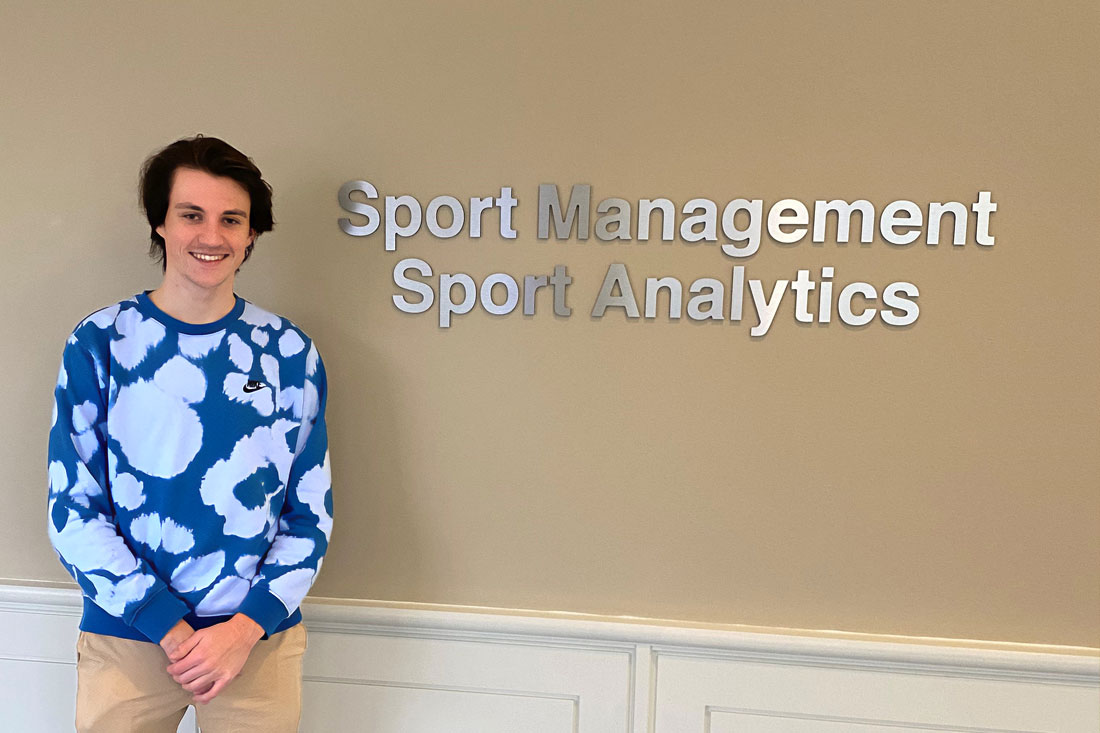 Austin Murphy '23 says winning the undergraduate research competition at the Academy of Economics and Finance conference "was an amazing feeling and something I am very proud of."
Murphy's victory and the national championship results capped a banner month for a Sport Analytics program that continues to grow in stature and excel at these events. Murphy says college basketball is one of his favorite sports, so it was a thrill to present his research at the conference.
"Winning the competition was an amazing feeling and something I am very proud of," Murphy says. "I have put a lot of effort into my thesis, and it was incredibly rewarding to be recognized for my hard work. I'm hoping my success will inspire other students to continue developing their skills to push the success of this program to even higher levels."