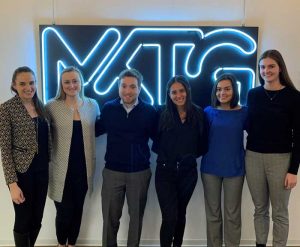 The second annual Sport Management Students and Professionals Meet Week, or S.P.M. Week, was held January 6-10, 2020, giving current students the opportunity to learn more about careers in sport with the help of alumni who hosted them at their workplaces. Twenty-four alumni and 26 students participated in the job-shadowing experience.
Sport Analytics senior Gareth Jobling '20 spent three days job-shadowing at Teamwork Online in Cleveland, Ohio, and one day with the Cleveland Indians.
"I learned much more than I hoped for in both experiences and was able to demonstrate how analytics could be helpful to both organizations," Jobling said. "TeamWork Online offered me a part-time remote internship for the spring that I was eager to accept."
Alumni hosts introduced the students to their industry and organization, providing an opportunity for the students to observe their daily responsibilities and ask questions. S.P.M. Week is designed to be flexible, so each shadowing experience fits the interests of the student and their alumni host.
"I had the incredible opportunity to shadow Christina Myers at Lehigh University Athletics," said Devan Dachisen '22. "I really enjoyed seeing the day-to-day operations of their marketing department and working with her at a women's basketball game."
P.J. Davidson '13, assistant manager of group sales for the New York Yankees, stressed the importance of giving students opportunities outside of a general internship, capstone or everyday classes.
"It gives them a glimpse into the professional world and if a specific role is something they would be interested in pursuing without having to make a larger commitment," Davidson said. "It is also a great chance for us to recruit from the program and mentor current students."
SU event organizer Lisa Liparulo, a Sport Management internship placement coordinator, gave alumni the liberty to create the day's agenda. Students gained first-hand industry insight, as well as network with professionals throughout the day.
"I am thrilled with the number of SPM alumni who agreed to host our students over winter break," Liparulo said. "We are grateful so many alums want to stay connected to our program by mentoring our students."
S.P.M. Week 2020 Job Shadowing

| Student | Host Site | Alumni |
| --- | --- | --- |
| Andrew Blutig | The Montag Group | Kate Ruben '15 |
| Alexander Chillemi | Prudencial Center | Sam Spector '16 |
| Devan Dachisen | Lehigh University Athletics | Christina Myers '18 |
| Karis Fenton | Loyola University Maryland | Stephanie Ann '15 |
| Connor Howard | New York Yanakees | P.J. Davidson '13 |
| Gareth Jobling | TeamWork Online & Cleveland Indians | Alex Wood '18 and Olivia Lavelle '19 |
| Caroline Johnson | MKTG | Caitlin Burke '19 and Alyssa Wood '15 |
| Max Josef | Lime | Ben Rubenstein '18 |
| Melissa Kerner | Precision Events Group | Jim Zissler '01 |
| Ethan Letwat | New York Yanakees | P.J. Davidson '13 |
| Jordan Lucero | The Austen Everett Foundation | Hanna Sanford '16 |
| Jenna Parker | MKTG | Caitlin Burke '19 and Alyssa Wood '15 |
| Danielle Parr | Soldier Field | Anna Zorn '18 |
| Matthew Pignatella | FanDuel | Jeremy Philipson '14 |
| Xin Ren | Westwood One | Howard Deneroff '89 |
| Andrew Schiffer | Atlanta Hawks & State Farm Arena | Jack Wentzell '14 |
| Blake Taub | BSE Global | Ben Rosenwald '16 |
| Noah Wagner | MKTG | Caitlin Burke '19 and Alyssa Wood '15 |