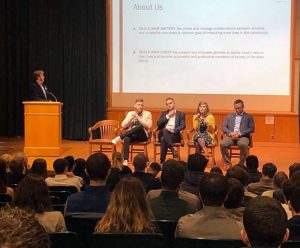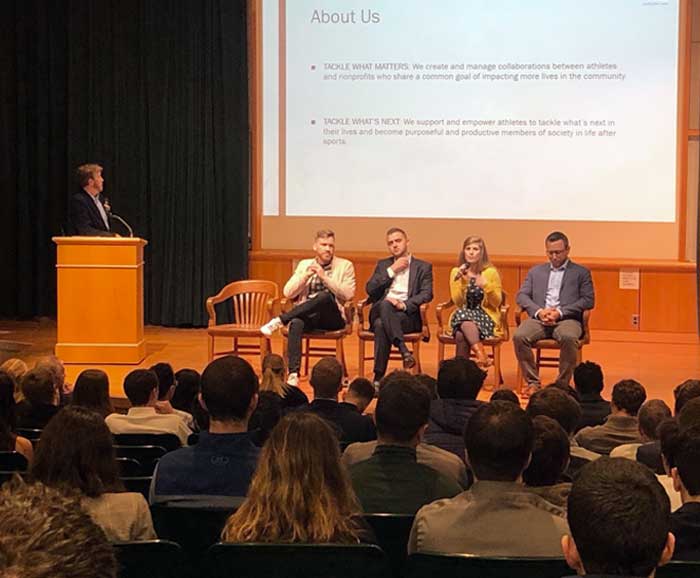 As part of its ongoing commitment to enhancing students' professional growth and networking opportunities, Sport Management hosted the third annual "SPM Alumni in #SportsBiz" event on October 18, 2019 in Falk College. More than 30 alumni and 150 sport management, sport analytics, and sport venue and event management students attended the event.
"It's impressive and humbling to see the amount of alumni that look forward to coming back to campus to engage with current and prospective students annually," said Sport Management Internship Placement Coordinator Nicole Cost '08, who organized the event. "I've always found the Sport Management program to be more than just an academic department; it's a family. Faculty and staff are dedicated to the success of our students, while alumni want to give back to ensure that the program continues to thrive."
The 2019 event kicked off with a luncheon for alumni with Sport Management Director Michael Veley and department faculty and staff before SPM Advisory Council member and marketing industry veteran Kelly Downing opened the afternoon program as the keynote speaker.
A panel of SPM alumni – Casey Miller '08, Ari Moskowitz '18, Danielle Berman '12 and Jeff Petrino '08 – then discussed their current roles in emerging areas of the industry, from drone racing, to starting your own non-profit and the digital age of sport. Alumni and students then moved into classrooms to take part in multiple panel sessions covering topics like transitioning from Capstone to career and navigating the changing landscape of the industry as well as working directly with alumni to brainstorm and pitch ideas with a crisis scenario prompt. The day concluded with a networking session for alumni and students, as this was also an opportunity for connect/reconnect with classmates, faculty, and staff.
"It was an honor to deliver the keynote speech for my alma mater," Downing said. "I enjoy every opportunity to be on campus and connect with students. I shared stories and learnings from my life and career, and I hope the students were able to connect with one element of my speech to apply to their academic and professional careers to propel their success."