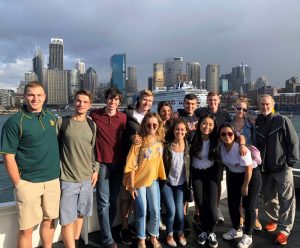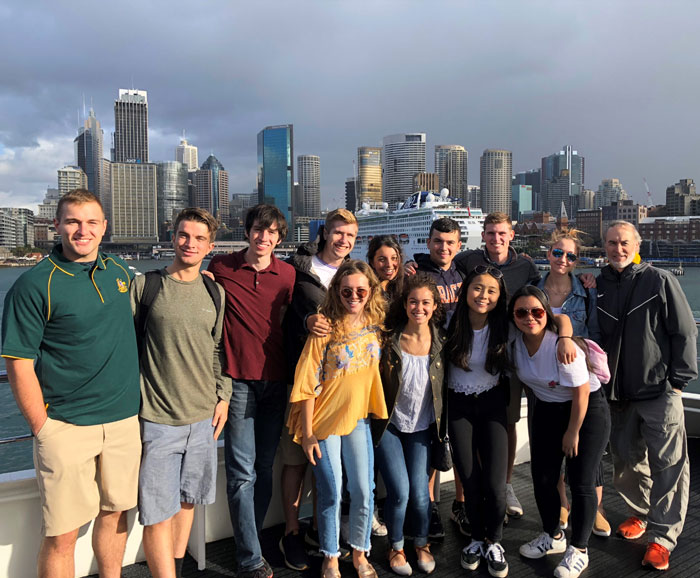 Falk College Endowed Professor of Sport Management Rick Burton took 12 students to Australia from June 13-30 as part of a three-credit course titled SPM 300 – Australia: Sport, History and Culture. The course is cross-listed as SOC 300 and much of the focus of this year's trip was on the narrative of race in sports. It was the seventh time the course was offered.
The students stayed in each city approximately five days and along with classroom work enjoyed cultural studies with trips to the rainforest and in-depth study of indigenous communities. The group visited Melbourne, Sydney, and Cairns (the Great Barrier Reef), taking in professional football and basketball, as well as snorkeling, scuba diving and "jungle surfing" in the Daintree National Park. The group visited the Queen Victoria Markets, the Melbourne Cricket Ground (the famed MCG), Australia's Sporting Hall of Fame, Sydney Harbour and Cape Tribulation, where British explorer James Cook ran aground in 1770.
Students benefitted from scholarly lectures (at top Australian universities such as Victoria University, University of Technology Sydney and James Cook University), site visits, and meetings/interactions with Australian university professors, students and industry professionals.
"From learning to play Australian Rules Football to visiting the aboriginal community, all the lectures and activities were enriching and eye opening," said Sport Management major Jocelyn Mong '19. "Through this trip, I met amazing people from different colleges at SU. We bonded over everything Aussie-related: food, rugby, and kangaroos, and have memories that will stick with us forever."
Burton, who previously worked in Australia as the commissioner of the Australian National Basketball League, said the purpose of the trip is to expose American students to a different country's sport, history and culture.
"It's exciting for our students to get embedded in an unfamiliar setting and see the unique way in which Australia embraces its sporting culture," Burton said. "This trip gives SU students the opportunity to see a vibrant sports culture that is different from what they see in the U.S."