By Emma Henzes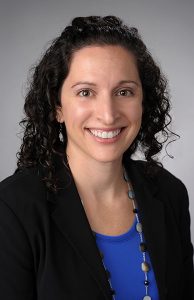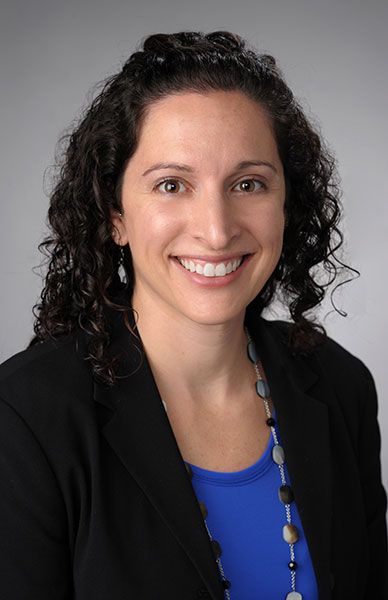 Even while data collection is on hold during the coronavirus (COVID-19) pandemic, Falk College associate professor
Jessica L. Garay
, Ph.D., R.D.N., F.A.N.D. is continuing her research, making minor modifications to procedures for her studies so they will be improved when her team resumes data collection. She continues to help students develop future projects, perform data analysis, and conduct a review of existing scientific literature. One of those students is Sam Jezak, a junior nutrition science major who was interested in starting research the minute she stepped on Syracuse's campus. Jezak says Garay has given her the crucial tools for a career path in nutrition and has connected her to the world of sports nutrition.
Currently, Garay is working on a research project that investigates how a vegetarian diet might benefit female collegiate athletes. She says now that many collegiate programs and professional organizations have sports dietitians, she wanted to conduct research studies that will contribute evidence to help those practitioners identity and justify specific dietary recommendations. Just like Garay, Jezak had always been fascinated with how metabolic processes affect the body. Garay encouraged Jezak to apply for her own research grant to lead her own project. "Without her expertise and 'nudging,' I may not have even known to apply for my own grant," Jezak explained.
With Garay as the project advisor, Jezak just recently was given funding from the SOURCE Academic Year grant from the honors program. She will be co-conducting a research project with Olivia Templeton, a dietetics major, that examines the effect on a 3-month vegetarian diet that includes milk and egg products on inflammation and diet quality. Garay says the idea for this study emerged out of a shared interest in documenting the possible health benefits of consuming a vegetarian diet. "There is a lack of clarity in the existing literature regarding exactly how long a person needs to adhere to a vegetarian diet in order to obtain health benefits," Garay says.
Garay is also starting a project that will follow women through their pregnancy to determine the influence of diet, physical activity, and stress on adverse birth outcomes. "I hope that my future research will be used to educate health professionals on the importance of both diet and exercise for mom and baby," Garay says. "And the need to encourage healthy eating and regular physical activity throughout pregnancy."
During her doctoral studies, while investigating the phenomenon of fetal programming, Garay began to realize the lack of research in the areas of maternal physical activity and diet on offspring's behavior and preferences. "Historically a lot of health and sports-related research was conducted on men, white men in particular. We are now seeing an increased diversity in research studies," Garay says. "But there are still gaps, particularly around short- and long-term impacts of maternal behavior during pregnancy."
Now with her work in nutrition and athletes, she hopes to add to this growing field. "My current projects are stepping stones toward larger studies, ideally interventions, that can be used to identify best practices for maximizing health outcomes and sports performance among females," Garay says.
For more information about research in Falk College, visit the Falk College Research Center.