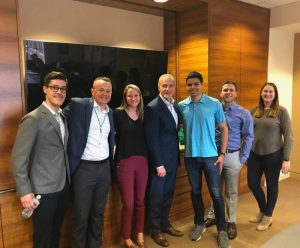 Eighteen students enrolled in SPM 300 spent eight days during Maymester 2019 in the Boston area touring sport-related facilities, and meeting with industry executives from nearly 20 venues and organizations. The New England Sports Immersion course compares and contrasts business practices, marketing strategies, branding initiatives, social media outreach and the organizational culture of competing sports franchises and entities in the greater New England market.
Students conducted professional networking and met and interacted with more than 70 industry executives and practitioners in the sporting industry, including 13 Syracuse University graduates. The group was accompanied by Sport Management Director Michael Veley and Sport Management assistant teaching professor Dave Meluni.
"Building the Syracuse Sport Management footprint throughout New England is important for our students and our program," Veley said. "We met with a multitude of executives, alumni and practitioners in nearly every facet of sports, which was a transformative experience for the students."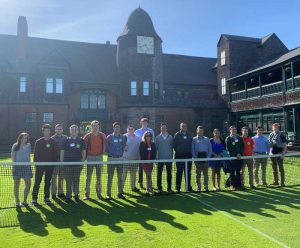 This year's trip included meetings with professionals from the Boston Red Sox, Boston Celtics, Boston Bruins, TD Garden, Kraft Analytics and Sports Entertainment Group, Basketball Hall of Fame, New England Sports Center, Tennis Hall of Fame, UMass Lowell Athletics, American Athletic Conference, UMass Amherst Athletics, Major League Lacrosse, ISlide, Baseballism, and Boston Athletic Association.
"The engagement, support and welcome from all of the organizations was incredible," Meluni said. "Our students made important connections with numerous executives as they begin to pave their path for the future."
Students attended a professional soccer game between the New England Revolution and Chelsea; a minor league baseball game at historic McCoy Stadium, home of the Pawtucket Red Sox; a Boston Red Sox game; a collegiate baseball game between Boston College and Notre Dame; and visited Faneuil Hall Marketplace.
"Seeing so many facets of the industry truly opened my eyes to what I could do with my career, from managing sports complexes to sales," said sport management major Tasha Getten '21. "I made connections that will help me in my future for sure."
The trip is made possible by a gift from Jeff and Andrea Lomasky.