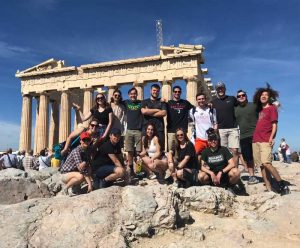 Fourteen students from across the University and the Department of Sport Management, led by SPM assistant professor Dr. Jeeyoon Kim, traveled to Europe in May as part of a 19-day, four-country Olympic Odyssey trip.
The program began in London, where students experienced the impact of the 2012 Summer Games. From there, they traveled to Paris, birthplace of the modern Olympic movement and host of the 2024 Summer Games. The students visited the French Paralympics Committee and INSEP (the National Institute of Sport, Expertise, and Performance) as well as attended a PSG Ligue 1 match. Next, the group traveled to Lausanne, Switzerland, to inspect the present-day "Olympic Capital" and headquarters of the International Olympic Committee (IOC) since 1915. Students met with IOC representatives from Television and Marketing Services, The Court of Arbitration for Sport, and the Olympic Studies Center. They also visited the Olympic Museum and tried archery at the World Archery Excellence Centre. The group then headed to Greece and toured the ancient facilities at Olympia, Delphi, and Marathon. The trip concluded in Athens, site of the 2004 Summer Games.
"This was the trip of a lifetime," said sport management major Andrew Perodeau '22. "Learning about the Olympics while touring four amazing countries is a rare opportunity that most people won't experience. My eyes have been opened to a whole new world of job opportunities, with the IOC or even partner organizations and Olympic committees."
The group also visited Wembley Stadium, the British Museum, Buckingham Palace, Eiffel Tower, Notre Dame, Alps, Parthenon, and the New Acropolis Museum, among other sites.
Students spent the Spring 2019 semester learning about the Olympic Games as part of SPM 356 Olympic Sport Management. They kept a blog of the trip which you can read online.