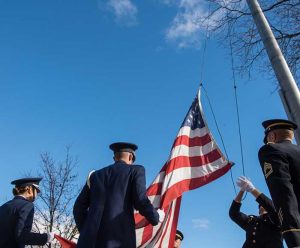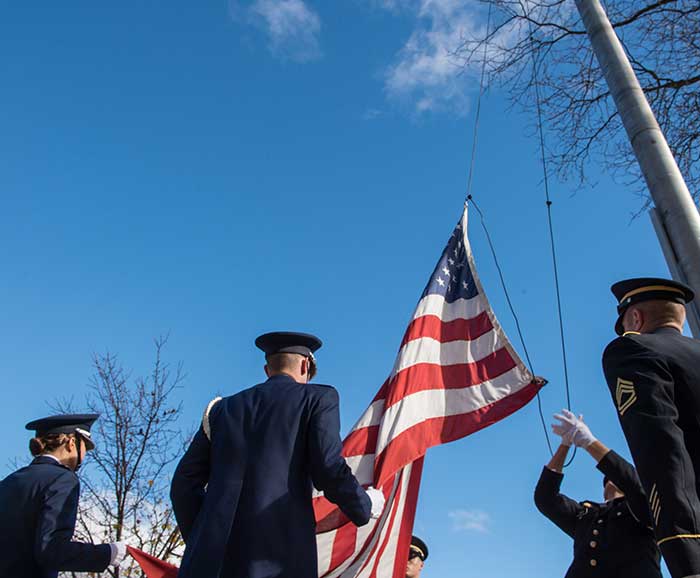 A recent edition of WCNY's Connect New York, "Beyond PTSD: Veterans, Health & Society," interviewed visiting teaching professor Kenneth Marfilius. The session, led by broadcast journalist Susan Arbetter, focused on the mental health challenges of veterans. Besides Dr. Marfilius, experts included Derek Coy, a Veterans' Health Officer with the New York State Health Foundation, Melissa Spicer, President, CEO and Co-Founder of Clear Path for Veterans, and Dr. Tanya Bowen, a Licensed Clinical Psychologist at the Syracuse VA Medical Center.
Active veterans often do not seek help because they fear a mental health diagnosis that could lead to a Fit for Duty examination and possibly to a discharge. Active duty mental health therapists can also have a difficult job of balancing the needs of the military and the mission as well as those of the individual on active duty service. These challenges can lead individuals on active duty to not speak up when they have a problem. Sometimes the feeling of not being able to talk about mental health carries over into their civil lives once they are out of the service.
While active duty, Marfilius served in the U.S. Air Force Biomedical Science Corps in multiple roles: active duty clinical social worker, mental health therapist, family advocacy officer in charge, and as manager of the alcohol and drug prevention and treatment program. He was commissioned in 2013 and was discharged in 2016 having obtained the rank of captain. At the Barksdale Air Force Base, Marfilius served in a variety of mental health roles related to sexual assault prevention and response, suicide prevention, and traumatic stress. Marfilius has also worked for the U.S. Department of Veteran Affairs at the Syracuse VA Medical Center in the Healthcare for Homeless Veterans Program.
Community groups are key in engaging veteran populations and providing a sense of belonging and purpose. One example of this is the Clear Path K-9 program, which has helped to shed light on the importance of animal-assisted intervention for health. Veterans dealing with depression, anxiety and chronic health issues sometimes have a hard time acknowledging the need for help and can be mistrustful of the system depending on their experiences. During the WCNY edition, Melissa Spicer explained that Clear Path was founded on building trust within the veteran's population. The organization originally started with a K-9 service dog program.
The K-9 Dogs2Vets program, provides emotional support to veterans with post-traumatic stress, military sexual trauma, or physical impairments by establishing a reliable relationship between them and a canine companion. Dogs are selected from shelters and matched with veterans based on specific needs and interests; some veterans bring their own dog.
The program is getting results. Veterans have become less isolated and more interactive, less hypervigilant and more physically active. The program has witnessed increases and reemergence of sense of humor, decreased levels of anxiety, increases in levels of trust and higher levels of confidence among participants. Participants have to problem solve and make important decisions with respect to their canine partners, and this spills over into decision making in other aspects of their lives.
Falk College's Dessa Bergen-Cico and Brooks Gump, professors of public health and Yvonne Smith, assistant professor of social Work have all worked with Clear Path's Dogs2Vets program doing research that seeks to quantify the gains, measuring things like post-traumatic stress, quality of life, and negative thoughts among participants in the program. Initial results of the program assessment looked good, including a marked decrease in PTSD symptoms and negative thoughts and increased quality-of-life scores—the opposite of outcomes observed in a control group waiting to enroll in Dogs2Vets.
Further research has reported significant reductions in PTSD symptoms, as well as reductions in perceived stress, isolation, and self-judgement, and significant increases in self-compassion when comparing the veterans that participated in the Dogs2Vets program over a 12-month period to veterans that were on the waiting list to receive a dog during that time period.
Falk College has been committed to helping veterans through research and educational opportunities:
The Undergraduate Trauma Research Training program is a National Science Foundation (NSF) Research Education for Undergraduates (REU) opportunity directed by Brooks B. Gump, a professor of Public Health in Falk College. This program brings together veterans and non-veterans in a safe environment to pursue trauma research activities.
The program, now in its eighth year, draws on personal experiences of veterans who understand the nature and context of traumatic events. The program has many successful stories to share that has impacted the lives of veterans and their families.
Falk College supports many other active research projects and has many veteran's students currently getting an education. If you are a veteran or individual interested in joining an educational program doing research with the veteran population, reach out to our Admissions team to find opportunities that fit your passions.
Falk College's many academic programs focus on touching the lives of individuals and making an impact within our community.
View a listing of all of Falk College's academic programs
Watch the full interview on WCNY Connect New York