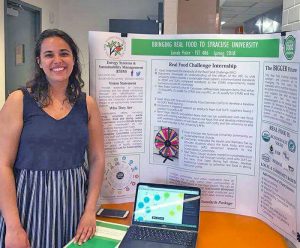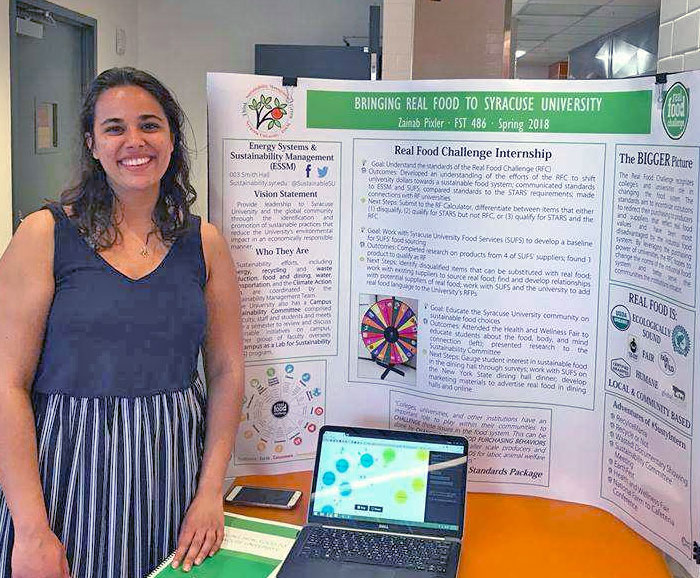 An Interview with Zainab Pixler
Where did you complete your internship? What was your title (if you had one)? Briefly, what did your internship entail?
My internship was in the Office of Energy Systems and Sustainability Management. I was the Real Food Challenge Intern. My internship entailed researching the feasibility of bringing real food – as described by the RFC standards – to Syracuse University.
What did you enjoy most about your experience?
I enjoyed learning about all aspects of sustainability and educating others on a sustainable food system.
Talk about a challenging or new experience you faced during your internship, how you managed it, and what you learned as a result.
The biggest challenge was communicating the importance of a sustainable food system to others who had not had any exposure to it. I felt the best way to educate and inform them was to explain their role and importance in the system and to communicate the mutual benefits of the project.
How did this internship prepare you to work in the broad field of Food Studies?
This internship offered a deeper exposure into the supply chain of a sustainable food system. It gave me experience dealing with the many challenges that the industrial food system faces and helped me learn way to navigate around them.
What's next for you?
After graduating I was able to travel while completing job applications in my area of choice: Cleveland, Ohio. As an Account Coordinator at the Greater Cleveland Food Bank, I am responsible for connecting food donors with food agencies across six counties in Northeast Ohio. This involves sourcing the right products, overseeing deliveries, and educating the food agencies on proper handling and distribution of the products.
Anything else you'd like to add?
Talk to your farmer! Eat local and organic when you can and always ask questions about where your food came from.