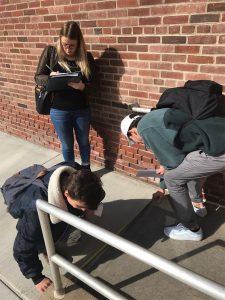 To prepare students in Falk College's Venue Management course to advocate for inclusive facilities access as future sport venue and events professionals, assistant professor of sport management,
Jamie Kim
, incorporated "Inclusive U" training into her syllabus this fall.
Twelve students took the 10-hour online training program offered by the Inclusive Recreation Resource Center, supported by the New York State Developmental Disabilities Planning Council (NYS DDPC). As part of the training, students used measurement tapes, door pressure gauge, and inclinometers to examine spaces, access, and equipment. After completion of the training to learn about accessibility and inclusive buildings, students are now Certified Inclusivity Assessors able to conduct inclusivity assessments.
"Inclusive access to public buildings is a civil right for people with disabilities, which should be better promoted and has a lot of room to improve," says Kim. "It is critical for students, as future venue managers, to acknowledge the importance of and understand the standards for inclusive access. I believe this project will help students be more aware of the issues and become advocates for inclusive access."
Students in the class found the certification process extremely helpful. "I was met with a new sense of profound awareness about making public recreation areas and buildings accessible for all people of all ages no matter what circumstances they might have," says Sam Marteka. Student Jack Lerner adds, "you don't really think about all the different aspects of inclusion until you complete the inclusivity audit, but now when I enter a building or facility, inclusion is always on my mind."