Falk College Honors Faculty for Excellence in Teaching, Service, Research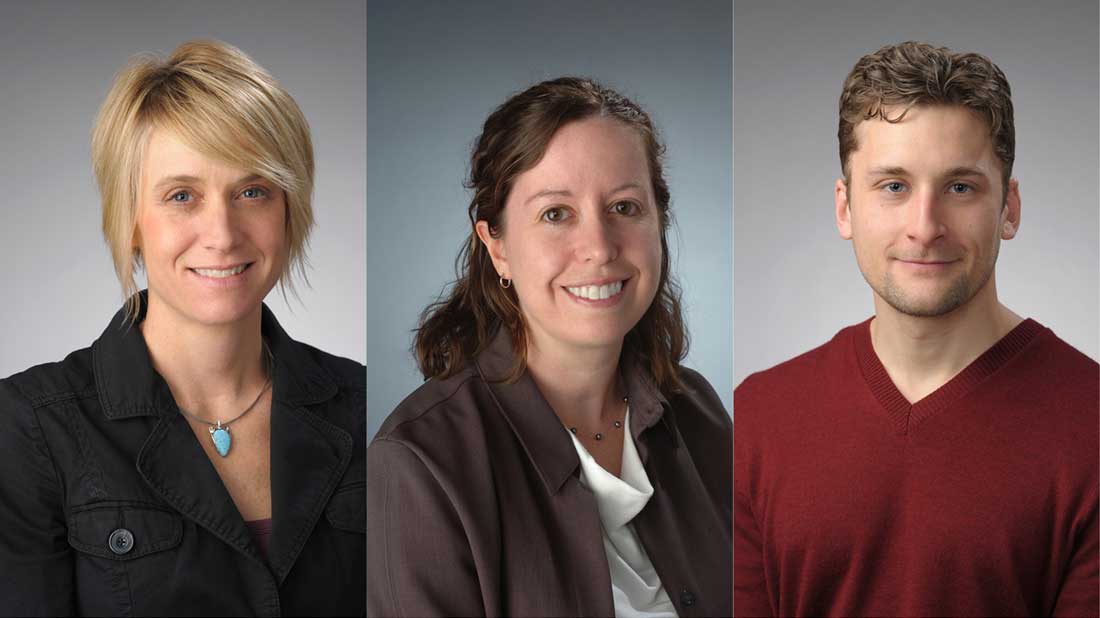 Jane Burrell, Lynn Brann, and Bryce Hruska were honored with 2023 Falk College Faculty of the Year awards for excellence in teaching, service, and research, respectively. The honorees were nominated by their peers for outstanding teaching, scholarship, and internal and professional service contributions and announced by the Falk Faculty Council in early May.
Chaya Lee Charles, an assistant teaching professor in the Department of Nutrition and Food Studies and chair of the Falk Faculty Council, thanked all faculty members who submitted nominations and her fellow Faculty Council members for their time and efforts in the award selection process.
"It is inspiring to see the talent and excellence that we represent as a college, and the high caliber of the nominees made our job challenging," Charles says. "The Faculty Council is excited to share the results of our thoughtful deliberations."
Here's a look at the 2023 honorees with comments from their award presenters: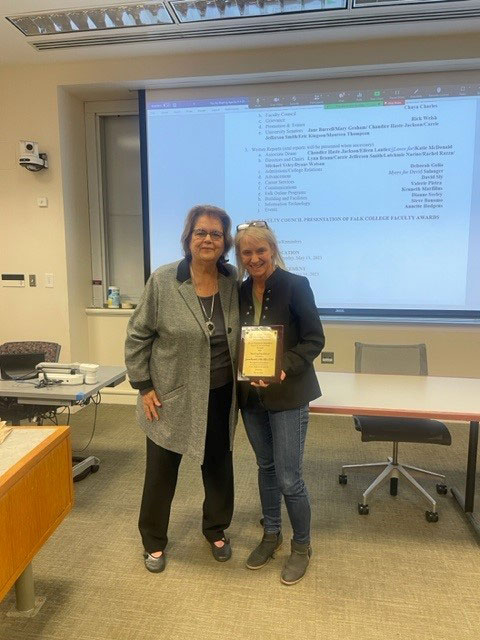 Jane Burrell
Associate Teaching Professor in the Department of Nutrition and Food Studies
Evan Weissman Memorial Faculty of the Year Award for Teaching Excellence
From presenter Lisa Olson-Gugerty, associate teaching professor in the Department of Public Health:
"Jane has taught and continues to teach multiple courses in her department, and her teaching prowess was described as dynamic and responsive to her students' needs. Her ability to teach with such excellence stems from her lengthy past and current clinical work in nutrition and dietetics. In other words, she is teaching from 'hands-on' experience.
"Jane has mastered adaptability in the classroom. She teaches introductory nutrition (NSD 225) in multiple modes, modifying delivery and assessment to match her audience. In the fall, Jane teaches a large section of NSD 225 for students from across campus. Given the size and limited support (10 teaching assistant hours per week), managing NSD 225 requires organization and attention to detail. Jane keeps the class current by modifying content, utilizing new textbooks, and adopting technology to engage a large audience.
"Jane is dedicated to professional development. In 2022, she participated in a Peer Teaching Evaluation Workshop focused on 'Small Teaching,' a book James Lang. She utilized this new knowledge in her 'NSD 342: Nutrition in the Lifespan' course. She initiated low-stakes quizzes, providing immediate feedback and a sense of where students stood in the learning process. Jane further modified NSD 342 after attending the Equity-Minded Syllabus Design Workshop by the Center for Teaching and Learning Excellence. This training prompted her to add detail concerning the weight and purpose of assignments so students would understand what they gain from assessments while increasing motivation.
"Jane is not afraid of challenges. In spring 2022 she taught a two-week immersion travel course in Italy, 'NSD 452: Mediterranean Food and Culture,' for the first time. The course was started by a recently retired colleague. When the opportunity arose, Jane jumped at the chance to teach the class, working with Syracuse Abroad to create new student experiences. Jane is excited about modifications for this spring that further enhance the abroad experience.
"Jane strives to provide her students with the most recent evidence-based education. In fact, she is currently enrolled in a Ph.D. program in our very own Human Development and Family Science department. Her list of teaching skills and accomplishments goes beyond what is listed here. On a personal note, I want to add that I am thrilled to be presenting this award to Jane. She was one of the first people I met when I joined Falk and has always been a kind and supportive colleague."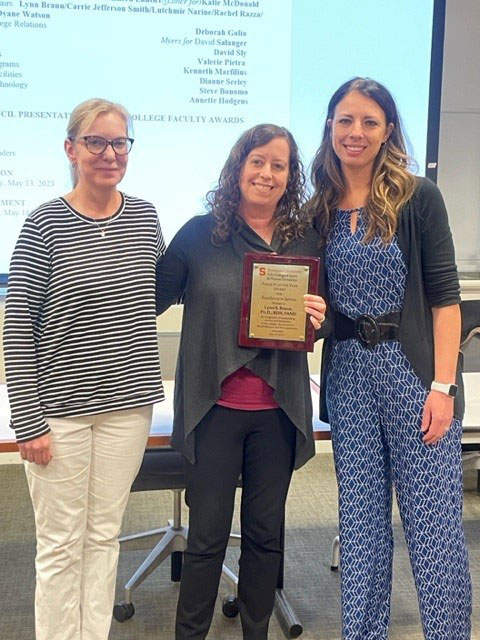 Lynn Brann
Chair of the departments of Exercise Science and Nutrition and Food Studies, associate professor in the Department of Nutrition and Food Studies
Faculty of the Year Award for Excellence in Service
From presenter Chaya Lee Charles, assistant teaching professor in the Department of Nutrition and Food Studies:
"Lynn has an extensive resume of teaching, research, and service in Falk College and within the University as evidenced by her previous receipt of nine Chancellor's Awards for public service during her tenure at Syracuse University.
"This academic year, however, she went far above and beyond, accepting her call to duty by chairing not only the combined Department of Nutrition and Food Studies, but also chairing the Department of Exercise Science. Despite this challenging task, Lynn has provided leadership, support, guidance, and advocacy for both departments while mentoring junior faculty in the Nutrition program and assisting Exercise Science faculty and staff through the growing pains of acclimating to Falk College. She has exceeded all expectations one could place on someone assigned such a difficult role and has done so with grace, compassion, understanding, and outstanding professionalism.
"In additional service during 2022 at the University level, Lynn was selected to participate in the inaugural Syracuse University Women in Leadership Cohort Group to support the professional development and career development of women faculty and staff at the University. She also continued her work on the Academic Appeals Committee; the Falk College Promotion and Tenure Committee; the Falk College Diversity, Equity, and Inclusion Committee, and the Falk College Program Review Committee, and she is a Dean's Cabinet member and serves as a trainer for Academic Integrity panelists and Academic Integrity faculty interviewers.
"Locally, Lynn serves on the Health Services Advisory Board, Peace, Inc., Head Start, and Early Head Start of Syracuse. In her desire to further the profession of nutrition and dietetics, Lynn also serves as advisor to the Pediatric Nutrition Practice Group of the Academy of Nutrition and Dietetics and is a journal reviewer for the Journal of Child and Family Studies, Appetite, Nutrients, the International Journal of Obesity, the Journal of the Academy of Nutrition and Dietetics, the Journal of Nutrition Education and Behavior, Public Health Nutrition, the Journal of the American Medical Association Pediatrics, the Maternal and Child Health Journal, and the Maternal and Child Nutrition Journal.
"I couldn't be more pleased to honor Lynn with this award as she has been a calming force to our department and a strong leader who consistently considers all aspects of any difficult situation and guides us in the right direction. No matter the problem, she always has an open door and provides sound counsel, such as my favorite piece of wisdom, that 'It will all be fine!'"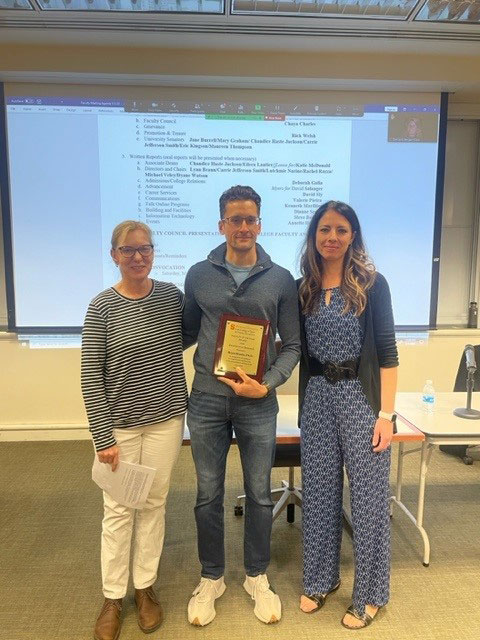 Bryce Hruska
Assistant Professor in the Department of Public Health
Faculty of the Year Award for Excellence in Research
From presenter Lisa Olson-Gugerty, associate teaching professor in the Department of Public Health:
"Over the last several years, Bryce has been systematically building his program of research, investigating post-traumatic stress disorder (PTSD) and its co-occurring mental health consequences, and identifying strategies for addressing PTSD before it takes its full toll on functioning.
"In the past year, he has had several notable accomplishments that have significantly advanced his research program. He submitted six first-authored, peer-reviewed pieces of scholarship resulting in two published peer-reviewed articles, one peer-reviewed article in press, one published peer-reviewed book chapter, and two peer-reviewed articles that are currently under review after receiving an invitation to revise and resubmit. The published/in press pieces all appear in high impact journals, including Sleep Health, Journal of Psychiatric Research, and Journal of Anxiety Disorders.
"Bryce has presented his research and its findings at two international conferences: the International Society for Traumatic Stress Studies and Society for Ambulatory Assessment. These presentations included a peer-reviewed symposium and two peer-reviewed poster presentations.
"Much of his research focuses on the mental health burden experienced by healthcare providers, a topic that has recently received special attention due to the COVID-19 pandemic. To facilitate the translation of his research into practice, this past year he delivered an invited presentation at American Medical Response (the largest ambulance service provider in Central New York) that described his research examining the connection between sleep and mental health. He also wrote two pieces of publicly engaged scholarship–including a blog post and a research brief–that were delivered to an international audience of policy makers, practitioners, media outlets, students, and the public.
"Finally, he was awarded a CUSE Innovative and Interdisciplinary Research Grant supporting the next phase of an intervention that he is developing that will reduce the mental health symptoms experienced by ambulance service providers. This work will serve as pilot data for a subsequent submission for extramural funding from the National Institute of Occupational Safety and Health.
"Collectively, these achievements highlight his commitment to high-quality research that has translational implications and demonstrate the high level of research activity that he has engaged in during the past year. I would like to personally add that as a healthcare worker in emergency medicine who has spent a significant amount of time working in the COVID pandemic, I appreciate all that Bryce has done and continues to do in his research for me and my colleagues."