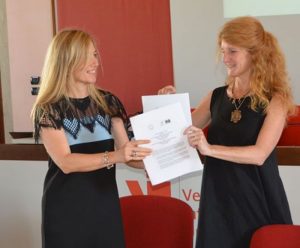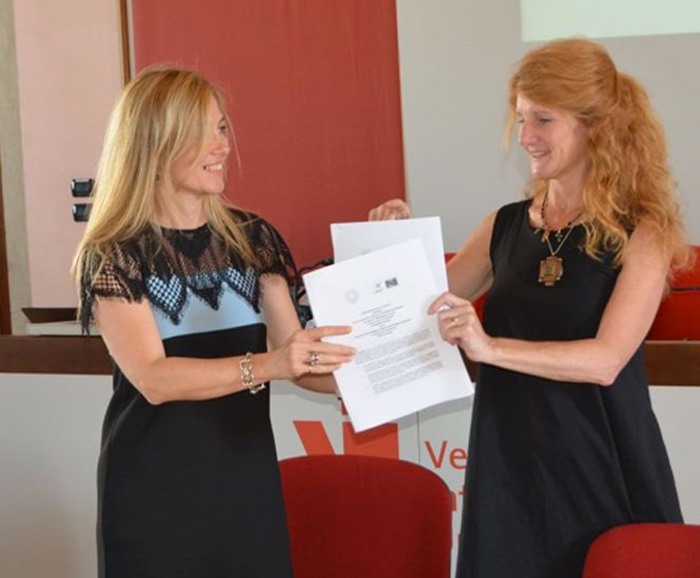 A four-year collaborative partnership between Syracuse University's Falk College and the Council of Europe's Cooperation Group to Combat Drug Abuse and Illicit Trafficking in Drugs (the Council of Europe's Pompidou Group) will support rigorous curricular development and training for drug policy administrators. This collaboration is an outgrowth of Falk College's on-going partnerships with the Pompidou Group and Syracuse University's Study Abroad Strasbourg program.
Dessa Bergen-Cico, associate professor of public health and coordinator of Falk College's addiction studies programs, is Syracuse University's partnership lead. She has worked with the Pompidou Group since 2010 to support drug policy administrators in developing sustainable, effective drug policies focused on public health and safety. The trainings provide managers from government and non-government institutions with objective, data-driven approaches to developing, implementing, and evaluating national drug policies that are evidence based, promote human rights, and strengthen international cooperation. Using data as a foundation, this cooperation supports effective policies and academic research. Faculty and select students with an interest in research in drug policy and drug use trends may contact Dr. Bergen-Cico (dkbergen@syr.edu) to learn more about opportunities for involvement in research and the biannual executive education trainings.
Results of these collaborations to date include published research in Substance Use and Misuse, The Neuropathology of Drug Addictions and Substance Misuse, Journal of Drug Policy Analysis, International Journal of Psychology and Psychoanalysis, and World Medical and Health Policy as well as international executive-level training and presentations.
Bergen-Cico's research and scholarship span numerous emerging democracies focused on drug policies and emerging trends in drug use. In 2011, students and faculty from Falk College's public health program attended the Pompidou Group – Syracuse University Trans-Atlantic Executive Training on Drug Policy: Effective Governance of Coherent Drug Policies where Bergen-Cico presented on the then-emerging opioid crisis in the United States. In 2015, she was selected as a Fulbright Scholar to conduct research on substance use and drug policy in the country of Georgia and across Eurasia.
Last spring, Bergen-Cico presented training for the Council of Europe on new psychoactive substance use trends and demand reduction responses in the U.S. where she shared her groundbreaking research on new psychoactive substances Kratom and Siberian Ephedra. In September 2017, Thomas Kattau and Elena Hedoux from the Council of Europe's Pompidou Group visited Syracuse University to promote internship opportunities and study abroad programs. This visit included several presentations on the role of international cooperation in fighting drug use, the migration wave in Europe and resulting challenges for public health systems, and how new psychoactive substances are bringing new challenges to societies.
After learning about Bergen-Cico's research on the efficacy of mindfulness-based programs for prevention and drug demand reduction in the U.S., Ricardo Sánchez Huesca, Mexico's deputy general director of youth integration centers for Mexico invited her to conduct training in Mexico. In addition to a December 2017 seminar on mindfulness for prevention of traumatic stress and addictive behaviors, Bergen-Cico gave the keynote presentation entitled, "New Psychoactive Substances (NPS) Trends and in the in the United States" at the 19th International Congress on Addictions: Dual Disorders and Comorbidity Associated with Substance Use in Cancun, Mexico.
This spring, Bergen-Cico conducted the training, "Political or scientific evaluation? Examination of legalized cannabis policy outcomes in the U.S." with 25 participants from 17 countries representing four different continents as part of the 2018 Pompidou Group's executive training program in Venice, Italy. This program that examined evaluating the development, implementation, and impact of drug policy will take place in Lisbon, Portugal this Fall where Bergen-Cico will participate.