Rebecca Garofano, a Falk College graduate student in nutrition science, was honored with the Outstanding Dietetics Student Award at the New York State Academy of Nutrition and Dietetics Annual Meeting and Expo April 8-9 in Syracuse.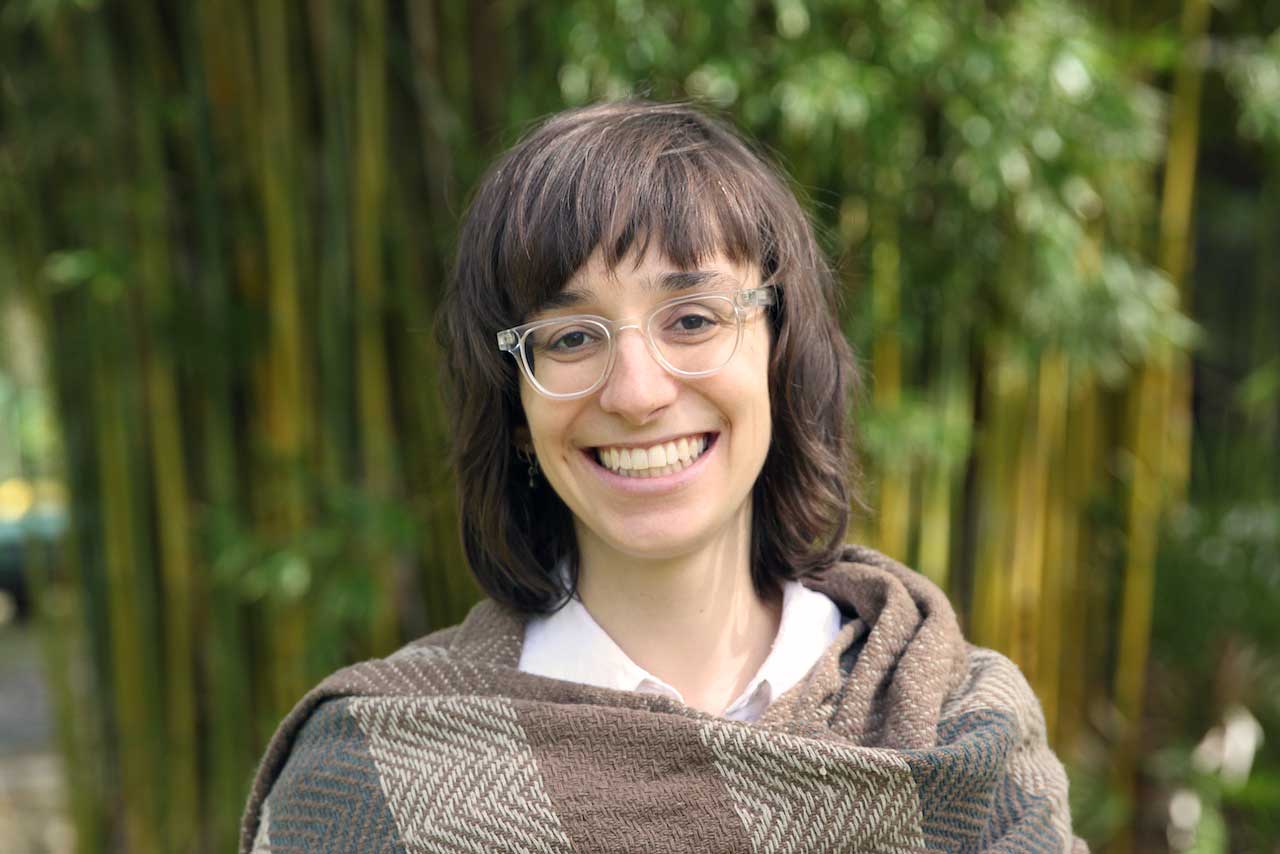 Rebecca Garofano
Garofano is actively engaged in research and service with various professional and community organizations. We spoke with Garofano to learn more about her research experience and interest in nutrition:
Tell us a little bit about yourself:
I am from Syracuse, left at age 18, and returned after about 10 years to care for and be with my mom, who passed away from colorectal cancer in 2018. Outside of being a student, I'm a mom of two young kids, an avid doodler, an aspiring gardener, a decent cook but better eater, and a recent convert to graphic novels.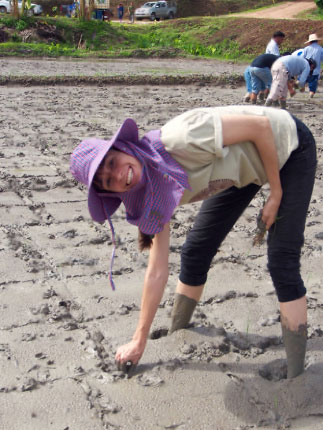 What sparked your interest in nutrition?
During my time away (from Syracuse) I had the opportunity to learn about agriculture, including working internationally for a nonprofit that does agriculture research and extension for smallholder farmers.
There were multiple culminating dynamics that contributed to this moment, but the specific one when I realized that I wanted to study nutrition science came while working on a research grant, which involved doing nutrition composition analysis of local vegetable species for which that data doesn't yet exist. We were packing fern samples to ship to the World Vegetable Center office located at Kasetsart University in Bangkok, Thailand. My co-workers taught me a lot about food, and collecting and packing these samples, of course, involved taste testing the fern in several dishes that they enjoyed.
Something clicked for me in that moment, and I realized I wanted to study nutrition science because it's in the kitchen that people and communities express their values, their love for each other, and address issues or concerns that they face (whether in the agriculture field, politically, culturally, or as it relates to health issues). I knew that studying nutrition science would help me understand how agriculture connected to human metabolism. This whole experience was reinforced and deepened when I was caring for my mom, who worked as a family consumer science teacher here in Central New York.
What made you choose SU's nutrition program?
When I returned to Syracuse, I was so grateful to come "home," to be by family, and to get to know this community that raised me in a new way. It was important for me to study here, and to do so at Syracuse University has been an opportunity and a privilege I value. It's been nice that the Nutrition Science program is housed within the same department as the Food Studies program. That cross pollination between the programs, for me, has been very important.
Tell us about your thesis:
My research focuses on the application of integrated measures between agriculture and nutrition, and specifically looks at the somewhat novel metric referred to as "nutrition functional diversity," using principles of ecological diversity that assess a growing space not just according to the number of species within that space, but also according to the functions or niche role that each species fills. In this case, it's an opportunity to consider a growing plot (like a home garden) and evaluate the ways that those plants work synergistically, and what potential arrangement of macro or micronutrients they provide to the human who consumes them.
I think one way to describe the question I've been considering is the concept of "nutrition resiliency." While I, of course, bring biases and assumptions to the research on multiple levels, I am compelled by the potential of considering innovation that happens in gardens, fields, and kitchens, and asking how those decisions reflect ingenuity and creativity, and how then that ingenuity is reflected in the complex processes of human metabolism.
Where did this research idea come from?
My research project was very much influenced by the work of Andrea Guzmán-Abril and Stephen Alajajian at the Mayan Health Alliance. I've been very grateful to partner with a nonprofit pantry garden based in Immokalee, Florida. Immokalee grows about 90% of U.S. wintertime tomatoes. Some people may be familiar with the unincorporated town because of important human rights and labor organizing work of groups like the Coalition for Immokalee Workers.
As (Falk professor) Laura-Ann Minkoff-Zern so aptly points out in her research, immigrant farmworkers that provide undervalued labor in U.S. agricultural fields are doubly ostracized within emergency food systems, including by way of failing to acknowledge their rich (nutritious) food traditions and the expertise of their agrarian backgrounds. While many farmworkers have difficulty accessing growing spaces because of restrictions that landlords place on their rental spaces, many still garden in containers.
This research project looks at the biodiversity around Immokalee community members' homes and considers the correlation with dietary data. It also considers the ways that access to "preferred" fruits and vegetables (through pantries, foraging, purchase, or exchange) impacts their diets. One of the research partners, Lupita Vazquez, continues to ask the question of how this research can tangibly support the community that it's gathering data from. I'll continue to learn from her and the other people who've led the interviews about how best to offer this data to the community there.
Tell us about your mentorship experience at Falk. Has there been a particular person or office that has supported your work?
Faculty mentorship has most definitely been the most valuable part of my studies. Dr. (Lynn) Brann, Dr. (Sudha) Raj and Dr. (Margaret) Voss have all been very supportive and encouraging of me. All three have written countless letters on my behalf and acted as a sounding board for my harebrained ideas!
Dr. Voss as a mentor and thesis advisor has been invaluable. I feel very lucky to have found an ecologist and physiologist within the nutrition science department to guide my learning. She has allowed me the space to grow and has provided the resources and expertise along the way. I didn't expect to have such a positive an edifying experience with primary research during a master's program, and her commitment and support have largely made that possible. It's evident that she cares deeply for her students. While I haven't experienced other graduate programs or universities, I think the freedom and support I've received during my time at Falk College is somewhat unique.
I've also been very grateful for exposure to faculty within the Food Studies program. I mentioned Laura-Ann Minkoff-Zern's work earlier. Estelí Jimenez-Soto has recently joined the department and has been very gracious in including me in research groups along the way.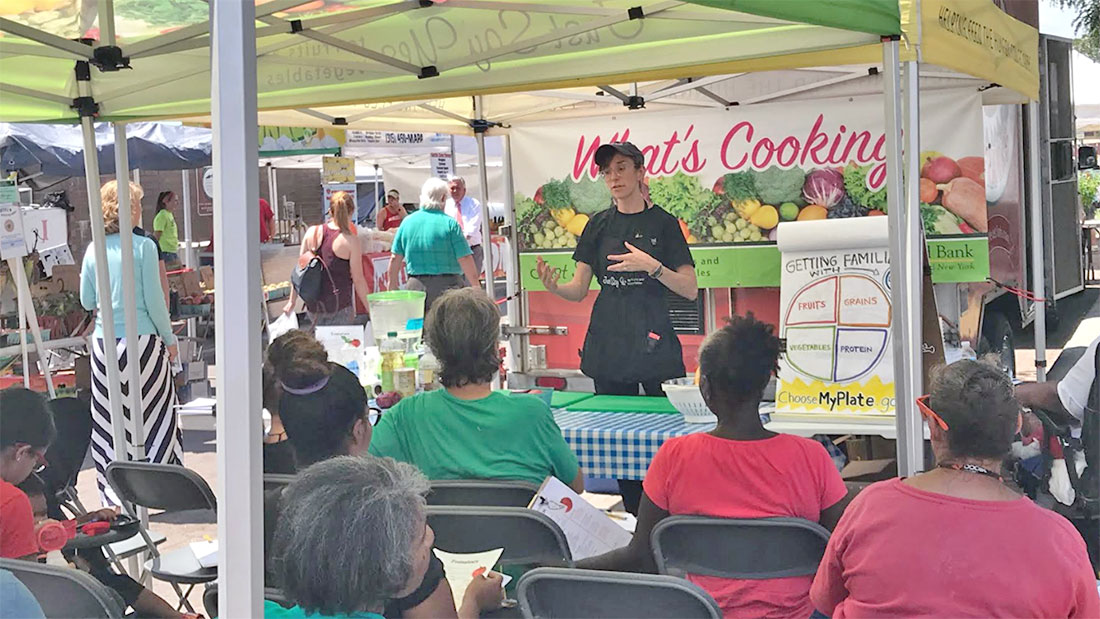 Garofano at the Syracuse downtown farmers market, where she was an assistant to the Food Bank of Central New York's Nutrition Educator, a Syracuse University nutrition science alum, in 2019.
Other than what we've discussed, what has been your favorite experience at SU?
Growing up in Syracuse, I didn't spend much time on SU's campus. I've really enjoyed getting to know this city through the lens and work of professors that call it home. Jonell Robinson (geography), Sandra Lane (public health) and the late Evan Weissman (food studies) are faculty members that stick out to me. Their work is rooted in justice and this community in a way that I am inspired by; as I've moved about the city, I realize now that I bump up against it, from time to time, without realizing it. One such place is within the Syracuse Onondaga Food Systems Alliance.
What is the most important thing you hope to accomplish in your career long after SU?
To be honest, I think relationships are the biggest motivating factor in my life. I want to become a registered dietitian, possibly start my career by working in clinical oncology, live and work in Syracuse, and be an engaged community member. Aside from that I hope I can improve the biodiversity of my little yard, get to know Onondaga Lake better, and maybe develop a personal (or collaborative) graphic medicine project that is focused on food and nutrition.
Learn more information about Nutrition and Food Studies at Syracuse University's Falk College, or learn more about ongoing research at Falk.