Students Finding Their Purpose Through MFT's M.A. Online Program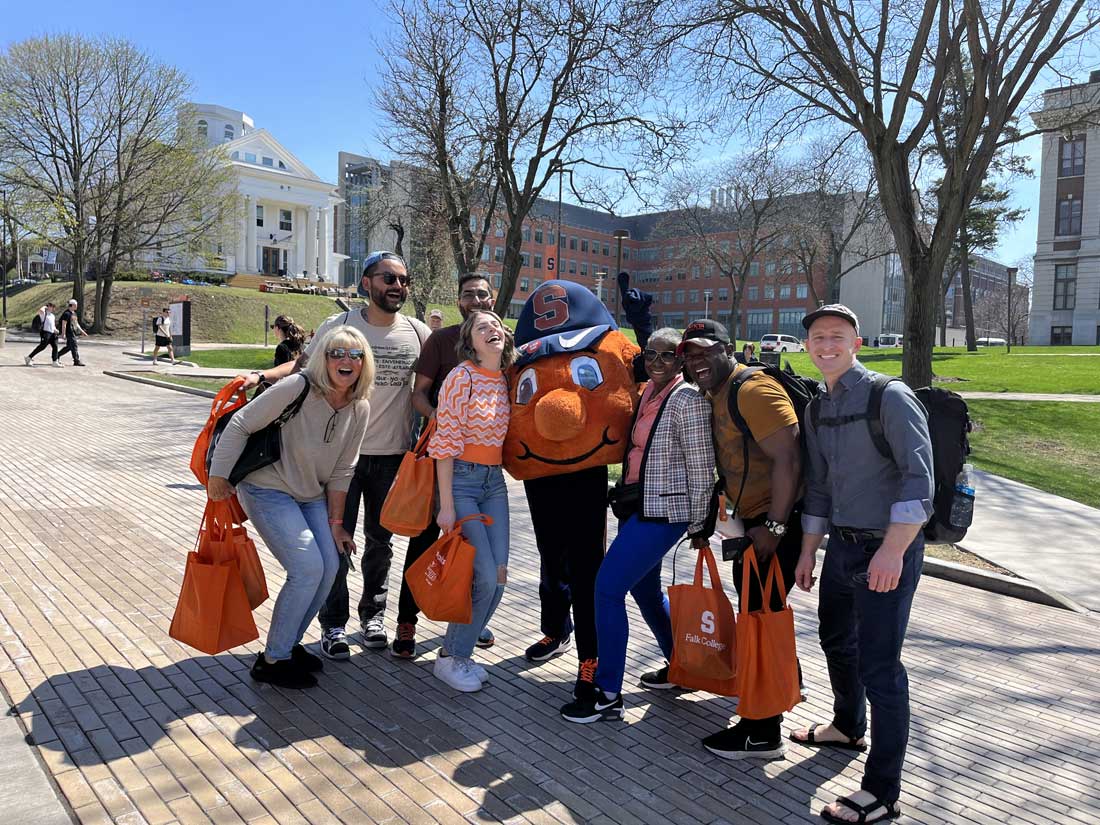 This past April, the Department of Marriage and Family Therapy (MFT) in Falk College hosted its first in-person residency for master of arts online students.
The department welcomed 33 students from all over the country, and for many it was their first experience in Syracuse. The students attended workshops, learned therapeutic skills from MFT faculty and staff, and shadowed residential students to get a sense of the services offered at MFT's Couple and Family Center at Peck Hall in Syracuse, near the Syracuse University campus.
The three-day visit culminated with a keynote presentation by Falk Family Endowed Professor of Marriage and Family Therapy Linda Stone Fish, lunch, a campus tour, and social time at the Inn Complete pub on South Campus.
Before they visited Syracuse, we asked two online students, Stacey Martha McDonald Lowe and Ali Asad Somjee, to introduce themselves and explain why they decided to pursue an online MFT degree. Here's what they wrote: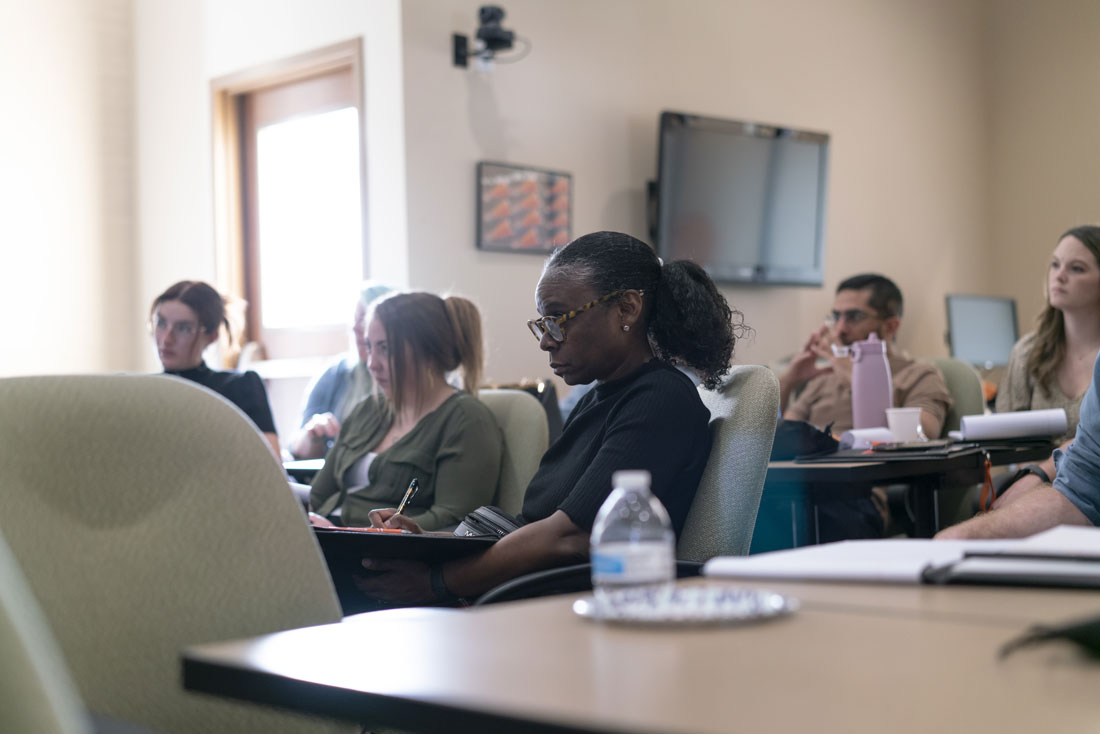 Stacey Martha McDonald Lowe
In 1988, upon beginning my undergraduate studies at Howard University, I did not initially declare a major. I was still trying to figure out how to make meaning of my life's work. At that time, I was not sure what "I wanted to be when I grew up," but what I did know was that I wanted to help people and have a positive impact in the lives of children and adolescents. I wanted to help people.
My early years as a student at Howard University introduced and reinforced the notion that to whom much is given, much is required. As such, I feel as though it is my responsibility to use my gifts, talents, and knowledge gained in service.
I come to the MFT program at Syracuse University as a non-traditional student. I have worked for the federal government at various agencies in a variety of positions for 30 years. The positions that I found most fulfilling were the ones where I had opportunities to connect with people and help them in a way they found meaningful. I began to ask what should become the cornerstone of the next phase of my life as I seek to be a positive force in the world. After much consideration, I realized that many already rely on me for informal counseling and that the responsible thing to do would be to receive formal training.
The next step for me was to research MFT programs. I live in the Washington, D.C., metropolitan area. Local options are very limited, so I expanded my search to include online programs. I am very happy to have the opportunity to study at Syracuse. I will admit that prior to beginning the online MFT program at Syracuse, I was a little skeptical (my own personal bias toward in-person classes), but I was excited to have an opportunity to receive the training that I needed despite the lack of opportunity available locally.
But I started thinking, "How will I connect with my colleagues and professors?" These concerns were quickly resolved. I have felt connected to, and related well with, my classmates and professors since day one. My learning experience has far exceeded any expectation that I had.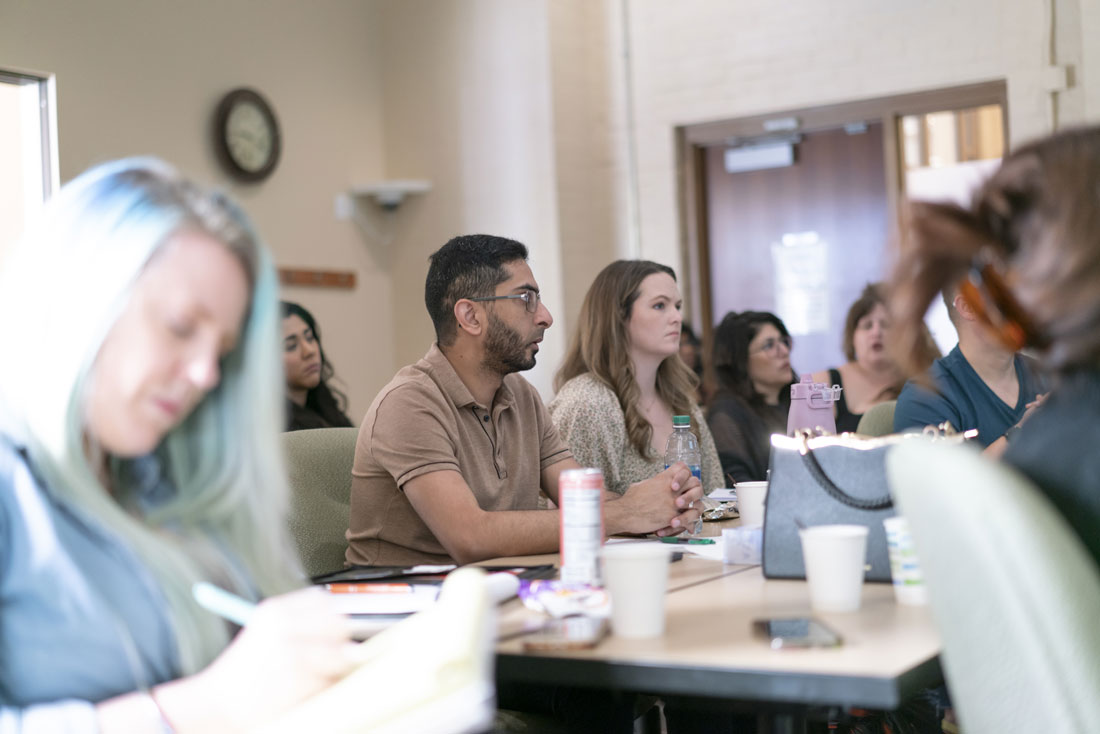 Ali Asad Somjee
I deeply value my relationships and connections with people; it is in authentic interactions with others that I find myself most engaged in the "flow state" described by the psychologist Mihaly Csikszentmihalyi. After I transitioned from a career in finance to my current career in the nonprofit industry, I focused completely on working with adolescent youth to mentor and help them develop their social-emotional skills.
These experiences helped me realize how central relational dynamics are for me as both subjective meaningful experiences and a mentally stimulating intellectual topic. These experiences and my intellectual interest in psychology led me to discovering Marriage and Family Therapy as a discipline and career path that I now choose to embark on.
My professional goal is to become a formally trained and licensed practicing therapist. Additionally, I intend to combine this professional goal with my personal goal of learning and growing and integrating all my learned knowledge and experience to develop myself as a person and add value to my graduate program, discipline, and patient/clients. Personally, I am very curious about people's life experiences, backgrounds, and values.
As someone working full-time, I value flexibility and the ability to study at my own pace. For this reason, I searched for quite a while to find an online MFT program from a highly reputed university. I realize that an online program forfeits the value of in-person discussions and connections, so I look forward to the practicums and on-campus residencies as avenues to connect directly with professors, mentors, colleagues, and patient/clients.
Editor's Note: Somjee was recently awarded a New Writer's Fellowship from the Family Process Institute. The fellowship supports the development of new scholars who will advance systemic theory, research, and clinical practice grounded in a commitment to social justice.
Visit this MFT webpage to learn join other caring professionals in the online master's program in Marriage and Family Therapy at Syracuse University.