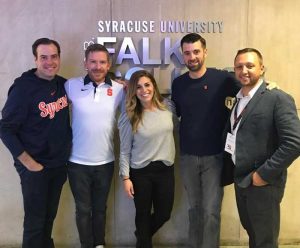 On November 9, the Falk College Department of Sport Management will host its second annual SPM 205 2.0 – SPM Alumni in #SportsBiz [Now We're the Pros] professional development and networking event for alumni and current students in sport management, sport analytics, and sport venue and event management.
Director and chair of the Department of Sport Management, Michael Veley will host a welcome luncheon for alumni at 12 p.m. in Falk College Room 335.
At 1 p.m. in Grant Auditorium, Sport Management advisory council member Michael Duda, co-founder and managing partner of Bullish Inc., will deliver the keynote address. Bullish Inc. is a marketing ​and consumer investment-driven investment company. Duda has spent 25 years in the world of Madison Avenue, including 13 at Deutsch Inc. as partner and chief corporate strategy officer.
The event will continue with breakout alumni panel sessions with students from 2 p.m. to 3:30 p.m., followed by a networking hour. Alumni are invited to cheer on the Orange in the Carrier Dome and register for the 5:30 p.m. Syracuse University Alumni Association football tailgate vs. Louisville.