Equipping students who are passionate about making the world a better place, to make a global impact in the reduction of health disparities and economic, social, environmental, political inequalities.
The 150-credit accelerated B.S. Public Health/MPH program provides students the opportunity to complete a bachelor degree in Public Health (BSPH) and a Master of Public Health (MPH) degree in five years, as opposed to six years if the degrees were completed separately. The B.S. Public Health/MPH program substitutes 15 credits of graduate public health coursework for 15 credits of similar undergraduate public health coursework. Students complete two internship experiences: a generalist public health internship in Year 4 and a global health related internship in Year 5. While not required, students are encouraged to participate in a study abroad experience during their second or third year of undergraduate study. This program is ideal for students who want a fast-track to an advanced practice degree in public health. For more information about opportunities within the undergraduate and graduate portions of the accelerated program, visit the B.S. and MPH program pages:
Public Health B.S. Public Health MPH
Graduate Course Substitutions
During the junior and senior years of undergraduate study, the following graduate courses are completed and the corresponding BSPH is not required.
Graduate Course Substitutes for UG course

| Graduate Course | Substitutes for Undergraduate Course |
| --- | --- |
| PHP 627: Health Leadership and Management | PHP 306: Understanding Health Systems: Macro and Micro Perspectives 1 |
| PHP 661: Development and Evaluation of Global Health Programs | PHP 402: Implementing and Evaluating Health Programs |
| PHP 664: Health Equity and Social Determinants of Health | PHP 309: Health Disparities and Underserved Populations |
| PHP 665: Public Health Policy | PHP 403: Evidence-Based Health Policy and Healthcare |
| PHP 668: Applied Epidemiology | PHP 401: Epidemiology |
---
Accreditation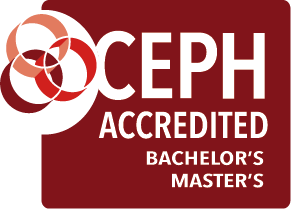 The BSPH/MPH is accredited by The Council of Education for Public Health (CEPH), is the independent agency recognized by the US Department of Education to accredit academic public health programs. The CEPH board of Councilors acted at its June 1-3, 2022 meeting to accredit the Syracuse University Public Health Program for a five-year term, extending to July 1, 2027. The self-study report is available by request from the Department of Public Health.
---
Financial Support
Undergraduate financial aid will be provided as awarded via Syracuse University Financial Aid Office. Competitive graduate assistantships and scholarships are available during the 5th year of the 4+1 program.
---
Getting Admitted
Students considering this program should have an undergraduate GPA of 3.3 or better and a career interest in global health. Planning for this program begins during freshman year, or no later than the fourth semester of study. Interested students should meet with the Public Health Undergraduate Program Director. A program plan of study is developed and students complete an 'Intent to Pursue the BSPH/MPH' form. During the fall of their senior year, students formally apply to the MPH program. Eligibility for the MPH portion of the program is contingent on grades of C- or higher earned in graduate courses taken as part of the BSPH degree. A BSPH is awarded at the conclusion of Year 4 and the MPH is awarded at the conclusion of Year 5.
---
Learn More:
For additional admissions information, contact the Office of Admissions at falk@syr.edu, or fill out our online form:
Return to top