Sport Management Alumni
We are proud to showcase our accomplished Sport Management, Sport Analytics, and Sport Venue and Event Management graduates. We invite you to view their profiles below to get a better idea of the professional opportunities and career trajectories of our graduates.
We'd like to thank our alumni for continuing to provide Capstone and job opportunities and whenever possible, hiring our graduates; for mentoring each other; for speaking in our classes; for recommending our department to prospective students; and for donating items to the SPM Club's annual Charity Sports Auction. It's that commitment and dedication to paying it forward that ensures our continued success and makes each of you a part of our ever-growing family. If you would like to host a Capstone student, please contact Sport Management internship placement coordinators Lisa Liparulo (lmliparu@syr.edu or 315-443-0450) or Kevin McNeill (kjmcneil@syr.edu or 315-443-1546). For SPM alumni looking to submit job and internship postings, share your good news, or just have a general inquiry, be sure to email spmalumni@syr.edu.
SPM has graduated more than 650 students. Please forward your current contact information (including employer, title, work email address, work phone number, home address, cell phone number, and personal email address) to Syracuse University via records@syr.edu and copy SPM internship placement coordinator Lisa Liparulo at lmliparu@syr.edu.
To keep up to date on all SPM news and events, visit our news page. Be sure to follow Sport Management social media channels on Twitter @SUSportMgmt, and "like" us on Facebook.

Alumni Profiles
Cody Barbuto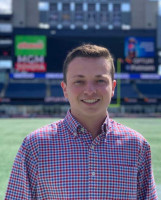 SAL '19, Chief Operating Officer, United Auto Supply of Syracuse
Transferring to Syracuse University in 2017 will always be the best decision I have ever made. As soon as I heard about SU's new Sport Analytics program, I knew that was what I wanted to do. Over the course of my two and a half years at Syracuse, I made lifelong friends and met lifelong mentors.
While at Syracuse, I conducted analytics for the men's basketball team, traveled to nationally known conferences, and ultimately grow into a better version of myself.
My fondest memory was presenting my research to the Sport Management Advisory Council during my sophomore year. College benefactor David Falk challenged me throughout my presentation, asking different types of questions. When I finished presenting, one of the Advisory Council members stated, "You just went toe-to-toe with David Falk for 20 minutes, I think you are prepared for anything now." Mr. Falk and I proceeded to have a 30-minute conversation after the presentation about basketball. That relationship carried throughout the rest of my time at Syracuse and still stands today.
Four students were part of the inaugural Sport Analytics Class of 2019, each accepting a position in the sports industry right out of college. I was fortunate to be offered a position with Kraft Analytics Group, where I quickly found success because of my SU Sport Analytics degree. I then moved on from the sports industry to work at United Auto Supply as a Business Intelligence Analyst and now as the Chief Operating Officer. My role has grown within the company largely due to my experiences at the University and thanks to Professor Rodney Paul, Professor Michael Veley and Sport Analytics advisor Francesco Riverso. I'm thankful to so many people at the University for preparing me for the opportunities I have today. Go Orange!
---
Caroline Morano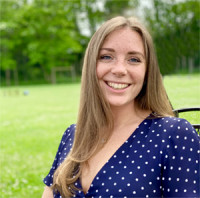 SPM '18, Event Manager, Thuzio
For my Senior Capstone Experience, I was fortunate to land a dream opportunity at Thuzio, a private event startup that caters to a business-oriented membership crowd. It was this organization that taught me invaluable lessons for the industry, provided an in-depth and hands-on internship experience, and heavily prepared me for the future I wanted in the sport industry.
The opportunity to work full-time at Thuzio after my Capstone was unfortunately not an option at the time, so I secured a similar position at another company. Within a few months, I was looking for new opportunities and fortunate to re-connect with Thuzio's director of operations, who was seeking event-day assistance. I was eager to lend a hand! After my third event, they offered me a position in sales, with the promise of transitioning into event operations.
Fast forward two years and I am now the event manager at Thuzio in New York City responsible for planning, producing and executing more than 100 corporate events each year across 10 U.S. cities featuring world-renowned athletes. The role heavily includes managing events across each market and overseeing venues, vendors and partner activations to meet Thuzio's premium hospitality standards. As the industry is turning virtual, we are able to pivot the in-person events to virtual talent appearances and interactive experiences.
My advice for students and graduates is to keep your network up to date. I can recite the top lessons learned at Syracuse, but the one that always resonated was the importance of creating and maintaining your network. When you meet an industry professional, be sure to ask for their contact information and then check in with them. You never know who you may run into later in you career who can help you. Relationships are vital to this industry. I would not be in the position I am today if I had not maintained my relationships and connections at Thuzio. Relationship building never stops.
---
Joy Essaghof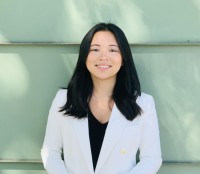 SPM '18, Business Development Analyst, Legends
During my sophomore year in Sport Management, I was fortunate to go on the department's Los Angeles Immersion trip over spring break. During the trip, I met my current mentor and had the opportunity to connect with key executives in the sport and entertainment industry. Little did I know that four years later, I would be working in Los Angeles.
Here's how I got there: After the LA Immersion trip, I kept in touch with the executives I met, and by using my newly developed network, I was able to secure my senior Capstone at the Los Angeles Football Club (LAFC). Through that internship, I discovered my passion for working in corporate partnerships and sponsorships.
Soon after graduating from SU in 2018, I began working at MKTG in sponsorship strategies and activation with brands such as Mars Wrigley Confectionary and the NFL, while also providing account support for Jack in the Box and the 50th Woodstock Festival.
Throughout my college and post-graduate career, I maintained strong relationships with the network of professionals I had the privilege of meeting during the LA Immersion trip, previous internships and on my senior Capstone. Which led me to this decision …
After four months at MKTG, I was offered an opportunity I could not pass up and moved across the country in November 2018 to Los Angeles to pursue a career with Legends as a business development analyst in their Global Partnerships Division. I work closely with properties such as LA Stadium and Entertainment District (future home of the Rams and Chargers), Las Vegas Stadium (future home of the Raiders), Carolina Panthers, Notre Dame Athletics, and LA2028 Olympics.
My experience at Legends has been incredible. Every day, I collaborate with amazing people from all over the country. I am excited to be part of this company's exciting journey in the ever-changing sport and entertainment industry.
My advice to current students: network, network, network. Building and maintaining relationships is extremely important to future opportunities. Don't be afraid of failure. If you fail, make sure you learn from it.
---
Christina Brennan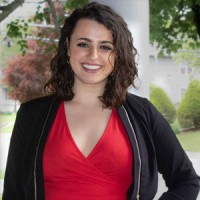 SPM '17, Vice President of New Business Development, CelebExperts
Shortly after graduating from Syracuse University in 2017, I began working as a junior sales associate for the New York Yankees. Within a few months, I was promoted to inside sales associate and managed a half million-dollar book of business. I learned how diligence and perseverance were keys to success in the sports industry.
I made more than 100 calls a day and worked every Yankees' home game. The intensity and the requirement to think on my feet was the best learning experiences I could have received.
While working for the Yankees, I continued to expand my network and maintain relationships I had established. It was when I re-connected with Evan Morgenstein (SU '87), who was the supervisor on my first sports internship, that my life changed. I was introduced to Evan in Professor Veley's office when, as fate would have it, he accidently dialed his number and tossed me the phone. On the spot, I pitched myself as his virtual intern and worked for Evan for six months. Three years later, Evan asked me to come back to the company, in a newly created role of vice president of new business development at CelebExperts and PMG Sports. Having worked on several successful endorsements at Excel Sports Management during my senior Capstone, I knew it was an opportunity too good to pass up.
Every day I get to work with amazing talent like Instagram icon Jen Selter, 12-time Olympic medalist Dara Torres, and Olympic swimming legend Mark Spitz. I also consult for companies across many industries and am constantly meeting stars of the future. There is never a dull moment as this position is the challenge I was hoping for. I am always learning and honing my skills.
My advice to students: Keep networking and maintaining relationships. Your network is the key to opportunity!
---
Rebecca Pongetti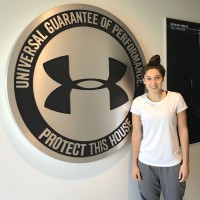 SPM '17, Coordinator of Brand Marketing, Under Armour
In 2017, after completing my senior Capstone at Under Armour in Toronto and graduating from Syracuse University, I was offered a full-time job with UA as coordinator of brand marketing.
While on Capstone, I experienced many areas of marketing such as retail/wholesale, sports, events/activations, and brand marketing. It was through this exposure that I discovered my passion for brand marketing.
It is my job to support the execution of marketing activations within sport-specific categories such as train, run, team sports, basketball, golf, global football, hockey and more. Projects and tasks involve public relations, traditional media, digital and social media, influencer marketing, sports marketing, retail and wholesale marketing, activations, events, e-commerce and direct-to-consumer touchpoints.
I also cross into merchandising, planning, operations, and sales to help drive strategic alignment and gain full knowledge of the Canadian business. Understanding the business from a cross-functional perspective has given me the opportunity to identify efficiencies we can leverage in our go-to-market strategies and activation plans of Under Armour in the Canadian marketplace.
One of the major components of my job is the management of the Canadian Influencer Marketing Program, where I build the marketing strategy and objectives, plan our product and storytelling per season, and grow our ambassador roster portfolio.
SU's Sport Management program prepares its graduates to work in sport by offering very relevant courses that highlight key areas of the industry. SPM's dedicated professors ensured we were ready to handle the fast-paced environment and challenges through their interactive classes and projects. The immense support I received, and continue to receive, from SPM truly has made a difference in my career.
My advice to current students: Be determined, dedicated, and resilient to the challenges and effort required to grow your career. Be present and patient in your journey as it will never be exactly what you expect nor easy; but, if you are willing to persevere, work hard and go the extra mile, you will put yourself in a position to succeed.
---
Elijah Biggins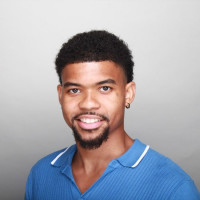 SPM '16, Integrated Marketing Strategist, Genius
Coming into Syracuse University, I knew I had a passion for sports but was not sure where that passion would take me in terms of a career. From sports agent to broadcaster, I thought of numerous jobs that could turn into a lucrative career.
It wasn't until Spring 2015 when I participated in the Los Angeles Immersion trip, that I found my passion for marketing and creating ideas that allow brands to reach new and existing audiences in unique ways. Whether for a team, league, brand or media publisher, I knew marketing was the lane I wanted to excel in.
My first job out of college was as a sales assistant. I learned about the media landscape, the relationships between publisher, agency and client, and advanced my technical skills. I knew it was not the exact career I wanted, yet the experience I gained and the opportunities I created led me into my first job in the lane I wanted, as an integrated marketing strategist at Bleacher Report. I created and executed marketing campaigns for some of the world's biggest brands and most talked-about athletes in the United States.
Since Bleacher Report covers sports from a cultural perspective, I was able to tap into my other passion points of music, entertainment and community. These passions would extend into my personal life and challenge me to become a mentor, serve on university panels and overall become more than my job title.
In February 2020, I left Bleacher Report to take my current position at Genius, an online media company. I'm still growing in my lane, but allowing myself to explore and learn more about my passion for music.
My advice to students is this: You don't have to have it all figured out! Be sure to capitalize on every opportunity presented to you. Even the smallest internships can give you the experience and build the connections that will last you a lifetime.
---
Sky Regan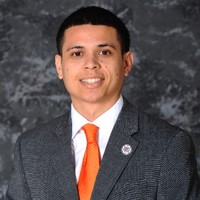 SPM '16, Group Sales Associate, Los Angeles Clippers
"Why'd you go to Syracuse?"
I seem to have a different answer to this question every time it gets thrown at me. The emotions that I start to feel and the moments I reminisce about during my four years on the SU hill play a part in my response. However, the main reasons are always the same: to grow and improve personally, become a part of a community/institution with traditions of excellence and to graduate from one of the best Sport Management programs in the nation.
The crazy part about my story is that when I arrived on campus, I was not even in the SPM program. I knew SPM was my goal and worked hard to achieve it. Fast forward one semester and I was rewarded for the work I put in as I had been accepted into the Sport Management program as an Intra-University Transfer. I decided right away to get involved in all the program had to offer. I helped raise money for charity during the annual Sport Management Club charity auctions, connected with sport industry professionals on the Los Angeles Immersion trip and went to Colorado Springs to intern with an NFL Agency for my senior Capstone.
After graduation, I worked for the San Jose Earthquakes professional soccer team in their inside sales department, before joining the Los Angeles Clippers' sales team in 2017. My focus is on organizing and planning group outings and events for the franchise. I work to retain our top clients and create new opportunities with various organizations in Los Angeles. I also create and execute game-day events and experiences for these groups.
I look forward to continue growing and accepting more responsibilities with the Clippers. I'm so grateful to be in this position, and know I got here because I went to SU.
---
Sam Spector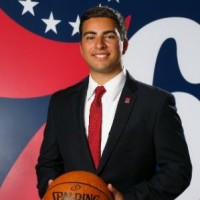 SPM '16, Account Executive, Philadelphia 76ers
A year prior to graduating from Syracuse University, I began a summer internship in the sales department of the Philadelphia 76ers. I took on every day as an interview, asked lots of questions, met with the leadership team, and did everything I could to prove I deserved to work there. After the completion of the internship, I was offered a full-time position as a Sales Associate following my graduation the following year. This sped up my academic career because I needed to finish all my credits to be able to start that following May. The Sport Management faculty was more than accommodating to help me reach my goal of graduating in three years.
One week after graduation in May of 2016, I started my senior Capstone in the Philadelphia 76ers' front office. I had the unique challenge of starting my career, while also completing my Capstone at the same time. The extra work helped keep me organized and focused, which resulted in much of my success.
From May through December, I worked my way to the top spot on the revenue board, generating over $300,000 in new business in just six months. This made me the highest revenue-generating sales associate at the 76ers. I would not have been able to accomplish this goal without the incredible coaching I received from the 76ers' management team, especially Director of Ticket Sales Chelsea Fenstermacher.
In December of 2016, I was promoted to the account executive team with the 76ers. Since joining the organization, I have generated nearly $600,000 in new business. My main focus is providing world-class experiences to fans and businesses in the Greater Philadelphia area through purchasing 76ers tickets. I recently celebrated my one-year anniversary with the team, which I hope is just the start to many great years with this world-class organization.
---
Justin Brown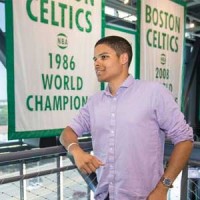 SVEM '15, Account Executive, Boston Celtics
My time at Syracuse University was invaluable as it helped me decide on a career path as well as provided me with real-world experience. After meeting with my advisor and discussing career interests, it became clear that sales was the right place to start my career.
I got right to work, interning with SU Athletics and the Rochester Rhinos. These experiences prepared me for the future, particularly when I traveled to the Mount Union Sports Sales Workshop & Job Fair in Cleveland, Ohio. I interviewed with several professional sports organizations at the event, including the Boston Celtics, who offered me an entry-level role on their sales team.
After graduation, I moved to Boston to begin my career with the Celtics. I felt very fortunate to be part of such a well-respected and successful organization, and I worked hard to make the most of the opportunity. After leading the Inside Sales Team in revenue generated during my first season, I was promoted to a full-time role, and in early 2017 began my current role as an Account Executive. I work with individuals and businesses in the Greater New England Area to develop client entertainment options, corporate outings, and memorable experiences through the Celtics.
Boston is a fantastic sports city and the NBA is an incredible league, and I have enjoyed my work here. I plan to grow my career with the Celtics as we make a push for another NBA Title, while continuing to develop skillsets in sales, business analytics, and related fields as I look toward future career opportunities.
My advice to students: Put yourselves out there and make the most of every opportunity that comes your way. Even after you are hired for an internship or job, the work does not stop there. Treat every day like an interview and make an impression on every single person you meet. This industry is all about developing relationships.
---
Chris Robinson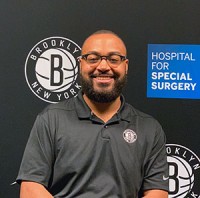 SPM '15, Basketball Operations Assistant, Brooklyn Nets
For as long as I can remember, I wanted to be an NBA agent. I came to Syracuse University with the goal of attending law school, recruiting athletes, and becoming the next David Falk. But with the benefit of experience, I chose a path that was a better fit.
At SU, I was active in the Sport Management Club, hosted a sports talk radio show on WERW, and produced a sports talk podcast. After graduation, I enrolled at Tulane Law School to pursue my Juris Doctor and Sports Law Certificate. During my first semester, I served as a research intern for Fox Sports' broadcasts of New Orleans Pelicans games. Later that year, I placed first in our class-wide Moot Court Negotiation competition. By my third and final year, I was named Head Coach of our Alternative Dispute Resolution Moot Court team, which placed first at the 2018 INADR World Championships.
During law school, I interned for Siegel Sports & Entertainment, which was a formative experience. I witnessed first-hand what goes into negotiating an NBA contract. I served as an assistant during two contract negotiations for Langston Galloway, totaling over $30 million in salary. In addition, I redlined a groundbreaking sneaker contract between Langston and Q4 Sports.
Before graduating from law school, I co-founded the Tulane Pro Basketball Negotiation Competition, in which graduate students competitively negotiate contracts for free agents.
I started working for the Brooklyn Nets in May 2018. In their Front Office, I study the salary cap and maintain our internal salary sheets with financial details on all 30 NBA teams. In addition, I act as a liaison for our pro scouts, and provide general support to executives in the front office.
My advice to current students and graduates: networking is important, and be sure to understand the best path for you. Seek out experiences that give you insight into different roles – and when you find something you like, go after it.
---
Emily Dumas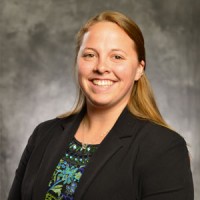 SVEM '15, Membership Experience Account Executive, Phoenix Suns
Many people believe it's impossible to have a career in sports without being an athlete. For me, working in one of the four major leagues never crossed my mind. On my first day at Syracuse University in the Sport Venue and Event Management graduate program, I was told the easiest way to break into the industry was through sales. At that moment, I committed to gaining as much experience as possible while in graduate school.
While at SU, I interned in the sales departments for Syracuse Athletics, the Syracuse Crunch, and the Syracuse Chiefs. Those experiences opened many doors for me to get into one of the major four leagues. After interviewing with several teams, I had the most interest in the NBA. This league is quickly becoming the world's premier and most innovative sports and lifestyle brand, which made it the perfect place to start my career.
So I moved from my hometown of Liverpool, New York, to start my career with the Phoenix Suns in Arizona. I am fortunate to be part of an accomplished and well-respected inside sales program. Quickly, I realized I had a true passion for building relationships and lasting memories for our fans, and my clients. After four months on the new business team, I was promoted to senior staff as a membership experience account executive. My experience with the Suns has helped me grow personally and professionally as I work closely with more than 500 accounts. My job is to grow revenue while ensuring fans have the best experience every time they come to our arena – and keep them coming back every season.
I plan to grow further within the Suns' organization and to expand my impact on the business. If anyone reading this wants to work in the sports industry, my advice is to remember that the most important sale you will ever make is selling yourself. Always believe in yourself and trust your process. Work hard and good things will come!
---
Matt Rose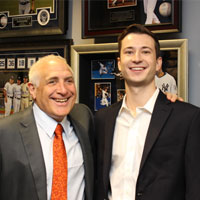 SPM '15, Corporate Marketing Coordinator, Steiner Sports
A few weeks after graduating from Syracuse University as a dual major in Sport Management and Public relations, I found myself in a conference room at Steiner Sports. Unsure of specifically what I wanted to do in my career, I sat across from Brandon Steiner interviewing to be his executive assistant. As the discussion wrapped up and it became evident I would be offered the job, I remember Brandon saying to me, "This position is a year and a half of graduate school, and I'm going to help change the way you think."
Almost exactly a year later, that graduate program has been squeezed into a crash course. I spent six months working as Brandon's assistant, exposing me to executives and athletes that served as the foundation of my career in the sports industry. I learned the pace and attention to detail needed to stand out in a competitive field.
In January 2016, I transitioned to a corporate marketing coordinator role. As a member of a rapidly developing department, my job varies on a daily basis. My focus lays in athlete procurement and marketing, where I evaluate opportunities to align talent with the objectives of corporate clients. I then accompany talent to the event to ensure the client's expectations are reached and the athlete is comfortable. As I grow in this role, I hope to develop relationships with the clients and talent so I can fully understand the intricate needs to maximize the relationship's potential.
Presently, I am tasked with business development initiatives, connecting with potential clients and reactivating those who have fallen inactive over the years. As this becomes a priority for me in 2016, my goal is to leverage Steiner Sports marketing and memorabilia capabilities to grow our corporate clients. I may not have known exactly what I wanted to do after graduation, but over the past year, I've had the opportunity to experience a variety of tasks in sports marketing.
---
Brian Blewis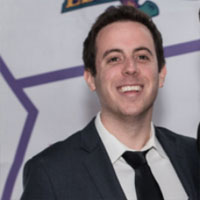 SPM '14, Basketball Operations Manager, The Neustadt Group
When I first enrolled in Sport Management at Syracuse University, I knew I wanted a job in sports, but didn't know exactly what career path I would take in such a competitive field. Today, I'm happy to say I found my niche in the industry, and can thank the SPM program for preparing me for my professional career.
After graduation, I interned for Select Sports Group, a sports agency that represents NFL players such as Andy Dalton and Jordy Nelson. I then transitioned to a full-time role with PFS Agency, a boutique firm based in my hometown of Baltimore. My experience at these firms put me in a great position in October 2016 to land my current job as a basketball operations manager at The Neustadt Group, a sports agency representing the careers of professional basketball players in Rockville, Maryland. Some of our clients include Dragan Bender (Phoenix Suns), as well as Boris Diaw and Shelvin Mack of the Utah Jazz.
The Neustadt Group has only four full-time employees, meaning I have a wide range of responsibilities and the opportunity to be heavily involved in our day-to-day operations. My main responsibilities include assisting with recruiting prospective clients, preparing rookie clients for pre-draft workouts, and statistical analysis and contracts/salary cap research for free agency. Additionally, I research and negotiate marketing/endorsement opportunities and assist clients with off-the-court issues.
The strongest advice I can offer to current SPM students is to be proactive in both networking with industry professionals and securing summer internships. Word hard to find an ideal senior Capstone. My internship and Capstone experiences were pivotal to my career development, and the SPM Department provided me with great resources throughout my four year at Syracuse.
---
Julie Rising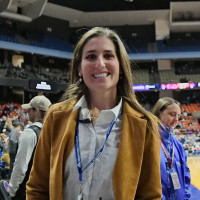 SVEM '14, Athletic Game Operations Manager, Boise State Athletics
After finishing my undergraduate degree in Sociology at Syracuse University in 2011, I started my career coaching hockey at the North American Hockey Academy in Vermont. When I reflected on my time working at the Carrier Dome, it inspired me to return to Syracuse to pursue a master's degree in Sport Venue and Event Management.
While earning my graduate degree, I continued working at the Carrier Dome as well as interned in SU's Athletic Department. After graduating from the SVEM master's program in May 2014, I moved to Boston to work for Harvard University Athletics, where I oversaw varsity sporting events, NCAA post games, and worked the first "College Gameday" held at Harvard Stadium.
A desire to move West led me to apply for a job at Boise State University Athletics in 2015. I didn't know anyone in Idaho, but saw an opportunity to grow and learn from an innovative and fast-growing department. I started as a facilities and events coordinator. Two promotions later, I'm now the athletic game operations manager that coordinates and oversees athletic events. I've had the opportunity to work as a game manager of varsity sports, the NCAA Men's Basketball Tournament, Garth Brooks concerts, and a professional soccer game, among other events.
My advice to students and graduates is to not be afraid to take new opportunities or move to a new location for a job. Living in Boise, Idaho, was never on my radar but I love it here! Don't take job rejections personally. Instead, learn from the interviewing experience. Seek out experiences that enrich your skills as much as they enrich your resume. Although COVID-19 is a scary time for the world of sports, those who are able to adapt to the rapidly-changing workforce will be the most successful.
---
Tyler Wasserman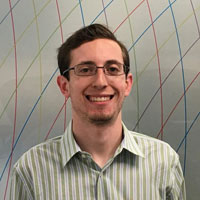 SPM '14, Research Analyst, Neilsen Sports
Seven years ago, when I arrived at Syracuse University as a freshman, I knew I wanted to work in sports, but had no idea what field within the industry would be best for me. By the time my senior year rolled around, I was completing an independent study with Dr. Rodney Paul using analytics to quantify the impact that Major League Baseball player agents had on their clients' salaries. It was then that I knew sports analytics would be my career focus.
I graduated with a dual degree in Sport Management and Finance, and completed my senior Capstone at Bloomberg Sports. I then worked in finance for about two years with The Doman Group, before transitioning to Nielsen Sports in early 2016.
When I started at Nielsen Sports, I focused on analyzing TV ratings. I have analyzed how sports properties can strategically boost their TV ratings, helped them understand the demographic characteristics and media consumption habits of their fans, and created fan segmentation groups to help properties more effectively target different groups of fans across the country.
I have taken on projects analyzing sponsorship exposure data, alongside TV ratings, to value the exposure sports sponsorships drive from sponsors' exposure on television broadcasts. In addition to analyzing TV ratings, I work on MLB and NBA sponsorship valuation data, and have built projections for teams on how the value of their sponsorships may change in the future.
Overall, my time at Nielsen Sports has been focused on analyzing data to provide insights on sports fans – whether we are looking at how fans consume sports on television, or how a sponsor's sign on a field/court will resonate with those fans, it's all about quantifying the sport business. I'm thankful to have had the opportunity to work on analytical projects at SU to spark my interest in the field, and am excited to see more students involved in this field with the new Sport Analytics degree program.
---
Andrew Arrospide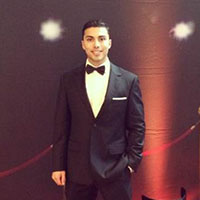 SPM '13, Sales Analyst, AEG Los Angeles
Andrew Arrospide began working at the Anschutz Entertainment Group (AEG) in January 2014 as a Partnership Sales Analyst in the Global Partnerships Department.
His main duties are to complete brand audits, prospect potential partners, create sponsorship proposals, assist in activating and managing partner accounts, plus coordinate administrative duties and manage relationships with customers.
"I've been fortunate enough to be part of a few meetings with prospective partners," he said. "Being exposed to those meetings has taught me a lot about the amount of work that goes into each sales pitch."
Arrospide was part of Sport Management's Los Angeles Immersion Trip in 2011, which he said provided him valuable networking experience and professional contacts in the sport industry.
"I was lucky enough to be a part of the first LA Immersion Trip, during my sophomore year at Syracuse. It was a great decision for me, as it became a part of my story to prospective employers during my search for a capstone. The advice we were given by the many executives on the trip will go a long way in helping me to grow my career," he said.
Arrospide said his senior Capstone experience with AEG prepared him for his current role with the company.
"There's nothing greater than having real work experience under your belt going into the job hunt," he noted. "Completing a capstone, and having experience enables you to hit the ground running once you're accepted into your first job."
Arrospide says working in Los Angeles also has its perks, since Hollywood is not far away. "Yes, when working in this industry, you're fortunate enough to meet sports and entertainment celebrities," he said.
Arrospide is looking toward a bright future. "In 10 years, I see myself being successful, hopefully leading and growing a team of younger executives. I hope to have gained a strong knowledge of the industry. I see myself being hungry for continued success," he said.
He likes to quote Vince Lombardi when talking about life in the sport industry: "Winning means you're willing to go longer, work harder, and give more than anyone else."
But Arrospide also has some advice for current Sport Management students: "Network and develop strong relationships with people in the industry. They say your network is your net worth. Always put yourself in the best possible position to get the job by protecting your brand. You must intern, volunteer, work hard, and work smart. Always put your best effort into everything you do. Develop strong habits. Find a mentor. Find ways to grow and develop your brand," he said. "Always remember, that people are watching you, so make sure you're consistently establishing a great reputation."
---
Jake Berkowitz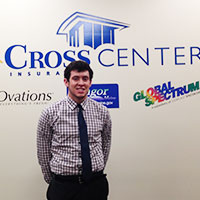 SPM '13, Event Manager, Cross Insurance Center
Jake Berkowitz '13 is an event manager at the Cross Insurance Center in Bangor, Maine. The center, which opened in the Fall of 2013, is a Global Spectrum-managed venue and home to the University of Maine basketball teams.
Berkowitz is responsible for planning, coordinating, and implementing all aspects of an event at the multi-purpose facility, which features an arena and a convention center under one roof. With college and high school basketball games, concerts, Broadway-type shows, expositions, trade shows, and more, every day and every event provides a new challenge.
Berkowitz said his professional success, up to this point, can be directly traced back to his four years in the Sport Management program at Syracuse University. He stressed the importance of networking, from the first day he arrived at SU until graduation day and said he gained as much experience as possible, following the advice of professors and advisors in the Sport Management Department.
"Although, sometimes hearing the same thing over and over again could get frustrating, I made sure to listen to their advice and take advantage of the opportunities that were made available to me, Berkowitz said.
Networking and experience led him to the Cross Insurance Center. During his time at Syracuse, Jake worked at the Carrier Dome in event operations, in the Athletic Department, and volunteered for the SU football team.
"Working with the SPM Club Charity Auction was a valuable learning experience and sparked my interest in event management," he said. "Having a vital role in the 2010 and 2011 auctions, as the inventory committee chair, I learned what it takes to put on an event from start to finish. That firsthand experience has helped me out tremendously in my current event manager role."
"Sports has been a passion of mine forever, but working in sports became my professional career goal throughout my four years at Syracuse University," he continued. "This goal became more realistic with my Senior Capstone, when I was the event management intern at the Wells Fargo Center in Philadelphia, also a Global Spectrum management facility. That internship opened all sorts of possibilities. I was hired, in part, at the Cross Insurance Center because my supervisor knew I had the skill set for this position and put in a good word on my behalf. This is a perfect example of who you know and what you know being important, but also about who knows you and will support you."
---
Charma Harris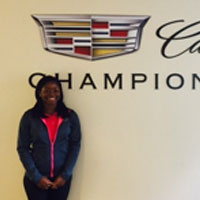 SPM '13, Tournament Services Coordinator, PGA's Cadillac Championship
After graduating from Syracuse University in 2013, I've spent three years working for the PGA Tour as the tournament services coordinator for the World Golf Championships-Cadillac Championship in Doral, FL.
I was offered the position after I completed my Senior Capstone with the Tournament and began working full-time right after graduation. Initially, I was not interested in working in the golf industry, but after going on the SPM in LA Immersion trip and getting a behind-the-scenes experience at a PGA Tour event, I found that golf could offer a lot of development for an aspiring Sport Management professional.
In the last two years, I've had the opportunity to work with some of the best professionals and sponsors in golf. While at the Cadillac Championship, I've overseen the coordination of the volunteer program, the social and digital media channel, and internship programs for the tournament. I was also a part of one of the first executions of after-hour events at a PGA Tour tournament.
I've had an amazing experience at the PGA Tour and have truly enjoyed working in professional golf. I encourage current students to think outside of the box when considering a specific career in sports. You never know where you may end up and how much fun you might have.
---
Iain McWhirter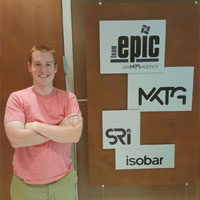 SPM '13, Sponsorship Associate, Team Epic
Since graduating in 2013, I've spent the last three years at Team Epic, a sports, entertainment, and lifestyle marketing agency in Westport, CT. I joined Team Epic's Trainee Program in July 2013 and my current role is as an associate in our Sponsorship Strategies and Activations group supporting AT&T and Wells Fargo account teams. I assist clients to manage relationship with sports and entertainment properties, execute activations around key events, and provide guidance for clients to best capitalize on sponsorship opportunities. I've worked on sponsorships with Major League Soccer, U.S. Soccer, the PGA Tour, and AEG as well as various colleges and universities.
One of my proudest moments came last summer when I was selected to participate in the Route 500 leadership development program for Team Epic's parent company Dentsu Aegis. Through this program I've had the chance become involved in accelerated training programs as well as mentorship and networking opportunities across one of the leading holding companies in the marketing and advertising industry.
Coming through the Sport Management program at Syracuse University provided me a great foundation. Among the most important lessons instilled in me were the importance of networking (which led to my opportunity to interview at Team Epic) and the value in always asking questions and learning from those around me.
---
Olivia Cheng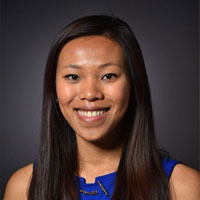 SPM '12, Corporate Marketing Manager, Legends
Upon graduation, I started my career as a sales supervisor at Paragon Sports, the largest sports specialty store in New York City. I then shifted to social media coordinator and was promoted to social media manager. I not only told our story via social media but expanded my digital media, advertising, and marketing skillsets. That eventually led me to become the social media and marketing manager. I loved going to work every day, but I always had an interest in working for a sports team rather than in retail.
I networked and connected with colleagues and eventually landed a role with the Philadelphia 76ers as a brand marketing manager. It was exactly what I wanted to do. I led our rebranding campaign and managed the No. 1 draft pick program. But something didn't feel right. I didn't have a close relationship with the city of Philadelphia and my life outside of work took an unexpected toll. Living in an Airbnb for a year made me realize Philly wasn't the city for me.
Through networking, I learned about a role at Legends and knew it was a perfect place for me to make an impact in both the sports and entertainment industry. More importantly, it was opening offices in my hometown of New York City.
In July 2017, I started as a corporate marketing manager at Legends, a holistic agency that specializes in global planning, global sales, and hospitality for the sports, entertainment and attractions industry. I oversee and plan marketing strategies and creative development for our 70-plus clients, including One World Observatory, Prudential Center, Golden 1 Center, Notre Dame, Yankee Stadium, and AT&T Stadium, among others. I also help with driving marketing initiatives within corporate as well as working closely with our vice president of business development to pitch for new business. One of the best part is bringing in new talent from interns to entry-level positions. Across the board, I am proud to say that Syracuse alumni are representing very well at Legends.
---
Danielle Czysz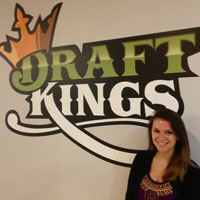 SPM '12, Marketing Associate, DraftKings, Inc.
I began working in the online acquisition and digital marketing/media department in the New York City office of DraftKings, Inc., in March 2015. DraftKings is an industry leader in the Daily Fantasy Sports sector in both the United States and Canada.
My job is divided into two main categories: affiliate marketing and creative asset management. This includes working with the digital affiliate partners on a daily basis to promote DraftKings and its contests, as well as managing the creative assets, or banners, for large digital advertising partners.
My career in the sports industry began in the Fall of 2012 when I completed my Senior Capstone at the YES (Yankees Entertainment and Sports) Network in the communications/public relations department. I then spent six months at Team Epic in Norwalk, CT, as a trainee in the corporate event and meeting planning department. I worked with clients such as FedEx, Charles Schwab, and AT&T, while also attending the 2013 NCAA Men's Final Four and the 2013 NFL Draft.
I also worked as a marketing assistant at the Breeders' Cup World Championships, assisting with events and digital marketing, as well as being the lead on various corporate and marketing partnerships. I helped to execute both the 2013 and 2014 Breeders' Cups at Santa Anita Park in Arcadia, CA.
Completing my Capstone at the YES Network was a game-changer for me. I was given such immense responsibility as a college student, which prepared me for what the future holds. To this day, the vice president of communications at YES is still my go-to for advice and mentorship regarding my career. If not for the Capstone opportunity and the networking skills taught in the SPM classes, I don't know if I would be where I am today.
---
Caitlin Kalinowski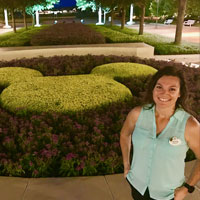 SPM '12, Recreation Guest Experience Manager, Walt Disney World
I never would have believed that my first official business card would have a picture of Mickey Mouse on it. But here I am, five years after graduating from Syracuse University, working for the Mouse himself.
Tired of Syracuse winters, I applied and was accepted into Disney's College Program, and later, its Professional Internship Program. I thought I would work at Disney for six months and go home with a great start to my resume. During my internships, I learned about the ESPN Wide World of Sports Complex and runDisney. Suddenly, I knew I was not going to be spending just six months at Disney World.
I started out working meet and greets at ESPN and runDisney in my quest to move from Main Street USA to Disney Sports. Hard work and networking then landed me a role at Disney Sports as an ESPN event changeover cast member.
SPM professor Michael Veley's words of wisdom echoed in my head as I continued to network at runDisney, which led to me becoming an endurance event coordinator. This role made me part of all the processes needed to create, execute, and enhance runDisney races, at both Walt Disney World in Florida and Disneyland Resort in California.
During my time at runDisney, I was selected for Disney's Emerging Leaders Program, something only about 700 of the 70,000 cast members had been chosen for. I learned Disney's style of management during a two-month program, which led to my current role as a recreation guest experience manager at the Contemporary Resort. I oversee the pool, lifeguards, marina, children's activities, the community hall, and specialty cruise operations for the resort.
Disney has given me so many opportunities in the past five years, and still holds so many more. I can't wait to see where the next five years take me with the company.
---
Andrew Diamond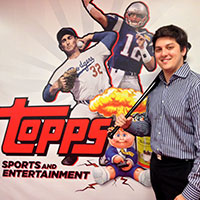 SPM '11, Sports Editor, The Topps Company
Andrew Diamond '11 is a Sports Editor for The Topps Company in New York City. His day-to-day responsibilities range from brand marketing and social media management to baseball card design/content orchestration.
Diamond, who started working at Topps in 2013, works on a four-person marketing team for the Bowman Baseball brand, a Topps-owned brand that produces baseball cards every year with a heavy emphasis on top MLB prospects and rookies.
Prior to his current role with Topps, Diamond worked in brand marketing/hospitality with Octagon, in Media Sales with Fox Sports Network, and in video production with MLB.com. While in those roles, he longed for a job that would utilize his vast knowledge of baseball players and statistics, while also incorporating his passion for new product ideas and marketing initiatives.
He says he continues to gain experience in social media, brand marketing, and licensing. He manages a twitter handle (@BowmanCards), which conducts weekly contests/giveaways, and promotes the Bowman Baseball brand. He plays a role in selecting which players make it into each product, while also assisting the licensing team with autograph signings and scouting new talent
After a year at Fox Sports, he realized that media sales wasn't for him, and pondered how he could transition into something that he loved. He remembered his freshmen year at SU, when he decided to get involved with Synercuse, the SPM Club's Charity Auction, and Syracuse-Steiner Collectibles.
"It gave me confidence, and most importantly an open mind," Diamond said.
He said he then realized he didn't have to do things conventionally and opted to reboot his young career by starting over in a new field and new environment. He left Fox Sports to take a part-time job in video production at MLB.com, while also coaching his high school baseball team. Andrew loved baseball, and wanted to pursue a career that incorporated his vast knowledge of the game. After spending eight months at MLB.com, he landed at Topps.
Diamond said he wakes up every morning excited for work and for what his future might hold. Without the lessons he learned as an SPM major at Syracuse, Diamond said he is certain he would be in a job that wasn't the right fit. He said his Sport Management education gave him the drive to take risks and do something out of passion and not necessity.
---
Shantel Fair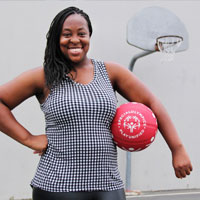 SPM '11, Manager of Volunteer Systems, Special Olympics Southern California
When I walked onto the SU campus in 2007 I did not have a clear idea of where I wanted to land in sports. I only knew I had a desire to be in the industry and was open to try just about anything. During my time at SU, I worked with amazing non-profit organizations, and my experiences shaped my career path in the non-profit sector of sports.
After graduating in 2011, I enrolled in graduate school at California State University Long Beach. During that time, I completed an 18-month internship with Special Olympics Southern California as a regional sports management intern. I worked with the Los Angeles staff to coordinate all aspects of competition, from athlete and coach registration to on-site volunteer management and awards presentations. I immediately knew this was an organization I wanted to be part of long term.
In April 2013, I was hired as the coordinator for the Los Angeles Region's volunteer services. Since then I've been promoted to manager of volunteer systems. In my current role, I oversee all of our online volunteer platforms, including the online registration system, background screening process, and online trainings. I also work with regional managers to support them in their efforts to recruit volunteers.
Working for Special Olympics Southern California has changed my perception of people with intellectual disabilities. At first, I thought my presence would help our athletes, but in all actuality, they have helped me. They have taught me no matter what your ability level is, you should always strive to be the best. Being part of this amazing organization has helped shape the best version of me. Our athlete oath is, "Let me win. But if I cannot win, let me be brave in the attempt."
My Special Olympics Southern California family has taught me to be brave in everything I do and I am looking forward to many more years of bravery and success.
---
Max Levitt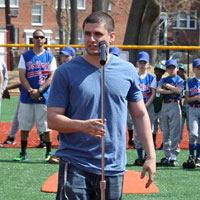 SPM '11, Executive Director, Leveling the Playing Field
Four years ago, I founded a nonprofit called Leveling the Playing Field, whose mission is to improve the opportunity for low-income families to get involved in youth sports through the donation of used/excess sporting equipment.
After spending three seasons as an equipment manager with the Syracuse University football program, I was bothered by the volume of equipment given to athletic programs for free, and in turn the waste of sporting equipment, not just on the college level, but on the recreation level as well. Aware of the decline in youth sports and the role equipment costs play in that trend, I decided to pursue a career based around reversing this trend.
Every day, I communicate with various sources of donated sporting equipment from collegiate athletic departments, youth sports leagues, and families. I continuously work within the community to expose our equipment program within undeserved communities to drive demand for donations. Every week we donate thousands of dollars worth of equipment to Title I Schools, Recreation Centers, youth/after-school programs, and neighborhood sports teams. Through funding from local foundations, and businesses, including the Washington Nationals, USTA, US Soccer Foundation and numerous other sports organizations, we will have donated more than $1 million worth of product by the end of 2015.
In four years, we have gone from operating out of my parents' basement, to a vacant dance studio, to now outgrowing our 4,000-square-foot warehouse. Currently a nonprofit in the Washington, D.C./Baltimore area, we are expecting to begin opening multiple locations across the country by the end of 2016.
My experience in the Sport Management Department taught me the value of networking. As a result, I have been able to build a strong network which has helped Leveling the Playing Field continue to grow at this pace. It will no doubt be that continuously growing network that will allow us to become a nationwide organization that we hope will shake up the manufacturing and youth sports industries.
---
Akeem Thomas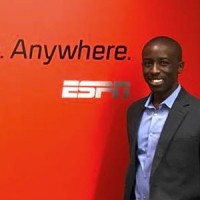 SPM '11, Multimedia Account Executive, ESPN
Upon graduating from Syracuse University in 2011, I began my professional career with the New York Yankees as an inside sales ticket representative. I spent one year with the Yankees selling season ticket and premium seating packages to fans and businesses in the Tri-State area. After my stint with the Yankees, I started a career in advertising sales at ESPN, which has been my professional home for the last six years.
My first opportunity with ESPN arose by maintaining a strong relationship with the primary recruiter who originally offered me a job at ESPN right out of college. I turned down the position to pursue the opportunity with the Yankees. That ongoing relationship with the recruiter ultimately opened the door a year later for my first opportunity with ESPN in their New York office.
I started at ESPN in July 2012 as a sales assistant and have gradually worked my way up the ranks over the last six years. I have held four positions during my tenure and recently received a promotion to multimedia account executive in Los Angeles. My responsibilities include managing and growing a $150,000,000 account list that includes clients such as Apple, AT&T, and Google, among others.
My experience at ESPN has been tremendous thus far. ESPN is an incredibly fun and dynamic place to work each day and I am very excited for the future of the company in a media industry that is constantly evolving. Syracuse University is proudly represented in the hallways at ESPN with a large amount of alumni working here.
---
Chrissie Cronin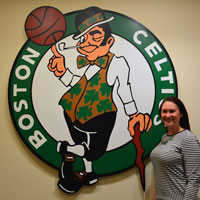 SPM '10, Group Sales Manager, Boston Celtics
My career with the Boston Celtics started in the Fall of 2009, when I completed my senior Capstone with my hometown organization. Growing up near Boston, my parents had season tickets and my sisters and I all took turns going to games and acting as ball girls for the team.
After graduating from Syracuse University in 2010, I moved to Kansas City to live closer to my oldest sister and experience a different part of the country. After working in an administrative position for an insurance brokerage for almost two years, the Celtics approached me about a position in the group sales department as an account executive.
Over each of the past three seasons, I have achieved over $1 million in group ticket sales revenue. I owe much of my success to my mentors across the Celtics organization as well as my education in the Sport Management program at Syracuse for preparing me to work in this industry. I remember projects I worked on in classes at Syracuse, and how similar they are to what I've experienced in the real world – from sales to communications to law.
In November 2014 I was promoted to the newly created Group Sales Manager role, where I now oversee five members of the department. I'm excited to teach the newer account executives about sales. I enjoy the relationships I've built with clients. Groups are unique because most of the time they are only coming out for one game, so everything on that night needs to be perfect. Game nights are hectic – running around the arena to meet clients, executing Fan Experience packages on the court, and resolving any issues.
On a wider scale, my responsibilities as group sales manager include planning themed nights, motivating account executives to hit sales goals, executing special events, and developing new and exciting packages to sell to groups. Outside of work, I'm training for my second half-marathon as a fundraiser for the Crohn's & Colitis Foundation of America.
---
Stacey Gerstel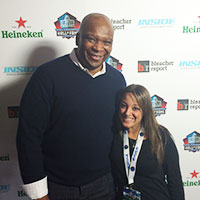 SPM '10, Marketing Manager, InsideSEG
Managing and allocating more than 400 tournament badges by six-digit serial number for the 2014 PGA Masters may sound like a daunting task, but it is "par for the course" in event management for SPM alum Stacie Gerstel '10, who is a marketing manager for InsideSEG, a CAA Sports Company.
"When our staff on-site at the Masters yells out the six-digit serial numbers to ensure they are allocated to the proper guests, who start arriving at 6 a.m., we call it 'Badge Bingo,' " Gerstel said. "When working 18-hour days, I've learned you have to make some of the more mundane tasks a little more fun."
Pairing her SPM major with a marketing minor, Gerstel completed her Senior Capstone at Inside Sports & Entertainment Group in the Spring of 2010, where she spent much of her time under the tutelage of InsideSEG partner Jim Zissler '01, ultimately parlaying her Capstone experience into a full-time role upon graduation.
InsideSEG creates and sells customized experience packages to the most in-demand sports and entertainment events worldwide. Gerstel's day-to-day tasks are dependent on which major sports and entertainment events are taking place at the time, largely focusing on inventory management, building and managing client programs, and shipping logistics.
"My favorite part of working for InsideSEG is traveling to the major events and managing it from start to finish," she said. "It allows me to see every aspect of what goes into producing these client programs and gives me the responsibility to meet and exceed clients' expectations. I experienced my first trip to the Masters during my Capstone, and it taught me so much in a short amount of time. This on-site exposure gave me the confidence to manage these events."
Gerstel credits her education at SU, specifically the guidance of the SPM faculty, for helping her accomplish so much in her career. Traveling to different countries through the Olympic Odyssey program gave her a window into being on-site for events, which she has continued at InsideSEG with the management of events at Wimbledon, the Super Bowl (in Indianapolis, New Orleans, and New York), multiple awards shows in Hollywood, and corporate events.
In February of 2014, Inside Sports & Entertainment Group was acquired by the largest sports and entertainment agency in the world, CAA Sports. She was given the opportunity to train SPM Class of 2014 graduate Meg Mankowski, who finished her Capstone with InsideSEG in May 2014, and is now a full-time InsideSEG team member.
Gerstel's advice to current SPM students and graduates is, "If you believe in something, stick with it. There are going to be many bumps in the road, but if you manage your time and work toward a goal, your hard work will be worth it."
---
Jon Prinsell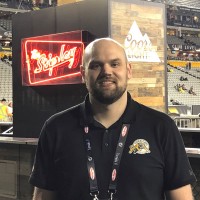 SPM '10, Director of Business Intelligence and Data Analytics, Hamilton Tiger-Cats and Forge FC
After graduating from Syracuse University in 2010, I landed an internship in Boston with Octagon, creating awareness for a mobile 4G WiFi hotspot product. After three months, our entire team was let go, as the brand significantly cut their marketing budget. Fortunately, I found another internship opportunity, a project to help author a business plan for a start-up hockey venture in Europe. A colleague had a connection with the Hamilton Tiger-Cats of the Canadian Football League. I reached out to his connection and was offered a full-time job.
My experience with the Tiger-Cats organization has been phenomenal. I have been promoted into different roles over the past eight years, including operations/logistics, sponsorship service, new stadium business development, ticket operations, and business intelligence. I helped organize two Vanier Cups (the Canadian university football championship), where we broke records for ticket sales and TV viewership. I was privileged to work on a new stadium for the Tiger-Cats, as part of the team that sold the sponsorship naming rights to Tim Hortons, Canada's largest fast food chain. We just launched a soccer team this spring, Forge FC, in a new Canadian professional soccer league. Hamilton also just won the rights to host the 2021 Grey Cup (the CFL championship game).
Along the way, the organization sponsored me as I earned my MBA in 2017, after which I was promoted to director of business intelligence and data analytics.
My primary piece of advice to students is that your career may have some "bumps in the road" but not to get discouraged. If our Octagon group had not been downsized, I probably would not be with the Tiger-Cats organization today. Also, continue to network and gain as much experience as you can in different fields. You never know who or what might be the catalyst for your next career move. And if you have the opportunity, further your education.
---
Mike Kravec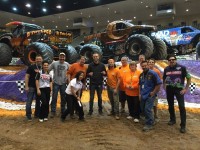 SPM '10, Event Manager, Feld Entertainment
I never imagined when I graduated from Syracuse University that my career would take me to so many places around the United States and even around the world. At Feld Entertainment, I have been able to combine my passion for live events with my love for travel. As an event manager for Monster Jam, based out of Palmetto, Florida, I produce motorsports events for fans all over the world. With more than 150 events annually, there are no limits to the places I will be able to see.
During my time at Syracuse University, I was fortunate to stumble upon my love for event management while trying to earn money doing changeovers at the Carrier Dome. I was fortunate to work for Carrier Dome Operations Manager Pete Sala, who offered me a full-time job upon graduation. I quickly found how rewarding it can be to work for your alma mater. After leaving SU, I worked for Chuck Steedman and AEG at the XL Center in Hartford, Connecticut, and the Sprint Center in Kansas City, where I managed major concerts, sporting events and family shows. I was able to work for an excellent company while exploring the country. Working for both Pete and Chuck provided an invaluable foundation for my career.
Looking back, I cannot believe the opportunities I have had in my career thus far. Working in the live event field, no two days are the same and you never know the challenges you will face. I lean heavily on my education and the real-life experiences that are taught in the classroom. No matter where I am putting on events, I am always proud to tell people that I went to Syracuse University.
---
Aneesh Saxena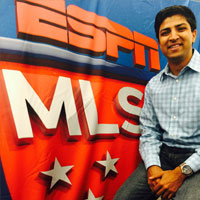 SPM '10, Production Coordinator, ESPN
Syracuse University dual major with Newhouse and Sport Management. Capstone and first job at ESPN. Dream scenario, right? Not so much. Life in the real world was definitely an adjustment, as my career was at a crossroads only one year into my tenure at ESPN. I got in some trouble and was suspended from work for a week.
After receiving my suspension, the first person I called was Laurie Orlando, who at the time was senior vice president of ESPN's Talent Office. She pioneered my senior Capstone and has been a great mentor ever since. When I need life advice or guidance, I know I can count on her. I told her everything that had happened. She knew I was in trouble, but at no point did she judge me.
A few months later, SPM professor Michael Veley reached out to me to set up lunch because he was visiting ESPN's campus. I was hesitant. He was the reason I was at ESPN. I didn't want to let him down. When I was deciding whether to declare a dual major with Sport Management, the belief professor Veley had in me gave me the confidence to pursue it and my dreams of working at ESPN. How could I tell him I was suspended from work and almost got fired? At the lunch, I told him everything. He said, Aneesh, I still believe in you." At that point, I knew I had to make things right and fight to keep my place at ESPN.
Three years after my suspension, I was promoted to production coordinator, managing the logistical aspect of production for Major League Soccer, U.S. Soccer, and UEFA Tournaments. The promotion was special because I feel like I learned from my mistakes, moved past them, and become a better professional. I have tried to fix the things I can control. What keeps me going is the belief and confidence my mentors like Laurie Orlando and professor Veley have in me.
---
Chris Sotiropulos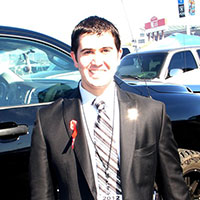 SPM '10, Ticket Operations Manager, Oakland Raiders
Chris Sotiropulos is the ticket operations and game-day services manager for the Oakland Raiders. He oversees the customer service staff on game days, acts as an NFL liaison for the Fan Code of Conduct and works closely with AEG, which operates the Oakland-Alameda County Coliseum in regard to game-day security and operations.
His path to the Oakland Raiders started as freshman at Syracuse University and getting his foot in the door during a summer internship in 2007. After three years of working as a summer intern, he was hired full-time as a member of the Raiders' ticketing staff managing digital marketing. Through a series of changes within the organization, his role has adjusted in many ways and he has been in his current position for about a year.
Sotiropulos credits his success of landing a job with the Raiders to many of the lessons he learned while studying at Syracuse University. "After being involved with the Sport Management Charity Auctions for four years, I knew that working events was always something I was passionate about. Being able to work so closely on the auctions really gave me the necessary skills to learn more about event management," he said.
Sotiropulos took that passion to a new level during his Senior Capstone with the 2010 NCAA Men's Basketball Regional Tournament in Syracuse, where he worked closely with the Syracuse University Athletics Department to assist with all aspects of the Sweet 16 and Elite 8.
"To have had the opportunity as a student to work a major sporting event will be something I cherish for a long time," he said. "It was an unbelievable experience that helped me grow significantly as a professional."
Sotiropulos mentors current SPM students about what it takes to get involved in the sports industry. He encourages sport management majors to begin networking early and reaching out to as many industry professionals as possible.
---
Ashley Spicer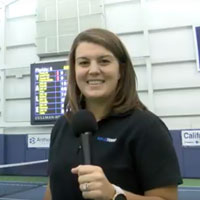 SPM '10, Senior Editor, FloSports
A 2010 SPM graduate, I've transitioned from a tennis player to a tennis media specialist. After coaching for a few years, I left the court and worked behind the scenes on the business side of the sport I love.
I am currently the senior editor of FloTennis at FloSports, a livestreaming sports media company in my hometown of Austin, Texas. I am the primary content creator, as well as having oversight of freelance writers, videographers and our social media team. Being able to bring more eyes to the competitive world of collegiate tennis gives me pride and satisfaction.
One of the biggest thrills working in live sports is recognizing greatness as it happens. During a national championship event, I was able to quickly identify, clip, and upload an exciting point, which caught the eye of ESPN's "SportsCenter." That evening, "SportsCenter" featured the clip, bringing college tennis to the segment for the first time in a decade.
Prior to this role, I worked as a marketing and events coordinator at Cliff Drysdale Tennis Management, which runs more than 30 tennis facilities worldwide. I was part of a multitude of projects, which helped to build my skills in order to reach the next level in my career.
The skills I learned at Syracuse University in the wide variety of Sport Management classes allowed me to be versatile in my professional career. In the current job climate, it's important to acquire as many skills as possible, especially when starting out. You never know where those skills may lead you!
---
Sam Staton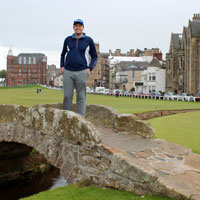 SPM '10, Director of Events and Travel, Northern California Golf Association
People told me I was crazy. Why would a California kid leave the beautiful weather to go to school in snow-ridden Syracuse? It was certainly a big risk, especially considering I never visited the campus before transferring to finish my degree. I was taking an enormous chance, but boy did it pay off.
The SPM program was relatively young when I transferred in 2008. Along with my move from the west coast, I was also taking a chance on this program. Would it offer me the opportunity to find a career in the sports industry like I had hoped? My first "welcome to SPM" meeting quickly answered my question. Professor Michael Veley addressed a group of students, telling us how difficult it is to break into the sports industry. He harped on the importance of internships, relationship building, professionalism, leadership, and academic excellence as key factors in securing a job after graduation. He was right. I jumped right in to the SPM Club, the SU BCM church, and interned with the First Tee of Syracuse to pursue my passion for golf. In due part to this dedication, I was chosen as the first SPM student to receive the Remembrance Scholarship.
After graduation, I secured a position with the Northern California Golf Association in Pebble Beach. I am currently the director of events and travel, responsible for increasing participation and revenue while managing a growing budget and staff. I run a variety of golf events to promote the game and increase NCGA members' enjoyment of golf. I oversee our travel department, taking groups to the world's best golf destinations, including St. Andrews, Ireland, Bandon Dunes, and Pinehurst, among others. It has afforded me the chance to see and learn about the world outside of which I live.
My advice? Take chances, get out of your comfort zone, meet new people, and experience different cultures. The more you know about the things you don't know, the better equipped you will be when opportunity knocks.
---
Matt Gay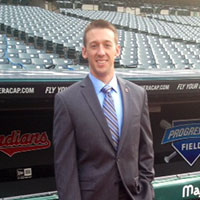 SPM '09, Group Sales Account Executive, Cleveland Indians
Matt Gay, SPM '09 and former treasurer of the Sport Management Club, works for the Cleveland Indians as an account executive in their Group Sales Department. His focus is on selling group tickets and suites from both a new business perspective and maintaining established relationships; from large corporate events to smaller niche markets.
Gay began his career with Octagon Sports Marketing in Atlanta. He completed his senior capstone project with Octagon the summer after his senior year and was immediately hired on for six months as an event coordinator on Octagon's Home Depot account, handling the onsite activation for ESPN College GameDay.
"It was the best job I could have had right out of college, being able to travel throughout the country and learn constantly," he said. Through this experience, Gay was able secure a marketing traineeship with the Atlanta Braves in 2010, managing their mobile marketing activation and working on a season-long trainee ticket sales project.
After the 2010 season, he acquired an inside sales position with the San Diego Padres before accepting a promotion to his current role with the Cleveland Indians in 2012.
"It is very important in the sport industry to get outside your comfort zone, take on new experiences, build your own network and not be afraid to relocate," Gay said.
While working with the Padres, he met his future wife, Joanna Halls, a 2011 graduate of Indiana University. After Gay proposed October 2012, Halls was able to secure a position with the Cleveland Cavaliers in their Premium Service Department. They got married on October 12, 2013, in Rochester Hills, Michigan.
---
Nick Martin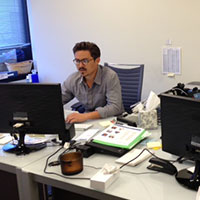 SPM '09, Director of Business Development, Relativity Sports
Nick Martin is the director of business development for Relativity Sports in Los Angeles. In addition to his daily role of helping to manage the activities and operations of the agency, Martin works across each of the three primary athlete representation divisions (NBA, NFL and MLB) and participates in strategic initiatives, partnerships, multi-level marketing campaigns, client management, social media activations and entertainment ventures.
Prior to his position at Relativity Sports, Martin was director of college basketball and recruiting for a boutique basketball agency in Los Angeles called Rogue Sports. In the summer of 2012, he helped to lead the integration of Rogue Sports, SFX Baseball and Maximum Sports Management into the newly formed Relativity Sports and recently did the same for NBA agent Dan Fegan and his basketball practice.
"Getting your foot in the door is the hardest part of the sports industry, in my opinion," Martin said. "I was extremely fortunate that I had a relationship with a business manager who happened to represent an NBA client that was represented by Rogue Sports. I was looking at the right time and in the right place because Rogue Sports expanded. Without him, there was probably no way I would have secured the opportunity I did."
Martin explains, "You have to network. Think of everyone you know who may have contacts in the industry or who may know someone in the business and ask if they are willing to make a call for you. I'll help any SPM alum as best I can. Look me up on Linkedin.com."
---
Lori Robinson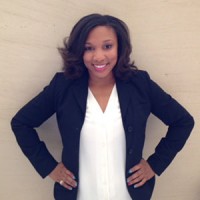 SPM '09, Learning Specialist, University of Tennessee
One of the most impactful points of my collegiate experience at Syracuse was competing as a track and field student-athlete while majoring in Sport Management.
As an undergraduate student, I was very involved in the SU Athletics Department, the SPM program, and on campus in various leadership roles, but as my senior year rolled around, I was unsure if I wanted to attend law school in an effort to work in the front office of a sports league, or work in a player development role with a specific sport team.
For my senior Capstone, Professor Veley persuaded me to accept an internship with Major League Soccer in New York City. My internship experience reminded me how much I enjoyed teaching and connecting with others through education. After graduation, I decided to pursue a master degree in Instructional Design, Development and Evaluation (IDDE) at Syracuse. Through that program, I learned the importance of incorporating assessment and evaluation throughout a process, a skill that I use daily. After completing my master, I served as a Learning Specialist and Assistant Tutor Coordinator in the student-athlete academic support unit at LSU.
I now work as a Learning Specialist at the Thornton Athletics Student Life Center at the University of Tennessee. I am able to combine my passion for education by facilitating independent critical thinking, challenging and supporting student-athletes in an authentic way by sharing my experiences as a student-athlete.
The experience I gained in the SPM program at SU helped to prepare me for a career in sport and I am continuously reminded about the power of connection. The SPM family-type network gives me an opportunity to connect with a variety of people in differing aspects of sport. I have mentors and friends for whom I will forever be thankful. I am proud to be an SPM alumna and will continue to serve the department and university in any way that I can.
---
Casey Miller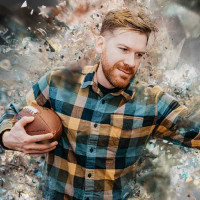 SPM '08, Director of Platform Product and Business Development, Tagboard
Starting at Syracuse University back in 2004, I knew I wanted to work in sports media. Little did I know that I would go from ticket sales to media technology in a span of 13 years.
In 2008, I started my career in ticket sales and operations with Sky Blue FC and the New Jersey Sports and Exposition Authority. One thing I learned from Professor Pat Ryan's sales class was that having a sales background was key to long-term growth in the sports industry. He was right.
Around 2010, I noticed the future of the industry was shifting toward going fully digital. I spent just over six years at IOMEDIA, working in project management and partnerships for 3D ticketing technology. I also worked for Omnigon (now InfrontX) in digital consulting and account management, and then at Grabyo, a cloud video production platform, leading the Customer Success team. I finally found myself in the sports content and technology space I always wanted to be in. At Grabyo, I built the U.S. Customer Success Team and led strategic partnerships and business development globally. Just over two years later, I left Grabyo for Portland, Oregon, to join Tagboard, doubling down on working on the content side of the media landscape.
Tagboard is an intuitive storytelling cloud production platform that creates interactive live programming, for any connected screen. At Tagboard, I lead global partnerships, channel sales and platform product team working closely with partners such as Twitter, TikTok, Reddit, Facebook, Instagram, Snap, and others. You have likely seen Tagboard in action via on-air Tweets during NBA on TNT or while watching the NFL on Fox on Sundays.
I have been lucky enough to offer internships to SPM students during my time at Grabyo and Tagboard and it has been great to see the growth of the program. My advice to current students is to network, take risks and expect the unexpected. I wouldn't be where I am today if the SPM program hadn't helped me build the foundation needed to work in this industry.
---
Jen Edwards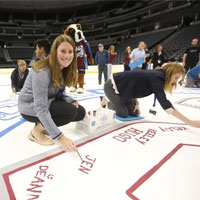 SPM '08, Account Manager, Kroenke Sports and Entertainment
I have worked for Kroenke Sports & Entertainment (KSE) since completing my Sport Management senior Capstone with the company in 2008.
KSE is the umbrella company to a multitude of properties. In the Denver market, it is known for our four professional sports teams (NBA, NHL, MLS, NLL) and accompanying venues, Altitude TV, AltitudeTickets.com, and the most recently acquired Altitude Sports radio.
In 2008, I moved to Denver to complete my Capstone as a Partnership Marketing & Media Sales intern, and quickly fell in love with Colorado and made the choice to officially call it home.
Upon graduation, I was hired into the inside sales program, which sold season-ticket packages for the Denver Nuggets and Colorado Avalanche. I contacted current and past season-ticket holders, as well as discovered new prospects.
Four months later, I was promoted to an account executive for the Colorado Mammoth. This position not only allowed me to sell for another one of our teams, but also be responsible for season-ticket services and group sales.
In September of 2013, I found my way back into our Partnership Marketing & Media sales group as a coordinator. My main responsibilities included overseeing our internship program, corporate gifting, and the planning and execution of all major client events. I interacted with many different partners and saw behind the scenes how we serviced these clients. Planning events for clients included a yearly "Meet the Team" party for the Nuggets, an Avalanche "Paint the Ice" party, multi-team events, and playoff implementation.
In March 2016, I was promoted to an account manager and now manage over $2 million of client assets. Having the ability to activate across all of KSE's teams and platforms truly makes every day and account different.
Outside of work, my new puppy, Otto, keeps me very busy.
---
Kelly Harrington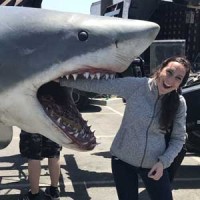 SPM '08, Business Development Director, Droga5
I graduated a semester early from Syracuse in December 2018. I was eager to jumpstart my career … but then of course that thing called the recession happened. After several interviews, handshakes, and thank-you notes I found myself working in media, buying TV space for MillerCoors. I loved my job and the people I worked with. Not much could be better for a 22-year-old than buying TV space for a beer brand across sport properties like ESPN and CBS Sports!
Though I loved my first job, I knew I wanted to be making ads not just buying media space for them. After a few strategic career moves, one that included a brief stint in Los Angeles, I found myself on Madison Avenue working at Roberts + Langer making ads for Neutrogena.
Since that first creative advertising job, I have worked on accounts and in categories that ranged from beauty to retail to telecommunications to financial services. I've managed accounts that were $4 million and others that were $20 million. I've worked with several Fortune 500 companies, helped produce two Super Bowl commercials, created an App, and filmed with one of the shark extras from "Jaws," as well as with Kevin Durant and JJ Watt.
It is because of these experiences I was able to pivot from Account Management to Business Development. I work closely with our chief marketing officer to help brands meet their business objectives through creative advertising. Some call it marketing, some call it advertising, I call it fun! Every day is truly different and exciting.
My advice to students: enjoy the ride and take control of your own narrative. You have the power to be and do whatever you want. Resources are all around you. Be confident. Be bold. And laugh when it doesn't go exactly to plan, because it all works out. And one day, you'll be writing a feature like this thinking, "Wow, where did the time go!"
---
Jeff Petrino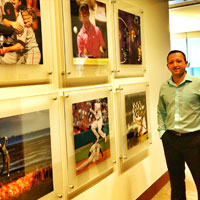 SPM '08, Senior Manager, Turner Sports Digital
At Turner Sports, I work with our salesforce to develop pitches for digital advertising within the March Madness Live streaming app, as well as NCAA.com, Bleacher Report and social media platforms for current and prospective clients. Because of Turner's commitment to content and technological innovation, the 3½ weeks of NCAA March Madness have evolved into a cultural phenomenon consumed by more than one-third of the American digital population (81.5 million people). I have also been charged with developing similar opportunities for the PGA Championship and Ryder Cup as part of Turner's partnership with the PGA of America.
Before joining Turner, I spent two years in video licensing with T3Media, where I worked with a sales team that consulted with clients looking to acquire the rights to use sports video footage in commercials and programming. I enjoyed building a business, and greatly benefited from pivoting into a major growth area within sports.
My career began in the event world (as a road warrior) with Octagon, where I received a crash course in the consumer passion point that is live sports. My time working in sports media and marketing has already given me many unique experiences. Witnessing Clint Dempsey's opening World Cup goal against Ghana in Brazil last summer tops the list. I am thankful that my job allows me to be involved in today's digital revolution, and helps shape how we all consume content across sports and other facets of our lives.
---
Michael Ross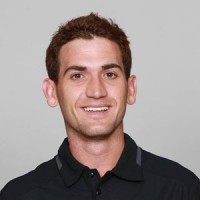 SPM '08, Area Scout, Atlanta Falcons
When I enrolled at Syracuse University, the Sport Management program did not yet exist. Fortunately, that changed in the fall of 2005 when the program was established, and I was part of SPM's first graduating class.
I always wanted to become an NFL scout. My journey to obtain a full-time position in the NFL wasn't the easiest, but through hard work and perseverance it worked out. Knowing I did not have the skill set to play at the collegiate level, I took a different path to stay involved with football. I was fortunate to work with the SU football team as a student manager, which gave me the opportunity to network internally with the coaching and support staffs and externally with NFL personnel when they came to campus.
I completed my senior Capstone with the SU football operations department on campus and at training camp with the Indianapolis Colts.
After graduation, I had a decision to make with two internship opportunities: Atlanta Falcons or Buffalo Bills. I picked Atlanta and I haven't looked back.
I am approaching my 10th season with the Falcons and have held various positions, including training camp intern, seasonal personnel assistant, scouting assistant, pro scout and area scout.
This is my third season covering schools in the Southwest, a region that covers Arizona, New Mexico, Texas, Louisiana, Oklahoma, Missouri, Kansas, Arkansas and Nebraska. Prior to the Southwest, I covered the Midwest (two seasons) and Northeast (two seasons) on the college side of personnel and then one season as a pro scout.
My role as an area scout is to be an expert in my area and gain as much information as I can for upper management. I have been fortunate to attend the Super Bowl and I look forward to finally bringing the Lombardi Trophy home to Atlanta!
---
Heather Widell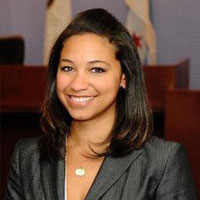 SPM '08, Owner and Trial Attorney, The Law Offices of Heather A. Widell
When I transferred into Sport Management as a sophomore, I had very little idea what to expect out of the program, but I must admit I had visions of Jerry Maguire in my head. I always played sports competitively throughout my life but in college that changed as I realized I had no hope in going pro in any of my athletic ventures.
I did still crave the competitive nature, the thrill of the game, the challenge, that all go hand-in-hand with sports. "Syracuse athletics are top notch," I assured myself, "I'm sure this program will sculpt me into a fierce super sports agent." And I began my career in SPM.
At some point during my senior Capstone, reality kicked in and I realized to be an agent I would need to further my education and attend either business school or law school. I chose law school. And about 10 minutes into my first law class something clicked: I didn't want to be an agent at all. Managing the lives and contracts of diva athletes sounded like a nightmare. Had I wasted all my training at Syracuse? What would I do now? But then it hit me; with the skills I cultivated in the SPM program, law school could still provide me with a connection to my competitive spirit: I would bec08ome a trial attorney.
I redirected my law school focus on trial advocacy and the courtroom became my playing field. I passed the bar exam and in August 2014, I began working for a small criminal defense law firm. My life suddenly turned into episodes of "Law & Order." And I loved every second it. I now own that law firm (my boss sold it to me after he was appointed to be a judge) and I took over 150 clients, as well as the attorneys and staff in the office.
I know that I could not have gotten to where I am today without the support and skill sets I gained in the SPM program at Syracuse. So while I may have chosen a different career path than most who graduate from SPM, I still have sports in my life. Trial law is my sport … and I'm here to win the game.
---