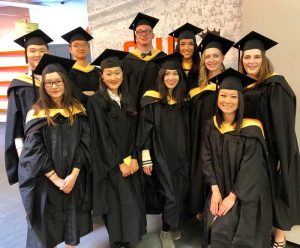 Syracuse University's master's program in Sport Venue and Event Management (SVEM) graduated its seventh class on May 11, 2019 at Manley Field House. Ten members took part in the Falk College Convocation ceremony. The graduate students arrived on campus in July 2018 for 36 credit hours of intensive classroom learning, skill development and experiential opportunities.
The students began in an immersive nature, working three days at the Musselman Triathlon in the Finger Lakes region during the first week of the program, followed by an immersion experience at the Buffalo Bills preseason training camp.
The graduate students also took part in professional development seminars conducted by Sport Management internship placement coordinators on networking, cover letters, resumes, strategic interviewing, salary negotiation, career guidance and using LinkedIn.
In the Spring 2019 semester, students worked with SPM associate professor Dr. Gina Pauline in the advanced event management course to plan a charity event benefiting Griffin's Guardians. Read more about the event.
Students in the first seven cohorts have immersed themselves in the program's academic and experiential opportunities, and leveraged relationships to launch their careers in the industry. Graduates have secured positions at McFetridge Sports Center in Chicago, Dover Speedway, Brown University, Spectra Venue Management, Legends Hospitality, Spartan Race Inc., Country Music Hall of Fame, Syracuse University's Carrier Dome, Boston Celtics, Boise State University, and Tulsa Sports Commission, among others.
The following SVEM students completed their graduate practicum work in Fall 2018: Peng Chen, USTA National Campus; Marisa Duval, Syracuse University Athletics; Paige Hammond, Comcast Spectacor at Wells Fargo Center; Anna Vergara, AT&T Stadium; and Janelle Williams, LA Clippers and LA Rams. Baylee Douglass, Twenty 3 Group; and Yaohui Wei, Syracuse University Recreation Services; completed their practicum work in Summer 2019.
The eighth SVEM graduate class began in July 2019. Learn more about the graduate program.