Falk College, UNLV to Launch Sports, Entertainment & Innovations Conference in Las Vegas Next Summer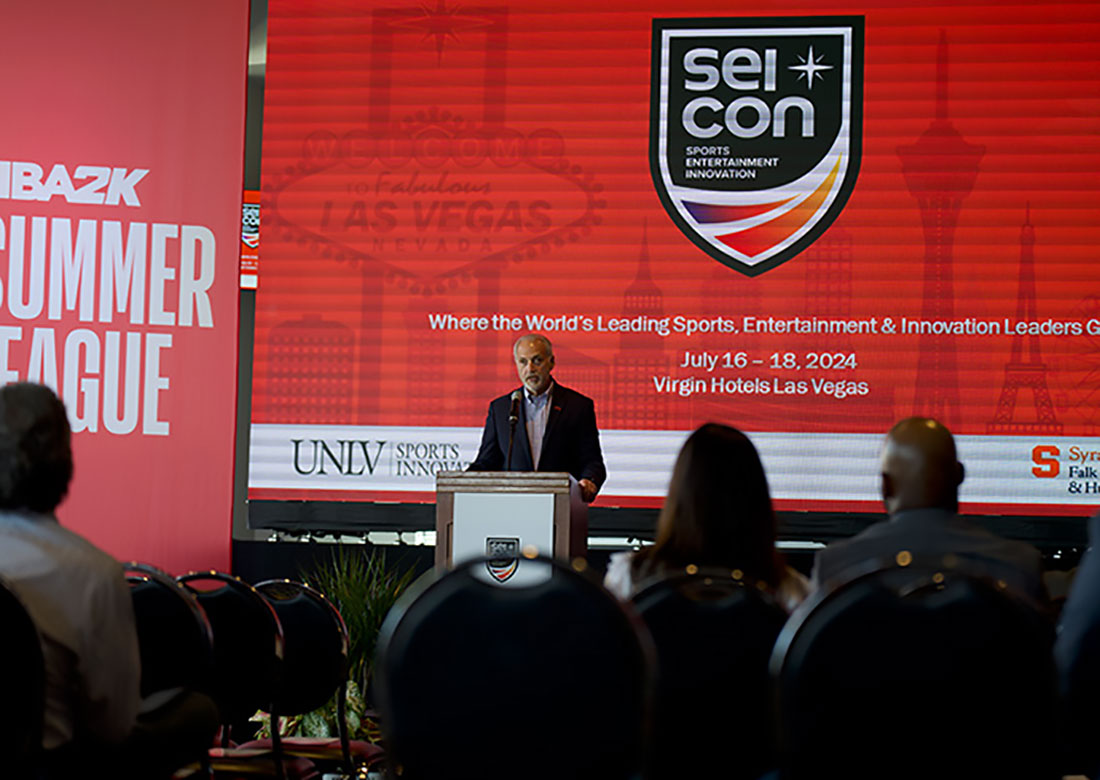 On July 14,
UNLV Sports Innovation
and Syracuse University's
David B. Falk College of Sport and Human Dynamics
, in collaboration with the Las Vegas-based guest experience agency
Circle
, proudly announced the launch of SEI-Con—a first-of-it-kind Sports, Entertainment & Innovation Conference hosting thought leaders and subject matter experts from across the globe to educate, collaborate, and create dynamic ventures together.
The inaugural conference will be held in Las Vegas with an opening reception July 15, 2024, and the three-day conference July 16-18. The event will include exhibitor pods, innovation labs, daily keynotes, seminars/sessions, roundtables, and daily wrap parties with music.
"There has been momentum building in the area of professional sports throughout Southern Nevada in recent years, and the economic growth that comes along with it is undeniable," says University of Nevada, Las Vegas President Keith E. Whitfield. "Through business and workforce development, and of course innovation, UNLV is a key partner in this growth, and SEI-Con is the latest example of our collaborative work to reinforce Las Vegas' reputation as the world leader in tourism, sports, and entertainment."
Analysts predict the global sports market to reach $2 trillion, which is 2% of the $100 trillion world economy, bolstered by an influx of money from new sources, emerging technologies, and growing demand. Already the entertainment capital of the world, Las Vegas has become an emerging sports destination and is perfectly positioned to host an annual conference focused on the intersection of sports, entertainment, and innovation.
"The opportunity for our students to work on this world-class event captures the essence of our experiential-based academic programs," says Michael Veley, founding Director and Chair and Rhonda S. Falk Endowed Professor in the Department of Sport Management in Falk College. "We, along with our nationally acclaimed advisory council of industry executives, fully embrace the collaboration with UNLV's premier programs, the creative genius of Circle, and business partners and sports entities in one of the most dynamic sports and entertainment markets in the world."
Attendees will have opportunities to meet industry executives and explore the latest innovations in sports and entertainment, esports and gaming, sports sociology and diversity, broadcast brands and media, research and development, and more.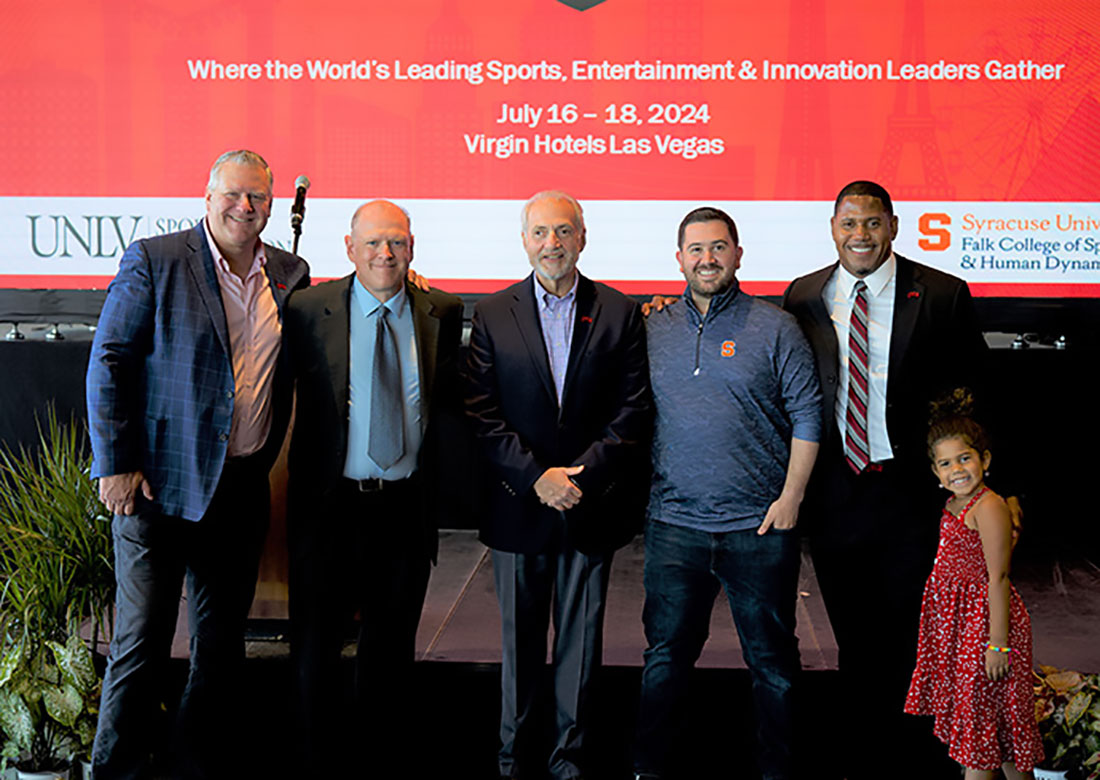 "Through collaborations with academic partners and the sports and entertainment industry, we are training the next generation of sports scientists and sports business professionals through interdisciplinary education and research," says UNLV Sports Innovation COO
Jay Vickers
. "SEI-Con will produce opportunities for education and collaboration that will result in unprecedented deal-making that will undeniably have a positive impact for our universities, students, and the sports and entertainment industry."
The event will also recognize leadership in sports, entertainment, and academia, and connect audiences dedicated to the future of these industries.
"We are eager to display the work being done by our faculty directly in sports, including innovative programs in sport management, sport analytics, and our newest program in esports, plus other elements of the college such as sports-related research in exercise science, nutrition, and other areas," says Rodney Paul, Director of the Sport Analytics Program and a professor in the Department of Sport Management at Falk College. "We are most excited, however, to show off our greatest asset, our students, on the world stage in the great city of Las Vegas."
The July 14 kickoff news conference was covered by several media outlets, including the Las Vegas Review-Journal and Yahoo! Finance. Watch a video from the SEI-Con announcement featuring Veley and Vickers:
The impressive list of SEI-Con speakers for next summer's conference includes David Falk, Falk College benefactor and one of the sports industry's leading figures as an NBA player agent; Brandon Steiner, Falk College Department of Sport Management Advisory Council president and a sports marketing expert; Syracuse University Director of Athletics John Wildhack; Sport Management Associate Professor and Undergraduate Director Gina Pauline; and Veley and Paul.
For more information about SEI-Con, including a FAQ and how to register, visit the SEI-Con website.
About SEI-Con
A next-gen conference that empowers academia, corporations, government, organizations, and non-profit entities to align, accelerating the development of new products, services and technologies that will elevate the entire market and improve the future of sports and entertainment for all.
About the David B. Falk College of Sport and Human Dynamics
Falk College brings together Syracuse University's professional programs in exercise science, human development and family science, marriage and family therapy, nutrition and food studies, public health, social work, and sport management in an environment of cross-disciplinary teaching, research, practice, and service. Falk College has been at the forefront of sport industry education for 20 years, launching one of the nation's first undergraduate degrees both in sport management and sport analytics, and soon offering a new esports communications and management degree program with the S.I. Newhouse School of Public Communications.
About UNLV Sports Innovation
UNLV Sports Innovation aspires to be a nationally recognized hub that integrates sport science and sport business to provide cutting-edge solutions to unique challenges and drive the future of sport. Situated in UNLV's Office of Economic Development with collaborators across the university, UNLV Sports Innovation is training the next generation of sport scientists and sport business professionals through interdisciplinary education and research.