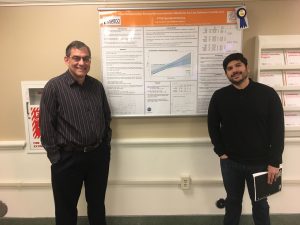 Falk students are invited to submit posters for completed or in-progress empirical, exploratory, policy analytic or hypothesis-driven research projects using qualitative, quantitative, or mixed methods for display, judging, and awards in the 2019 Falk Student Research Celebration March 26-29. The multi-day event will highlight Falk students' research collaborations and their dedication to advancing research knowledge.
Poster entry forms are due March 7 and poster submissions are due March 21. Posters will be on display beginning March 26 near the second floor student lounge and the Falk Café on 2 in the Falk Complex, with judging and awards taking place March 27. Students will present their posters from 12 to 1 p.m. on March 27 and 28.
The Falk College Research Center promotes a robust, collaborative research community in which students play an active role. At Falk, graduate and undergraduate students have the opportunity to work directly with faculty to collect data, analyze findings and draw conclusions on relevant topics surrounding public health, food studies, nutrition, sport management, human development and family science, social work, and marriage and family therapy.
"Conducting research as a student has many benefits, including building a strong relationship with Falk faculty members, improving writing and statistical analysis skills, and creating connections both on and off campus," says instructor Jessica L. Garay. "Because much of the research in Falk College has real-world implications, we want students to be able to share their findings publicly, and the Falk Student Research Celebration is the perfect opportunity to do so."
"The student research days is a great showcase of the work our students are doing to understand the world and the human condition," says assistant professor David Larsen. "It's always fun to see the new ideas that our students have, and how they are seeking to improve the world we live in."
Assistant professor Bhavneet Walia agrees. "It's a great way to quench your curiosity," she says. "Come see what our students are up to at the Falk Student Research Celebration."
Winners of the 2018 Falk Student Research Celebration, held March 27-30, 2018, included research in a wide range of topics, such as maternal health, accessibility, and PTSD.
For more information about the 2019 Falk Student Research Celebration, contact Amy Dumas adumas@syr.edu at the Falk Research Center.