Undergraduate forms and information
Undergraduate academic forms are available at the David B. Falk College of Sport and Human Dynamics, Office of Student Services, 330 Barclay Hall. Students are reminded to not wait until the last minute to have forms signed, as faculty may not be available. Deadlines for filing academic forms can be found on the Academic Calendar.
Falk College Office of Student Services forms page
Syracuse University Community College Transfer Partnerships
Undergraduate Student Internship Manual
Internship Information Form
Letter of Understanding
Mid-Term Evaluation of Student Performance in Internship
Final Assessment of Student Performance in Internship

Graduate forms and information
Learn how to transfer into our program
Graduate Student Handbooks
Graduate Student Annual Review
Graduate Student Awards
Comprehensive Exam Rubric
Full-Time Status Certification Form (PDF)
Graduate Program of Study Form (PDF)
Graduate Student Travel Award Application
Contact us for a copy of the Graduate Student Travel Request Form
Graduate Research Methods Courses
Contact us for a copy of the Graduate Transfer Elective Credit Petition Form
Internal Admission Application-Graduate* (PDF)
Graduate Program Plan Transfer Form (PDF)

*The Internal Admission Application-Graduate form is meant for use by graduate students who are currently enrolled or have other graduate degrees from Syracuse University.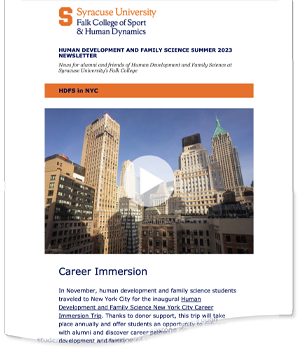 Newsletters
The newsletter is a valuable informational tool for HDFS students, alumni, parents and friends. Stay up-to-date with the department through news headline, student highlights and faculty updates. Click on the link below to view the most recent newsletter.
Newsletter Archives
2021
2020 – Accessible, text-only version
2020 (PDF)
2019 – Accessible, text-only version
2019 (PDF)