Ph.D. Candidate Xiaoyu Fu Presents Research at Gerontological Society of America Conference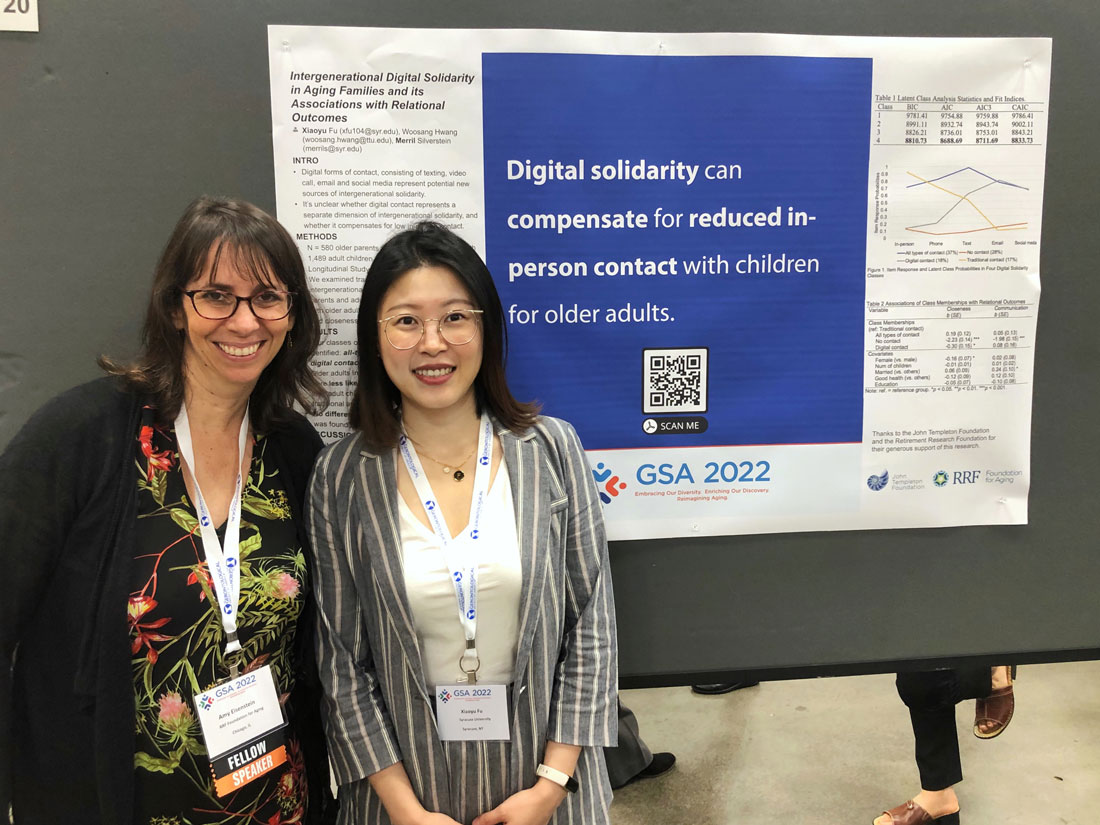 Growing up in Jiangxi, a province in southeast China, Xiaoyu Fu discovered she had a passion for family dynamics and family relationships. To transform that passion into a career, Fu enrolled in the Department of Human Development and Family Science at Falk College.
"I found the HDFS department at Syracuse University is the perfect place for me to dive into the research field of family relations under the guidance of many renowned professors and researchers," says Fu, a Ph.D. candidate. "I hope to become a faculty member at a university after graduating from Syracuse."
Fu recently attended the Gerontological Society of America (GSA) Annual Scientific Meeting in Indianapolis, Indiana, where she presented research on how older adults react to various types of communication with their adult children. This research was supported by a grant from the Retirement Research Foundation (RRF). We asked Fu to share her thoughts on the conference and how it impacted her academic and career goals, and here's what she wrote:
"The Gerontological Society of America (GSA) Annual Scientific Meeting is one of the biggest conferences in the field of gerontology. By bringing the top scholars around the world together to share their cutting-edge research projects and findings, it offers an extensive amount of high-level research from different aging research disciplines.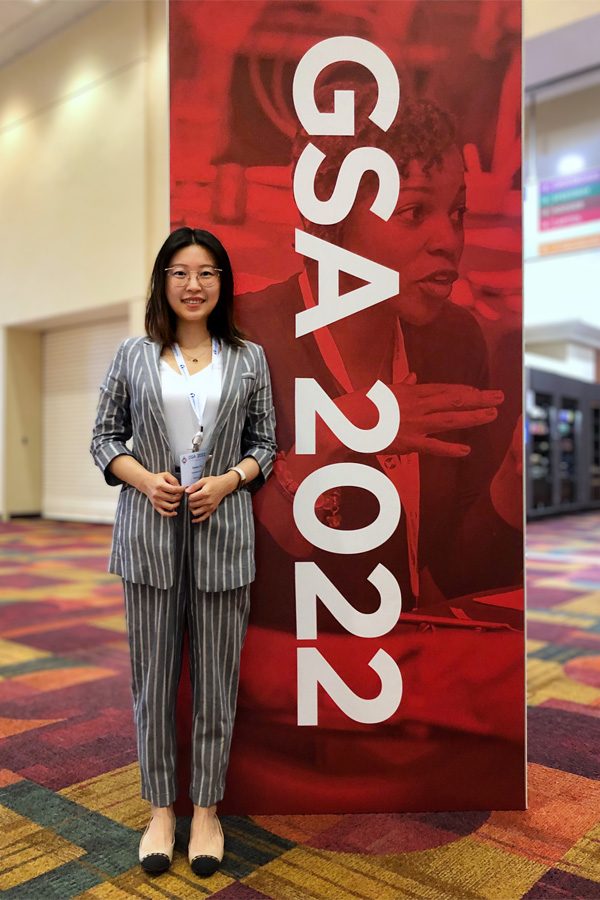 "Due to the pandemic, the GSA 2022 conference was my first in-person conference, and it surprised me with a wonderful experience that's distinct from virtual conferences. One of the highlights of GSA was meeting so many talented researchers. I've read and cited many of their publications, and this was the first opportunity I had to see them in person or attend their presentations.
"In addition to meeting those well-established scholars, GSA allowed me to network with Ph.D. students and postdoctoral researchers from all over the world. I attended a meetup of international students and scholars where we got to know each other and share challenges and resources in pursuing a career in academia as a non-citizen. Another highlight of GSA was attending conference sessions and workshops presented by scholars from various disciplines, such as social work, neuroscience, gerontology, biology, sociology, and medicine. I learned many new and exciting things at GSA about issues that affect older people and how they live their lives.
"The research project I presented at the conference was about how different types of communication between older adults and adult children would impact older adults' relational outcomes. I was drawn to this topic because it intimately relates to my life as my parents and I live on two continents. It's also immensely relevant in today's increasingly digital world.
"Specifically, we investigated the traditional (in-person and phone call) and digital (instant message, email, social media) types of intergenerational communication and their associations with older adults' perceived quality of communication and closeness with children. We found that digital contact with children can compensate for reduced quality of communication related to social isolation. We plan to replicate this study using recently collected data from 2021-22 to further examine the role of digital communication in maintaining meaningful family relationships during COVID-19.
"(Marjorie Cantor Professor of Aging Studies and HDFS Graduate Director) Merril Silverstein, my advisor, provides constant support for our projects and his wealth of knowledge guides our path. I am deeply grateful for his ongoing encouragement, guidance, and support of all my efforts and struggles on this project. It's been a pleasure working with him and I have learned a lot."
About Xiaoyu Fu: Xiaoyu received her bachelor of science in international studies from Renmin University of China, and her master of arts in public administration from Northeastern University. Her advisor is Professor Silverstein and her research interests are intergenerational relationships and family well-being.
About HDFS: The scientific study of individuals and families offered through Falk College's Department of Human Development and Family Science focuses on social, physical, emotional, and behavioral life-span development across cross-cultural contexts. HDFS offers students invaluable and unlimited opportunities for real world projects, internships and experiential learning, and research.