Faculty interests and student opportunities
Human Development and Family Science faculty and students are actively engaged in ongoing research projects that span the globe. Our research teams are always looking for students interested in gaining hands-on experience. Current opportunities are searchable below by interest areas and the faculty leading them, as well as through a keyword search of project titles and descriptions. By clicking on a faculty member's name, you can learn more about their work on their profile page. Or stop by the Human Development and Family Science suite in the Falk Complex (Falk 144) with questions about specific faculty-student research opportunities.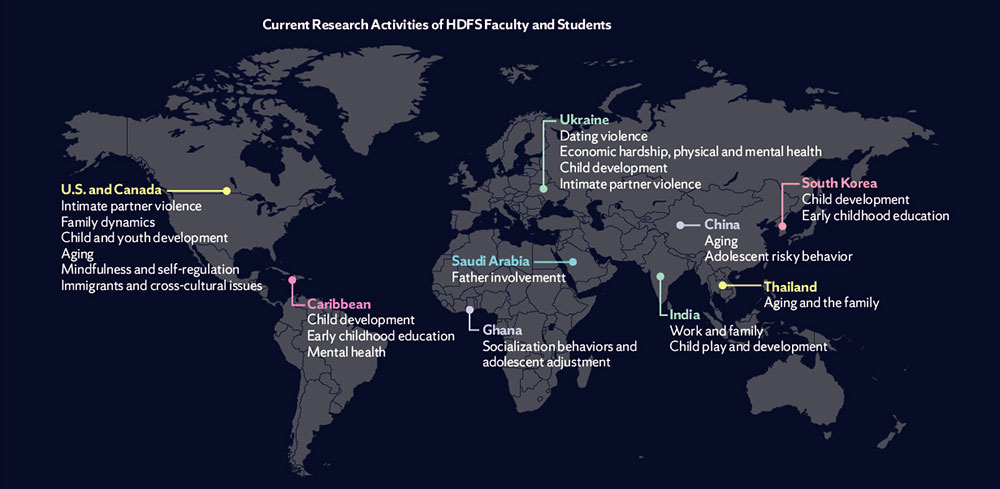 The graphic above highlights the worldwide reach of on-going research within Human Development and Family Science. Projects in the U.S. and Canada include topics such as intimate partner violence, family dynamics, child and youth development, aging, mindfulness and self-regulation, and immigrants and cross-cultural issues. In the Caribbean faculty are researching child development, early childhood education and mental health. Research in Ukraine includes dating violence, economic hardship, physical and mental health, child development, and intimate partner violence. In South Korea research encompasses child development, and early childhood education. Research in other countries include socialization behaviors and adolescent adjustment in Ghana, work and family and child play and development in India, aging and the family in Thailand, and father involvement in Saudi Arabia.
Exciting world-wide research opportunities exist for students. Browse through the listing of on-going research to find a good fit for you, or for more information contact the Department of Human Development and Family Science at kbrainon@syr.edu or kmnasto@syr.edu.