Syracuse University's Master of Science degree in Sport Venue and Event Management (SVEM) provides students with a specific knowledge and skill base in managing and operating sport and entertainment facilities and events.
Hundreds of broad-based sport management master programs exist that provide students with an overview of content across a number of topic areas. The problem with such a model is that students in these graduate programs may not get the focused specialization in any one area they need to successfully launch their sport industry careers. Syracuse University's Master of Science degree in Sport Venue and Event Management (SVEM) was designed uniquely to provide students with a specific knowledge and skill base in managing and operating sport and entertainment facilities and events. If you have a career interest in this area, here is why the SVEM program may be the perfect platform to launch your career in sports venues and events. Our curriculum is designed to provide a set of courses focused on the management and operations of facilities and events in the realm of sports and entertainment. If you are seeking a career in areas such as stadium/arena management, events production and programming, and venue food, beverage, and hospitality, you will not find an educational program better served to educate you on this area of the industry. Additionally, you will find that SVEM coursework consistently contains theory-to-practice elements where students apply concepts learned in the classroom to actual industry settings in a hands-on manner. Each SVEM annual cohort benefits from a small class size, allowing a dynamic interactive learning environment. Throughout the curriculum, students work frequently in teams to collaborate on industry-based projects. Outside the classroom, students benefit from small faculty-to-student ratios in advising and mentoring opportunities. This attention also extends far beyond the year on campus in our program, as our students are forever members of the Syracuse University family and proud alumni of the SVEM program and David B. Falk College of Sport and Human Dynamics. SU's Department of Sport Management possesses one of the largest and strongest faculties in the world. Faculty in the SVEM program have an ideal combination of industry experience, scholarship background, and content area expertise to provide students with excellent teaching and mentoring. Learn more about faculty in Sport Management
Sample Courses
Courses center around sport finance, accounting and budgeting; sport event and hospitality management; organizational theory; sport law and legal operations management; technology and information delivery systems; facilities and venue management; communications; and event planning operations and management. Master students can select electives from the iSchool, Newhouse School, and the Whitman School spanning numerous topics including (but not limited to) digital advertising, media law, new media business, operations management, social media in the enterprise, marketing, and supply chain management.
Foundations of Sport Venue and Event Management
Sport Event and Hospitality Management
Sport Facilities Management
Marketing of Sport Venues and Events
Financial Management of Sport Facilities and Events
Game Day Operations
View all course requirements and electives
---
What Our Students Are Saying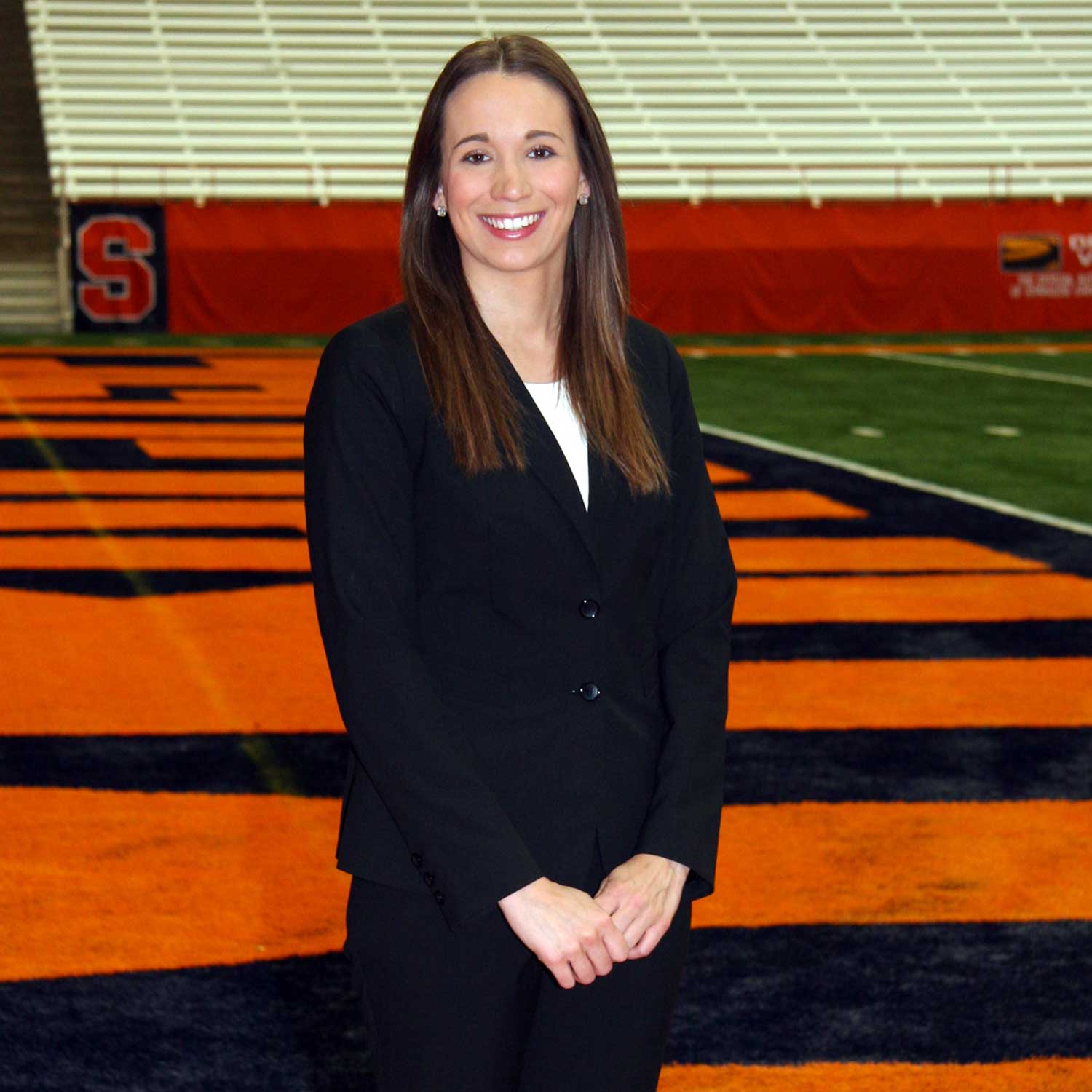 "The Sport Venue and Event Management master's program at Syracuse University is unlike any other program of its kind. From the first time I came to campus, I knew Syracuse and SVEM was the right fit for me. The hands-on learning taught by exceptional faculty has allowed me to gain real-world experience and has prepared me for a career in sports and events. Throughout my time at Syracuse, I had the opportunity to be part of unique experiences, such as spending a weekend working at a triathlon and participating in a Game Day Technology course, which simulates the operations of a live athletic event. Because of their great connections in the industry, I met and connected with professionals from all areas in sports and events. With the convenience of the Carrier Dome on the SU campus, the opportunities with athletics, and other facilities in the local community, Syracuse provides students with endless opportunities. I left campus with invaluable experiences, with the most notable being part of the 2nd Annual SVEM Charity Golf Classic, which raised $15,000 for Vera House and their fight again domestic and sexual violence. The Sport Venue and Event Management program at SU provides more than an education. You gain experience, opportunities, and access to excellent faculty and industry professionals. Because of the Sport Venue and Event Management program, I was able to spend a semester working at Madison Square Garden, which prepared me for a career in this industry. After leaving SU, I worked as an Operations Coordinator at Dover International Speedway, and am now the Events and Schools Coordinator at Special Olympics Massachusetts."
---
Our Facilities
Falk College's Milton Conrad Technology Lab doubles as a student classroom and computer lab that meets the latest programming trends in event and sport venue operations, and provides students live game-day production experiences. Students train to operate live events using equipment identical to what is found at major sport venues, such as ribbon boards and a scoreboard systems controller.
---
Experiential Learning
SVEM students have the opportunity to take part in experiential learning trips to Philadelphia, Boston, and Lake Placid. Students meet with industry professionals to gain first-hand knowledge of what it is like to work in sport venues and events. Graduate students are then required to complete 9 credits of Practicum work outside the classroom in order to obtain their degree. This can be done in multiple aspects of the sport industry across the world.
---
What's Next
Students who complete a Master of Science in Sport Venue and Event Management are well-prepared to pursue a job in the sport venue and event management industry or apply to Ph.D. programs in Sport Management with a specialization in sport venues and events.
---
Careers
SVEM faculty and staff emphasize the importance of career planning from the first days of the program's start each summer. This one-year program goes by quickly and students are pushed to maximize every chance to take advantage of opportunities provided. Early in the program, students are encouraged to explore different career opportunities related to sports venues and events, but our philosophy is that students should identify a specific area of interest and work with our faculty and staff to execute a plan toward pursuing that career path. Ultimately, our SVEM philosophy is that the student must take ownership of their own individual career pursuit, and our role as the program, faculty, and staff is to work alongside students in that pursuit using a combination of teaching, advising, mentoring, and leveraging industry connections to assist students in their quest for fruitful careers related to sports venues and events. Some of the specific activities built into the program toward facilitating students' career development include networking events, immersion trips, career matching, and workshops on areas such as resumes, salary negotiation, and networking. If your career aspirations are focused on sport facilities and events, we believe you'll find no program better able to educate, mentor, and assist you in launching your career in these areas. Please find information below about the admissions process and on contacting us for more information.
---
Getting Admitted
The admissions requirements for this program include:
undergraduate degree with a minimum cumulative 3.0 GPA
TOEFL scores (for international applications)
undergraduate transcripts
three letters of recommendation
a resume and personal statement
GRE scores are required
video interview
---
Learn More:
For additional admissions information, contact the Office of Admissions at falk@syr.edu, or fill out our online form:
Return to top