A New York sport industry and culture immersion experience.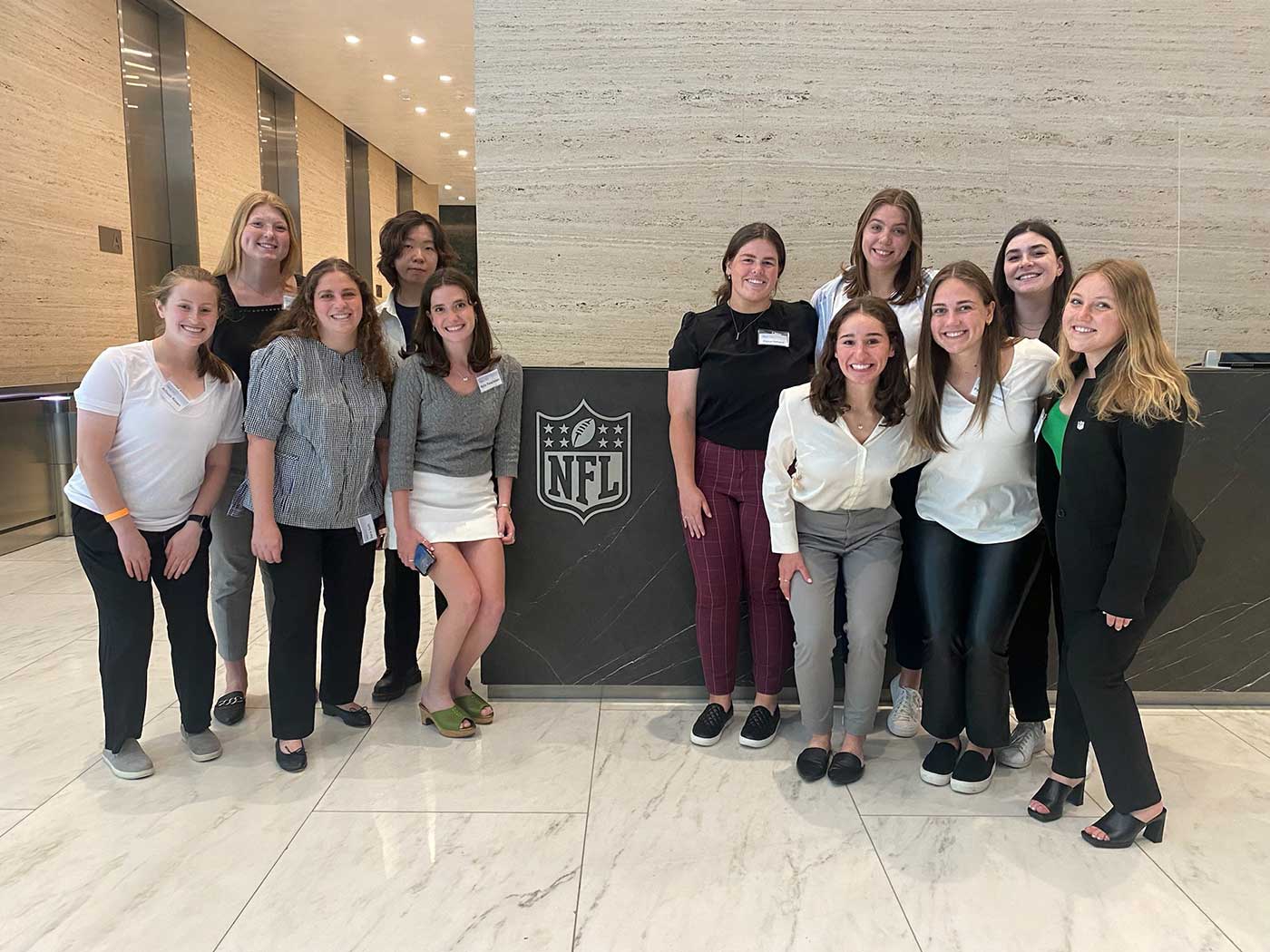 The New York metropolitan area is home to some of the country's top professional teams and leagues, including two Major League Baseball teams, two NBA teams, one WNBA team, two NFL teams, three NHL teams and two Major League Soccer teams, among other major sporting events and venues like Madison Square Garden.
Over the course of four days in May, 11 female Sport Management majors from Syracuse University's Falk College immersed themselves in New York's sport industry and culture. They met with executives from numerous sectors of the industry, including CBS, New York Liberty, New York Knicks, United States Tennis Association, NFL, New York Yankees, Legends, NHL, and Disney/ESPN. The group also attended a WNBA game as well as the launch event of SU's new Sports Network. The students were accompanied by Sport Management associate professor Dr. Gina Pauline and internship placement coordinators Nicole Cost and Kailyn Jennings.
Students on the trip included Dara Doft, Alyssa Helland, Xinyue Huang, Sydney Kossoy, Peri Lamkin, Sydney Orszulak, Paula Ostrowska, Kyla Pearlman, Allison Rosen, Alexa Schlitt and Sydney Topper.
We asked Topper '24 to share her experiences and thoughts about the New York City Immersion Trip, and this is what she wrote:
"If I was asked to describe our New York City immersion trip in one word, I would say phenomenal!
This amazing opportunity would not have been possible without the generous donation from Mr. and Mrs. Jake and Suzanne Doft and their family, who supported this trip. Also, we'd like to thank Falk College and the Department of Sport Management for putting this trip together, especially internship placement coordinator Nicole Cost, who coordinated and planned the entire itinerary, as well as Dr. Gina Pauline and Kailyn Jennings, for their help and guidance.
We met with 10 organizations and more than 30 industry professionals in four days. It was quite the itinerary! We were honored to meet and network with female executives and Syracuse alumni. As a people person with a lot of energy, I love to network and learn from professionals. I have dreamed of visiting the NFL Headquarters since I was 6 years old, and to make that dream a reality was a memory I will never forget.
Our first stop was the USTA Billy Jean King National Tennis Center. We met with USTA Managing Director and SU alum Patti Fallick, who is also a member of the Sport Management Advisory Council. Fallick was joined by seven other female executives for the USTA. It was amazing to be surrounded by leading females and have conversations about equal pay, how to stand out during the interview process, and the business of the US Open. We took a tour of the Billy Jean King Center and the Arthur Ashe Stadium. This would have been the perfect opportunity to wear my Stan Smith sneakers!
Every day was very busy! One particular day began at the famed Madison Square Garden, where we met with Senior Vice President and General Manager Bobby Castronovo, who gave us a tour. We learned about the technology implemented throughout the venue to make the fan experience as easy and memorable as possible. As a sport technology fan, I was fascinated with the technology and data that The Garden uses to enhance the game-day experience. We also learned about data they collect from different parts of the arena that then contributes to business decisions.
From there, we headed to Legends and met with Global Sales Manager Ashlee Saunders, among others. As we ate lunch there, the Legends executives asked about our interests, career goals and also about our campus' chapter of Women in Sports and Events (WISE).
We were thrilled that our trip coincided with the launch of the new SU Sports Network for students, alumni, faculty and everyone Orange! We met with so many SU and Falk alumni at LAVO on May 18. It was so great to be in a room of all Syracuse alumni working in the sport industry. I networked with alumni working for MKTG, The New York Post, Sponsor United, and the NFL, among others. Thank you so much to Adam Honig and the Sport Management Emerging Leaders Council for putting on the event.
As we approached our last day in the city, we went to Syracuse University's Fisher Center to meet with executives from Disney, ESPN, NBA, and College Game Day. Deidra Maddock, of Disney Media & Entertainment Distribution, facilitated the panel discussions and taught us about the ad pitch cycle and how each team does their part behind the scenes.
One piece that stuck with me was when Maddock said, "You must own your successes. There is an unconscious habit to say, 'I was lucky enough to …' Not the case. We must learn to stop saying that it was luck that brought us to where we are today, but more so we earned every milestone that it took to get to where we are." That's great advice for us college students aspiring to work in the sport industry post-college.
Over the course of the trip, we also met with executives from the NFL and NHL. It was a great experience to see what it is like working at the league level. Additionally, it was rewarding to have all females meet with us as someday I hope to have the opportunity to work with a league. We also had the opportunity to visit the One World Observatory – the tallest building in the country!
As I look back on this New York City immersion experience, I feel honored to have spent that time with other female students who share the same passion as me for the sport industry. We are all thankful to the executives who welcomed our group and took time out of their busy schedules to meet with us. It was an honor to learn and network from them. I look forward to the next immersion trip as it's trips like these and opportunities like this that truly make Syracuse University's Department of Sport Management stand out from the rest. As Professor Veley always says: "Be Loud, Be Proud, Be Orange!"
Sydney Topper '24 is a Sport Management major and Data Analytics minor who also serves as the president for the Women In Sports and Events (WISE) Club at Syracuse University. She's a member of Falk College's Sport Management Club, interns for Syracuse University Athletic Communications, serves as a Falk College peer mentor, a Falk College ambassador and works as a Syracuse University U100 tour guide.