The Department of Marriage and Family Therapy (MFT), in existence for nearly five decades, is the longest-standing department of its kind in the country and accredited by the Commission on Accreditation for Marriage and Family Therapy Education (COAMFTE).
Addressing the substantial need for trained professionals able to provide mental health services, Syracuse University's accredited 60-credit master of arts degree in marriage and family therapy prepares students for rewarding work in marriage and couples counseling and family therapy in private practice, mental health facilities, social service agencies, and school districts, among many other organizations. The Syracuse University MFT M.A. program's mission is to educate and train clinicians, scholars, and researchers in the ethical and systemic practice of MFT with a commitment to diversity and inclusion. The Department of Marriage and Family Therapy (MFT) is housed in Peck Hall, which offers advanced teaching technologies and learning environments that further distinguish Syracuse's program in marriage and family therapy from others across the country. With extensive hands-on training, both at the Couple and Family Therapy Center, an on-campus clinical training and research facility, and at local community sites, students complete 500 hours of supervised clinical practice with individuals, couples and families. To conclude their studies, students complete either a master's project or a master's thesis. From working with LGBTQ clients, issues of trauma, and challenges of childhood and parenting to marital and couple difficulties, moving beyond family violence, or easing relationship and communications struggles, students have specialized skill sets upon completion of the program that set them apart in the job search process. Our comprehensive clinical training prepares graduates well in the marketplace for jobs in marriage and couples counseling and family therapy.
Why this degree makes a difference in society today…tomorrow…
Today more than 50,000 marriage and family therapists treat individuals, couples, and families nationwide. Membership in AAMFT has grown from 237 members in 1960 to more than 50,000 in 2020. This growth is a result, in part, of renewed public awareness of the value of family life and concern about the increased stresses on families in a rapidly changing world.
Sample Courses
Students take basic clinical courses in theory and practice during their first year in the program. From core courses in family therapy, systems dynamics, couple therapy and psychopathology to elective explorations into trauma studies, play therapy, and therapy with LGBTQ couples and families, Falk College's marriage and family therapy courses challenge students to find new solutions to meet society's needs. Our offerings include classes such as:
Marriage and Family Therapy Ethics and Issues
Family Therapy Perspectives on Cultural Diversity
Family Therapy Across the Life Cycle
Psychopathology
Family Therapy with Complex Trauma
Therapy with LGBTQ Couples and Family
View all course requirements and electives
---
What Our Students Are Saying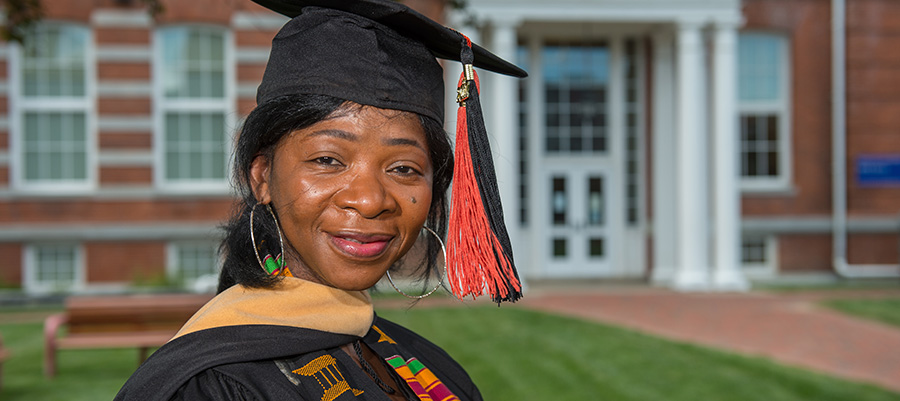 Blessed Unami Sikhosana '11, G'12, G'17
Working in an attorney's office, Blessed Unami Sikhosana recalls, "we dealt with families and children who were hurting." Sikhosana realized that she was a humanitarian, an advocate for the voiceless. "That's what drew me in—the love for those who can't speak for themselves. The refugee communities that have experienced war in their home countries and now suffer from PTSD. Bringing hope to adults who are in nursing homes and providing them with therapy coping skills, especially those who are faced with mental health challenges." So, Sikhosana began her studies in marriage and family therapy at Falk College, home of the first accredited master degree of its kind in the country. Students in the program complete rigorous coursework in addition to 500 supervised clinical hours, during which residential students work directly with clients at both the Couple and Family Therapy Center located at Peck Hall, and at an approved community site. For Sikhosana's internship, she worked at Catholic Charities in Syracuse. Seeing 27 clients each week was certainly challenging, but Sikhosana treasures the joy and fulfillment she gets from her work. "To be a marriage and family therapist is a rewarding career. You touch lives," she says. "The bottom line of being a marriage and family therapist is helping individuals with mental health challenges reframe their thinking. Most clients walk into my therapy room defeated. My job is to help them to walk out into the world feeling like a champion. I really want to thank Syracuse University for empowering me to be the marriage and family therapist that I am today," she says.
---
Our Facilities
Peck Hall is a five-story, 30,000 square-foot facility that houses MFT faculty and administrative offices, classrooms, a student lounge/kitchen, and a seminar room. Other key features include a children's play therapy rooms and expanded counseling rooms for the Couple and Family Therapy Center, which serves clients referred from mental health and human service agencies and school districts throughout the area. The facility is equipped with state-of-the-art technologies, including smart classrooms with video conferencing, and counseling rooms with digital video imaging for clinical training purposes. Peck Hall is situated adjacent to the McMahon/Ryan Child Advocacy Center, enhancing collaborations with the Department of Marriage and Family Therapy specifically around issues of child and family trauma and giving students a technologically advanced, interdisciplinary training environment working with highly skilled and very dedicated mental health professionals. Additional long-standing community partnerships provide experience-rich learning opportunities for MFT students, including St. Joseph's Hospital, The Salvation Army, Vera House, and Liberty Resources, among many others.
---
Experiential Learning
All residential students spend one-year providing therapy in the on-campus Couple and Family Therapy Center, which is well equipped for recording sessions and live supervision. They also see clients in off-campus practicum sites after their first semester of client contact. Our site supervisors are all AAMFT approved supervisors or equivalent who maintain regular contact with our internship coordinator to assist in evaluating and training students' clinical work in the field.
---
What's Next
MFT graduates are licensed or certified in all 50 states and are recognized by the federal government as members of a distinct mental health discipline. Many students consider enrolling in a Certificate of Advanced Study (CAS) program simultaneously to complement their M.A. in marriage and family therapy degree, not to mention their marketability after graduation, with additional knowledge, skills, licensing and credentials in a specialized area. Falk CAS programs that fit well for marriage and family therapy students include Addiction Studies, Child Therapy, and Trauma-Informed Practice. Additional licensing and credentialing strategically positions students in the counseling and mental health fields.
Please note: CAS programs are only able to be completed residentially.
A doctoral degree is required for university-level teaching and research positions. Learn more about our Marriage and Family Therapy, Ph.D.
---
Careers
According to U.S. News & World Report, marriage and family therapy is one of the fastest-growing mental health disciplines in the U.S. today. The U.S. Bureau of Labor Statistics, employment of mental health counselors and marriage and family therapists is projected to grow 22% from 2018 to 2028, much faster than the average for all occupations. Growth is expected in both occupations as more people have mental health counseling services covered by their insurance policies. Graduates of the Marriage and Family Therapy program are equipped to work in a variety of different settings including:
Inpatient and outpatient centers and hospitals
Government, military, and veterans facilities
Substance abuse and addiction treatment facilities
Mental health and counseling programs
Schools and social service agencies
Community based non-profits
Private Practice
Adventure based programs or camps
Research centers
---
Student Organizations
Students will maintain membership in AAMFT throughout their enrollment in the M.A. and doctoral programs. M.A. students apply for Student Membership in AAMFT their first term in the core program and maintain registration until receiving their degree. Students interested in working with faculty on research projects will find numerous projects available to them. Visit the links below for more information:
---
Commitment to Diversity
The Syracuse University Department of Marriage and Family Therapy defines diversity incorporating the concept of intersectionality, which acknowledges historical, social and political factors that uniquely locate individuals within social structures of privilege and oppression influencing unequal access to opportunities and resources. Factors that contribute to individuals' unique location include, but are not limited to social categories such as gender, race, age, culture, class, sexuality, ability, immigration status, religious beliefs and physical appearance. Additionally, the MFT department adheres to Syracuse University Non-Discrimination and Equal Opportunity Policy The MFT department prohibits discrimination and harassment based on race, color, creed, religion, health, socioeconomic status, sex, gender, national origin, citizenship, ethnicity, marital status, age, disability, sexual orientation, gender identity and gender expression, genetic information, veteran status, or any other status protected by applicable law to the extent prohibited by law. This nondiscrimination policy covers recruitment, admissions, codes of conduct, hiring, retention or dismissal of faculty, students, and supervisors, and access to and treatment in University programs, services, and activities. Syracuse University's non-discrimination policy and the MFT department's statement on non-discrimination can be found in the student handbook. Syracuse University's Marriage and Family Therapy department demonstrates commitment to diversity and inclusion. Faculty and staff prepare students to value the creation of socially-just, anti-racist, LGBTQ-Affirmative and anti-discriminatory environments. Students are expected to engage in cultural humility, awareness of self in relation to others, and an understanding of psychosocial and cultural contexts of issues presented in clinical practice and research. We believe that valuing each other's similarities and differences helps us to deepen our understanding of relationships in systems. Students are required to see clients with diverse backgrounds/experiences and may not choose their caseloads based on race, class, gender/gender expression, sexual orientation, religion, culture, age, or other diversity category.
---
Professional Licensure Disclosure
The master of arts program in Marriage and Family Therapy is accredited by the Commission on Accreditation for Marriage and Family Therapy Education (COAMFTE). Designed to meet the academic requirements for Clinical Fellow Membership in the American Association for Marriage and Family Therapy, it prepares students for rewarding work in marriage and couples counseling and family therapy in private practice, mental health facilities, social service agencies, and school districts, among many other organizations. Professional licensure/certification requirements vary from state to state, which may affect your ability to apply for a professional license/certification upon the completion of the program. Please view our Professional Licensure Disclosure Statement regarding program's ability to meet specific state licensure or certification requirements.
Please Note: For those looking to be licensed in California you will need to take two more classes in California during or post MA. The Virgin Islands and Puerto Rico do not license MFT's.
---
Getting Admitted
Applicants to the master's degree in Marriage and Family Therapy are screened for admissions by a committee of faculty. Requirements include a bachelor degree, 3 letters of recommendation, and a personal statement. There is no minimum GPA required for admission, although the MFT Department uses a benchmark of 3.4 as a standard.
---
Learn More:
For additional admissions information, contact the Office of Admissions at falk@syr.edu, or fill out our online form:
Return to top