Public Health News
2019 Falk Student Research Celebration Takes Place March 26-29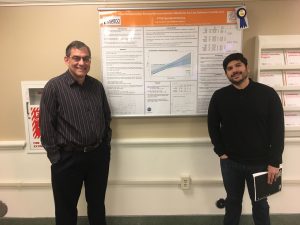 Falk students are invited to submit posters for completed or in-progress empirical, exploratory, policy analytic or hypothesis-driven research projects using qualitative, quantitative, or mixed methods for display, judging, and awards in the 2019 Falk Student Research Celebration March 26-29. The multi-day event will highlight Falk students' research collaborations and their dedication to advancing research knowledge.
Poster entry forms are due March 7 and poster submissions are due March 21. Posters will be on display beginning March 26 near the second floor student lounge and the Falk Café on 2 in the Falk Complex, with judging and awards taking place March 27. Students will present their posters from 12 to 1 p.m. on March 27 and 28.
The Falk College Research Center promotes a robust, collaborative research community in which students play an active role. At Falk, graduate and undergraduate students have the opportunity to work directly with faculty to collect data, analyze findings and draw conclusions on relevant topics surrounding public health, food studies, nutrition, sport management, human development and family science, social work, and marriage and family therapy.
"Conducting research as a student has many benefits, including building a strong relationship with Falk faculty members, improving writing and statistical analysis skills, and creating connections both on and off campus," says instructor Jessica Redmond. "Because much of the research in Falk College has real-world implications, we want students to be able to share their findings publicly, and the Falk Student Research Celebration is the perfect opportunity to do so."
"The student research days is a great showcase of the work our students are doing to understand the world and the human condition," says assistant professor David Larsen. "It's always fun to see the new ideas that our students have, and how they are seeking to improve the world we live in."
Assistant professor Bhavneet Walia agrees. "It's a great way to quench your curiosity," she says. "Come see what our students are up to at the Falk Student Research Celebration."
Winners of the 2018 Falk Student Research Celebration, held March 27-30, 2018, included research in a wide range of topics, such as maternal health, accessibility, and PTSD.
For more information about the 2019 Falk Student Research Celebration, contact Amy Dumas adumas@syr.edu at the Falk Research Center.
---
Falk College expands graduate merit scholarships beginning Summer 2019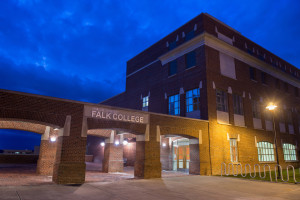 Graduate merit scholarships have been expanded for prospective students interested in matriculating into master's degrees, either full- or part-time, offered in Falk College effective Summer 2019 (includes MAYmester Summer Session I, Summer Session II, Combined Summer Session). Incentives include no application fee, GRE waiver where applicable, and a 25 percent tuition discount incentive, which is applied after any other scholarships, scholarship credits, assistantships and remitted tuition credits are applied.
Eligible matriculated students include:
All Syracuse University alumni applying to master's degree programs in Falk College (see list below), including members of the Class of 2019;
Children of current full-time Syracuse University employees (notarized supplemental forms required);
Any Advanced Standing MSW-enrolled student from any accredited BSW/BSSW program throughout the nation, and;
Current Falk master's program students who are Syracuse University alumni; children of current full-time Syracuse University employees are also eligible.
Falk graduate programs include:
Food Studies, M.S.
Global Health, M.S.
Human Development & Family Science, M.A., M.S.
Marriage and Family Therapy, M.A.
Nutrition Science, M.A., M.S.
Public Health, M.S.
Social Work, Advanced Standing Program, M.S.W.
Social Work, M.S.W.
Social Work and Marriage and Family Therapy Dual Degree, M.A./M.S.W.
Sport Venue & Event Management, M.S.
Interested students should contact Falk Admissions, submit their application, and must formally matriculate. For more information, please contact the Falk College Office of Admissions at 315.443.5555 or email falk@syr.edu. Award is subject to change.
---
Research training program for veterans now accepting applications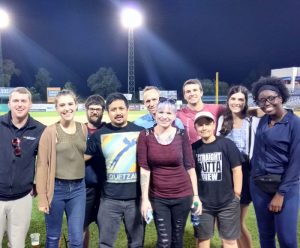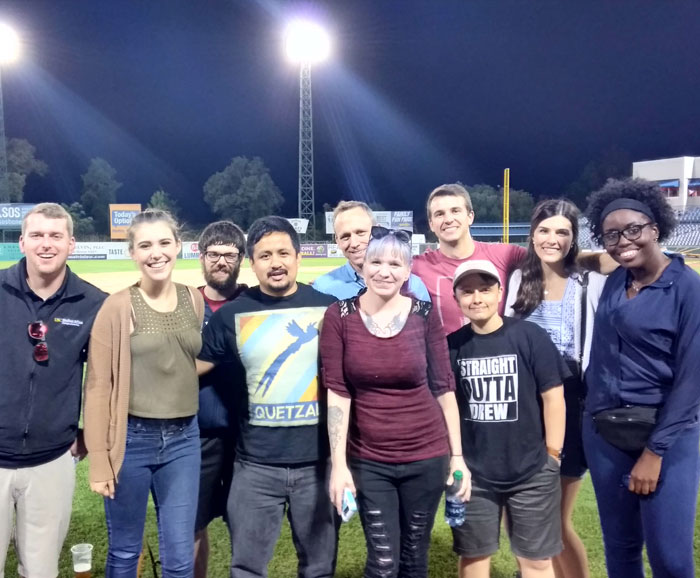 To improve access to undergraduate research experiences in the area of trauma for groups typically underrepresented in this research, including veterans, a collaborative venture between Syracuse University's Falk College, SUNY Oswego, and SUNY Upstate Medical University is now recruiting students for its 2019 program May 20-June 27, 2019 on the Syracuse campus.
The Undergraduate Trauma Research Training program is a National Science Foundation (NSF) Research Education for Undergraduates (REU) opportunity directed by Brooks B. Gump, Ph.D., M.P.H., Falk Family Endowed Professor of Public Health, and co-directed by Karen Wolford, Ph.D., Professor Department of Psychology and Coordinator of the Interdisciplinary Graduate Certificate Program in Trauma Studies at SUNY Oswego and includes other faculty from these institutions as well as SUNY Upstate Medical University. This program brings together veterans and non-veterans in a safe environment to pursue trauma research activities.
This six-week immersion program involves coursework, mentored student-faculty interactions, and the development of a research project. Participating students receive a $3,000 stipend for attending the summer session. Room and board are provided free of charge, as needed.
Ten student-veterans and traditional students completed the 2018 Undergraduate Trauma Research Training program, where they attended seminars on research methods and statistics, neurobiological, psychological, and physiological aspects of trauma, and research ethics as well as weekly self-care lessons and graduate school application workshops.
The program, now in its eighth year, draws on personal experiences of veterans who understand the nature and context of traumatic events. By gaining a scientific understanding of trauma, students who complete the program gain essential tools they can use to improve the quality of life for themselves and others, including veterans. Read more about one REU participant's experience here.
The program is purposefully structured to span one full year. Following the summer program, students continue their research under the mentorship of REU faculty during the Fall semester. Finally, students are expected to present their research at a national conference in Spring, 2020. The travel and registration expense for the conference is provided to the student through this program.
For more information about the program, and to submit application for it, visit the Syracuse University REU website or contact Ivan Castro at iecastro@syr.edu. The application deadline is March 1, 2019.
---
Falk researchers measure effect of dog ownership, training on PTSD symptoms among veterans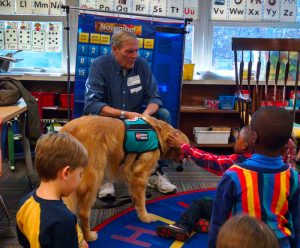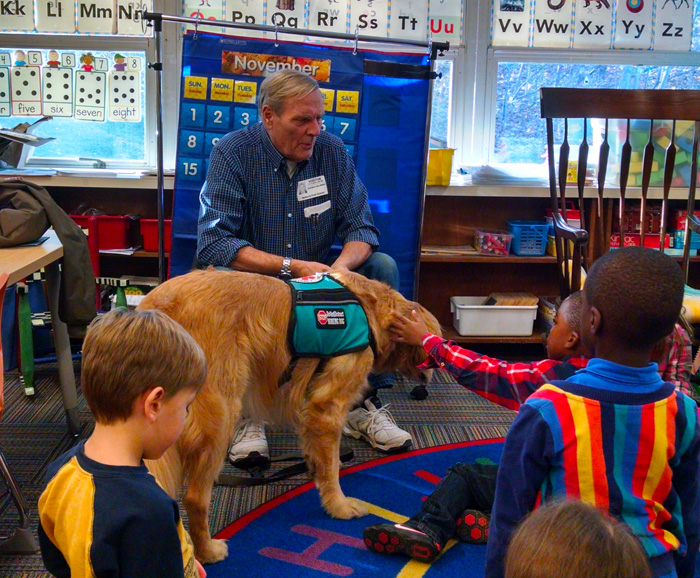 Falk College faculty in public health and social work are researchers in a new integrative health study that measures the effects of owning and training a therapy dog on posttraumatic stress disorder (PTSD) in veterans. Published in The Journal of Alternative and Complementary Medicine, "Dog Ownership and Training Reduces Post-Traumatic Stress Symptoms and Increases Self-Compassion Among Veterans: Results of a Longitudinal Control Study" is coauthored by Dessa Bergen-Cico, PhD, Yvonne Smith, PhD, Collin Gooley, and Brooks Gump, PhD at Syracuse University; Karen Wolford, PhD at SUNY Oswego, and; Kathleen Hannon, Ryan Woodruff, and Melissa Spicer, Clear Path for Veterans.
Researchers reported significant reductions in PTSD symptoms, as well as reductions in perceived stress, isolation, and self-judgement, and significant increases in self-compassion when comparing the veterans that participated in the Dogs2Vets program over a 12-month period to veterans that were on the waiting list to receive a dog during that time period.
"The short story here is that dogs may be the best friend for a veteran with PTSD who engages in this training program," says JACM Editor-in-Chief John Weeks. "It is remarkable when research suggests that the best medicine for such a gnawing condition may be as close at hand and simple as this."
---
College Of Law, Falk College provide legal support to local community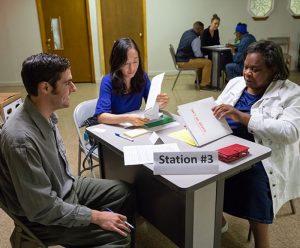 Earlier this year Mary Helen McNeal, Professor of Law and Director of the Elder and Health Law Clinic, and Falk public health professor, Luvenia Cowart, and Maria T. Brown, assistant research professor in Falk College's School of Social Work and faculty affiliate at Syracuse University's Aging Studies Institute, identified ways to connect experiential learning for law students with an unmet need in the community. Cowart is the co-founder of the Genesis Health Project that aims to reduce health disparities and promote healthy lifestyles among African Americans in Syracuse. The African American Dementia Caregiver Support Project's 12-Week Healthy Living Program is a Genesis Project that promotes health and wellness, including education about dementia caregiving, nutrition and physical fitness. A two-part seminar series on advance directives was a natural fit for the Genesis Project.
"Advance planning for medical decisions and preferences is never an easy conversation to have with loved ones, but it is a necessary and responsible thing to do," explains Cowart. "The students from the College of Law, under Professor McNeal's leadership, filled a significant void within our community."
Research estimates that only one in three Americans has an advance directive, a number that is substantially lower among communities of color, those of lower socio-economic status, and lower levels of education. This semester, College of Law students in McNeal's Advance Directives in the Community course and Elder and Health Law Clinic (EHLC) gained hands-on experience educating local residents about the importance of planning for end-of-life care while helping them prepare advance directives in partnership with Falk College.
"Advance directives enable people to appoint a proxy to make decisions when they are no longer able to, and they lay out a person's preferences for the care they want," says McNeal. Providing general practice legal assistance for those aged 60 and over with low or moderate incomes, the EHLC offers students the opportunity to represent clients with faculty guidance and oversight.
---
New public health faculty bring variety of expertise to classrooms, research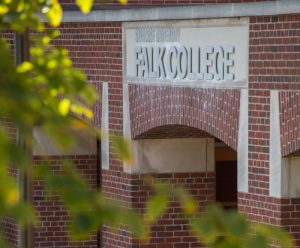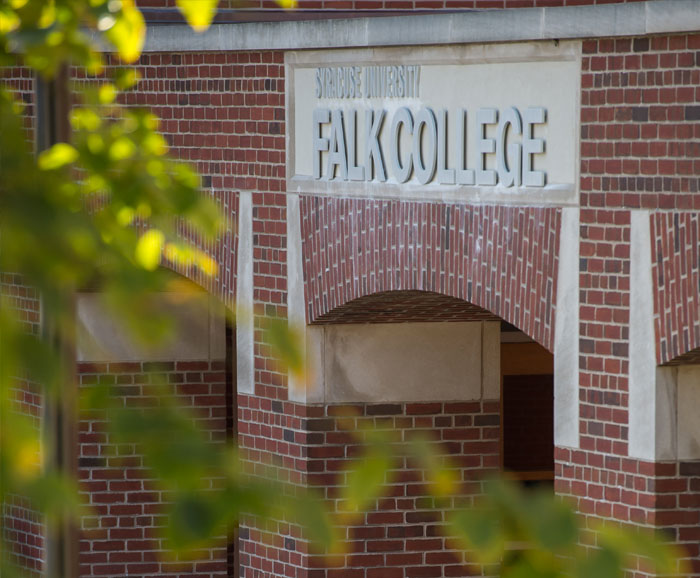 Falk College's newest public health faculty, Bryce Hruska, Bhavneet Walia, and Najah Zaaeed, bring a variety of research interests and specializations to the program, including stress, health economics, and
Bryce Hruska, Ph.D. is an assistant professor in the public health program where he has served as a research assistant professor, postdoctoral researcher, and project manager. He specializes in traumatic events, posttraumatic stress disorder (PTSD), stress and health, occupational stress, recovery experiences, and quantitative methods.
Hruska's research focuses on better understanding how psychological stress "gets under the skin" to impact physical health. Since coming to Falk College, his work has primarily consisted of overseeing the operations of two research projects: "Environmental Toxicants, Race, and Cardiovascular Disease Risk in Children" and "The Psychosocial and Physiological Consequences of Taking and Not Taking Time Off from Work." He has most recently published in the Journal of Substance Abuse Treatment, Headache: The Journal of Head and Face Pain, as well as Environmental Research, Psychology of Addictive Behaviors, and Social Science and Medicine, among others.
Bhavneet Walia, Ph.D., an assistant professor, joined Syracuse University in 2015 from Western Illinois University where she was an associate professor of decision sciences and founding director of the business analytics post-baccalaureate certificate program. Her fields of specialization include health economics and health econometrics.
Walia's present research efforts are focused in three areas: early child health interventions and cognitive development; mortality and behavioral effects of chronic traumatic encephalopathy and related neurodegenerative diseases; and markets for health care in the United States. Her research and scholarship include 14 peer-reviewed journal articles that have appeared in leading journals of applied economics, health policy, and environmental policy: the American Journal of Economics & Sociology, the Journal of Economic Education, and the Southern Economic Journal, and two in Renewable Agriculture & Food Systems, Economics Letters.
Najah Zaaeed, Dr.PH. is an assistant teaching professor in the public health program. Since 2016, Zaaeed has taught as an adjunct professor in public health at Syracuse University and at SUNY Oswego. She specializes in global health and mental health, health education and promotion, social media and health outcomes, addiction and wellness, gerontology, disability studies, maternal and child health, and refugee health and social service needs
Zaaeed's research interests are in aging with intellectual and developmental disabilities, maternal and child health, effectiveness of ecological models for health awareness at global levels, and refugee health. Zaaeed authored a chapter in the book Refugee Education: International Perspectives from Higher Education and NGOs. She is also published in the International Journal of Physical Medicine and Rehabilitation and the Journal of Refugee and Global Health and has presented at the North American Refugees Health Conference.
Learn more about public health academic programs
Learn about Falk College faculty
---
Intelligent Lives film screening highlights inclusion in Falk College classrooms, research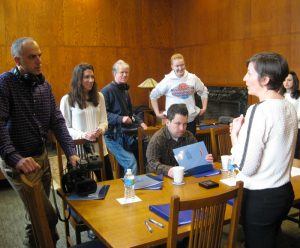 "When the film, Intelligent Lives is featured as part of the 2018 Syracuse International Film Festival's Imaging Disability showcase October 14, the audience will see how Falk College classrooms and programs are incredible places of inclusion for students with intellectual disability," says professor of public health and faculty fellow at the Burton Blatt Institute, Katherine McDonald. The film explores how segregation of people with intellectual disability became the norm, why this segregation is slowly being dismantled, and how some people with intellectual disability are blazing a bold new path, including Micah Fialka-Feldman '15.
In 2013, McDonald received a grant from the Eunice Kennedy Shriver National Institute of Child Health and Human Development, a part of the National Institutes of Health (NIH), to address the pressing need for scientific knowledge to improve the health of persons with intellectual disability for the study, "Project ETHICS."
During the study, an expert panel created a survey administered to over 500 people across the U.S. to learn about their views on doing research with adults with an intellectual disability. One of the panel members was Fialka-Feldman, a then-Syracuse University student and teaching assistant, who is now a staff member in the School of Education where he teaches and works on projects in the Taishoff Center as well as McDonald's Community4All Project. Fialka-Feldman, who graduated in May 2015 with a certificate in Disability Studies, helped design the Project ETHICS survey and assisted with recruitment and sharing findings.
During the project, McDonald was contacted by Emmy-nominated documentary filmmaker, Dan Habib from the Institute on Disability (UCEDD) at the University of New Hampshire. He was appointed by President Barack Obama to the President's Committee for People with Intellectual Disabilities (PCPID) in 2014. Fialka-Feldman also served on the PCPID.
Habib filmed Fialka-Feldman participating in Project ETHICS work at Syracuse University and in public health classes in Falk College in 2016. During multiple site visits to campus, Habib and his team spent time with Fialka-Feldman, his friends and colleagues to capture Micah's vibrant academic, work and social life. The visits included filming Micah at home, working at the SU School of Education, attending his public health class taught by assistant dean of student services and public health professor, Jim Byrne, and working as part of the Expert Panel on research findings in Project ETHICS with McDonald.
"Having Micah in a class of 100 students was a privilege. He participated in all aspects of the class and shared his life experience in the class and during exams. Micah's insights about topics in the personal and social health class were thought provoking for the class and for me," notes Byrne.
"Project ETHICS is community-engaged research. The film is about expanding ideas of intelligence – community-engaged research draws from similar ideas. Rather than trained scientists controlling research, we work hand-in-hand with community members who have lived experience and draw from their expertise to create research questions, methods, dissemination, and action to follow. This way of working legitimizes the value of lived experience, and emphasizes that a broad array of stakeholders can—and should—contribute to research," explains McDonald, principal investigator for the study.
Since 2016, numerous research articles about Project ETHICS have been published, on which Fialka-Feldman is co-author. "This film is a key component to challenging dominant cultural narratives about people labeled with intellectual disability. We need films that reflect disability rights, and showcase people with disability leading meaningful lives as caring, capable citizens" says McDonald.
The Intelligent Lives screening will take place on Sunday, October 14 at 3:00 p.m. in Shemin Auditorium, Shaffer Art Building. The film is captioned; ASL interpretation and CART will be provided for the introduction and discussion. Watch the trailer of the film.
Throughout the month of October, the Disability Cultural Center (DCC) and a host of campus partners and student organizations will host Disability Awareness and Appreciation Month. The month's events will focus on disability and its many intersections. For more information, visit the Syracuse University story.
---
Falk announces Graduate Merit Scholarships for Syracuse University students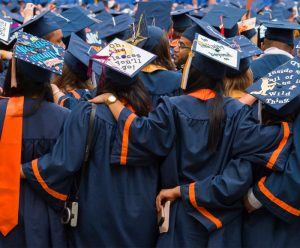 Falk College is pleased to announce the Falk College Merit Award Scholarship for current Syracuse University students interested in applying for a Falk College master's degree.
Incentives include no application fee, GRE waiver where applicable, and a 25% tuition discount incentive, which is applied after any other scholarships, scholarship credits, assistantships, and remitted tuition credits are applied.
To be eligible for the scholarship, students must be a current Syracuse University student in good standing with an overall GPA of 3.4 or higher applying for part-time or full-time study in one of the following degree programs:
Interested students must contact Falk Admissions and submit their application by February 15. Successful applicants will be officially admitted by the academic department and must formally matriculate for a 2019-2020 term.
"Falk College graduate degree programs allow undergraduates of all majors to tailor and enhance their career opportunities," says Falk College director of admissions, Felicia Otero. "For example, bachelor's degrees in psychology and sociology pair especially well with a master's degree in social work (MSW), marriage and family therapy (MFT), or the SWK-MFT dual program, as well as human development and family science, public health, and global health.
"Undergraduates studying business, management, advertising, and public relations can apply their skills directly to our sport venue and event management master's program. Students with skills in these disciplines might also apply to public health, global health, and food studies master's programs, alongside students with bachelor's degrees in communication & rhetorical studies, English, advertising, and education," Otero continues. "Undergraduates in biology and chemistry programs often pursue graduate study in nutrition science, as well as public health and global health programs at Falk."
"Falk graduate degrees lead to a variety of careers and end-credentials," says Deborah Golia, assistant director of admissions at Falk College. "You'll find Falk alumni working as counselors, therapists, social workers, community advocates, community educators, public health specialists, nonprofit program directors, managers, nutritionists, dietitians, sustainability program educators, and in limitless other roles."
"Falk College graduate degrees also lead to research professions and continued study in doctoral programs," she adds.
Falk Admissions will host a Graduate Information Session on Friday, November 2 in Falk Complex, White Hall, Room 335 at 4:00 p.m. In addition to review of Falk graduate programs, interested students can learn more about Falk Graduate Scholarships. For more information, please contact the Falk College Office of Admissions at 315.443.5555 or email falk@syr.edu.
---
Ten students complete month-long NSF-funded trauma research program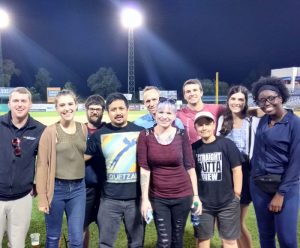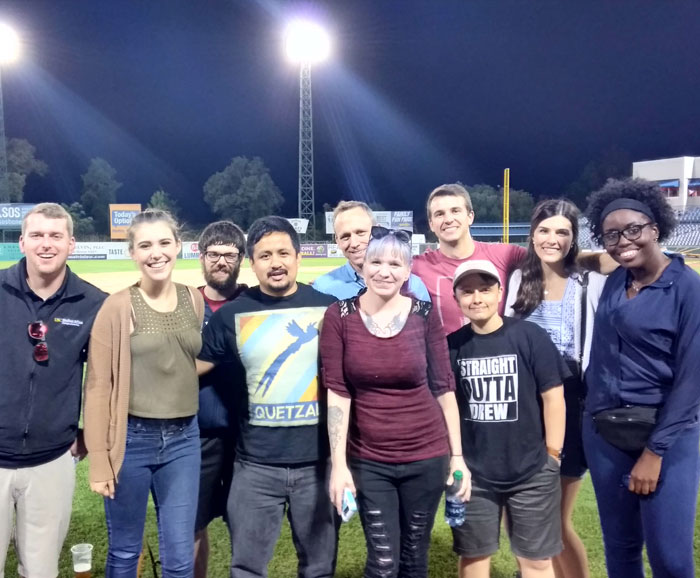 Ten student-veterans and traditional students recently completed the month-long 2018 National Science Foundation-funded Trauma Research Education for Undergraduates (REU) Program hosted by Falk College. To enhance skills for conducting trauma research while increasing their ability to gain admission to competitive graduate programs, participants attended seminars on research methods and statistics, neurobiological, psychological, and physiological aspects of trauma, and research ethics as well as weekly self-care lessons and graduate school application workshops.
Following a national review process, participants are identified and paired with experienced mentors from a broad range of disciplines. Through these efforts, students develop a hypothesis and perform statistical analysis of research data. Students will continue their research projects for the coming year, with the goal of presenting findings at a national or regional conference. Previous students presented at the annual meetings of the Eastern Psychological Association, Southeastern Psychological Association, and Association for Psychological Science.
Participants who completed the June 2018 program include Casssidy Brydon (Florida Atlantic University), John Christopher (Tarrant County College), Ansel Gautam (Drew University), Brittany Hampton (Marist College), Tyler Johnston (University of Southern California), Erin Meyer (Cleveland State University), Wilmer Rivas (University of Southern California), Naomi Ruffin (Georgia State University), Matthew Ruhnke (University of New Haven), and Ian Troidl (SUNY at Buffalo).
Project manager Ivan Castro, who completed the Syracuse REU program in 2012 notes that participants consistently report this opportunity helps them gain valuable graduate-level research experience prior to entering graduate school. When the REU program was launched in 2012, it was designed for veterans to create an opportunity to engage them in this content area. With only six veterans enrolled prior to the program start that first year, the collaborators decided to enroll non-veterans, which is an important facet of the continuing program.
With spots for five veterans and five non-veterans, the program draws on personal experiences of veterans who understand the nature and context of traumatic events. Veterans are able to acclimate to an undergraduate culture with traditional undergraduates and are appreciated for their unique perspectives. Undergraduates see the benefit of knowing their study population because the veterans provide insight into their experiences.
A joint effort by Syracuse University, SUNY Upstate Medical University and SUNY Oswego, the Collaborative Research: REU Site:Training Diverse Undergraduate Teams of Veterans and Non-Veterans to Conduct Trauma Research with Veterans project is directed by Brooks B. Gump, Falk Family Endowed Professor of Public Health. Professor Karen Wolford, who coordinates the interdisciplinary graduate certificate program in trauma studies at SUNY Oswego, co-directs the program. Supported by a National Science Foundation REU grant and Syracuse University's Institute for Veterans and Military Families, this program spans one year, including the intensive four-week summer program in June. For more information, including details about the June 2019 REU Program, contact Ivan Castro at iecastro@syr.edu or visit traumaresearch.syr.edu.
---
Falk College-Council of Europe's Pompidou Group partner to support public health-focused drug policies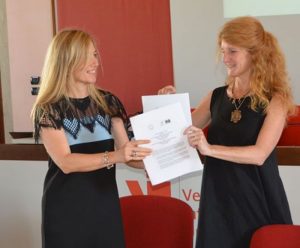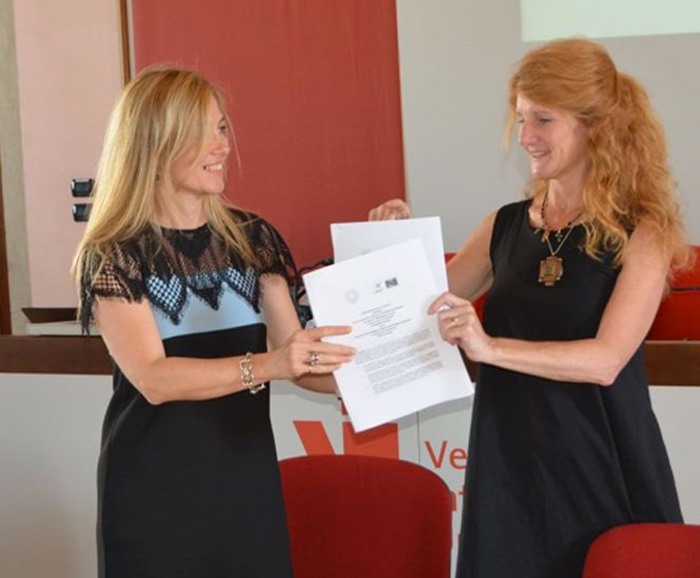 A four-year collaborative partnership between Syracuse University's Falk College and the Council of Europe's Cooperation Group to Combat Drug Abuse and Illicit Trafficking in Drugs (the Council of Europe's Pompidou Group) will support rigorous curricular development and training for drug policy administrators. This collaboration is an outgrowth of Falk College's on-going partnerships with the Pompidou Group and Syracuse University's Study Abroad Strasbourg program.
Dessa Bergen-Cico, associate professor of public health and coordinator of Falk College's addiction studies programs, is Syracuse University's partnership lead. She has worked with the Pompidou Group since 2010 to support drug policy administrators in developing sustainable, effective drug policies focused on public health and safety. The trainings provide managers from government and non-government institutions with objective, data-driven approaches to developing, implementing, and evaluating national drug policies that are evidence based, promote human rights, and strengthen international cooperation. Using data as a foundation, this cooperation supports effective policies and academic research. Faculty and select students with an interest in research in drug policy and drug use trends may contact Dr. Bergen-Cico (dkbergen@syr.edu) to learn more about opportunities for involvement in research and the biannual executive education trainings.
Results of these collaborations to date include published research in Substance Use and Misuse, The Neuropathology of Drug Addictions and Substance Misuse, Journal of Drug Policy Analysis, International Journal of Psychology and Psychoanalysis, and World Medical and Health Policy as well as international executive-level training and presentations.
Bergen-Cico's research and scholarship span numerous emerging democracies focused on drug policies and emerging trends in drug use. In 2011, students and faculty from Falk College's public health program attended the Pompidou Group – Syracuse University Trans-Atlantic Executive Training on Drug Policy: Effective Governance of Coherent Drug Policies where Bergen-Cico presented on the then-emerging opioid crisis in the United States. In 2015, she was selected as a Fulbright Scholar to conduct research on substance use and drug policy in the country of Georgia and across Eurasia.
Last spring, Bergen-Cico presented training for the Council of Europe on new psychoactive substance use trends and demand reduction responses in the U.S. where she shared her groundbreaking research on new psychoactive substances Kratom and Siberian Ephedra. In September 2017, Thomas Kattau and Elena Hedoux from the Council of Europe's Pompidou Group visited Syracuse University to promote internship opportunities and study abroad programs. This visit included several presentations on the role of international cooperation in fighting drug use, the migration wave in Europe and resulting challenges for public health systems, and how new psychoactive substances are bringing new challenges to societies.
After learning about Bergen-Cico's research on the efficacy of mindfulness-based programs for prevention and drug demand reduction in the U.S., Ricardo Sánchez Huesca, Mexico's deputy general director of youth integration centers for Mexico invited her to conduct training in Mexico. In addition to a December 2017 seminar on mindfulness for prevention of traumatic stress and addictive behaviors, Bergen-Cico gave the keynote presentation entitled, "New Psychoactive Substances (NPS) Trends and in the in the United States" at the 19th International Congress on Addictions: Dual Disorders and Comorbidity Associated with Substance Use in Cancun, Mexico.
This spring, Bergen-Cico conducted the training, "Political or scientific evaluation? Examination of legalized cannabis policy outcomes in the U.S." with 25 participants from 17 countries representing four different continents as part of the 2018 Pompidou Group's executive training program in Venice, Italy. This program that examined evaluating the development, implementation, and impact of drug policy will take place in Lisbon, Portugal this Fall where Bergen-Cico will participate.
---
Page 2 of 9