Nutrition Science & Dietetics News
Falk College nutrition major named 2018-19 Remembrance Scholar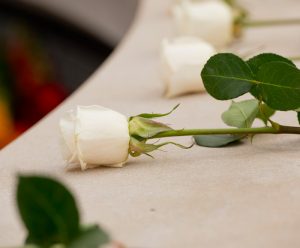 Falk College nutrition major Mary Mik '19 was named a 2018-19 Remembrance Scholar, along with 34 other Syracuse University seniors honored for their notable scholarship, citizenship, and service.
This year marks the 30th anniversary of the bombing of Pan Am 103 over Lockerbie, Scotland, on December 21, 1988. The University's Remembrance and Lockerbie Scholars have planned events for the week of October 28 during the annual Remembrance Week to honor the 270 people, including 35 students studying abroad through Syracuse University, who lost their lives in the tragedy and to educate the community about terrorism.
For a complete list of activities, please visit Syracuse University News. Those who require accommodations to fully participate in these events should contact Kelly Rodoski at 315.443.5381 or kahoman@syr.edu.
---
Nutrition student says Syracuse experience is "more than I could have imagined"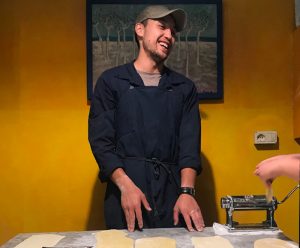 Any race longer than 26.2 miles is considered an "ultra-marathon." Syracuse senior Justin Pascual is training for one. For some, it might sound crazy. But for Justin, whose favorite course is organic chemistry, there's something truly fun about a challenge.
As native of Sierra Vista, Arizona, Syracuse wasn't exactly a familiar place on the map when Justin arrived on campus in 2017. In fact, Justin enrolled at Syracuse University before ever visiting in New York State.
A deciding factor was the student-to-faculty ratios at SU, and specifically the nutrition and nutrition science programs, where Justin says students can build meaningful connections with faculty. "For me, one's relationship with their faculty makes the experience, and Syracuse University offered to me exactly what I was looking for," he says. "SU has this unique way of offering all the amenities and perks of a large university while maintaining a relatively quaint and small-town vibe."
Justin completed an associate's degree in general studies, focusing in chemistry, at the University of Maryland. After serving for 10 years in the United States Air Force, Justin decided to pursue further education at Syracuse. "Nutrition has always been a strong interest of mine; however, it wasn't until I started at Syracuse that I found my passion for nutritional biochemistry," says Justin. "Learning how the body skillfully interacts with ingested foods to optimize the performance of every cell is truly fascinating."
In a Nutrition Research course with Dr. Dayeon Shin studying nutrition-applied scientific research methods, he was captivated. "It was the key that unlocked my academic passions. Combining curiosity, nutrition, and science into a systemic process, as nerdy as that may sound, was like music to my soul."
But nutrition isn't just about science. Over the summer, Justin visited Italy to tour the Tuscan countryside as part of the Mediterranean Food and Culture course offered at SU Florence led by Tanya Horacek, professor of nutrition. "We lived on working farms, which are pretty much bed and breakfasts with spectacular views, learned the traditional ways of pasta, pizza, and wine making, and toured cities such as Pisa and Florence," Although Justin has travelled to 22 different countries, one of his more relaxing hobbies is cooking and hosting dinner for friends and family. The trip was a perfect fit. "It was an amazing experience."
Back on campus, you can find Justin giving tours of campus and answering questions for visiting prospective students as a Falk College Ambassador. He's also a Ronald E. McNair Scholar. The McNair Scholars Program serves undergraduate students from underrepresented populations to support active student research and preparation for graduate or doctoral study.
"To put it simply, being at Syracuse is like being home," he says. "Being in the military for 10 years, I've traveled a lot, had to live in many different places, and met many different people; however, I never felt like I truly belonged the way I do at SU."
With support from University staff and advisors, Justin came to Syracuse and found it to be a place where he could discover his own interests, envision his goals, and create an experience to achieve them. "I started out this journey here slightly intimated and a bit fearful not knowing exactly what I wanted to do with the degree, or even if my major was the right one for me. However, my interests and passions have evolved semester after semester and I feel that I'm really heading down the path I was destined to be on."
"I think that's what it means to 'Be Orange': to pave the way for those coming behind us, to create opportunity and invoke inspiration, and to leave a place better than we found it," he says.
Justin plans to continue his academic career through a Ph.D. in nutritional biochemistry researching nutrition immunology, and to someday work for NASA's Johnson Space Center in the nutrition biochemistry lab.
---
Latest nutrition newsletter now available online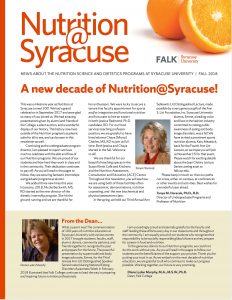 From the latest news and events in the Nutrition program to highlights of student and faculty projects, read the latest edition of Nutrition News covering the nutrition, nutrition science and dietetics programs in Syracuse University's Falk College.
Click on the link below to download a PDF copy of the most recent newsletter or view an accessible, text-based version of the Newsletter.
---
Falk announces Graduate Merit Scholarships for Syracuse University students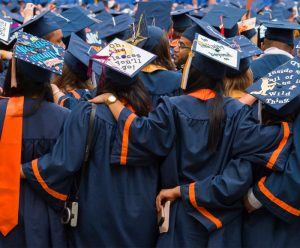 Falk College is pleased to announce the Falk College Merit Award Scholarship for current Syracuse University students interested in applying for a Falk College master's degree.
Incentives include no application fee, GRE waiver where applicable, and a 25% tuition discount incentive, which is applied after any other scholarships, scholarship credits, assistantships, and remitted tuition credits are applied.
To be eligible for the scholarship, students must be a current Syracuse University student in good standing with an overall GPA of 3.4 or higher applying for part-time or full-time study in one of the following degree programs:
Interested students must contact Falk Admissions and submit their application by February 15. Successful applicants will be officially admitted by the academic department and must formally matriculate for a 2019-2020 term.
"Falk College graduate degree programs allow undergraduates of all majors to tailor and enhance their career opportunities," says Falk College director of admissions, Felicia Otero. "For example, bachelor's degrees in psychology and sociology pair especially well with a master's degree in social work (MSW), marriage and family therapy (MFT), or the SWK-MFT dual program, as well as human development and family science, public health, and global health.
"Undergraduates studying business, management, advertising, and public relations can apply their skills directly to our sport venue and event management master's program. Students with skills in these disciplines might also apply to public health, global health, and food studies master's programs, alongside students with bachelor's degrees in communication & rhetorical studies, English, advertising, and education," Otero continues. "Undergraduates in biology and chemistry programs often pursue graduate study in nutrition science, as well as public health and global health programs at Falk."
"Falk graduate degrees lead to a variety of careers and end-credentials," says Deborah Golia, assistant director of admissions at Falk College. "You'll find Falk alumni working as counselors, therapists, social workers, community advocates, community educators, public health specialists, nonprofit program directors, managers, nutritionists, dietitians, sustainability program educators, and in limitless other roles."
"Falk College graduate degrees also lead to research professions and continued study in doctoral programs," she adds.
Falk Admissions will host a Graduate Information Session on Friday, November 2 in Falk Complex, White Hall, Room 335 at 4:00 p.m. In addition to review of Falk graduate programs, interested students can learn more about Falk Graduate Scholarships. For more information, please contact the Falk College Office of Admissions at 315.443.5555 or email falk@syr.edu.
---
Syracuse elementary students have a taste of Puerto Rico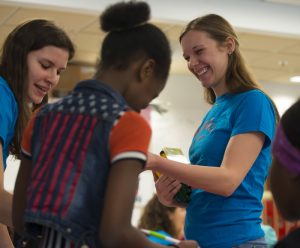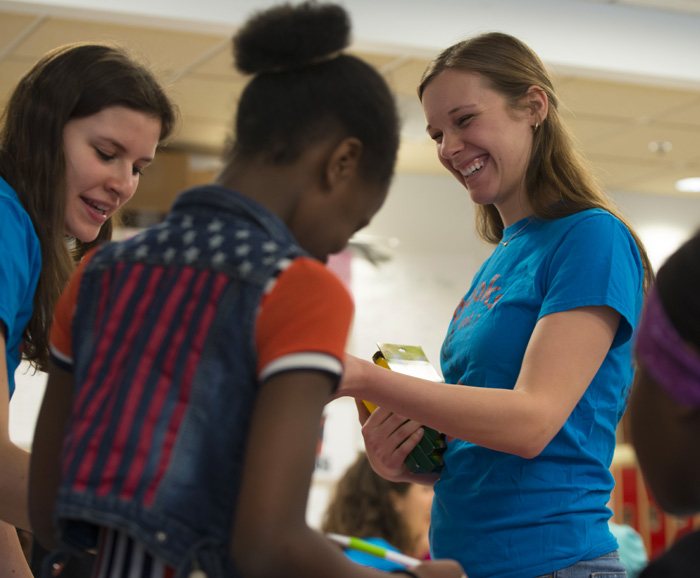 This spring, fifth grade students at Dr. Weeks Elementary School had a taste of culture and cuisine from Australia, England, New Zealand, Cuba, Iceland, and Puerto Rico with the help of Falk College nutrition students and the Books & Cooks program.
Syracuse University students in the Books & Cooks program introduce local elementary students to cultures around the world through hands-on nutrition lessons that foster literacy and healthy eating. It is housed in the Mary Ann Shaw Center, which brings together Syracuse University faculty, staff, and students in civic service.
In a lesson at Dr. Weeks, students measured and mixed pre-cut fruit, vegetables, and other ingredients to make a delicious Pico de Gallo recipe, a popular snack in Puerto Rico. Nutrition major Elizabeth Gardner '20, who led the activity, shared that the nutrients from the tomatoes in Pico de Gallo helps people fight off illness.
This past year, Gardner served as the nutrition volunteer coordinator for Books & Cooks and was responsible for recruiting and training volunteers, as well as designing and delivering lesson plans. "By working with Books & Cooks, I came to appreciate the concept of only understanding something when you are able to explain it to someone else. Something I try to impress on my volunteers is to reflect on the way that the experience in the classroom affected them, because the way that we all interact with the students now is teaching us skills that we may use to interact with clients in dietetic counseling."
The students at Dr. Weeks also learned topics such as MyPlate, which teaches the basics of food groups and healthy portions, as well as food safety and why it's important to have clean cooking surfaces, clean hands, and wear gloves while preparing food.
"The students at Dr. Weeks love the Books and Cooks program, so much that other fifth grade classes are asking to participate," says Dr. Tanya Horacek, undergraduate program director for nutrition and the Books & Cooks faculty mentor. "Elizabeth is an effective leader with her peers and facilitates each class session with ease," she adds.
Gardner started as a volunteer with Books & Cooks in the fall of her freshman year and plans to continue until she graduates. "Through the program, I have learned that volunteering is truly a two-sided experience. Just as much as we positively affect the students we work with, they positively affect us."
Gardner decided she wanted to become a nutritionist in high school. When it came time to pick a college, "all roads led to Syracuse," she says. "I wanted a school that exuded pride. From students to faculty to alumni, the orange network is extensive and loud. Falk College offered a nutrition program that now has more than 100 years of existence, hands on teaching, and ample opportunity to become involved in undergraduate research."
Upon graduation, Gardner plans to work in nutrition-related policy. "I hope to work within the realm of nutrition policy and help address demographic factors that contribute to health disparities."
---
Tanya Zuckerbrot speaks at Syracuse University April 9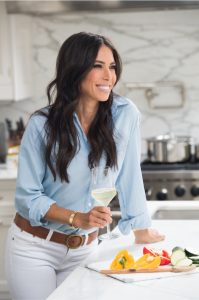 Registered dietitian, author Tanya Zuckerbrot, MS, RD, will speak at Syracuse University on April 9, 6:00 p.m., in Falk 100, with a reception taking place starting at 5:00 p.m. Sponsored by Falk College's Nutrition Education and Promotion Association (NEPA), a student-run organization that brings together Syracuse University students interested in nutrition and encourages them to share that interest with the surrounding campus and community, the event is free and open to the public. Zuckerbrot is the author of the book, The F-Factor Diet.
---
Nutrition program hosts Emme for distinguished lecture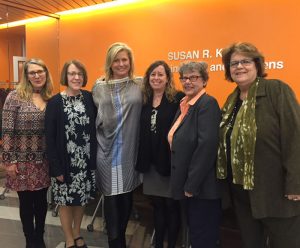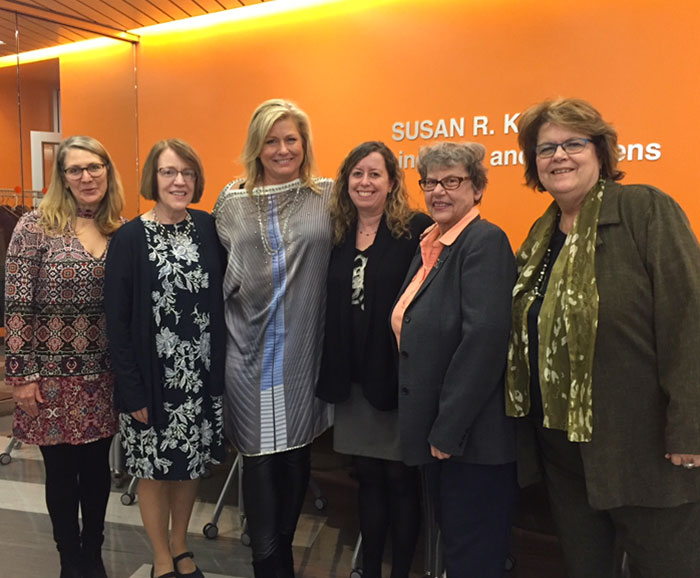 On February 28, Falk College and its nutrition program hosted supermodel and body image advocate, Emme '85, for the Third Annual Ann Litt Distinguished Speaker Series. Coinciding with National Eating Disorders Awareness Week, her presentation, entitled "Facing our fears: Embracing the ones we're with," was followed by a reception and book signing of her newest book, Chicken Soup For The Soul Curvy and Confident: 101 Stories of Loving Yourself and Your Body. Guests were also treated to a "Fashion Without Limits (FWL) Pop-Up Show" with designs created by Syracuse University fashion students as part of the FWL initiative.
An alumna of Syracuse University's College of Visual and Performing Arts (VPA), Emme is the iconic world's first curvy supermodel. A TV personality, model, mom, author, brand spokesperson, creative director of her clothing lines, cancer survivor, lecturer, and globally recognized women's advocate for positive body image and self-esteem, she is the first model invited to speak before a Congressional subcommittee in Washington, D.C. with a mission to increase public awareness of eating and body image disorders.
Speaking to the audience in Falk College's Grant Auditorium, Emme discussed the realities of eating disorders, noting that the fashion industry plays a role in promoting eating disorders but can also be part of the solution by using a diversity of 'real' models and making clothes for all sizes. She spoke on the importance of the partnership between medical and nutrition professionals. When Nutrition Professor Tanya Horacek posed the question about advice for nutrition students, Emme urged them to go into doctors' offices explaining the critical need to partner with dietetics professionals to help patients eat well for good health. She also encouraged partnerships with local community supported agriculture (CSA) farms, noting that "there are simple things that can make our life better."
Of Emme's messages, Mariana Serback, a second-year nutrition science graduate student, shared that "her presentation was very refreshing. Our bodies do so much for us when we're not even thinking about it: our lungs are breathing, hearts are pumping, brains are thinking, and sometimes it is such a shame that some people don't appreciate and love their bodies and all that they do for us. I hope that I can one day be an extension of Emme's voice and message as a registered dietitian."
A screening of the documentary "Straight/Curve: Redefining Body Image" with Emme took place on February 27 in collaboration with VPA. "Straight/Curve," which features Emme and other successful, diverse models, aims to create a healthier dialogue around body "size" and image and educate people on health and representation while capturing a visual slice of life of the fashion industry. The filmmakers interviewed students and faculty in VPA's School of Design, which partnered with Emme to launch the FWL initiative in 2014. FWL promotes the creation of size 12+ designs in the junior year; students use dress forms in size 16, 18, and 20 donated by Wolf Form Co. exclusively for Emme and FWL.
"Syracuse University's design program is taking the lead on training its students to design beautiful clothes for everyone," notes Professor Horacek. She adds, "as consumers, we can help to reduce and prevent eating disorders by taking care of ourselves and challenging societal messages and norms."
The Litt Distinguished Speaker Series is named after Falk nutrition alumna, Ann Selkowitz Litt '75, a nationally known nutritionist who helped children and adolescents with eating disorders and assisted developing athletes in reaching their full potential. The nutrition consultant to CosmoGirl magazine, Litt was the author of The College Students' Guide to Eating Well on Campus, Fuel for Young Athletes, and the ADA Guide to Private Practice. She was the nutritionist for the NFL's Washington Redskins and served as spokesperson for several media campaigns, including the Got Milk campaign. After her death, the Ann. S. Litt Foundation, Inc. was created to support nutrition education.
---
Third annual Ann Selkowitz Litt Lecture with Emme February 28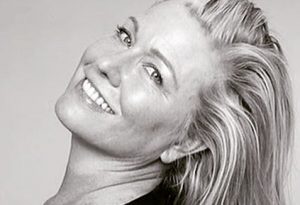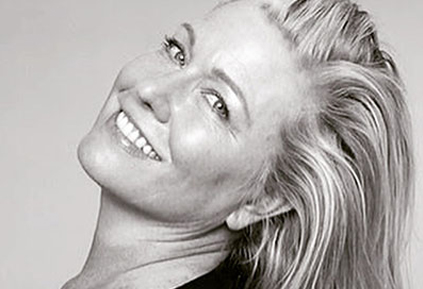 Falk College is pleased to welcome Emme '85 as the featured speaker of the Third Annual Ann Selkowitz Litt Distinguished Speaker Series. We invite you to join us Wednesday, February 28, 2018 from 5:15 pm – 6:30 pm in Grant Auditorium in the Falk Complex for her lecture, "Facing our fears: Embracing the ones we're with!" Free and open to the public, the lecture coincides with National Eating Disorders Awareness Week Feb. 26-March 4.
Read more about this at SU News
---
ACE Center's innovative design receives honor from AIA
Ashley McGraw Architects honored by American Institute of Architects for innovative design of Falk College's Nutrition ACE Center, Klenk Café and Teaching Kitchens
The American Institute of Architects Central New York Chapter (AIA CNY) honored Falk College, its Department of Public Health, Food Studies, and Nutrition, and its architects, Ashley McGraw Architects, D.P.C. The group's work in Falk Complex was cited for innovative ideas, attention to detail, and dedication to the design profession as contributing to the architectural success of the Central New York region and beyond. The award was presented at the AIA Central New York's annual Celebration of Architecture at the Hotel Syracuse. AIA CNY recognizes outstanding works of architecture through its annual design awards program. The purpose of the program is to celebrate achievements in design excellence by architects in the Central New York region and to honor the architects, clients and consultants who work together to create and enhance the environment that was built.
"We are very proud of our partners and colleagues from Ashley McGraw for this award. We could not be more pleased with the design and the excellent learning opportunities their innovative design continues to provide our students in our food, nutrition and public health programs," says Falk College Dean, Diane Lyden Murphy.
The Susan R. Klenk Learning Café and Kitchens opened in September 2016 and provides a hands-on learning laboratory to prepare students with traditional and emerging professional competencies for careers in food, nutrition, dietetics, and public health. The facility includes an experimental food lab kitchen, commercial kitchen, baking nook and café. A video camera system allows faculty and chef instructors to broadcast classes, food demonstrations and seminars from Falk College to anywhere on campus and across the country. A generous and visionary gift from Falk College alumna, Susan R. Klenk, made the learning café and kitchens possible.
The experimental food lab includes an 8 station-teaching kitchen and an associated café. Lunch is served in the café during the last four weeks of each semester, allowing hands-on experience for the students at every stage of food planning, preparation and service.
"Not only was it a rewarding experience working with the College to design these important spaces, but it has been gratifying to witness students taking ownership of them," says Christina Aßmann, project architect, Ashley McGraw Architects, D.P.C.
The ACE Center's demonstration kitchen features an island-cooking suite at the front of a 50-seat lecture hall. Cameras capture the activity of cooking from every angle, images are projected on 3 large TV screens above the counter, giving the audience multiple perspectives of the activity at hand and providing the possibility of recording or broadcasting.
The learning café and teaching kitchens set the stage for industry-leading, forward-thinking approaches to food and culture, nutrition, research, and food studies development. The design fosters creativity and collaboration across a variety of departments, schools and colleges, creating interdisciplinary partnerships that support teaching innovation, student learning, research and scholarship. In addition to unlimited faculty-supervised hands-on experiences, this dedicated space provides an ideal environment for student-faculty research projects and educational community partnerships that set the SU programs apart.
---
Watch the Lectures and Cooking Demos from Nutrition's 100 Year Celebration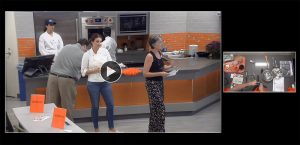 In celebration of 100 years of nutrition education, Falk College hosted nearly 150 guests, including current students, alumni, community partners, current and retired faculty and staff, and other members of the campus and local communities at the Marriott Syracuse Downtown on Sept. 22. The anniversary commemoration continued the following day at the Falk Complex with lectures and cooking demonstrations by alumni on topics ranging from adding flavor to heart health and empowering registered dietitians in using social media to emphasizing local, sustainable food and mindful eating. These lectures and demos are now available to watch online.
Watch the lectures and cooking demonstrations
---
Page 2 of 9