Social Work News
Faculty of the Year Awards
Falk College Honors Faculty for Excellence in Service, Teaching, Research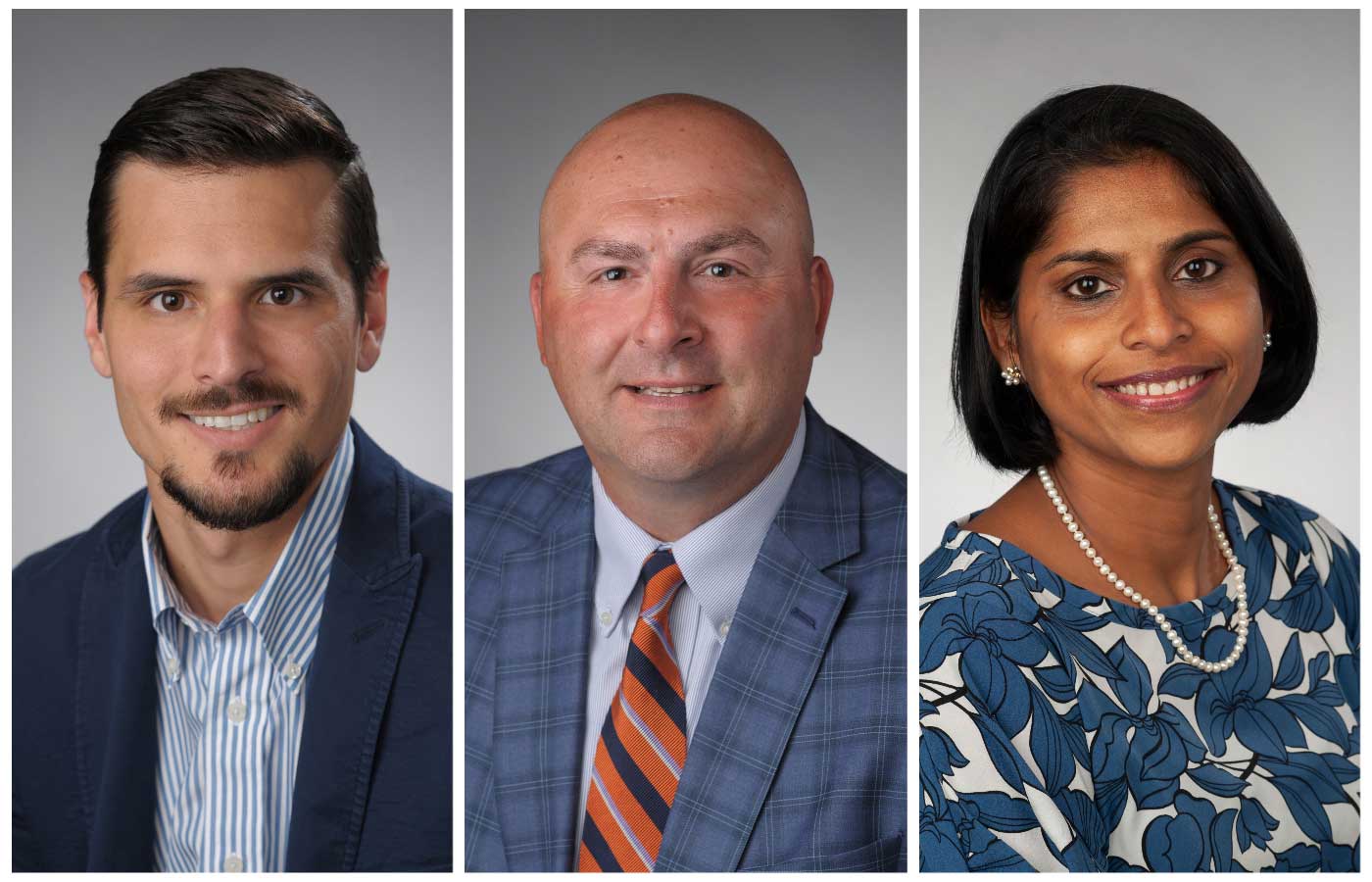 Kenneth Marfilius, David Meluni and Latha Ramalingam were honored with 2022 Falk College Faculty of the Year awards for excellence in service, teaching, and research, respectively. The honorees were nominated by their peers for outstanding teaching, scholarship, and internal and professional service contributions and announced by the Falk Faculty Council in late April.
Matthew Mulvaney, an associate professor in the Department of Human Development and Family Science and chair of the Faculty Council, thanked all faculty members who submitted nominations and the nominees who provided documentary support for the council's consideration.
"This is both one of the most rewarding and one of the challenge parts of serving on the Faculty Council," Mulvaney said. "We had a large number of nominations that came in, all of them were excellent, and all (faculty members) are making very important contributions to the college. It's always a hard decision and this year was no exception."
Here's a look at the 2022 honorees with comments from their award presenters:
Kenneth Marfilius
Director of Online and Distance Education and assistant teaching professor in the School of Social Work
Falk Faculty of the Year Award for Excellence in Service
From presenter Yvonne Smith, associate professor in the School of Social Work:
"In 2021 Dr. Marfilius simultaneously served as director of the Undergraduate Social Work Program and the Online Master of Social Work Program, roles which, in their own right, require extraordinary vision, dedication, organization, and time. In light of his exemplary service, he was named Director of Online and Distance Education. This new position—a first for Falk College—puts him at the helm of five rapidly growing online programs that make Falk College's graduate curricula increasingly accessible to students across the nation and around the world.
"The significant challenge of designing, staffing, and managing these nascent programs is hard to overestimate. Dr. Marfilius, a veteran of the United States Air Force, has proven to be a steady, competent pilot who can, as we often say at Falk College, 'build the plane as we fly it.' In 2021, Dr. Marfilius' exemplary service was recognized with the Syracuse University Center for Disability Resources 2021 Faculty Recognition Award and the Syracuse University One University Assessment Award for best use of results.
"But his achievements in college and departmental leadership roles are only some of the ways Dr. Marfilius has served our community. He routinely mentors students and serves as a liaison to the D'Aniello Institute for Veterans and Military Families. Notably, Dr. Marfilius has emerged as a leading public voice on the mental health needs of returning veterans and their families. He has done all of this while teaching graduates and undergraduates and serving as PI (principal investigator) or co-PI on multiple research and training grants."
David Meluni
Assistant teaching professor in the Department of Sport Management
Evan Weissman Memorial Faculty of the Year Award for Teaching Excellence
From presenter Jane Burrell, associate teaching professor in the Nutrition Science and Dietetics program:
"Dave Meluni is a teacher who consistently receives excellent student evaluations. He is at the forefront of innovations in teaching, both in terms of classroom practices and course development, to meet emerging trends in the field. He also is exceptionally strong at developing collaborations with high-profile industry leaders to complement course content and provide students with real-world engagement opportunities."
"In 2021 Dave taught seven courses. As his nomination letter highlights, Dave is an exceptional teacher 'specializing in courses that are challenging to find qualified faculty to teach.' Dave teaches students to connect to real-world experiences in sales and marketing that prepare graduates to obtain highly competitive and lucrative employment opportunities. Dave is ahead of the curve in teaching and innovation. A prime example includes the rapid development of a new course, Name, Image, and Likeness, which he created in response to the NCAA's 2021 ruling that enables student-athletes to monetize their name. This was the first and only such course in the country that provides guidance and tangible skills that will prepare student athletes and their advocates to benefit from their name and talents.
"Dave also brings his expertise to bear outside of the classroom by overseeing the sales club, which was very successful in the National Collegiate Sales Competition. As a teaching professor, preparing highly qualified students and graduates is essential. Dave's experience in the profession, his infectious enthusiasm, and his willingness to help his students grow and interact with industry make him an exceptional teacher."
Latha Ramalingam
Assistant professor in the Nutrition Science and Dietetics program
Falk Faculty of the Year Award for Excellence in Research
From presenter Patrick Walsh, associate professor in the Department of Sport Management:
"Dr. Ramalingam, who is in her second year in Falk College, had an extremely productive 2021. She published eight peer-reviewed articles, several of which are in top-tiered journals in nutrition and one in a highly respected journal in the field of cardiovascular sciences. In addition, she co-authored five conference presentations and was invited by Syracuse University's Department of Biology to give a research talk titled 'Early life programming of obesity.' On top of the publications and presentations, Dr. Ramalingam submitted five internal research grants as PI (principal investigator) totaling $48,000, all of which were funded, and submitted an impressive eight external research grants totaling over $1 million.
"Her commitment to research is also evident through the mentoring of students. Her mentorship as advisor to two master's students in Nutrition Science and nine undergraduate students in her research lab has led to student publications, SOURCE grant funding, and a Pre-Doctoral Fellowship award from the American Society of Nutrition–the first time a Nutrition Science student at Syracuse University has received this honor.
"Dr. Ramalingam notes that her work 'focuses on the role of bioactives, specifically fish oil, in preventing maternal and paternal obesity. Approximately 30% of the women of reproductive age suffer from obesity. Dietary intervention during this critical fetal developmental window might provide opportunities to decrease the burden of metabolic disease later in life.' It is Dr. Ramalingam's research goal is to provide additional scientific evidence to reduce/prevent obesity using non-pharmacological approaches."
---
Closing the Digital Divide
22nd Legislative Policy Day Explores Digital Justice in Syracuse University's Backyard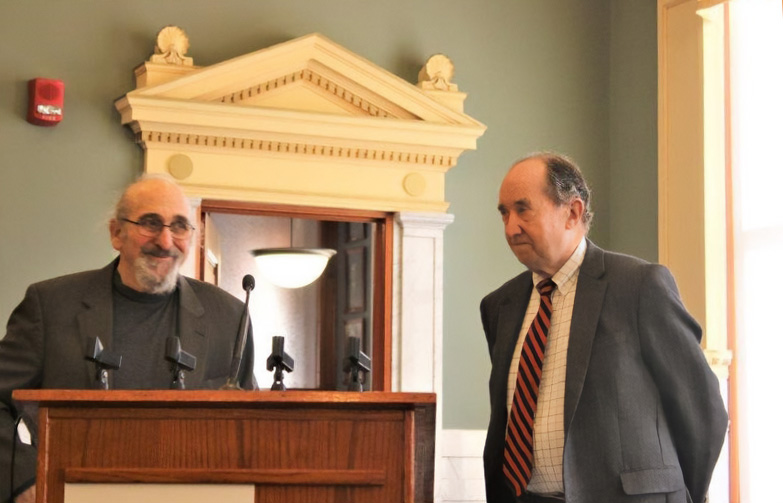 To get a better sense of the dimensions and consequences of the "digital divide" in the Syracuse area, consider these sobering statistics:
One in six Onondaga County households do not have access to broadband, and three of 10 City of Syracuse households do not have a broadband connection.
One in three school-aged children in Syracuse do not have adequate internet access in their homes.
One in three Black and Latinx Syracusans, and two out of five Indigenous Syracusans, do not have broadband access.
The numbers are about the same or worse across New York State, where half of the state's 1.43 million households with incomes below $25,000 do not have a broadband connection, according to extensive research conducted for a report on New York's Digital Divide.
To examine the digital divide and its entanglement with various forms of systemic inequality in the Syracuse area, the School of Social Work at Falk College hosted the 22nd James L. Stone Legislative Policy Day April 22 in the Onondaga County Legislative Chambers at the Onondaga County Courthouse in downtown Syracuse.
The symposium, called "Achieving Digital Justice in Our Backyard," started with greetings from James Crowley, Chairman of the Onondaga County Legislature, followed by the keynote address from New York State Sen. Rachel May called "An Introduction to the Legislative Process–How to be an Effective Advocate." Syracuse Deputy Mayor Sharon Owens, other community leaders, representatives from citizen organizations, librarians, social workers, planners, and local government officials served on several panels exploring various means of addressing this critical issue.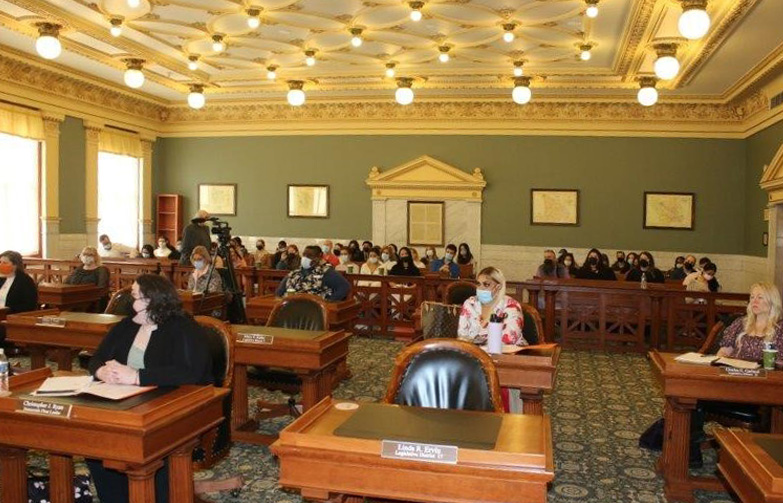 "I was surprised to learn that such a large portion of Syracuse residents don't have internet access," said Master of Social Work (MSW) student Jacqueline Allen '23. "The implications of this are rather large when thinking about how our world has changed since the COVID-19 pandemic. Internet access has become a necessity, and a source of connection and opportunities."
David Nagle '24, a MSW student and graduate assistant, worked with School of Social Work Professor Eric Kingson to organize the event, which was the first Legislative Policy Day since the outbreak of the COVID-19 pandemic in 2020. Nagle said it was important to select a policy topic that reflected the impact of the pandemic.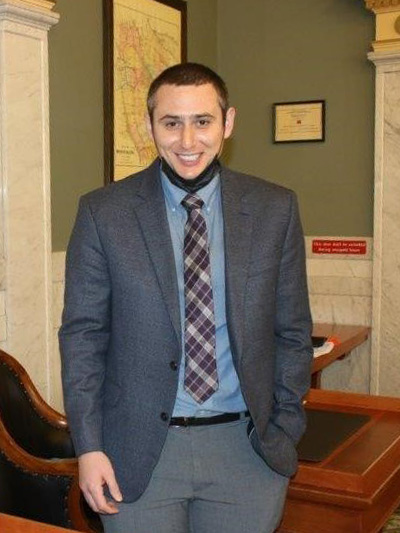 "The pandemic accelerated a transition to remote learning, commerce, and work that has elevated the issue of the digital divide for communities and policy makers," Nagle said. "Now, two years later, the pandemic recovery marks a specific moment in time where there needs to be a significant commitment among leaders in Syracuse to address digital access."
Nagle said the symposium's panel discussions created an opportunity for students to observe the policy-making process in action and have an immediate opportunity to advocate for changes. For example, the final panel discussion focused on what has been done locally to address the divide and considered the next steps for achieving digital access and justice in Syracuse and its surrounding communities.
"From helping people with job, housing, or benefit applications to connecting patients to therapeutic resources, internet access will be crucial to our effectiveness as social workers," Nagle said. "Legislative Policy Day helps build the skills we need to become agents of change for digital equity and other important issues."
(In advance of the symposium, Nagle discussed Legislative Policy Day on WSYR-TV's Bridge Street.)
MSW student Allen said she appreciated hearing from panelists who were passionate about the digital divide crisis. As the panelists addressed concerns and answered questions, Allen said her most important takeaway was a reminder to think more critically about the issues surrounding social work clients.
"Often, an image is painted by mainstream culture that 'everyone has internet,' " Allen said. "It is critical as social workers to not assume anything about our clients, but rather to think about what it means to not have internet in our country today. What barriers and isolation might that impose on individuals, families, and children?"
The Legislative Policy Day symposia, which have been held annually since March 2000, are a vital component of the curriculum and signature event for the School of Social Work. They are made possible by the generous contributions of James L. Stone, MSW Class of 1964, the former New York State Commissioner of Mental Health and current chair of the Falk College Advisory Committee who attended the April 22 symposium in person.
"Each Legislative Policy Day is designed to reflect and reinforce the proud tradition and responsibility of professional social workers to participate in social reform and community change efforts as part of their professional practice," said Kingson, who has been the driving force behind the symposia since they started in 2000.
Carrie Jefferson Smith, Professor and Director of the School of Social Work, provided opening comments emphasizing the importance of this tradition.
"Each symposium involves students and faculty in the process of exploring an important social issue and witnessing the real-life involvement of community leaders, citizen organizations, politicians, and social workers who are actively involved in developing and implementing social policies, benefit protections, and programs that empower individuals, families, vulnerable populations, and communities," Smith said. "Such activities are in the scope of work that our students, as future social workers, will be engaged."
Falk College Dean Diane Lyden Murphy asked the students to embrace the day to deepen their understanding and knowledge of why "social welfare policies and policy practice skills are essential to your future practice."
"There is great urgency to address these and other complex challenges through effective social policy," Murphy said. "Social work students, this is the work that lies ahead for you as future social workers, policymakers, and community advocates. It is up to us to advocate for positive change."
The School of Social Work has an important legacy on the Syracuse University campus, in the local and regional communities, and beyond. Visit the School of Social Work webpage to learn more about academic programs, experiential learning, and career opportunities.
---
Class of 2022 Falk Scholars
'Syracuse University Helped Me Grow as a Person and as a Leader'
Thirteen members of the Class of 2022 have been named Falk College Scholars. Falk Scholars represent undergraduate students who display academic excellence, exceptional campus and community engagement, independent research and creative work, innovation in their disciplinary field, and personal integrity. Designation as a Falk Scholar is the highest academic award conferred by Falk College on graduating seniors.
We asked the Class of 2022 Falk Scholars to describe their most meaningful experiences at Syracuse University and here's what they wrote: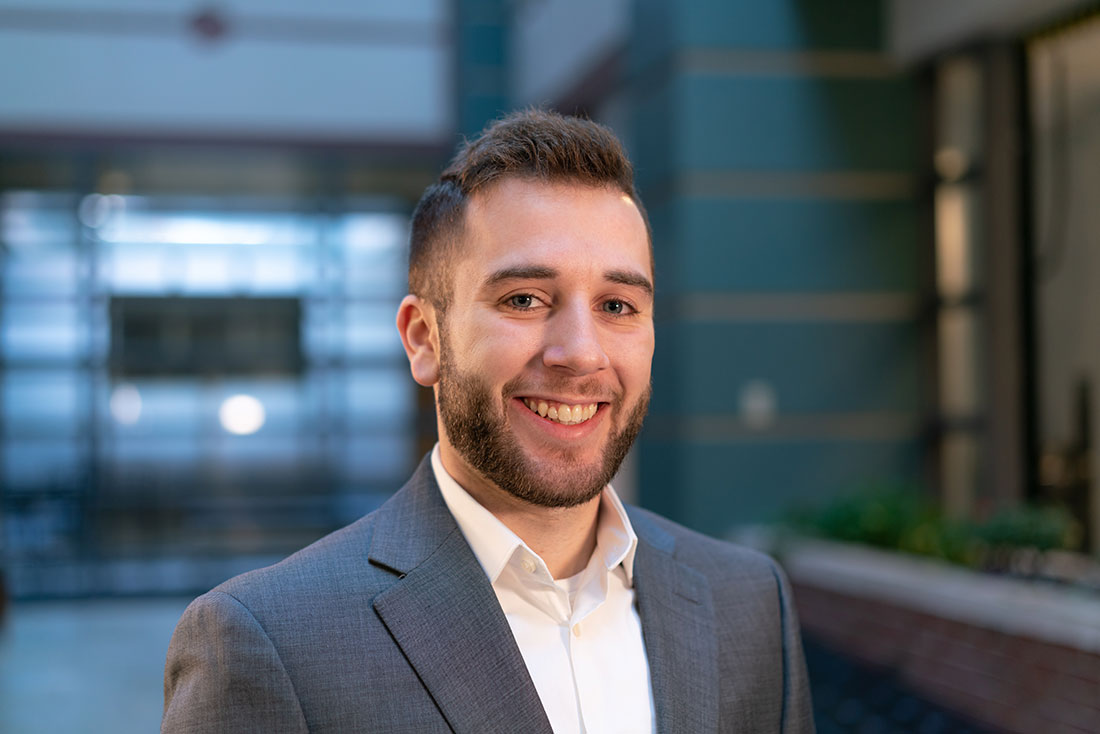 Drew Disanto, Sport Analytics
Syracuse has brought me numerous opportunities, memories, and experiences that I will carry with me for the rest of my life. My most important experience was through the Syracuse Soccer Analytics Club. My peers and I started the club during my freshman year, despite knowing very little about analytics or programming. As its vice president, this club was extremely helpful in giving me first-hand experience with data, programming, and data analysis.
Even more memorable was the aftermath of the club. Submitting our club work to various conferences and competitions was exhilarating enough. When our paper started to win and place at these competitions, I was ecstatic. It was validating to see our hard work being recognized and praised by several industry professionals. This club was exceedingly beneficial to my career here at Syracuse, and I do not think I'd be where I am today without everything I learned through it.
---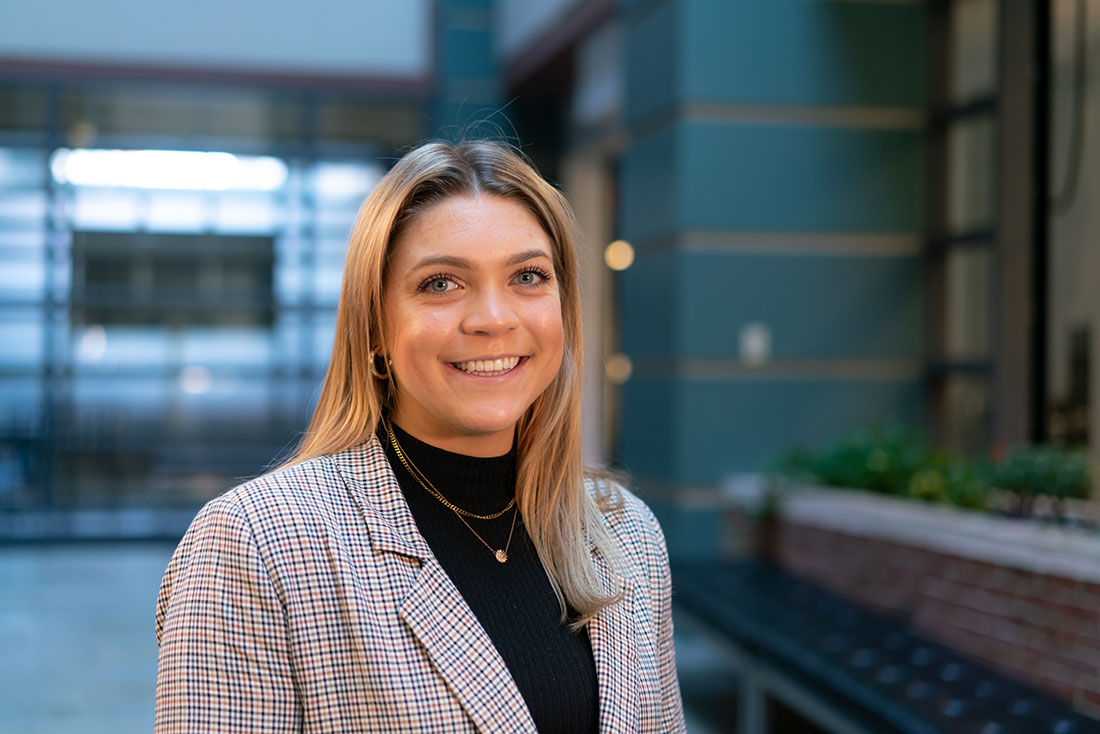 Samantha Jezak, Nutrition Science and Dietetics
Falk College has been a close community for me over the past exciting, rigorous, and innovative 4 years of my life. I quickly became involved in nutrition research my freshman year. It wasn't necessarily what I had formulated in my head (white lab coat, goggles, combustion); it was literature review, consisting of PubMed readings after readings and discussions with my research advisor, Dr. (Jessica) Garay. Little did I know these readings would lead to the research project that has ultimately defined my career path.
It sounds glamorous to be a "scientist," but nobody tells you about the tedious work that must be done behind the scenes to bring a project to life. As demanding as it was, I am so fortunate to have the experience of writing, applying, and conducting my own research project, especially alongside one of my most well-respected peers, Olivia Templeton. This research experience has taught me things that can't be taught in the classroom. I am honored to say that Falk College has molded me into a well-prepared individual for pursuing a career I am truly passionate about. I look forward to continuing to explore nutrition research through a graduate program in Biochemical and Molecular Nutrition at Tufts University.
---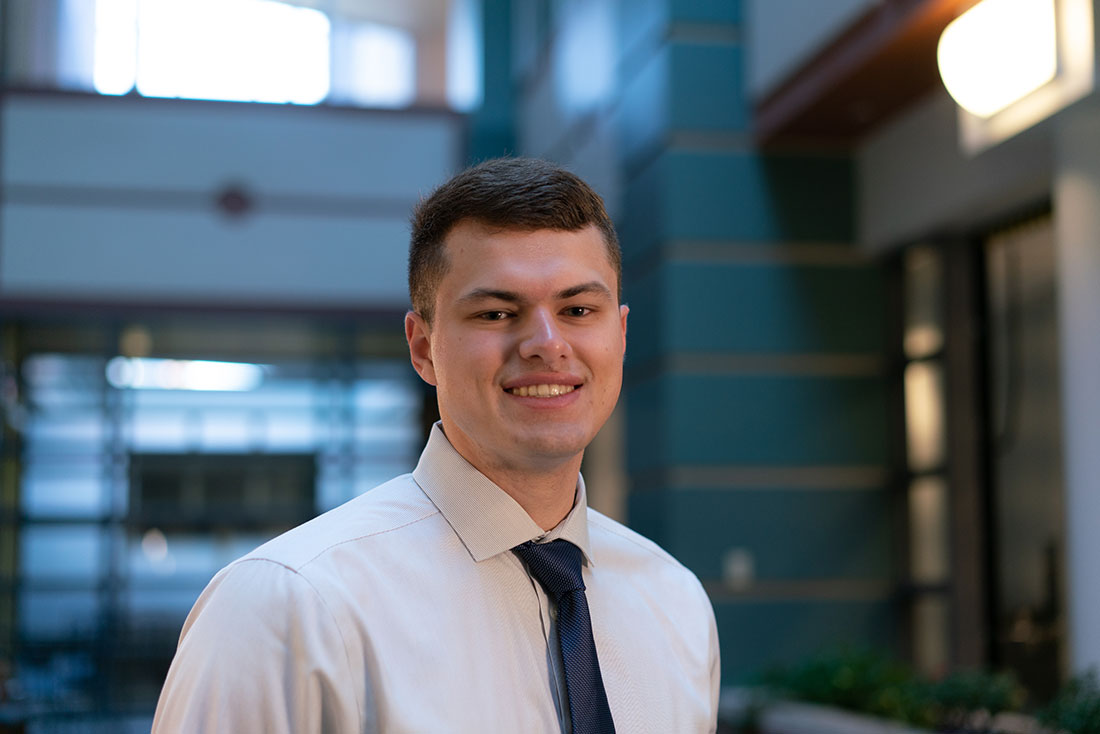 Preston Klaus, Sport Analytics
Syracuse University has provided me with a multitude of experiences including, but not limited to, a negotiation class in the law school and the first ever Name, Image, and Likeness course in the country (in the Department of Sport Management). However, my most rewarding one has come this year leading the Basketball Analytics Club.
The club introduces basketball analytics in a fun way to a new audience and connects people through sport. I have seen the club transform from a small group of students without structure to a true university community that can carry the club forward. It has been incredibly rewarding to give back to the younger students who want to follow a similar path. Leading this club has transformed my presentational skills and Syracuse University has helped me mature into the person I am today.
---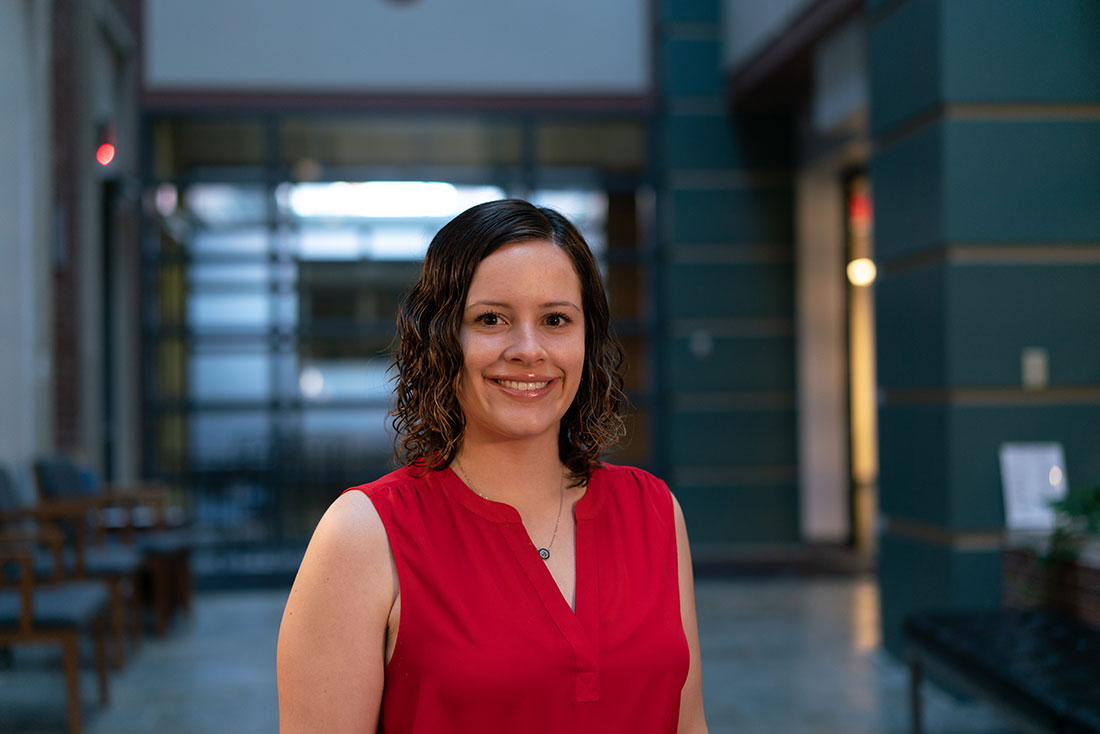 Mackenzie Mangos, Sport Analytics
The most influential experience has been my founding/serving as president of the Sport Analytics Women (SAW) Club. After my freshman year, I saw a need for this club – we only had three females in the entire major! Not only is this a problem in the program, but in the industry as well.
The club serves as a positive advocate for women in sport analytics. It is very rewarding to see the club making a difference and it allows the female underclassmen to have supportive upperclassmen to look up to, something I wish I had when I was a freshman. Syracuse University has helped me to grow as a person and as a leader.
---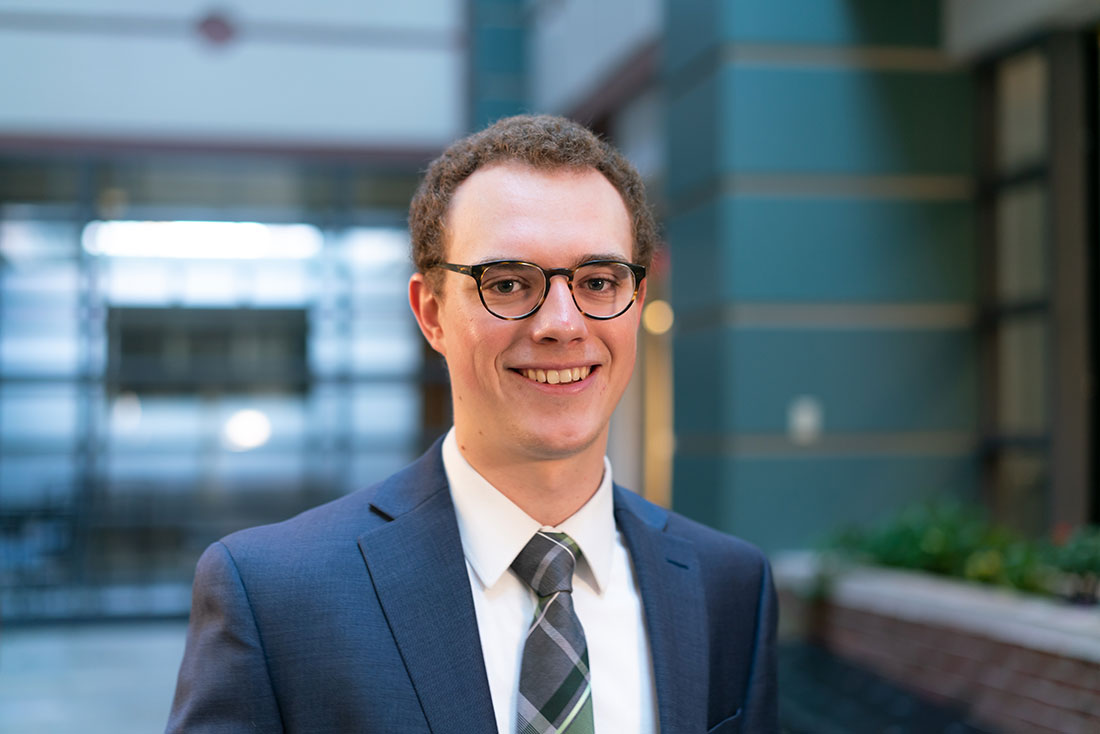 Nathan Redmond, Exercise Science
One of the most important experiences I have had at Syracuse University is the time I have spent with Syracuse University Ambulance (SUA). I became a member of SUA my freshman year and since then I have been responsible for providing emergency medical care to the Syracuse University campus and the surrounding communities. Within SUA I have held many positions, including mentor to the incoming members. I am responsible for teaching and training new members in the basic skills and assessment strategies necessary for their role on the ambulance.
SUA has been a place of support, community, family, loyalty, and genuine care during my tenure at Syracuse University. Additionally, I have worked as a crew chief, driver, trainer, and special event supervisor, which has been extremely impactful on my development as an EMS provider but more importantly helped to develop my leadership, teaching, personal growth, and public speaking skills. In general, SUA has reinforced my commitment and passion to becoming a physician.
---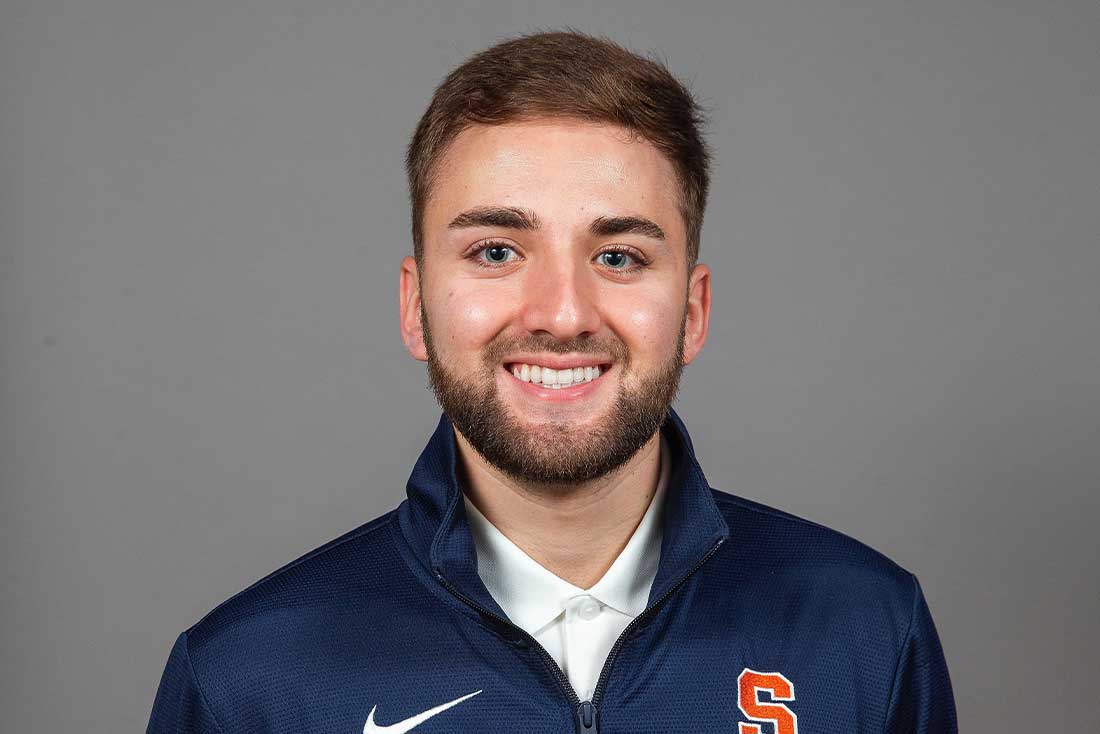 Dominic Samangy, Sport Analytics
Over the past four years at Syracuse, I've had the amazing opportunity to spend each one with the men's basketball team as a student manager. Being able to work closely with Coach (Jim) Boeheim and his accomplished coaching staff has been an eye-opening experience and has certainly guided me in my development as a basketball professional.
I've also spent the past few years collaborating with my classmates and professors on research studies covering basketball and soccer topics. Through such efforts, I've had to opportunity to present work at prestigious conferences such as the MIT Sloan Sports Analytics Conference and Carnegie Mellon Sports Analytics Conference, and I'll travel to London this May to represent SU and Falk College at the 8th Western Conference on Football and Finance. Outside of my time on campus, I've also utilized my Falk-driven skillset to serve as a consultant for NBA agencies over the past two NBA Draft classes. All in all, my time at Falk College at Syracuse University has not only prepared me for my future in sports but has provided a family and support system that I am truly grateful for.
---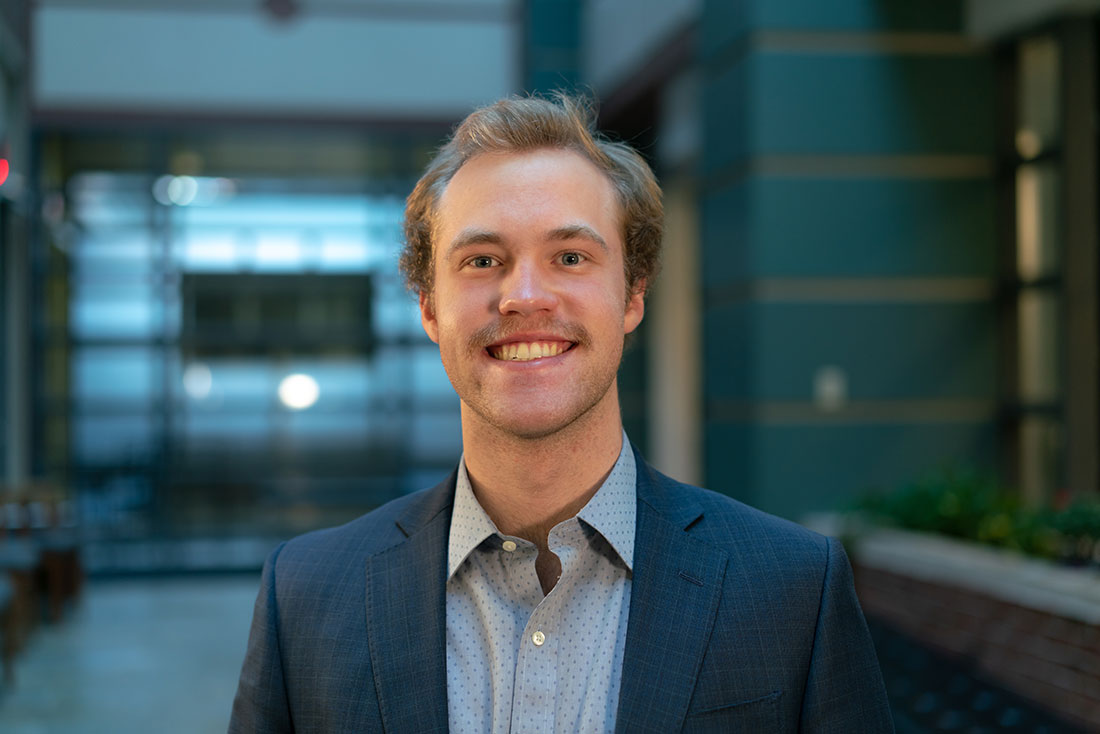 Cooper Shawver, Sport Analytics
The most important experience I had during my time at Syracuse University and Falk College was joining the Baseball Sabermetrics Club. The club inspired my desire to pursue both baseball competitions and research. For example, myself and four other students won the Arizona Sabermetrics Case Competition for our work researching pitchers' effectiveness for the third time through a batting order.
Also, I am currently finishing my senior thesis on Major League Baseball player valuation. Despite all my experiences at Falk being memorable, the Baseball Sabermetrics Club had the greatest influence on my career at Syracuse University.
---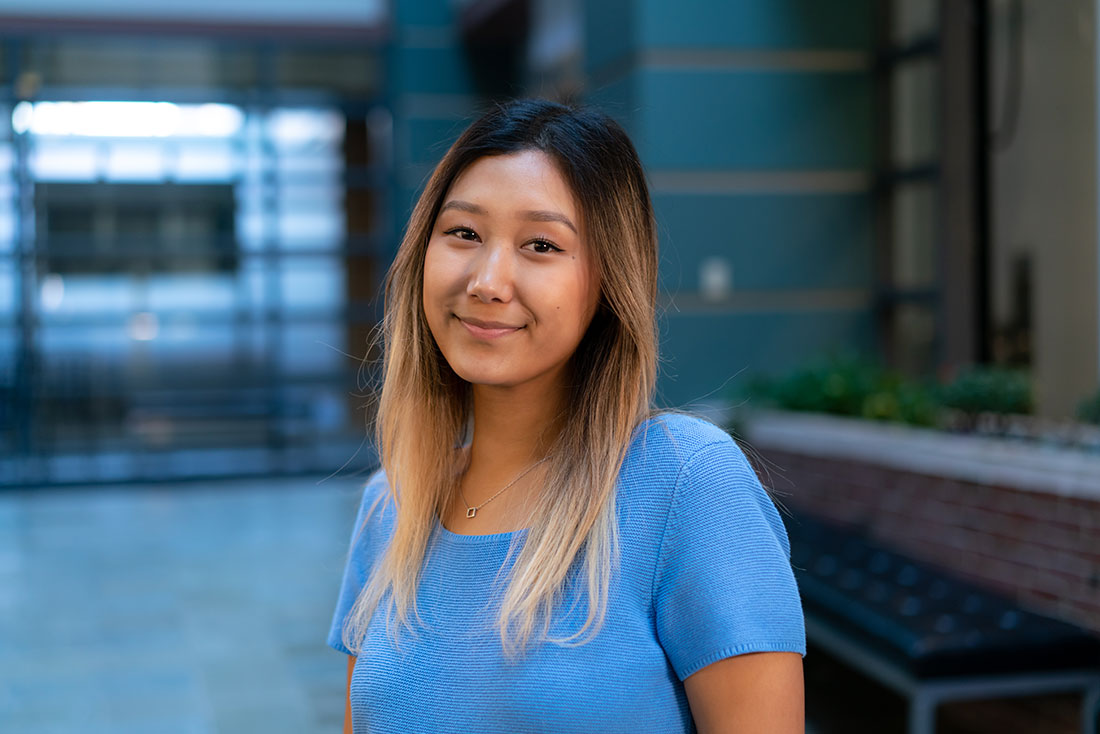 Choyang Lorane Sherpa, Social Work
Throughout my four years at Syracuse University, one of the most influential experiences was becoming involved in Kesem. Kesem is a student-led, nonprofit organization that provides a week-long, free summer camp, in addition to a year-long support system, for children affected by a parent or guardian's cancer.
Joining this organization my freshman year has granted me the opportunity to grow and develop my skills as a leader. It has undoubtedly influenced who I am as a person, my career goals, friendships, and connections I have made with the community and the families in the Syracuse area.
---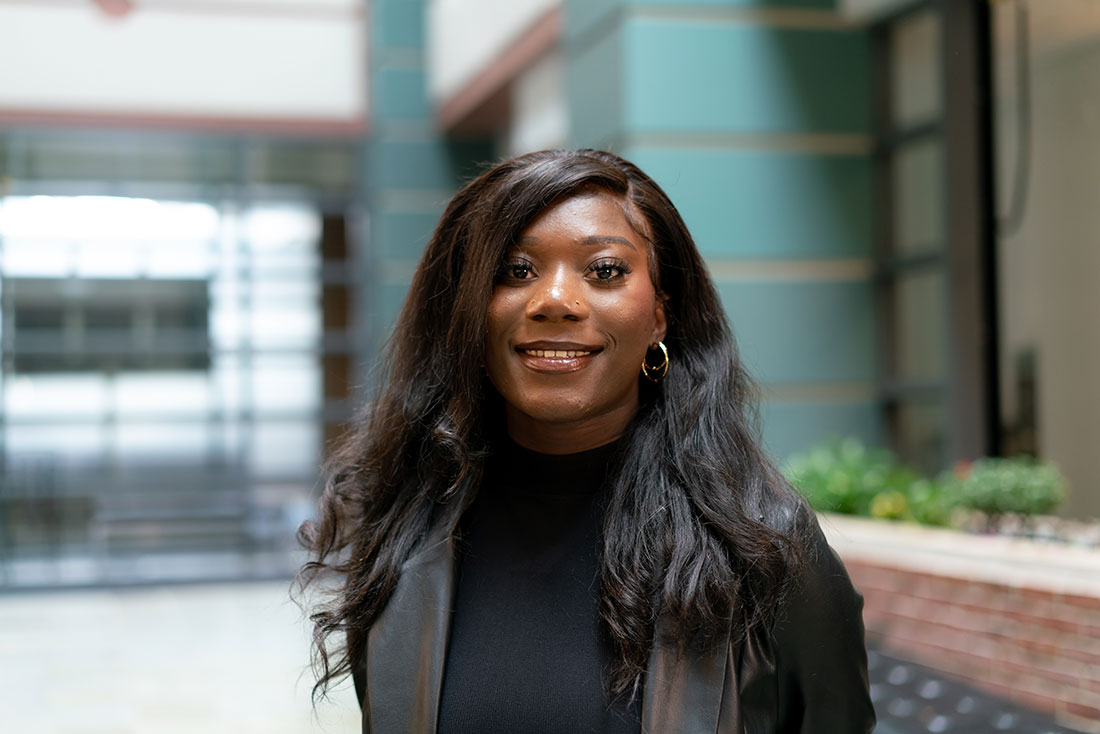 Dorbor Tarley, Human Development and Family Science
In my sophomore year, I began an independent research study under Dr. Matthew Mulvaney that explored bias against Black maternal patients. My research focused on investigating the interpersonal factors that might underlie the insensitivity toward Black women in medical spaces. My research experience has led to my involvement with SOURCE (Syracuse Office of Undergraduate Research and Creative Engagement) as a student research mentor, my involvement as a McNair scholar, and my current role as a peer health advocate at Planned Parenthood.
Given the significance of my research findings, I worked with the McNair Scholars Program and SOURCE to present my research locally and nationally. With my research, I was able to funnel my passions into a critically engaged study that might impact medicine's understanding of the Black maternal health crisis. Overall, my experiences at Syracuse engaging in research and civic engagement developed into a passion for health equity. This passion catalyzed my desire to study public health and get my Master of Science in Public Health at Johns Hopkins Bloomberg School of Public Health.
---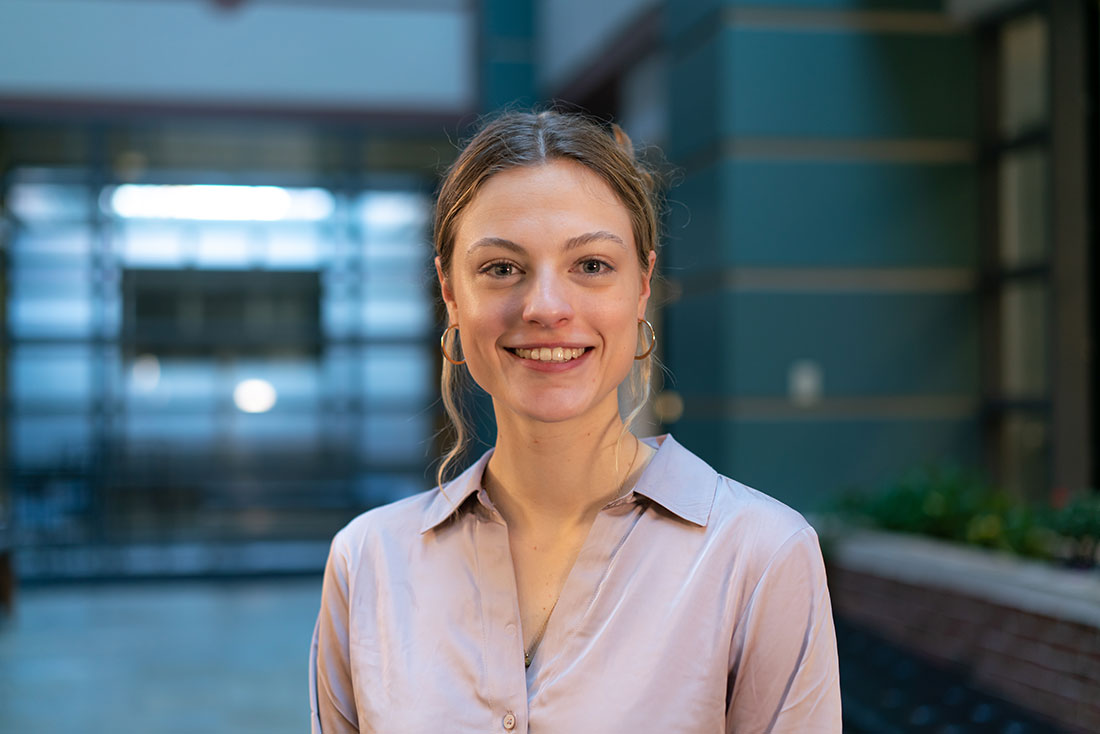 Olivia Templeton, Nutrition Science and Dietetics
The most important experience I have gained at Syracuse University was piloting my own research study analyzing how diet quality changes when converting from an omnivore (meat-eating) diet to a vegetarian diet. Through SOURCE (Syracuse Office of Undergraduate Research and Creative Engagement), I was able to receive grants to fund the research, which allowed participants to visit the ACE Center (Nutrition Assessment, Consultation and Education) within Falk College for lab visits. Participating in research was one of the reasons I chose to attend Syracuse University, and I am grateful this came to fruition.
---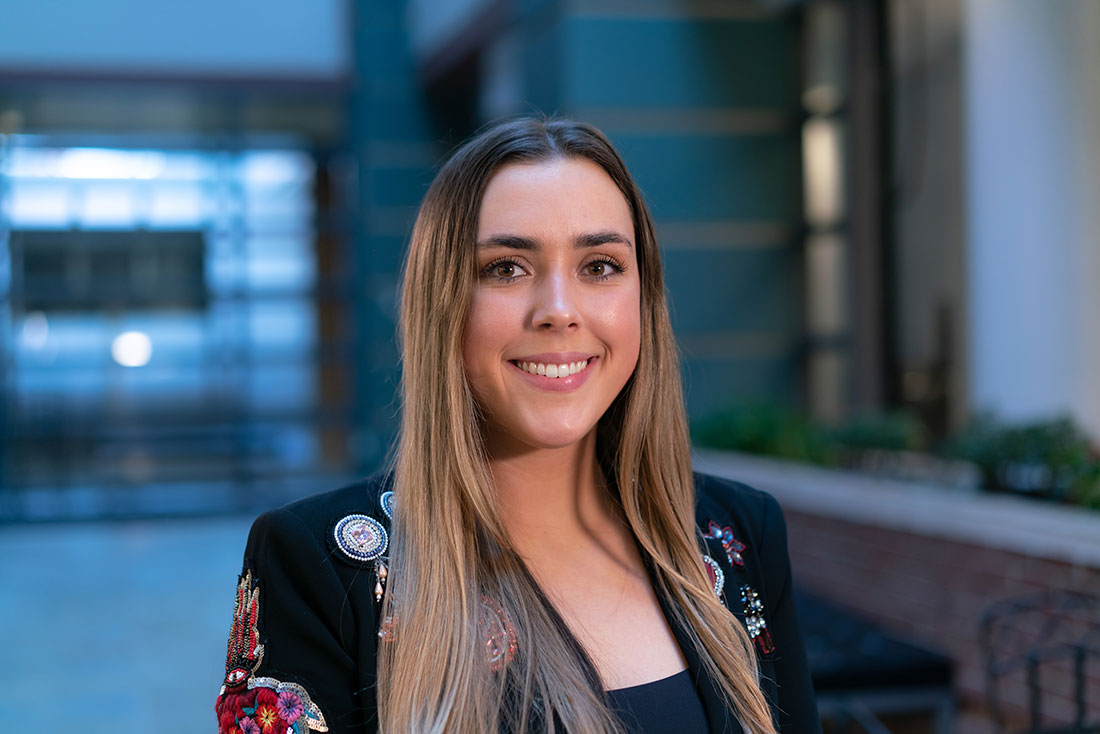 Cathryn Willing, Public Health
As a first-year public health student, I enrolled in the Healthy You Practicum course taught by Dr. Luvenia Cowart. I quickly came to love writing and talking about health issues and found the formula and publication process extremely interesting. After my first semester, in which I was published twice, I reached out to Dr. Cowart to see if I could continue writing for the magazine and the following summer, Dr. Cowart reached out to me asking if I would be interested in a copy editor position.
I attribute much of my successes to the magazine and Dr. Cowart. She trusted me to lead the program, which naturally helped me grow as writer and editor. In my last few semesters working with the magazine, we expanded the magazine's production team and I was promoted to managing editor. I wrote an article about a new–at the time–faculty member, Dr. Bernard Appiah, and we later became colleagues on a research project funded by SOURCE (Syracuse Office of Undergraduate Research and Creative Engagement). I truly think of Falk College and my public health experience in terms of the magazine and the five publications I was able to oversee from an editorial position. Given the freedom to expand my creativity through writing, editing, and leading is something I will forever be grateful for.
---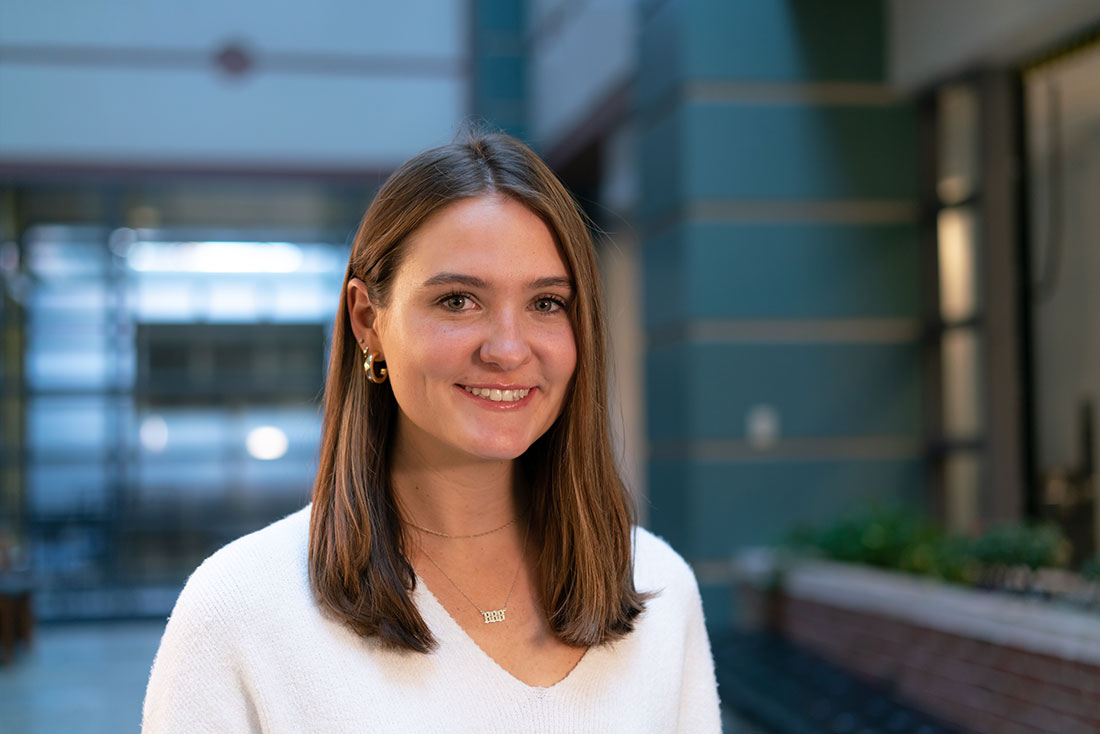 Megan Willkens, Public Health
The most rewarding experience throughout my time at Falk College was becoming involved with undergraduate research. In collaboration with Dr. David Larsen, I completed a project assessing the association between indoor residual spray for malaria control and child cognitive development in sub-Saharan Africa.
This research led to other opportunities, including my contribution to conduct a survey that assessed the capacity of New York State wastewater treatment plants to support wastewater surveillance for COVID-19, and data analysis with the New York State Health Department to expand the NYS wastewater surveillance program. In combination, these experiences have allowed me to develop skills in research and grow personally and professionally.
---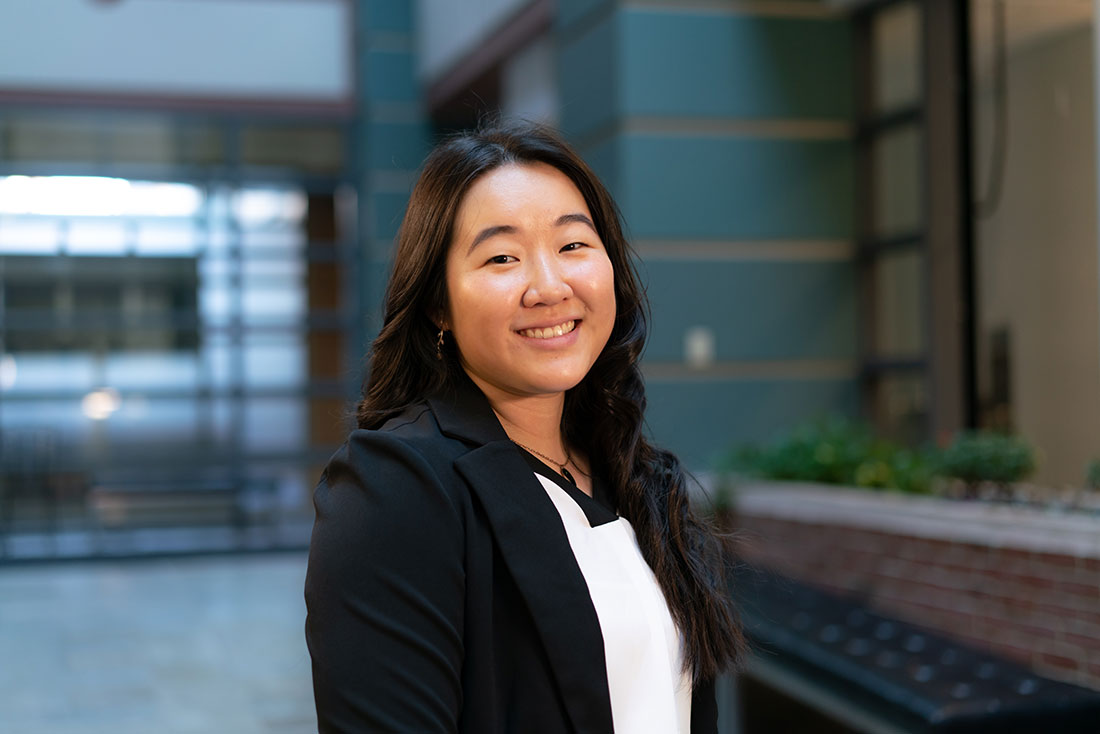 Sewina Yu, Exercise Science
It is difficult to choose just one experience that has been the most important or impactful on me. However, being in Dr. Joon Young Kim's Clinical Research Lab in the Department of Exercise Science has taught me invaluable analytical and research skills. I was able to present two research critiques at an international conference, submit a proposal for an undergraduate SOURCE (Syracuse Office of Undergraduate Research and Creative Engagement) grant, learn about IRB (Institutional Review Board) approval, and submit a poster for Falk Research Day.
I am so grateful to have had these opportunities and experiences in Dr. Kim's lab. Along with this experience, working at the Barnes Center as a personal trainer has also helped me apply what I have learned in my exercise science classes to guide clients toward their fitness and health goals. These two experiences taught me skills that will undoubtedly help me succeed at physical therapy school.
---
And the Winners Are…
Nine Posters Selected Among a Record 66 Entries in the 2022 Falk Student Research Celebration.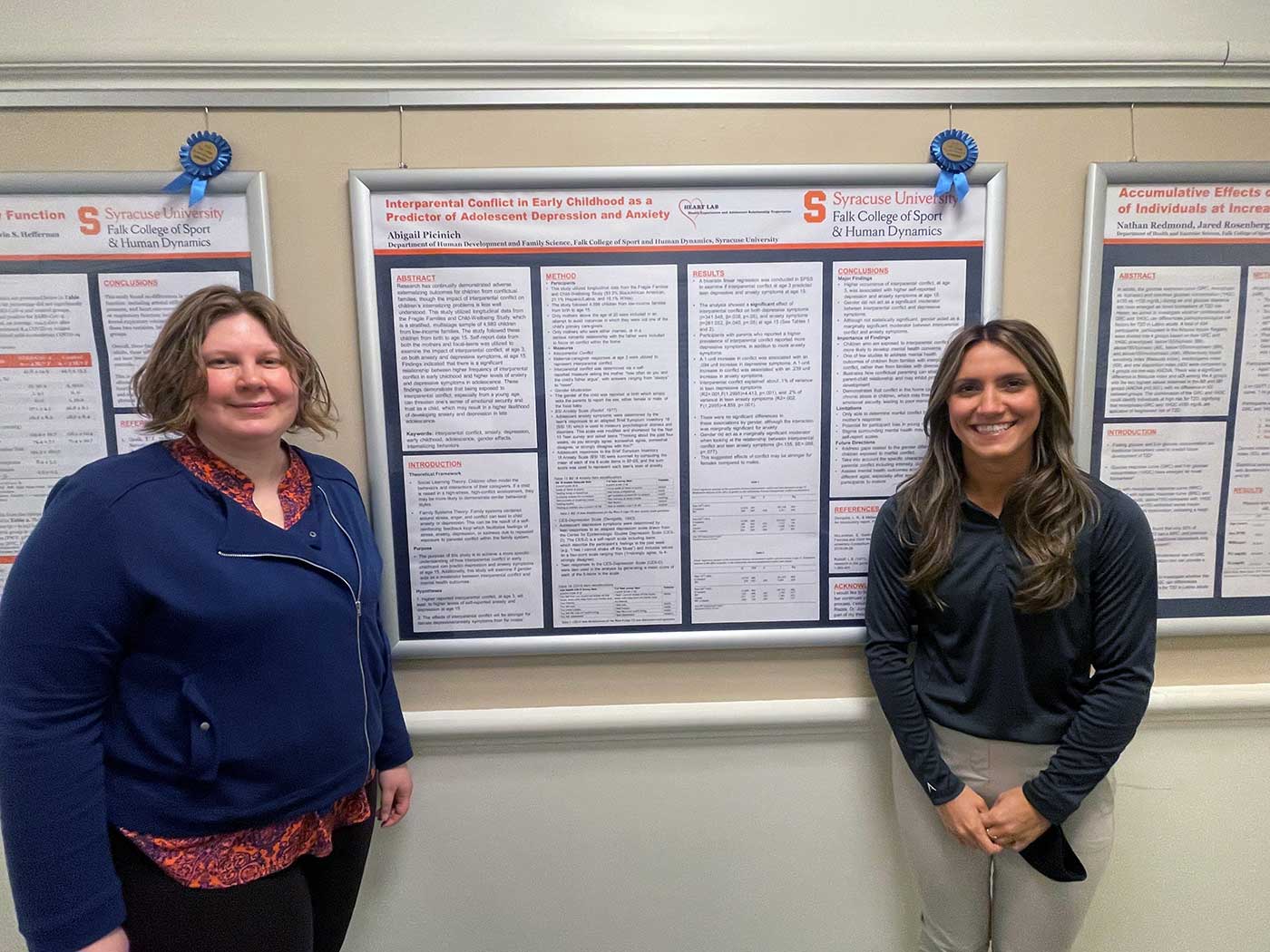 Graduate student Abigail Picinich (right) submitted one of the winning posters for this year's Falk Student Research Celebration. She's standing in front of her poster with faculty mentor Sara Vasilenko.
With a record 66 poster submissions, picking the winners of the sixth annual Falk Student Research Celebration was more difficult than ever.
"I have to thank the (Research Celebration) committee–that was a tough job to decide," says Sara Vasilenko, the committee chair and an assistant professor in the Department of Human Development and Family Science. "The incredible participation shows the vitality of the research that's being done at Falk."
Held virtually March 29, the Research Celebration highlighted students' research collaborations with their faculty mentors. Undergraduate, master's and doctoral students who are enrolled in a Falk degree, minor or CAS (Certificate of Advanced Study) submitted electronic posters of completed or in-progress empirical, exploratory, policy analytic, systematic review, or hypothesis-driving research projects using qualitative, quantitative, or mixed methods for display.
The committee selected nine winners – three each in the undergraduate, graduate and doctoral categories (the winners are listed at the end of this story). Kathryn Gratien, research operations specialist in the Falk College Research Center and a member of the Research Celebration committee, says the winning posters are displayed on the third floor of White Hall in the Falk Complex, across from the Research Center (Room 344).
"Congratulations to all the students and faculty mentors for an outstanding virtual display of research projects," Gratien says. "We are so excited that the interest and participation in the Falk Student Research Celebration keeps growing each year and thank you to all the students and their mentors for their hard work and high-quality poster submissions."
The posters were judged by the Research Celebration committee, which is comprised of faculty and staff. Faculty mentors who are on the committee did not participate in rating their students' posters.
"I want to thank all of the faculty members who were involved in mentoring the students," Vasilenko says. "There's so much great research happening at Falk involving students, and that's something the faculty should be really proud of."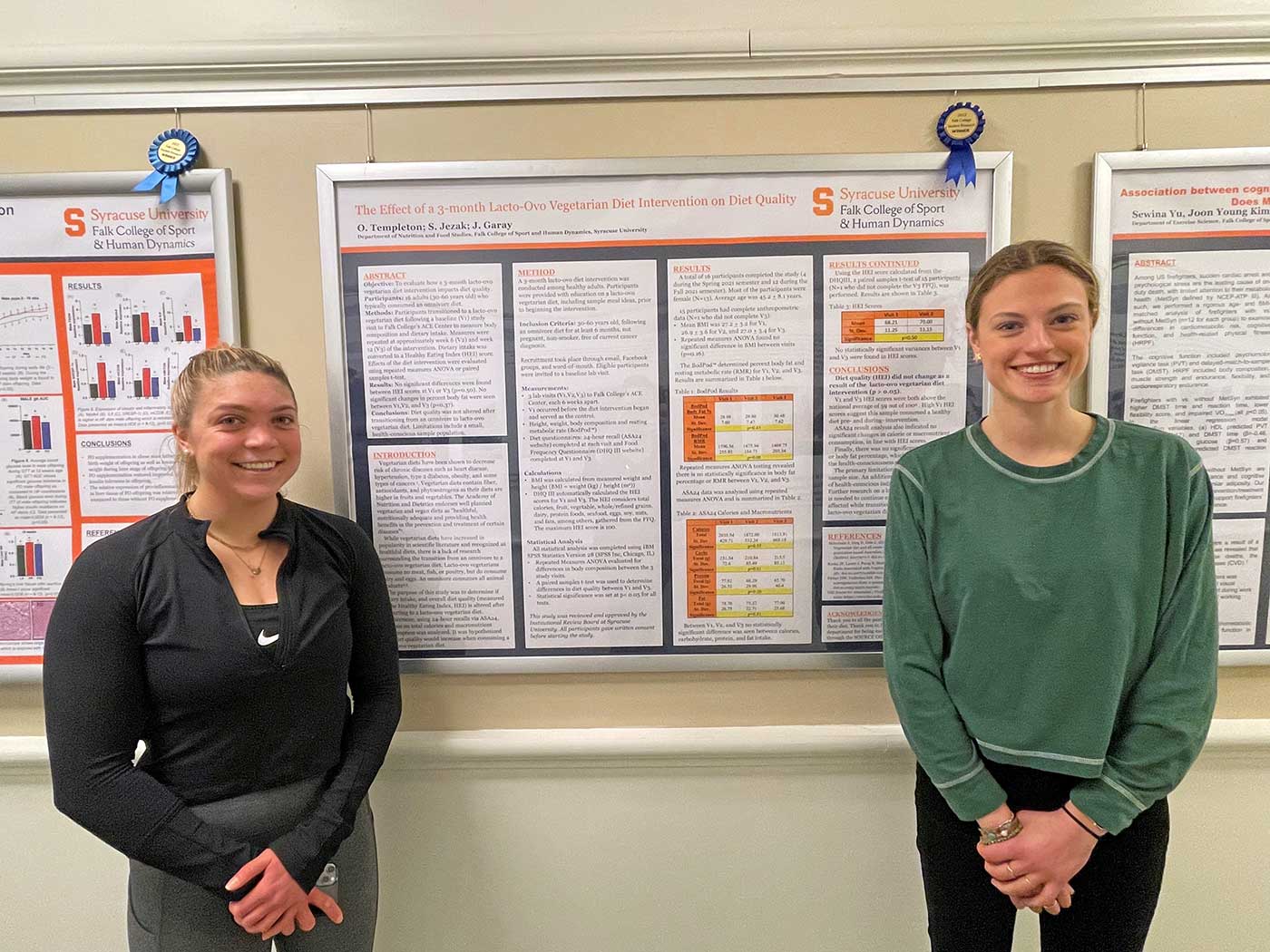 The poster from Samantha Jezak (left) and Olivia Templeton was selected as one of the three winners for undergraduate students. Their faculty mentor is Jessica Garay.
2022 Falk Research Celebration Winners
Undergraduate Student Poster Winners
Accumulative Effects of Novel Biomarkers on Identification of Individuals at Increased Risk for Type 2 Diabetes (T2D)
Names: Nathan Redmond, Jared Rosenberg and Professor Joon Young Kim
Program/Major: Health and Exercise Science
Faculty Research Mentor: Professor Joon Young Kim
The Effect of a 3-month Lacto-Ovo Vegetarian Diet Intervention on Diet Quality
Names: Olivia Templeton and Samantha Jezak
Program/Major: Nutrition Science
Faculty Research Mentor: Professor Jessica Garay
Association between Cognitive Function and Metabolic Syndrome in US Firefighters: Does Metabolic Syndrome (MetSyn) Matter?
Names: Sewina Yu, Professor Joon Young Kim and Myong-Won Seo
Program/Major: Health & Exercise Science
Faculty Research Mentor: Professor Joon Young Kim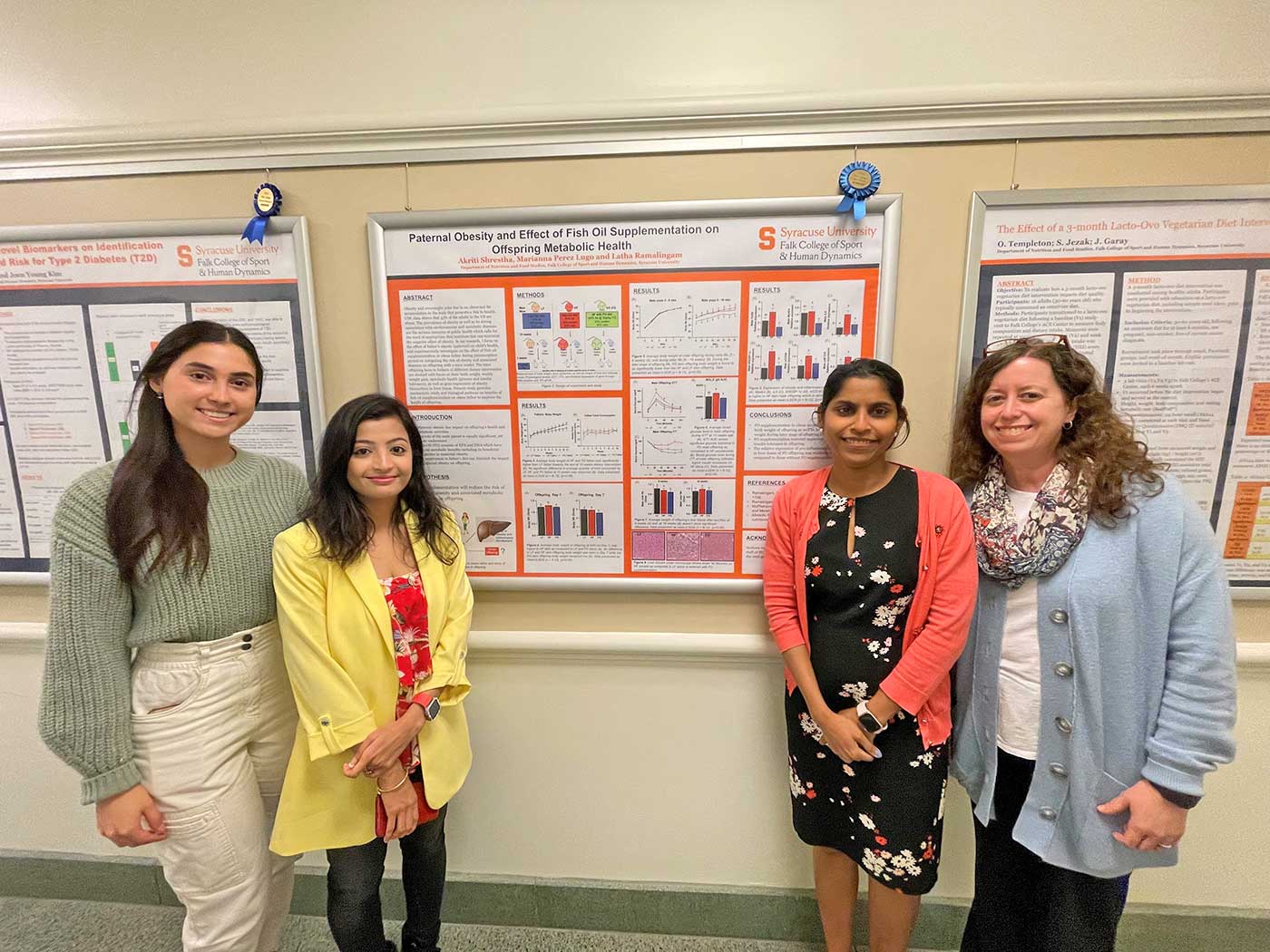 Graduate student poster winners Mariana Perez Lugo (left) and Akriti Shrestha (second from left) with their faculty mentor Latha Ramalingam and Department of Nutrition and Food Studies Chair Lynn Brann (right).
Graduate Student Poster Winners
Risks and Protective Factors for Veterans' PTSD, Mental Well-being, and Substance use During the COVID-19 Pandemic
Names: Jacqueline Allen, Professor Xiafei Wang and Professor Ken Marfilius
Program/Major: Social Work
Faculty Research Mentor: Professor Ken Marfilius
Interparental Conflict in Early Childhood as a Predictor of Adolescent Depression and Anxiety
Name: Abigail Picinich
Program/Major: Human Development and Family Studies
Faculty Research Mentor: Professor Sara Vasilenko
Paternal Obesity and Effect of Fish Oil Supplementation on Offspring Metabolic Health
Names: Akriti Shrestha, Mariana Perez Lugo and Professor Latha Ramalingam
Program/Major: Nutrition Science
Faculty Research Mentor: Professor Latha Ramalingam
Doctoral Student Poster Winners
Cardiac Autonomic Modulation in Healthy Young Adults With and Without History of COVID-19
Names: Burak Cilhoroz, Sydney Brackett, Leah Rozumov, Sophia Luchs, Zachary Greely and Professor Kevin Heffernan
Program/Major: Exercise Science
Faculty Research Mentor: Professor Kevin Heffernan
Examining Cardiometabolic Disease Risk in Normal Weight (NW) and Overweight/Obese (OB) Individuals: Results from 2017-2020 NHANES
Names: Lindsey Clark, Myong-Won Seo and Professor Joon Young Kim
Program/Major: Exercise Science
Faculty Research Mentor: Professor Joon Young Kim
The Effect of SARS-CoV-2 Infection on Cardiorespiratory Function
Names: Andrew Heckel, Danielle Arcidiacono, Kailee Coonan, Jacob DeBlois, Alaina Glasgow and Professor Kevin Heffernan
Program/Major: Exercise Science
Faculty Research Mentor: Professor Kevin Heffernan
About the Falk College Research Center
The Falk College Research Center promotes a robust, collaborative research community in which students play an active role. At Falk, graduate and undergraduate students have the opportunity to work directly with faculty to collect data, analyze findings and draw conclusions on relevant topics surrounding public health, food studies, nutrition, sport management, human development and family science, social work, exercise science, and marriage and family therapy.
---
Rising at Her Own Pace
Syracuse University Global allows post-traditional student to prepare for a career in social work without putting her life on hold.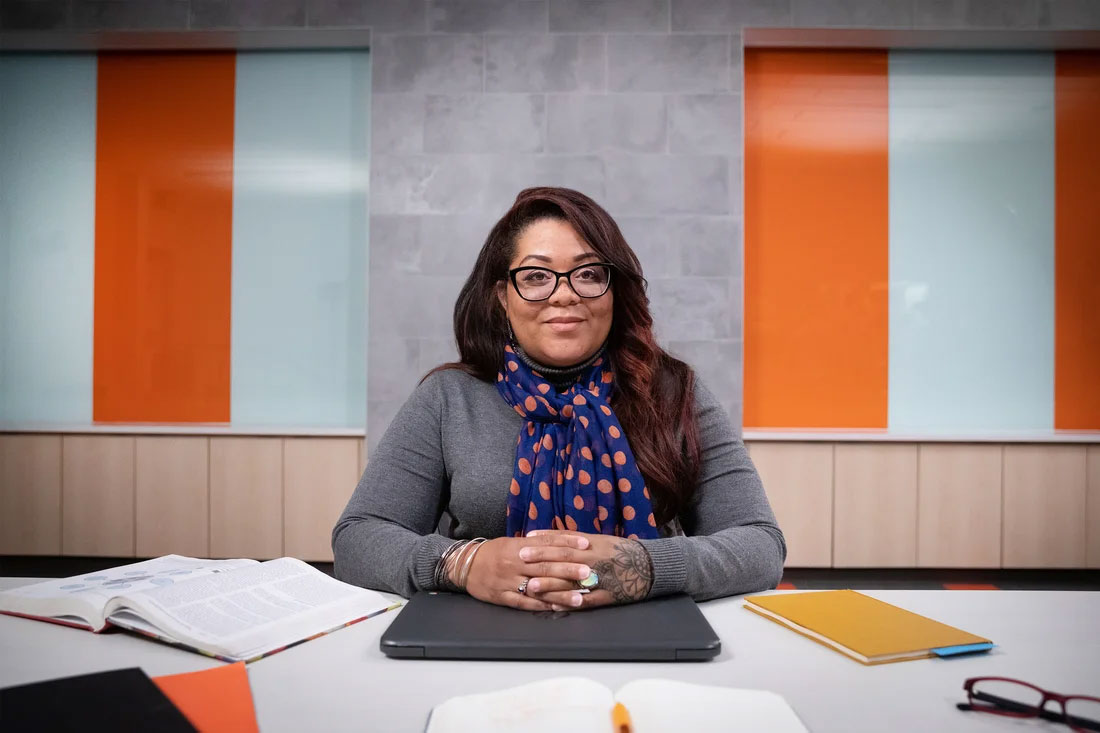 Ashlee Haste '22 is like a diamond—she thrives under pressure. It's a trait that serves her well as a single mother of three with a full-time job. It also comes in handy in empowering her to achieve her goals on her own terms as a Falk College student pursuing a
social work
degree through Syracuse University Global's flexible pathways.
Haste has a vision for her future and wants to open a center for homeless women transitioning out of incarceration, mental health facilities and substance abuse programs. "They deserve a second chance," says the 35-year-old undergraduate. "Just because someone is homeless doesn't make them less of a person. They may be suffering from mental illness, brought on by some type of trauma."
With a suite of diverse course offerings, flexible learning formats—online, in person and hybrid options—and comprehensive and student-focused academic support, Syracuse University Global helps students from anywhere in the world become career-ready without putting their lives on hold. "The flexibility is a godsend," says Haste, who, over the course of her studies, has logged 40-hour weeks at The Salvation Army of Syracuse; Iroquois Nursing Home; and Chadwick Residence, a transitional housing program for women at risk. "I'm a single parent and work full time, so attending classes during the day is difficult. Syracuse University Global's hybrid model makes it feasible for me to earn a degree at my own pace."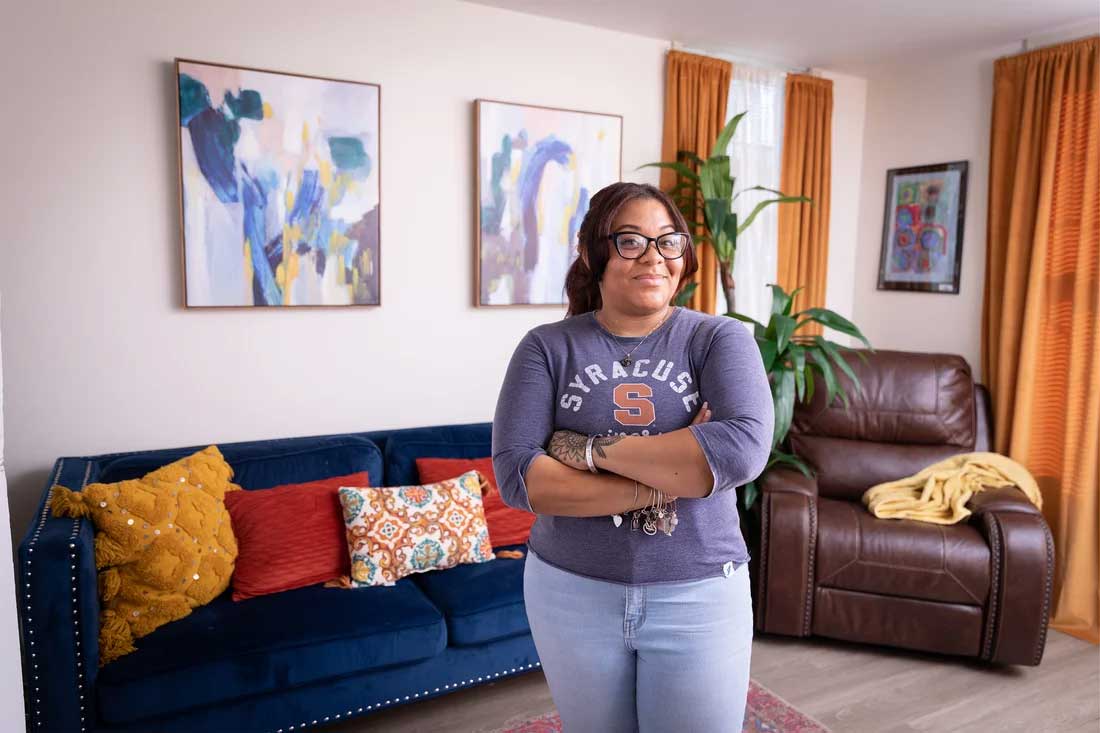 A Passion for Service
Haste was a teenager when her family moved from South Carolina to Central New York, where her grandmother and great-grandmother had worked as a pediatric nurse and special ed teacher, respectively. It was while accompanying her mother—Chandice Haste-Jackson '96, G'13, who teaches human development and family science in Falk College—to campus that Haste recognized the importance of serving others, no matter how disadvantaged.
"My mom is my idol. She taught me by example that if someone needs help, you give it to them," says Haste, who graduated from Onondaga Community College (OCC) in 2011 with an associate degree in human services. A then-new articulation agreement between OCC and the University enabled her to seamlessly transition to Syracuse to work on a bachelor's degree.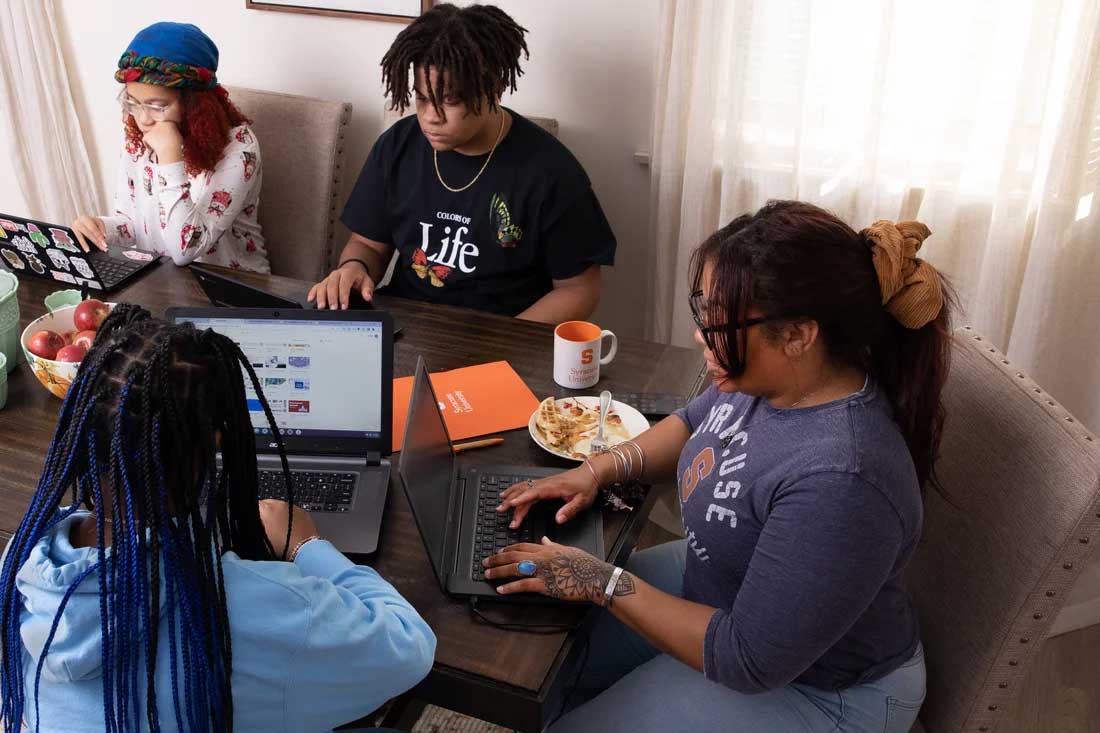 Everything went to plan until, well, life happened. Divorce. Illness. Financial problems. "I took time off from school for self-care and to be there for my kids," Haste recalls. "It was the best thing I ever did.
Haste-Jackson agrees, noting that college has been a long, winding road for her daughter, who also endured back-to-back surgeries in 2016, forcing her to be out of work for eight months. "It's from these challenges that her passion for human service has emerged. She's doing great things for humanity."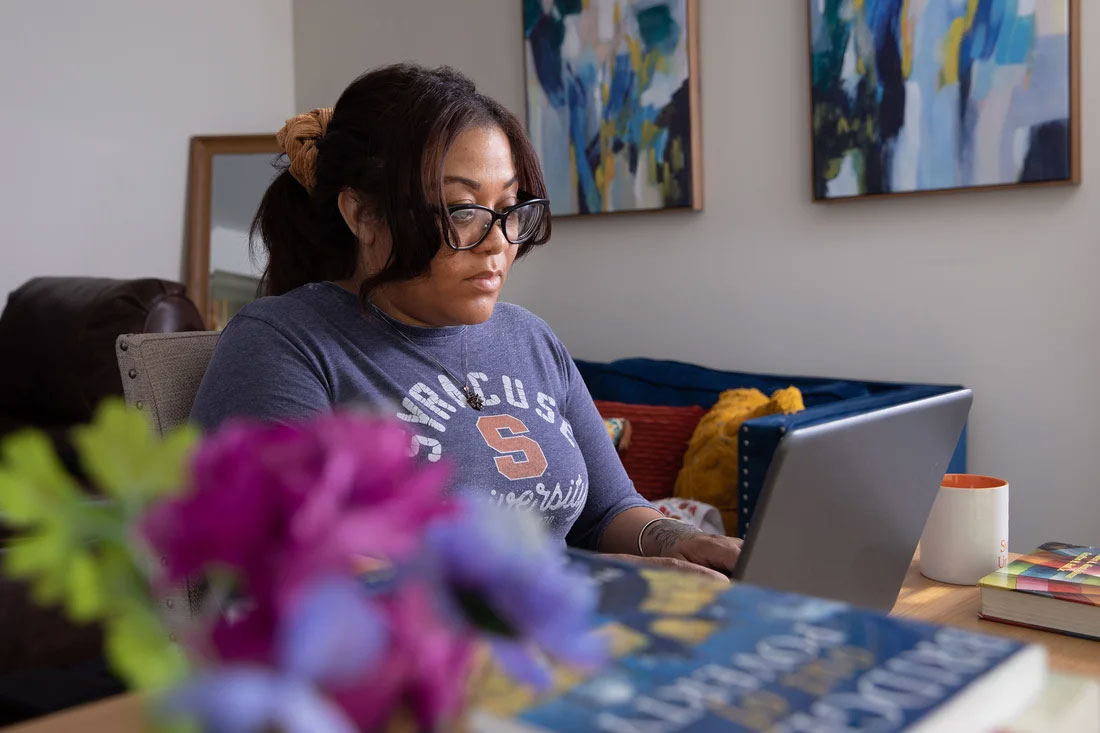 Helping People Help Themselves
Today, Haste combines part-time, hybrid learning options with peer-reviewed fieldwork in her social work program. "The coursework is relevant to the work I've done and continue to do in my career," she says, noting recent offerings in social welfare policy and services as well as human behavior in the social environment. "There's a lot of emphasis on hands-on research and practice."
Haste also appreciates Syracuse University Global's support systems—from individual counseling to student-centered services—that have helped her overcome barriers to success. She's particularly proud of her own professional network, which includes Chanel Beard-Frias '14, a mentor and former classmate who is a local psychotherapist.
Beard-Frias singles out Haste's helping-people-help-themselves ethos, which seems to permeate everything she does, including her current placement at Vincent House, an urban neighborhood center run by Catholic Charities of Onondaga County.
"There's no one-size-fits-all approach to treatment interventions because many of my clients deal with intergenerational trauma and poverty," concludes Haste, who hopes to earn a master's in social work, the field's terminal practice degree. "Syracuse University Global makes me a better student and a better person."
A Syracuse University Story by Rob Enslin originally published on April 6, 2022
---
"All children have a right to safety:" SU Professor discusses child abuse warning signs.
---
Making A World of Difference
School of Social Work Donation Drive to Fight Hunger in Syracuse
March is National Social Work Month, and this year's theme is "The Time Is Right for Social Work."
For Falk College's School of Social Work, the time is right to help support the fight against hunger in the Syracuse community.
In recognition of Social Work Month, the School of Social Work undergraduate and graduate students are holding a donation drive to help the Huntington Family Centers food pantry in downtown Syracuse. Huntington Family Centers, Inc., is a neighborhood-based, multi-service agency that has been serving youth, families and older adults in the community for more than 100 years.
"MSW and BSSW students have enthusiastically organized this donation drive to carry out the mission of social work: to serve others," says Jennifer Cornish Genovese, an assistant teaching professor in the School of Social Work and the Master of Social Work program director. "Our students understand the importance of human relationships and are enhancing the dignity and worth of others through this donation drive."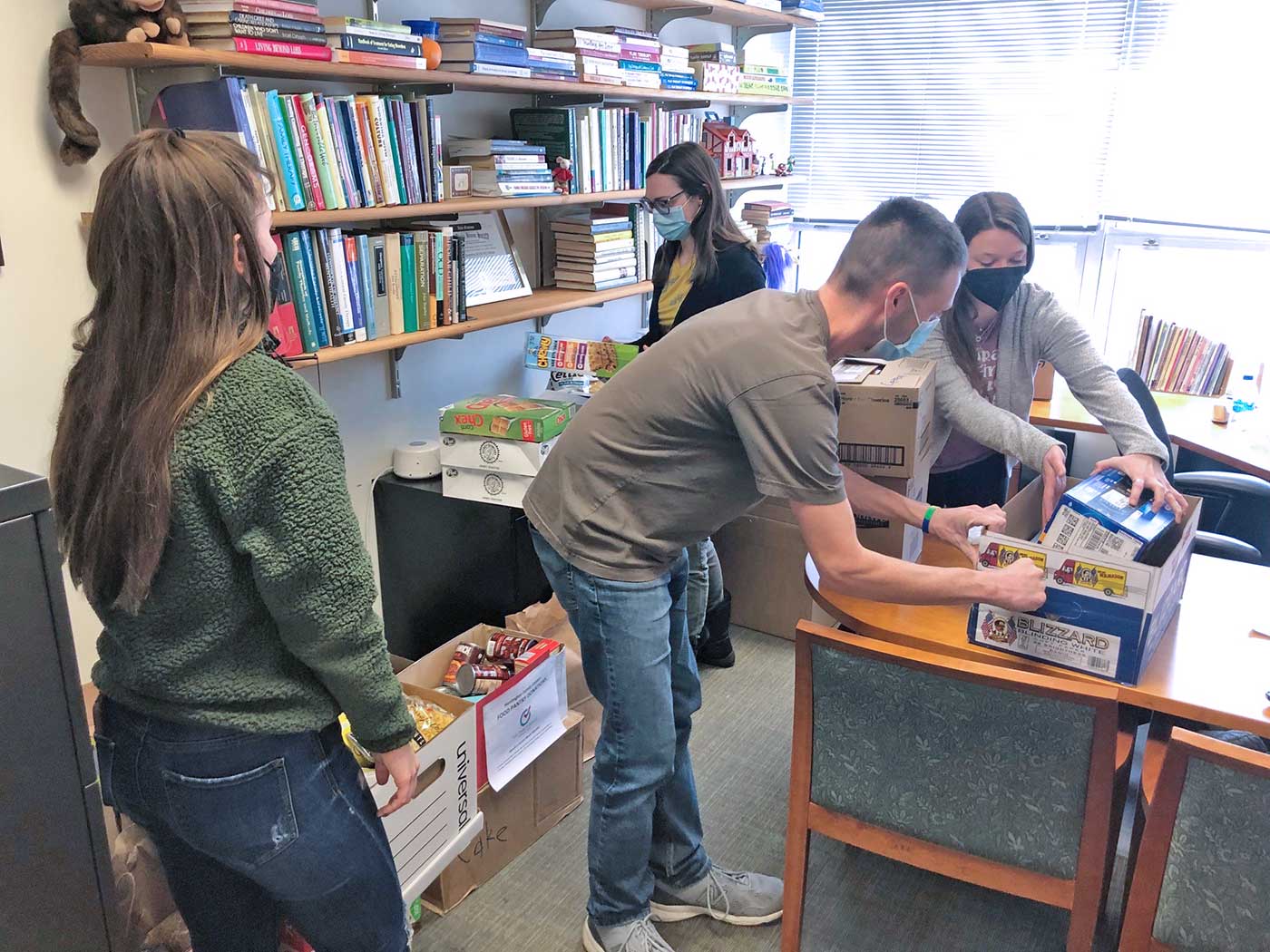 Food and other essentials will be collected throughout March at donation boxes throughout the Falk College complex, or they can be sent directly to the School of Social Work through its Amazon Wish List (the full list of items is below).
"As a future social worker and human being, I feel it's our duty to do what we can to ensure that our community members' basic needs are met," says Social Work graduate student Kiara Marie Lee. "Food should be a human right, but so many people in this country lack consistent access to it.
"If everyone who is aware of this donation drive contributed just one food or household item to Huntington Family Centers, I can't fathom the kind of impact that would have," Lee adds. "A one-pound box of spaghetti that costs a little more than $1 could potentially feed a family of four. Something that seems small could make a world of difference to someone else."
Lee and fellow graduate student Nathalie Barr were, as Genovese says, the "driving forces" behind the School of Social Work clothing drive this past December for We Rise Above the Streets, a Syracuse-based organization that strives to break the cycle of homelessness. Lee and Barr asked if they could organize a similar drive for the spring to coincide with National Social Work Month, and they selected Huntington Family Centers because they wanted to address the issue of food insecurity in Syracuse.
"As someone who is going through school to be a Social Worker, it is important to help people when they are in need," Barr says. "Sometimes we as a society take basic necessities for granted, but there are many people in our local community who struggle.
"This donation drive is a simple task that we can do to help combat some struggles that individuals may be experiencing," Barr adds. "I am humbled to be a part of this experience and grateful to be in a position to give back to others."
According to its website, Huntington Family Centers is "deeply rooted in the 'settlement house' tradition and dedicated to the dignity and self-worth of all individuals and committed to enhancing the lives of families and children for the future of our community. We accomplish this through diverse, year-round programming designed to strengthen individuals and families in a safe, caring environment."
Genovese says students will collect and bag the items and deliver them to Huntington Family Centers throughout March.
"I am proud of Kiara, Nathalie and all of our students–we could not have done this without them!" says Genovese. "We ask the campus community to please join us in this important drive as we celebrate Social Work Month and serve our community by supporting the Huntington Family Centers food pantry."
The School of Social Work is collecting the following items:
Food
Sugar
Flour
Spices, Salt, Pepper
Teabags/Coffee
Boxed Milk
Gluten-Free, Non-Perishable Foods/Snacks
Boxed Rice
Boxed Stuffing
Quinoa
Boxed Cake/Brownie Mix
Frosting
Spaghetti Sauce
Pasta
Fruit Juice (100%)
Soup
Tuna
Macaroni and Cheese
Cereal
Oatmeal
Pancake Mix
Pancake Syrup
Jelly
Peanut Butter
Toiletries
Toothpaste/Toothbrush
Soap
Shampoo
Deodorant
Feminine Hygiene Products
Essentials
Baby Wipes
Dishwashing Detergent
Reusable Grocery Bags
Paper Products (Plates, Paper Towels, Toilet Paper)
Plastic utensils
Can Openers
---
Event Highlights Dedication to Research
Celebration Shows Important Role Students Play in Research on Campus
If you want to learn more about the meaningful work that's being done at Falk College, the Falk Student Research Celebration is a great place to start.
It certainly was for Sara Vasilenko, an assistant professor in the Department of Human Development & Family Science who joined Falk in the fall of 2018 and was amazed at the students' research work that was highlighted at the Research Celebration that spring. Inspired by the event, Vasilenko joined the Falk Student Research Celebration committee and now chairs the committee.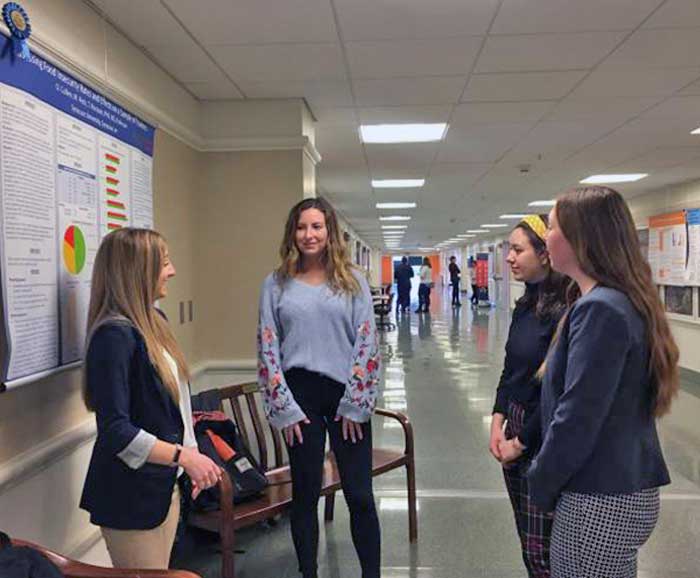 "When I attended the event in my first year as a faculty member at SU, I had such a great time getting to know the students and learning more about their research and the disciplines represented in Falk," Vasilenko says. "Being a part of the FSRC committee has exposed me to fascinating student work in areas that are different from my own and that I likely wouldn't have encountered without this event."
Falk College will host the 2022 Falk Student Research Celebration March 29. The sixth annual event will highlight students' research collaborations and show the campus community their dedication to advancing research knowledge. View a list of 2021 Research Celebration winners.
"There are many benefits for students engaged in research and it is important to Falk to provide students with a platform to share their research," says Kathryn Gratien, research operations specialist in the Falk College Research Center and a member of the Research Celebration committee. "We hope that this event inspires students to get involved in research activities available to them throughout Falk and across campus."
To be eligible for the event, an undergraduate, master's or doctoral student must be enrolled in a Falk degree, minor or CAS (Certificate of Advanced Study) and have a faculty advisor/mentor. Students can submit electronic posters of completed or in-progress empirical, exploratory, policy analytic, systematic review, or hypothesis-driving research projects using qualitative, quantitative, or mixed methods for display.
The posters are judged by a committee of faculty, staff and peers and the participants compete for a prestigious honors award that includes educational funds to present their posters on a larger stage, attend a conference to gain further insights into their respective fields, or for other educational endeavors.
"Participating in this type of research gives students important skills they can take into graduate studies or future careers," Vasilenko says. "The Research Celebration allows students to share their research with the Falk community and it's also an opportunity to compete for prizes!"
The Research Celebration will be held virtually this year because of the pandemic. Students will submit electronic posters in advance of the judging on March 29, and the winners will be announced March 30.
"Falk has held this event since 2017 and each year, student involvement has increased," Gratien says. "It is great to see the different ideas and many research projects that our students are involved in."
Vasilenko says the Research Celebration is an opportunity for students to showcase their work and faculty to get to know students and the projects they are working on. "At a research-intensive university like SU, research is a vital part of the academic environment and students play an important role in this research," Vasilenko says.
For questions or additional information, contact Gratien at kgratien@syr.edu.
About the Falk College Research Center
The Falk College Research Center promotes a robust, collaborative research community in which students play an active role. At Falk, graduate and undergraduate students have the opportunity to work directly with faculty to collect data, analyze findings and draw conclusions on relevant topics surrounding public health, food studies, nutrition, sport management, human development and family science, social work, exercise science, and marriage and family therapy.
2021 Falk Student Research Celebration Winners
Undergraduate Winners
How to Allocate the NFL Salary Cap with a Highly Paid Quarterback
Name: Zachary Koeppel
Program/Major: Sport Analytics
Faculty Research Mentor: Professor Rodney Paul
The Association that Gender Roles have with Health Seeking Behavior for Women in Kenya, Tanzania, and Uganda
Names: Gloria Nabbosa, Professor Sandra Lane, Professor Brittany Kmush
Program/Major: Public Health
Faculty Research Mentor: Professor Brittany Kmush
EAT-26 Effectiveness in Detecting Eating Disorders in College Students
Names: Rose Noterman, Sivan Avramovich and Professor Jessica Garay
Program/Major: Nutrition Science
Faculty Research Mentor: Professor Jessica Garay
Under the Radar: An NBA/NCAA Player Similarity Model Utilizing a Factor Analysis & Radar Plots
Name: Dominic Samangy
Program/Major: Sport Analytics
Faculty Research Mentor: Professor Justin Ehrlich
Malaria Control with Pyrethroids and Cognitive Deficits in Pre-School Aged Children in Sub-Saharan Africa: A Meta-Analysis of Cross-Sectional Surveys
Name: Megan Willkens
Program/Major: Public Health and Policy Studies
Faculty Research Mentor: Professor David Larsen
Graduate Winners
Associations Between Physical Activity, Body Mass Index and Carotid Extra-Medial Thickness in Children
Names: Danielle Arcidiacono, Wesley Lefferts, Professor Brooks Gump, Professor Kevin Heffernan
Program/Major: Exercise Science, M.S.
Faculty Research Mentor: Professor Kevin Heffernan
Parental Autonomy Support and College Students' Well-Being
Names: Xiaoyu Fu, Woosang Wang, Professor Eunjoo Jung
Program/Major: Human Development and Family Science, Ph.D.
Faculty Research Mentor: Professor Eunjoo Jung
Working Mothers' Job Demands, Work-family Conflict, and Job Satisfaction in East Asia: A Comparison of China, Taiwan, and Japan with National Sample
Names: Rui Tian and Professor Kamala Ramadoss
Program/Major: Human Development and Family Science, Ph.D.
Faculty Research Mentor: Professor Kamala Ramadoss
Please note that mentors did not participate in rating their students' posters.
---
Children caught in fight between youth treatment facilities and state agency
---
Dean's Winter Welcome
Dear Falk Students,
Welcome back to Syracuse University! We hope you enjoyed your winter break and had the opportunity to relax and spend time with friends and family. We're excited for all that lies ahead for you in Spring 2022. With that in mind, here are some important reminders as we start the new semester:
Public Health and University Communications:
Public health remains a critical priority for life on campus and in our wider Syracuse community. We fully expect all Falk College students to follow University public health guidelines and local public health mandates. By doing our part, we can keep each other safe and healthy. Please visit the Stay Safe website, the official source of public health information for Syracuse University, for guidance and updates.
Remember to check your Syracuse University email daily, as it is the primary communication method at the University. Your professors and University offices will contact you with important information using your Syracuse University email address (ending in "@syr.edu"), not your personal email address.
Student Support Services:
Falk Student Services counselors are here to provide you with private academic advising and help you meet your requirements and goals. In addition, they are your resource for private consultation related to student social and emotional concerns. If you have any concerns throughout your academic career, please contact Student Services or visit Suite 330 Barclay Hall in the Falk Complex.
Falk Career Services advisors, also located in Suite 330 Barclay Hall, can help you prepare for life after college through career exploration, internship and job searching, professional networking, and more. You can also search for opportunities through Handshake, the University's job search and professional events portal.
In addition, you can connect to spiritual life on campus at Hendricks Chapel, and health and counseling services in the Barnes Center at the Arch.
Student Lounges, Computer Labs, and Cafés:
The Student Lounge, located in Falk 216, is available to you any time the Falk Complex is open. The lounge has a microwave, refrigerator, and vending machines for student use. Just down the hall is Falk 229. This quiet student lounge has both Windows and Mac computers that are available to students any time the Falk Complex is open.
Falk 113, 400, and 407 are Windows computer labs that are also used as teaching classrooms. They are available to students any time class is not in session. You may check the schedule of availability using the Orange Events website. You may also use the quick-print stations in Falk 216 and 229 for printing and email. These stations log out automatically after 15 minutes of use.
The Falk Café on 2 is expected to open Feb. 2 on a limited basis. Check the Food Services website for other campus cafés and operating hours, which are subject to change.
Ways to Get Involved:
Get to know many of the hundreds of Syracuse University student organizations at the Winter Student Involvement Fair 11 a.m. to 3 p.m. Jan. 26, 2022, in Goldstein Auditorium, Schine Student Center.
You can also discover activities and events on campus by visiting the Syracuse University Calendar. Please note that events are subject to change according to public health guidelines. You can find the most up-to-date event information on the University Calendar. Once again, visit the Stay Safe website regularly for public health information and watch your University email for important announcements.
There are many other resources available to you at Syracuse University beyond these important highlights. Please visit the For Students page to review a more comprehensive listing of student resources to enhance your experience at Syracuse.
Thank you for being part of the wider Syracuse University community and our Falk College family. On behalf of the Falk faculty and staff, I wish you the best for Spring 2022.
Go Orange!
Diane Lyden Murphy, M.A., M.S.W., Ph.D.
Dean
Falk College
---
Page 1 of 21