Social Work News
Congratulations Class of 2020
Congratulations and best wishes to the Class of 2020 from the students, faculty, staff, advisory boards, alumni and friends of Falk College! The courage and resiliency you have demonstrated in these challenging times prove you are prepared to respond to society's greatest needs. Now more than ever, our world needs all you have to offer. We look forward to hearing about your achievements as our newest Falk alumni and eagerly await the future in-person celebration at Falk Convocation and Syracuse University Commencement.
The Dean's video message to the Class of 2020 was recorded late last year when we were fully expecting our traditional campus celebrations to take place this spring. Since then, the global coronavirus pandemic has impacted all of us in many difficult ways. We recognize how hard this has been for all of our students, and particularly the Class of 2020. While we will celebrate with you at distance for now, we look forward to celebrating together in person when it is safe to do so.
Join the Syracuse University community for the Class of 2020 Virtual Degree Conferral.
---
Meet our OTHC Scholars
This year Falk College is proud to have two Our Time Has Come Scholars (OTHC) who are a part of the Social Work program. The Our Time Has Come Scholarship (OTHC) creates possibilities for Black and Latino students at Syracuse University. To date, over 1,300 scholarships have been awarded. Scholars come from across the country and their majors span across our campus. They have an average GPA of 3.6. As part of their scholarship, they commit to volunteering on campus and in the Syracuse community. Meet our Falk College OTHC Scholars: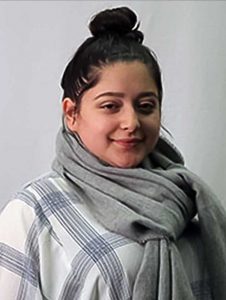 Marceli Rocha-Rocha '20
Applying for college as a first-generation student, Marceli Rocha-Rocha wasn't sure attending a private university was an attainable goal. Growing up in a Mexican agricultural community in California's Bay area, her family didn't fully recognize the value of education—particularly for women. They didn't understand why she'd want to leave her family and couldn't support her financially. Rocha-Rocha was able to attend Syracuse University thanks to a generous financial aid package. Being a first-generation student so far from home was challenging, but Rocha-Rocha used her struggles as a platform to help others, from mentoring elementary students, to her internship in domestic violence advocacy.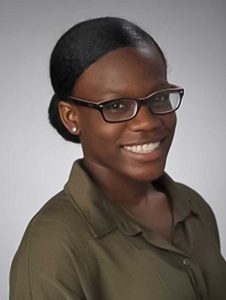 Briyana Henry '20
As a high school student in Brooklyn, New York, Briyana Henry '20 participated in an afterschool enrichment program. Her mentor was a Syracuse University alumna who put the school on Henry's radar. Now as a Syracuse University senior, Henry is using that same afterschool program as the basis for her Capstone research project for the Renée Crown University Honors Program, which looks at the impact of afterschool programs on adolescents that come from urban neighborhoods. "I interviewed students, alumni, and staff to figure out how they perceived the program, the benefits of it, and what they could be doing better," she says.
History of OTHC
In 1987, the Office of Multicultural Advancement announced the launch of the first Our Time Has Come (OTHC) Scholarship Campaign to raise $1 million to establish endowed scholarships, primarily for African American and Latino students. Under the leadership of chair David Bing '66, the campaign raised $1.2 million. Through the generosity of alumni, friends, foundations, and corporations, seven endowed scholarships were established.
---
College Honors 2020 Faculty of the Year
On May 1, Falk College held its annual recognition of academic excellence with its Faculty of the Year Awards. These awards, selected by members of Falk Faculty Council based upon peer nominations and documentary evidence, recognize faculty excellence in the academic year. Faculty are nominated in one of three categories: Service, Teaching, and Research. This year, the Falk College Faculty Council also presented the Faculty Governance Champion Award to recognize a faculty member who has gone above and beyond expectations to ensure and enhance faculty governance in Falk College.
This year's honorees:
Excellence in Service – Alejandro Garcia, Jocelyn Falk Endowed Professor of Social Work
Excellence in Teaching – Matthew Mulvaney, Associate Professor, Human Development and Family Science
Excellence in Research – Sara Vasilenko, Assistant Professor, Human Development and Family Science
Faculty Governance Champion – Karen E. Kirkhart, Professor, School of Social Work
Congratulations Professors Garcia, Kirkhart, Mulvaney, and Vasilenko!
2020 Faculty of the Year for Service: Alejandro Garcia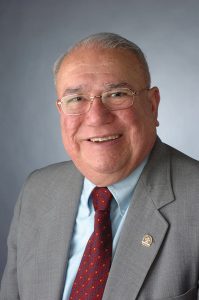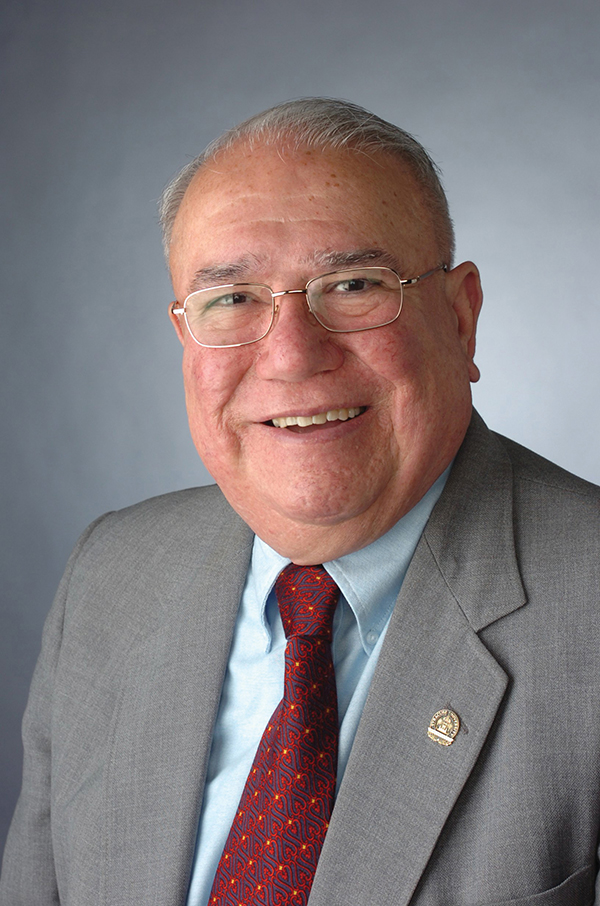 Dr. Alejandro Garcia concludes a career of service to the School of Social Work, Falk College, the University, and the profession with a strong record of service at the end of the 2019-20 academic year. Dr. Garcia is an accomplished photographer, and he continued to document our collective history as a College in 2019. He photographed major annual events in the School of Social Work such as the 2019 Dan and Mary Lou Rubenstein Social Justice Awards, Overcoming Adversity: Embracing Resilience and Social Change, and the 2019 James L. Stone Legislative Policy Symposium, A Matter of Social Justice: Addressing the Lead Poisoning of Children in New York State and Syracuse. He documented celebrations such as the 2019 Induction of members into the Zeta Gamma Chapter of the Phi Alpha Social Work Honor Society, the 2019 Convocation Awards ceremonies (BSSW and MSW), the Holiday Party, the retirement of esteemed colleague, Jennifer Wilkins, and the celebration of Kate Veley's new position. He documented special events such as The Veterans' Voice: A Panel Discussion on Military Culture, Resilience and the Familial Impact (March, 2019). He also honored students by photographing the Falk Senior Celebration.
Dr. Garcia has been a generous sponsor of scholarships and student assistance in the School of Social Work. In 2019, he continued to support the scholarship that he established for MSW Latino students, and the book fund for those MSW students who cannot afford their textbooks. He is a member of the 1870 Society for his generosity at the University level.
Dr. Garcia has a long history of participation in Promotion and Tenure reviews of Falk College, both in the School of Social Work and in other units when the participation of a senior faculty member was required. At the University level, he participated in the planning committee for the Hispanic Heritage Month celebrations, having previously been honored by Phi Iota Alpha and the Multicultural Center at Syracuse University for this work.
Dr. Garcia gives back to the local community. He serves on the Board of Directors of the Rescue Mission, and in 2019, he continued to work with SU, the Rescue Mission, and Interfaith Works to obtain computers and clothing for New Americans. He was honored by the Rescue Mission for his service. He is a member of the Advisory Board of RISE Community Center (formerly the Turkish Community Center).
Dr. Garcia also engaged in service to the profession in 2019. He serves as a reviewer for Psychology and Aging. He is an active member of the Academy of Certified Social Workers, The American Association of University Professors, the Council on Social Work education, the Gerontological Society of America, the National Association of Social Workers, and the Association of Latino and Latina Social Work Educators. Dr. Garcia is a former member of the Commission on Accreditation of the Council on Social Work Education, and he continues to carry out labor-intensive site visits to programs under review. In 2019, he completed visits to InterAmerican University in Arecibo and InterAmerican University, Metropolitan campus.
2020 Faculty of the Year for Teaching: Matthew Mulvaney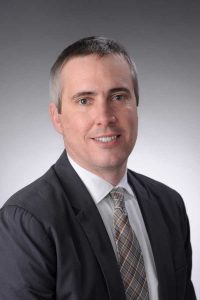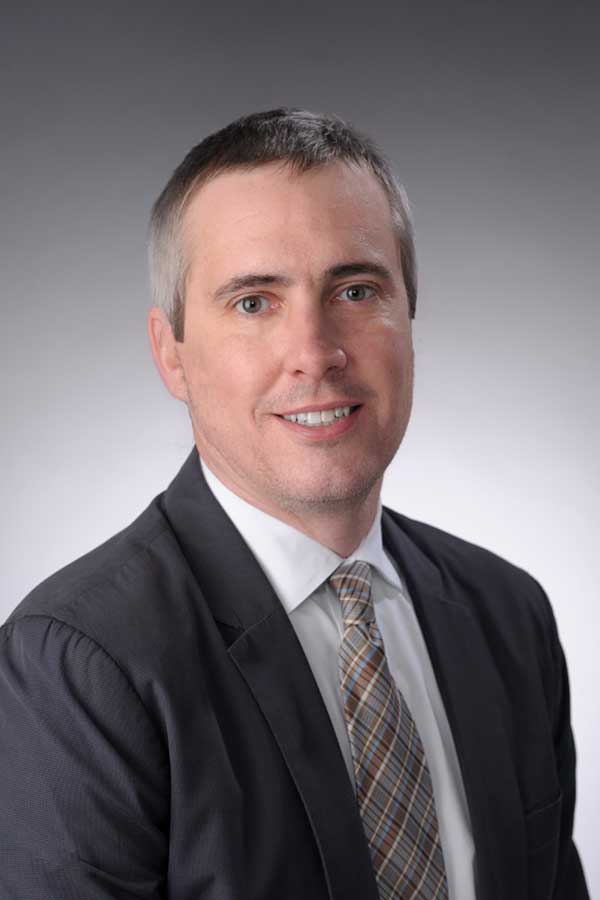 Dr. Matthew Mulvaney is a devoted teacher and mentor who is committed to making all classes-whether it's a large Human Development service class, a small graduate seminar, or an online course-accessible yet challenging for all learners.
As a professor, he strives to include diversity in the classroom and challenge students to grow and understand the importance of research as the basis of knowing. As testament to his effectiveness, consider the words of students from his teaching evaluations: "Dr. Mulvaney was able to guide us through the required material while still stopping to focus on points where students were interested or struggling. This class was informative, engaging, and challenging." Another student stated, "the seminar style course where students were challenged to push ourselves to truly explain our thinking was really helpful in beginning to think more deeply on subjects and ideas that we have taken for granted." Finally, "I have learned more in this one class than I have in an entire semester of classes. He is a great teacher and makes class fun and engaging."
Matt's commitment to teaching goes beyond the classroom.
He has many external roles at national and international levels including presenting at conferences such as the Teaching Institute at Society for Research in Child Development (SRCD), and the Foundation for Individual Rights in Education (FIRE). In 2019, Matt became the Chair of the SRCD National Teaching Committee and has been working to shape teaching policy at the national level. He is developing the national website on teaching and assisting in the organization of the Teaching Institute that will take place at the SRCD conference. At Syracuse University, he serves as a co-mentor for the undergraduate honor society Kappa Omicron Nu and has been very effective in reviving this student-focused club. Additionally, he is a faculty advisor for the Future Professoriate Program. In this role he assists graduate students in developing their teaching strategies, building their teaching portfolios, and preparing them for a career in academia.
As a mentor, Matt is most proud of his role in mentoring an undergraduate student, Noelle Rowe, who was a McNair Scholar and Honor's student. Working closely with Matt, Noelle was selected as a Syracuse Scholar in the Spring of 2019 and was his coauthor on two national presentations.
Dr. Mulvaney's dedication to teaching and mentoring are appreciated by his students and mentees, which make him an outstanding and impactful educator.
2020 Faculty of the Year for Research: Sara Vasilenko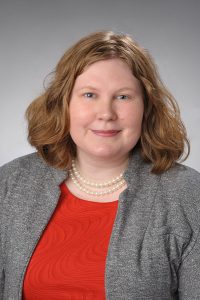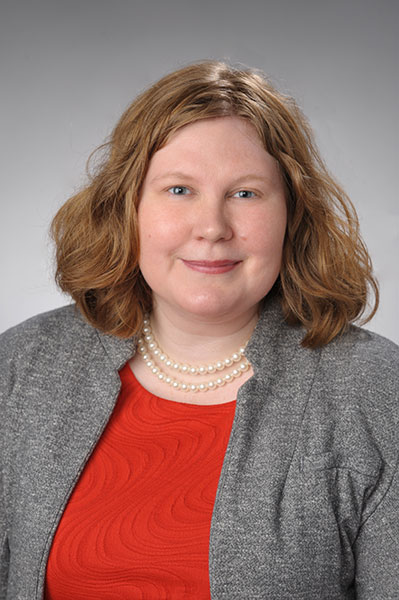 Dr. Vasilenko was selected for this honor from a very strong pool of candidates. In calendar year 2019, Dr. Vasilenko published four refereed journal articles, and she was lead author on three of those. Impressively, the journals in which Dr. Vasilenko published have an average impact factor of 2.9. She also published two book chapters, had one conditional acceptance of a journal article, and she currently has four manuscripts under review.
Dr. Vasilenko's published work in 2019 includes the following important topics: (a) multidimensional risk profiles and protective factors as moderators of the effects of a teen pregnancy prevention program; (b) patterns of sexual behaviors of young men who have sex with men in Mexico; (c) how multidimensional patterns of adolescent religiosity are associated with sexual and romantic relationship outcomes; and (d) sexual minority health disparities across the lifespan. In addition to her publications, Dr. Vasilenko received three external grants, two of which were from the National Institute of Child Health and Human Development. Although diverse in topic and scope, all of Dr. Vasilenko's funded projects focus on understanding multidimensional risk and protective factors for health and well-being. Finally, Dr. Vasilenko's research had a high impact on the fields of human development, sexuality, and health, as evidenced by 284 new citations in 2019 according to Google Scholar.
2020 Faculty Governance Champion: Karen E. Kirkhart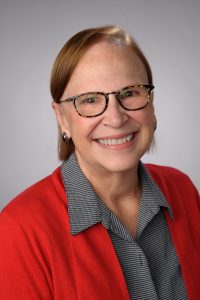 A member of the School of Social Work faculty and director of its undergraduate program Dr. Karen E. Kirkhart has served as chair of the Faculty Council for five years. This award recognizes her service and outstanding contributions to ensuring faculty participation in Falk College governance. This demanding and vital leadership role entailed bi-weekly Faculty Council meetings, monthly Cabinet meetings, and almost daily attention to all kinds of matters involving faculty. Dr. Kirkhart attended to details to ensure that elections and awards were on time and fair. She revised portions of the faculty manual, and then identified more critical updates to address. One of these efforts involved a labor-intensive process of re-documenting important work on mentoring that had been lost. Faculty Council members noted, "Karen's biggest contribution is the extent to which she molded Faculty Council members into a collegial, supportive group each year. She prioritized individual check-ins and information sharing across departments. This work is unheralded, but those of us who have served on the Faculty Council with Karen can appreciate what this did to unify and strengthen the College." Professor Kirkhart is retiring from Syracuse University at the conclusion of this academic year.
---
Class of 2020 honored with Convocation Awards
The School of Social Work is pleased to recognize the outstanding work of its undergraduate and graduate students for excellence. The undergraduate and graduate award process began early this semester, well before the disruption of Covid-19. Awardees were nominated by faculty and staff and selected by a faculty/staff committee, which reviewed transcript evidence, field evaluations, and the nomination letters themselves.
Members of the Class of 2020 honored with BSSW and MSW awards are listed below.
BSSW Awards
Seven distinguished members of the BSSW Class of 2020 were honored with Convocation Awards at a ceremony on Tuesday, April 28, 2020.
Kenneth J. Marfilius Student Veteran Award: Nathan P. O'Donnell
The Kenneth J. Marfilius Student Veteran Award is given to an undergraduate or graduate student in good academic standing, who is a military veteran. The award is based on GPA, community and University contributions. This year's honoree is a former mental health technician in the U.S. Air Force. He brings over 17 years of proven teamwork ability, working in multiple high-stress situations to build highly motivated teams focused on achieving goals. Nathan has trained, supervised and provided career guidance to nearly two dozen service members. He is a Certified Alcohol and Drug Abuse Counselor. After completing his military duty, Nathan has continued his life of service, this time in the field of social work. In recognition of his academic achievement and service to the community, we are pleased to recognize Nathan P. O'Donnell.
Scholastic Excellence Award: Molly Murphy
The Scholastic Excellence Award recognizes the graduating senior with the highest cumulative GPA. This award recognizes the dedication, hard work, attention to detail, and resilience that it takes to excel scholastically in the BSSW program. This year's awardee is a social work major with minors in Addictions Studies and Spanish. Beyond her course work, Molly is a Falk College peer advisor and a University Ambassador, and she was a teaching assistant for HSH101 in fall 2017. This year, she was Teen Leadership Coordinator and Operations Co-Coordinator for Syracuse University's Camp Kesem, a free, week-long summer camp for children whose parents have been affected by cancer. Molly approaches her coursework with passion and will graduate with the highest cumulative GPA in her class. In recognition of her academic achievement, we are pleased to recognize Molly Murphy as this year's recipient of the Scholastic Excellence Award!
Bachelor of Science in Social Work Award: Briyana Henry
This award goes to a graduating senior in good academic standing who is involved in social work activities, community service, and contributions to Syracuse University. Our 2020 award recipient is strong in all these categories. Briyana is a McNair Scholar and member of the Renée Crown Honors Program, majoring in Psychology as well as Social Work. She has a record of both research and service to community and University. This past fall, Briyana also served as a teaching assistant in HSH101. Her nominator noted that her class contributions were consistently insightful and on point. She mastered difficult course materials with humility, and she is "an exceptional student." For her senior thesis, Briyana undertook an original research project on the Impact of a Community Afterschool Program on Urban Adolescents. She demonstrated persistence in working through multiple iterations of IRB requests, and she displayed flexibility and creativity in meeting the challenges of data collection. With this year's Bachelor of Science in Social Work Award, we recognize the excellence of Briyana Henry.
Rhonda B. Cohen Prize in Gerontology Award: Alicia Smith
The Rhonda B. Cohen Prize in Gerontology is named in honor of Rhonda Cohen, who graduated from our MSW program in 1983 and passed away at a young age. She was an advocate for the needs of the elderly. This award recognizes a BSSW graduate specializing in gerontology. The award criteria include cumulative GPA, a strong record of community service, and an interest in working with older adults. This year's awarded is a member of both the Phi Theta Kappa and Phi Alpha National Honor Societies. Having completed her internship at the Rescue Mission, focusing on street outreach in our community, Alicia quickly identified the aging homeless population as the highest risk, especially during the winter months in Syracuse, NY. Her attention to their unique health issues, suppressed mobility and immunity, as well as vulnerability toward agism prompted her advocacy. For her work exemplary work in advancing human rights, through stabilizing secure housing for the elderly, we honor Alicia Smith with the 2020 Rhonda B. Cohen Prize in Gerontology.
Catherine Mary Esposito Achievement Award: Alexandra Tulowiecki
The Catherine Mary Esposito Achievement Award is given to an outstanding undergraduate student who has demonstrated a commitment to clients with developmental disabilities or traumatic brain injury. Catherine Mary Esposito was an alumna of our MSW program who worked for NYS Developmental Services with special needs clients; she loved that population. Catherine died of breast cancer at 38 years old, and family members started this award in her memory. Not only must the awardee be in good academic standing, but more importantly, they must have demonstrated experience in the field with persons with disabilities. This year's honoree is a triple major in social work, psychology, and forensic science. Lexi is employed as a direct support professional at Exceptional Family Services, where she works with persons with developmental disabilities to help develop communication, social and daily living skills. She is also a mentor at Advocates Incorporated, where she supports persons with autism, Down Syndrome, epilepsy, spina bifida, cerebral palsy and other intellectual and developmental disabilities. The 2020 recipient of the Catherine Mary Esposito Achievement Award is Alexandra (Lexi) Tulowiecki.
Elizabeth Brown Thoreck Student Achievement Award: Stacy Sturdevant
Elizabeth Brown (Bette) Thoreck, former BSSW Director, established this award to recognize a non-traditional aged undergraduate student who is in good academic standing in both the academic arena and the field placement setting. As once a non-traditional student herself, Bette appreciates the perseverance and resilience required to combine scholastic achievement with other life responsibilities. This year's awardee has balanced home and family with part-time studies and full-time employment. Since 2013, Stacy has worked for The Salvation Army Syracuse Area Services as a NY State of Health Program Manager and Navigator. Under her leadership, The NY State of Health Navigator Program has grown from 1 staff member to 4. In addition to direct service, Stacy partners with other community agencies, and she designed and oversees program monitoring, collecting statistical data for monthly Progress Reports to NYSOH. Stacy trains other Navigators and Act as the main point of contact for NY State of Health and Child Health Plus/Medicaid in the community. Honoring her excellence in our BSSW program in combination with her other areas of responsibility, we recognize Stacy Sturdevant with the 2020 Elizabeth Brown Thoreck Student Achievement Award.
Keith Anthony Alford Diversity and Inclusion Award: Marceli Rocha-Rocha
This award was established by our former School of Social Work Director and current Chief Diversity and Inclusion Officer (CDIO) of Syracuse University, Dr. Keith Anthony Alford. The award is given to an undergraduate, in good academic standing, who has demonstrated in their academic program and field placement setting a commitment to cultural competence and diversity as delineated in the National Association of Social Workers (NASW) Code of Ethics. This year's awardee is majoring in Psychology as well as Social Work, with a minor in Spanish. Marceli's commitment to diversity is visible both within and outside of the classroom. She is Vice-President of the Women's Empowerment Project here at SU and serves as both Academic Chair and Community Service Chair of the Lambda Theta Alpha Latin Sorority. She is Treasurer of Xicanx Empowering Xicanx (XEX) and an active member of Students Advocating Sexual Safety and Empowerment (SESSE). We are delighted to honor Marceli Rocha-Rocha with the 2020 Keith Anthony Alford Diversity and Inclusion Award.
Additional honors related to the Class of 2020 BSSW students include:
Hortence Cochrane Award: Stacy Sturdevant
Professor Emerita Hortence Cochrane established this award for a UC junior or senior matriculated in the School of Social Work and is awarded to a student who shows academic excellence.
Falk Scholar: Alexandra (Lexi) Tulowiecki
Falk College Scholars represent undergraduate students in Falk College who display academic excellence, exceptional campus and community engagement, and personal integrity
Falk Marshal: Tess Harper
Senior Class Marshals have excelled during their time on campus and exemplify the spirit of the senior class. The selection committee assesses the nominees on scholarship, academic honors, student organization involvement, and campus/community service. Class Marshals lead the student procession at Commencement and assist with Commencement speaker selection. They also represent their class at other University events.
This scholarship offers eligible students leadership skills and mentorship by Syracuse University alumni and friends, in addition to a monetary scholarship. The scholars are given an opportunity to enhance their Syracuse University education with encouragement, motivation, and support. Students chosen for this award show a strong interest in volunteering, leadership training, and joining a supportive community of scholars.
Remembrance Scholar: Molly Murphy
Remembrance Scholarships were founded as a tribute to-and means of remembering-the 35 students who were killed in the Dec. 21, 1988, bombing of Pan Am Flight 103 over Lockerbie, Scotland. Scholars are chosen in their junior year through a rigorous, competitive process and are selected on the basis of scholarship, leadership, and service to the community.
Class of 2020 members of the Phi Alpha Honor Society:
Elise Bojanowski
Amber Deyo
Haley Feuchs
Tess Harper
Molly Murphy
Madison Oliva
Julia Pion
Marceli Rocha-Rocha
Alicia Marie Smith
Mark Sukonik
Alexandra Tulowiecki
MSW Awards
MSW students honored in the Class of 2020 include the following:
Rhonda B. Cohen Prize in Gerontology Award: Lisa Christine Dussing
This award is given to a graduate Social Work student specializing in gerontology. Award is based on GPA, community service, and gerontology interest.
Catherine Mary Esposito Achievement Award: Jennifer Sue Robb
This award is given to an outstanding graduate student who has demonstrated a commitment to clients with developmental disabilities.
Keith Anthony Alford Diversity and Inclusion Award: Arlaina Harris
The award is given to a graduate, in good academic standing, who has demonstrated in his or her academic program and field placement setting a commitment to cultural competence and diversity as delineated in the National Association of Social Workers (NASW) Code of Ethics.
Carrie Jefferson Smith Social Justice Award: Danielle S. Smith
This award is given to a graduate student who has demonstrated a commitment to social justice, particularly in the area of improving the lives of victims impacted by the continuum of domestic violence.
Virginia Insley Award: Amanda Louise Deavers
This award is given to an outstanding MSW student who is interested in Maternal and Child Health. Preference is given to someone who has completed their field placement in maternal and child health care.
Class of 2020 members of the Phi Alpha Honor Society:
Kaitlyn Dawn Budge
Heather Bell
Jessica DeLutis
Lisa Dussing
Christina Firnstein
Arlaina Harris
Melissa Hayes
Caroline Laws Hyneman
Haleigh Johnson
Michaela Marotti
Kelly Marriott
Gabrielle Denise Nicolini
Suzanne Parsons
Alyssa M. Prawl
Gillian Rowan Riggall
Desiree Rivas
Ellan Ryan
Julia Elise Sanders
Danielle S. Smith
Kaeley Anne Spicer
Kylene Stevener
Carmen Viviano-Crafts
Cassandra Whitcomb
---
New members inducted into Phil Alpha Honor Society
The Zeta Gamma Chapter of the Phi Alpha Honor Society for Social Work inducted 30 new student members and two honorary faculty members on Wednesday, April 29, 2020. Phi Alpha was formed in 1962 and recognized as a member of the Association of College Honors Societies (ACHS) in 2019. The Syracuse University Zeta Gamma Chapter was founded in 1996 as part of the School of Social Work's 40th-year Anniversary Celebration. This year's induction class represents the twenty-fourth group of students to be elected as members of the Zeta Gamma Chapter.
The ceremony featured an opening welcome by Dr. Carrie Jefferson Smith, Director of the School of Social Work, and a keynote address by Dr. Ken Marfilius, titled More Empathy, Less Greed, More Respect. Nadaya A. Brantley closed the ceremony by reading an original poem written specifically for this occasion, titled New Beginnings!
Fourteen BSSW students were inducted this year:
Arielle Alford
Iryna Chushak
Amber Deyo
Hayley Feuchs
Sarah Gelfond
Emma Henriksen
Ronni Isenberg
Jennifer Jacobs
Katherine Koehler
Sarah Millward
Jacqueline Peacock
Mark Sukonik
Sally Jo Van Ostrand
Emily Wagner
Sixteen MSW students were inducted this year:
Kaitlyn Dawn Budge
Heather Bell
Melissa Hayes
Caroline Laws Hyneman
Gabrielle Denise Nicolini
Chanelle Peart Jones
Alyssa M. Prawl
Amy O. Redmond
Andie C. Riffer
Gillian Rowan Riggall
Julia Elise Sanders
Danielle S. Smith
Kaeley Anne Spicer
Carmen Viviano-Crafts
Judy Ann Walsh
Nicole Elizabeth Wolpink
Congratulations to all members of the Zeta Gamma Chapter of Phi Alpha honor society in the Class of 2020:
BSSW Graduates:
Elise Bojanowski
Amber Deyo
Hayley Feuchs
Tess Harper
Molly Murphy
Madison Oliva
Julia Pion
Marceli Rocha-Rocha
Alicia Marie Smith
Mark Sukonik
Alexandra Tulowiecki
MSW Graduates:
Kaitlyn Dawn Budge
Heather Bell
Jessica DeLutis
Lisa Dussing
Christina Firnstein
Arlaina Harris
Melissa Hayes
Caroline Laws Hyneman
Haleigh Johnson
Michaela Marotti
Kelly Marriott
Gabrielle Denise Nicolini
Suzanne Parsons
Alyssa M. Prawl
Gillian Rowan Riggall
Desiree Rivas
Ellan Ryan
Julia Elise Sanders
Danielle S. Smith
Kaeley Anne Spicer
Kylene Stevener
Carmen Viviano-Crafts
Cassandra Whitcomb
Faculty members named honorary members of Phi Alpha
Eevie Smith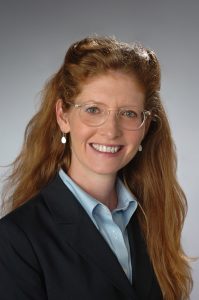 Eevie Smith studies social work and youth care practice in residential treatment centers for children (RTCs). Her most recent study investigates the unique challenges and opportunities of hiring, training, and retaining an expert workforce in RTCs where client violence, intensive regulatory oversight, and moral distress are an everyday part work. Eevie is leading an effort to design and pilot a supportive group intervention to help youth care workers reduce burnout and turnover and better manage the demands of their important work. Eevie has practiced in a range of social work settings, including residential treatment, harm reduction outreach with substance users, supportive and transitional housing, and therapeutic foster care. She loves teaching courses on social work practice, human diversity, and human/animal interaction, and was the 2019 recipient of the Falk College Faculty of the Year Award for Excellence in Teaching.
Dr. Smith's devotion to teaching the important yet challenging topics, of human diversity and social justice, is highly respected by her colleagues and students. She successfully engages every student and helps them understand the responsibility of all students, including those of a dominant group, have "to be actively involved in undoing racism and oppression." In all her courses, Eevie actively listens and seeks to understand her students' points of view to enhance her teaching while also making changes to reflect the most current, effective and relevant research-based content. Her goal is to prepare her students to make "reasoned practice decisions" that are both evidence-based and consider a client's reality.
Tracey Musarra Marchese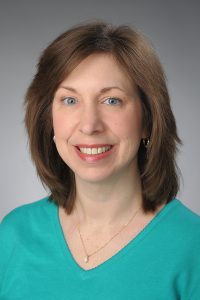 Tracey Musarra Marchese received her Master of Social Work (MSW) degree from Rutgers University in 1993. She is a Licensed Clinical Social Worker (LCSW) in New York and New Jersey. During her 27 years of experience, Tracey has worked in various health and mental health settings, as well as in private practice. She has developed expertise in trauma, dissociation, and mind-body wellness. She is a recognized expert in the treatment of complex trauma and the use of Eye Movement Desensitization and Reprocessing (EMDR) psychotherapy. She is one of only about 120 EMDR trainers in the world. Tracey is an EMDR-certified therapist and EMDRIA-approved EMDR consultant and trainer of EMDR Therapy. She is also a certified perinatal bereavement counselor, has advanced training in Evolving Thought Field Therapy (EvTFT), and is Intermediate Level trained in Somatic Experiencing.
Tracey is a Professor of Practice in the School of Social Work at Syracuse University, where she teaches courses in micro and macro social work practice to senior undergraduate students, and courses in child and adolescent trauma, complex trauma, and death, dying and terminal illness in the MSW program. She also holds a clinical faculty appointment in the Department of Psychiatry at Upstate University Medical Center, and she has a private practice in Syracuse. In 2019, Tracey was honored as the Falk College Faculty of the Year for Excellence in Service. This Award recognized her service to the School of Social Work, Falk College and Syracuse University, as well as to the local Syracuse community.
---
Students Continue Treating Clients Through Virtual Therapy
Distance counseling and telesupport during the pandemic keep clients and student interns connected and build stronger community.
A Syracuse University Story by Jaclyn D. Grosso originally published on April 17, 2020.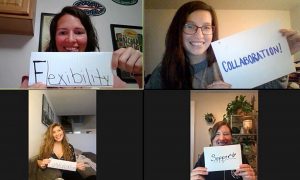 Continuity of care is essential for clinicians who are committed to treating a variety of conditions. With the shift to virtual classrooms, fitness apps and telehealth during the new coronavirus pandemic, clinicians have pivoted quickly to maintain standards of therapy care and avoid abandoning their patients during this high-stress time.
"Barriers definitely exist for many of the clients I am treating," says Tess Tracy, a social work graduate student in Syracuse University's Falk College. Tracy works with third- and fourth-graders as part of an internship to fulfill her master's degree. "Families sometimes have only one phone for mode of communication. Many don't have a computer or internet access at home. Parents are trying to work. It can be really challenging to get that full counseling."
When New York State announced it was closing schools on March 16, students who are enrolled in clinical internships had to quickly transition to providing teletherapy with their clients in Onondaga County, who range from 6 to 70 years old and have social and emotional health issues, as well as behavioral health concerns, depression and substance addictions. Working with local partners at BOCES and Liberty Resources, Falk College organized distribution of Chromebooks, arranged free internet service and set up Google Classroom for clients when they learned schools would be closing. While Tracy normally works with eight students during the school day, she has seen only three of them for virtual counseling.
"When it worked out to see my client, I was sobbing. I miss them so much," Tracy says. "When I get little messages, they are a glimpse of hope."
Reimagining Delivery of Services
The COVID-19 pandemic exposed an already vulnerable population who may have difficulty accessing therapy due to cost, transportation, and their residential location.
"What's clear is that although this is really a great way for individuals to access therapy, the inequity in our client base is also playing out," says Tracy T. Walker, director of field instruction at Falk College. "Individuals may have to choose if they use phone minutes for therapy or connecting with their mom. As we move forward, further inequities will be exposed in terms of who can receive services. How do we look at policies, and what is essential in a person's life as a basic need versus a luxury?"
While students continue to weave the basic tenets of therapy into their distance internship experiences, other benefits of the transition are quickly emerging, Tracy says. While she misses the face-to-face interactions and conversations before an in-person class, her classmates are really opening up and sharing information through multiple lines of communication.
"We're talking even more and sharing information," Tracy says. "It's been great. We used to have time to talk before classes, but now we have even greater lines of support and have made more of a community. The overall positivity has gotten people to grow and share, be more creative and think about the opportunities."
Walker and her colleagues are already exploring how to incorporate this new form of teaching into the educational plan moving forward. While the telehealth piece is not new, the transition has revealed alternative ways to deliver services. "The impact is that telehealth is not so unknown, and our students are now part of this first wave of professionals in a system that will transform and shift," she says. "One of the changes that may occur is an examination of policies and their impacts, so we avoid setting up another system of inequity in our society."
As this crisis starts to shift from acute health and medical needs, mental health professionals—especially social workers—will be the front line of services. "This is a great example of how crisis equals opportunity," Walker says. "How do we reframe this to see what we can due to innovate, shift and enhance the way that we teach and do our work."
Walker recognizes that the COVID-19 situation has forced both agencies and clinicians to quickly innovate and prepare students so they are equipped with the skills to best serve clients.
"In social work practice, we build relationships and connect with clients. This transition isn't the same kind of ending process with a client," says Walker. "The ending and goodbye process can be scary. When it's done well, people can move on in a strength-based way and feel good about it. We can't do it the way we've done it before. I am so impressed with what we've been able to do."
---
Human development, addictions studies are the base for Falk senior's social work career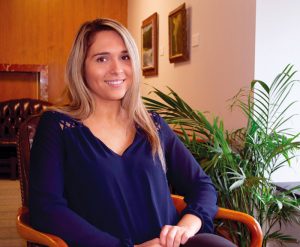 In her hometown of New Haven, Connecticut, senior Rachel Brennan '20 was encouraged to join the Orange family when she heard alumni talk about their time at Syracuse University. The academic disciplines in Falk College convinced Brennan that Syracuse University was the place for her. "I remember sitting at an informational meeting about the College and thinking that I was interested in every single major offered," she adds.
As a senior human development and family science major with a minor in addiction studies, Brennan's time at Syracuse University has given her exciting experiences both far and near—from study abroad in Sydney, Australia at the University of New South Wales, to a summer internship at Yale University's Program for Recovery and Community Health (PRCH).
Brennan, who plans to pursue a Master of Social Work degree and a career in social work, originally enrolled as a social work major. But she discovered a different path to graduate school. "After reading the courses offered in Human Development and Family Science (HDFS), I decided to switch my major. I believed the HDFS courses would give me a great foundation in understanding theory and practice when working with children and families that I could then apply to my social work graduate study and field placement," explains Brennan.
Following her gut helped Brennan discover a passion for research, inspired by her coursework. "I was interested in researching the current opioid crisis after taking multiple courses focused on drug use," she says. "I had gained a concrete understanding on the impact substances have on the brain through my rigorous courses, and I was drawn to learning more about the impact using opioids can have on an individual's personal life and overall emotional wellbeing."
As an intern in the PRCH, Brennan interviewed individuals recovering from opioid addictions. The study examined the effectiveness of different treatments for substance use disorders provided Connecticut Department of Mental Health. "The interview packet was extensive and asked personal questions about how their addiction took form, if they have co-occurring disorders, and if their substance use impacted relationships with their loved ones," Brennan explains.
"Working hands-on with people struggling with substance use disorders was a powerful experience and I hope to continue researching the impact of addiction on children and families throughout my graduate studies and future career," Brennan adds.
After graduation, Brennan plans to pursue a Master of Social Work following a clinical track. "I hope to work in out-patient mental health clinics while working towards my LCSW," she says. "My end goal is to eventually have my own private therapy practice where I work with children and families impacted by addiction and other traumatic experiences."
---
Interpreting Coronavirus News for Onondaga County's Deaf Community
Falk College graduate student Grace Cogan serves as a Deaf interpreter for Onondaga County's daily COVID-19 briefings.
A Syracuse Story by Mary Beth Horsington originally published on April 16, 2020.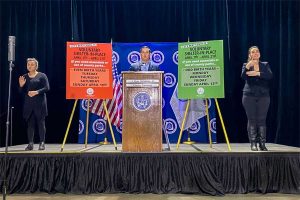 Grace Cogan G'22 is a graduate student pursuing a master of social work at Syracuse University's David B. Falk College of Sport and Human Dynamics while also working toward certification as a Deaf interpreter. In early March, she received an unusual request from Maggie Russell, director of interpreting services for Aurora of Central New York. The organization offers services for people who are blind, visually impaired, Deaf or hearing impaired. Russell wanted Cogan to provide Deaf interpreting for daily news reports about the novel coronavirus from Onondaga County Executive Ryan McMahon and Syracuse Mayor Ben Walsh G'05. The reports to the community are televised live each day from the OnCenter in downtown Syracuse.
Russell had convinced county representatives that closed captioning in English would not meet the needs of the vulnerable Deaf population because American Sign Language (ASL) is a visual language with no written form. Cogan was initially hesitant. "I had never done platform interpreting and you have all kinds of cameras on you," she says. But when all other interpreters were ruled out, she agreed.
Cogan herself is Deaf, so the process is quite complicated. She stands on the stage to the right of the podium and Monu Chhetri, a Nepalese Deaf interpreter, stands to the left. Chhetri's role is critical in serving the needs of Syracuse's growing population of Nepalese refugees with hearing loss, which uses Nepalese Sign Language as its primary language. "Certified hearing interpreters sit on the floor below us," Cogan explains. "They do the listening and 'feed' us the information. We then interpret the information from spoken English to American Sign Language and Nepalese Sign Language. It was a bit nerve-wracking at first, but as I grew more confident in my skills I became more relaxed in the press conference environment."
Cogan says she sometimes "goes overboard" with her physical expressiveness while interpreting. "It is critically important to me that I express to the Deaf community the seriousness of COVID-19, and I do that by visually matching the tone of the speaker," she explains. "A Deaf person cannot hear tones or emotions, so facial expressions and body language are visual communication modes."
The press briefings usually last an hour, and the process can be grueling. "It's akin to running a marathon," says Cogan. "But what has really impacted me about this whole experience is that if I'm this exhausted, how much more exhausting must it be for the frontline workers, the doctors, nurses and EMTs? It is a sobering reality to know that they are the ones keeping the patients alive and risking their own lives. At the same time, I watch Ryan McMahon and the county health commissioner, Dr. Indu Gupta, work tirelessly to curb the spread of COVID-19. They really do care about this community, and I could not be more proud to be a Syracusan."
Discovering an Identity
Cogan's parents discovered she was Deaf when she was 15 months old. "My parents made a decision to use cued speech rather than ASL," she says. "Cued speech is a visual mode of communication that uses hand shapes and placements in combination with the mouth movements of speech. I learned how to read and write and speak to the best of my ability, which boosted my language skills and opened many opportunities for me." But when she was 12 years old, she learned ASL from friends who attended the BOCES Deaf Program at Split Rock Elementary School. "That's where I really discovered my Deaf identity," she says. "Since then, ASL has become my primary language and English is second.
"My identity went from a person who was a little d deaf to a big D Deaf. I realized I had to advocate and fight for the rights of a population that was being failed by a system that is 'hearing' or 'ableist' driven. Little d means you try to identify with the hearing world and don't really associate with the Deaf community. Big D means you identify culturally with the Deaf community and do not see yourself as having a disability. We also prefer to use the term 'Deaf' rather than 'hearing impaired.'"
A Central New York resident since age 5, Cogan was a stay-at-home mother for 20 years before completing her bachelor's degree in community and human service at Empire College in 2016. She then worked for Aurora as a care manager, advocate and interpreter for Deaf children and children of Deaf parents. "It was very rewarding, and I felt the call to go back for more schooling," she says. "My grandfather was an alumnus of Syracuse University and I've always wanted to follow in his footsteps. I also know that Syracuse University's School of Social Work at Falk College prepares students for licensure and is one of the best accredited programs in New York state."
The Right Place
As a Syracuse University student, Cogan believes she is exactly where she needs to be. "Since I am a social worker at heart, I knew I had to finish my degree here. Syracuse provides the best learning experience and cultural humility in working with people of varying disabilities," she says. "I absolutely love all the professors I've met and taken classes with, especially Jennifer Genovese and Keith Alford, who made it his mission to make sure my accommodations were being met in class." Genovese says that Cogan embodies the social work profession's core values of service, social justice, dignity and integrity. "Grace Cogan is an inspiration," she says. "She does not see barriers for herself or others, she sees opportunities. I value her endless energy, intellect, positivity, insight and thoughtful contributions to the classroom. She has expanded my vision of what it means to be an educator, and she has inspired me to be a better professor."
I knew I had to finish my degree here. Syracuse provides the best learning experience and cultural humility in working with people of varying disabilities.
Cogan's professional goals have been shaped by her life experience. "Many people don't realize the oppression that Deaf people face on a daily basis," she asserts. "My dream career would be working as a Deaf therapist or as a school therapist in Syracuse, where we desperately need clinical therapists. I want to work directly with Deaf families, children and adults in their own language and culture to help foster healthy changes in their lives." Cogan's commitment to the Deaf community is truly remarkable, says Maggie Russell. "Grace embodies selflessness, and I am honored to team with her and be part of her professional journey."
Becoming an alumna of her hometown University will be a dream come true for Cogan. "There's no place like home, and where else can you get half moon cookies, little Italian restaurants, beautiful scenery, and the Regional Market?" she says. "Syracuse University has a place in my heart and my family—we bleed salt, Irish and Orange!"
---
Social Gerontologist Maria Brown Shares Advice on Caring for Aging Parents During a Pandemic
From phone calls to grocery shopping, there are several ways you can help older family members overcome the challenges of social distancing.
A Syracuse Story by Lisa Maresca originally published on April 16, 2020.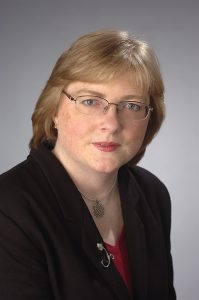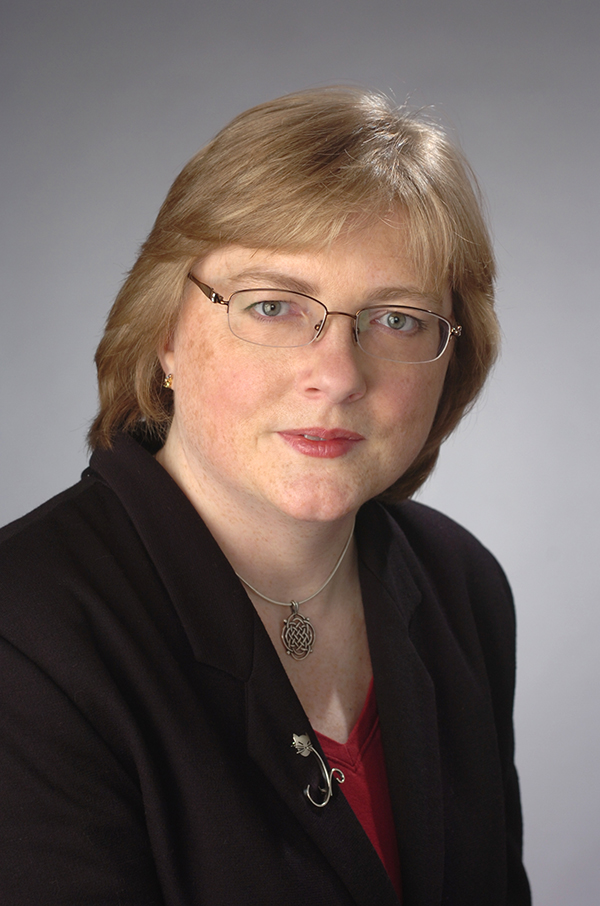 As people all over the world deal with the coronavirus pandemic, many wonder how to care for aging parents. Adults aged 60 or older, especially those with severe chronic medical conditions, are at higher risk for more serious coronavirus illness and death.
Maria Brown, an assistant research professor at the David B. Falk College of Sport and Human Dynamics and faculty associate in the University's Aging Studies Institute, offers advice on how to help care for aging parents or family members.
Stay in Touch
Calling or video chatting is a great way to comply with social distancing recommendations while also checking in with aging parents. For those who don't have computers or smart devices, Brown recommends increasing the frequency of telephone calls. During these calls, you can ascertain both how they are doing with the isolation and what kinds of assistance they need, as their feelings and needs will change over time.
"If they do have smart devices, you can help them download and set up apps for video calls with you and with other members of the family," says Brown. "In some instances, such as when you and your parents have the same type of smart device, like an iPhone, a video call can be as simple as a regular call, and all they have to do is answer the call as they normally would. In other cases, they may need an app like Skype or Google Duo."
Schedule specific times of day to call so they have something to look forward to throughout the day.
Grocery Shop
Brown recommends offering to do the grocery shopping for your parents and carrying the bags to their doorstep. Alternatively, you could help them place online orders through delivery services such as Instacart that can be delivered to their home.
Watch Out for Scams
Trying times can bring out the best in people. Unfortunately, they can also bring out the worst. The Federal Trade Commission (FTC) has issued guidelines for avoiding coronavirus-related scams. Talk to your parents about these scams and share some of the FTC's tips:
Don't respond to texts, emails or calls about checks from the government.
Ignore online offers for vaccines or home test kits.
Hang up on robocalls.
Do your homework when it comes to donations.
Encourage Older Adults to Stay Busy
Remaining at home all day poses challenges for many people, but it can pose greater risks for older adults. Brown says that the inactivity that can come with being confined to the home can cause declines in physical health and in physical abilities. "Older adults are also at greater risk of developing depression in social isolation, and their elevated risk for bad outcomes from this virus can cause higher levels of anxiety and lead to sleep difficulties," Brown says.
There are plenty of mental and physical activities your parents can engage in while at home, including reading books, playing board games or going for walks.
Seek Help from a Distance, If Necessary
If you don't live near your aging parents, you can assist them from afar by reaching out to their local friends or neighbors who can connect with them in person (using social distancing rules, like visiting through a door or window, or standing 6 feet or more apart outside) and help you monitor how they are doing.
In cases where parents need more support than you can provide, you may want to reach out to their county's Area Agency on Aging (AAA). Their local AAA's homepage should have a message specific to the COVID-19 pandemic, particularly if their county health department has a stay-at-home order in place.
Communicate Thoughtfully
In some cases, older parents may be resistant to staying at home or following social distancing directives. This can be a challenging scenario, particularly if your message is in conflict with other messages they're receiving about the seriousness of the coronavirus threat to them as individuals. For some elderly parents, the effectiveness of your message may depend on their comfort level with having others run errands for them, and on whether they have family nearby to provide support or must instead rely on strangers.
How you communicate with an elderly parent who doesn't feel at risk really depends on your relationship with that parent and the type of information that appeals to their knowledge level and personality. In families with multiple adult children or adult grandchildren, it might be better to have family members with whom the parent has historically been more open to challenging conversations be the ones to deliver this message; or, depending on the parent, it may work better to have a consistent message coming from multiple family members.
For older adults who see themselves as healthy and have a good understanding of health information, consider presenting them with the statistics like the age distribution of people who have died from the coronavirus.
For Aging Parents with Cognitive, Visual or Hearing Challenges
Brown also suggests reviewing Claire Pendergrast's tips for communicating with older adults experiencing hearing loss, vision impairment or cognitive disabilities. Pendergrast, a Ph.D. student in sociology at Syracuse University, offers concrete advice.
For individuals with cognitive challenges:
Repeat essential information.
Use plain language.
Focus on important meaning of the information.
For individuals with visual challenges:
Make information easy to see and read by using a large font, high contrast and spacing between lines.
Reduce the amount of text.
Provide visual and audio information when possible.
For individuals with hearing challenges:
Limit background noise.
Speak clearly with more volume.
If your parents fall into the vulnerable population category, following these tips should help ease the difficulty of caring for them during this challenging time.
---
The Passion and Power of Social Work in a Changing World
A Syracuse University story by Eileen Korey originally published on Tuesday, April 7, 2020.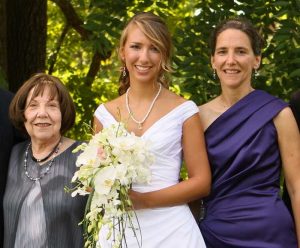 Three generations of Bregman women live separately in the Syracuse community. Yet, they each wake up every morning looking forward to their work ahead and go to bed each night knowing they have made a difference in their community. Ona Cohn Bregman '58, her daughter Randi Bregman '90 and granddaughter Sonja Gottbrecht '10 will tell you it's because they have each found their calling in the profession of social work. Together, they are truly living the 2020 theme that was introduced last month to mark the annual Social Work Month, Social Workers: Generations Strong.
As communities face a new kind of collective trauma due to the spread of COVID-19, the need for social distancing and economic hardships unforeseen by many, there remains inestimable value in what social workers offer to individuals and society. Social work is one of the fastest-growing professions in the United States, with the number of people employed in social work positions projected to grow by 11 percent over the next decade, according to the Bureau of Labor Statistics.
When Ona pursued her graduate degree in the 1950s, she did so to become more independent. "In those days, a young woman had to live with her parents or you were considered "loose"—unless you were in graduate school," Ona recalls. "At first, I thought I would study philosophy, but the department had no scholarships available. So, I opted for social work."
She ended up drawn to the theoretical side of social work, understanding how systems function, from family systems to societal systems. The retired Syracuse University associate professor of social work contributed to and co-edited the book "Bringing Systems Thinking to Life: Expanding the Horizons for Bowen Family Systems Theory" (Routledge, 2010).
"The social work profession is about understanding the way systems work, either inside of a person or a family or a community," Ona explains. "It's about understanding how none of us stands alone. It's about understanding how we interact. Like a mobile moving through space, each part of the mobile is responsive to how the other parts move. And if you are working with one person in a family, it can have an impact on the whole family."
Ona says she grew up believing that it was imperative to "leave the world a better place"—influenced by her own service-oriented parents and her Jewish background (the concept of the Hebrew phrase "tikkun olam" is to help repair the world through acts of social responsibility). "I picked a profession that would let me do that," she says. "For example, I approached teaching as a way to help people think and take responsibility for their choices and actions, much more than learning a set of facts."
Daughter Randi recalls the civil rights marches that Ona took her to as a child as part of a larger influence on her social work career choice. "For me, social work is about social justice on both micro and macro levels. You can help individuals and change the world….one person at a time." She recalls learning the concept of "private problem, public issue" in one of her first classes at Syracuse University. "You look at an individual who comes before you with a private problem—maybe they can't pay their rent—and when you start to help that individual, you recognize a social justice need, a systemic problem that needs to be addressed."
Randi graduated from Syracuse University with an M.S.W. degree in 1990 and began working at Vera House, a not-for-profit agency that provides services for those experiencing domestic and sexual violence. Today, she is the agency's executive director.
She developed a three-credit, a masters-level course in family violence that is still being taught in the Falk College School of Social Work, and she is a member of the Chancellor's Task Force on Sexual and Relationship Violence.
Though she must devote herself mostly to administrative and leadership work, she still picks up the 24-hour support line at Vera House to stay connected directly to the people her agency serves. "I still learn things from them. Vera House is a calling. This is the work I was put on this earth to do. It's who I was born to be."
Randi's daughter Sonja says she was similarly "called," but in a different way. She remembers volunteering at Vera House when she was in high school, watching her mother excel at handling crisis calls, and deciding that stress just wasn't for her. Her own path was more influenced by helping to care for her great-grandmother after a debilitating fall. "I love the elderly, so I got a certificate in gerontology and ended up doing hospice, palliative care and end-of-life work."
After receiving both her B.S.W. (2009) and M.S.W. (2010) degrees at Syracuse University, she realized how broad her options were with an advanced social work degree. She began working at Catholic Charities of Onondaga County, where she was at first focused primarily on homeless services but is now chief performance officer, supporting agency programs to better serve the most vulnerable in the Syracuse community.
"I'm blessed to be in a job that I love," says Sonja, the mother of two young children, ages 4 and 6. "If we won the lottery, I would still come to work every day. I know that I'm contributing and making a difference."
Prior to the COVID-19 crisis, Ona, Randi and Sonja would get together every weekend, with family, to continue to strengthen the generational bonds. A tradition they plan to continue once the social distancing protocols are no more. "It's important to us to be intentional about that," says Sonja. "Especially for my kids."
From weekend dinners together to changing the world in their own separate ways, the Bregman women remain Generations Strong. "Generations are essentially building blocks for the vision of the world I would like to see," says Randi. "With each generation standing on the shoulders of those who came before."
---
Page 1 of 18