Social Work News
Falk College welcomes new faculty and staff
Syracuse University's Falk College is pleased to announce the appointment of new staff members who have joined Falk College in the past academic year, including Karen Goebel, office coordinator in the School of Social Work; Meredith Groman, administrative assistant and Jamie Rhoades, assistant teacher in the Bernice M. Wright Child Development Laboratory School; Kevin McNeill, internship placement coordinator in the Department of Sport Management; Megan Myers, assistant director of development in the Office of Advancement; Kathleen Nasto, office coordinator in the Department of Human Development and Family Science; Jessica Pitcher, career advisor and David Sly, associate director of career services in the Office of Student Services; Laura Sauta, administrative assistant and Megan Snow, internship placement coordinator in the Department of Public Health, and; Zachary Schuster, assistant director of undergraduate admissions and recruiting in the Office of Admissions.
It also welcomes five new faculty members, Justin Ehrlich, Chandice Haste-Jackson, Jeremy Losak, Stefanie Pilkay, and Xiafei Wang.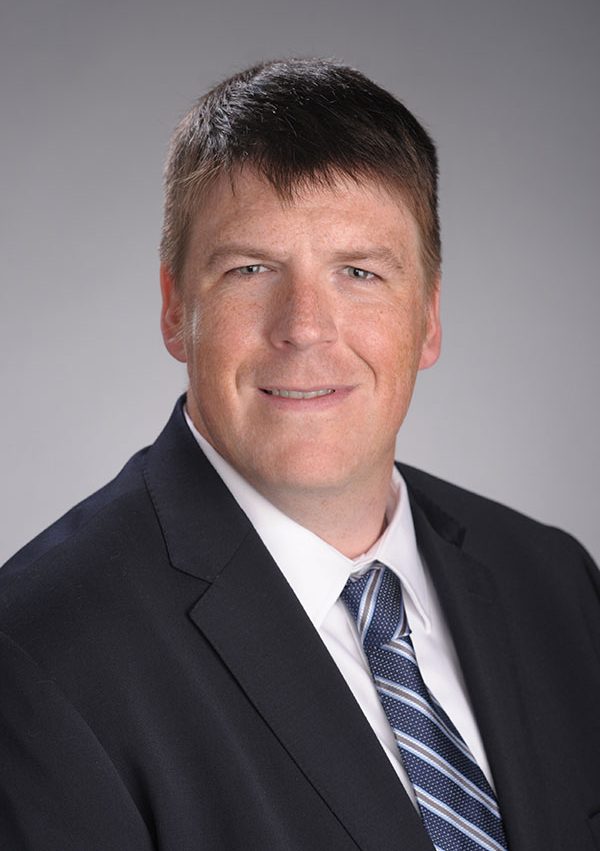 Justin Ehrlich
Assistant Professor, Department of Sport Management
Justin Ehrlich joins Syracuse University's Falk College Department of Sport Management as a tenure-track assistant professor in Fall 2019, where he will teach in the area of sport analytics.
Prior to joining Syracuse University, Ehrlich taught as an associate professor at Western Illinois University, School of Computer Sciences, since 2010 in Macomb, IL. There, he specialized in data visualization, visual analytics, sport data computation and analysis, machine learning, computer graphics, virtual reality, server-side development, languages and technology. He taught several courses such as Topics of Computer Science: Data Visualization, Operating Systems, Advanced Computer Graphics, Server-Side Development, and served as chair of the Council for Instructional Technology and chair of the IT Governance Executive Committee. He previously worked as an AViSSS (Animated Visual Supports for Social Skills) lead software developer for the University of Kansas and has held roles such as ASP.net developer for Nomise Systems and lead developer for HSSportsTV.net, both in Wichita, KS.
Ehrlich has published several papers in sport data visualization and analysis in Public Choice, Mathematical Social Sciences, Games, and the Journal of Quantitative Analysis in Sport. He has conducted many talks and live demonstrations on sport data computation, visualization, and analysis that incorporate use of Tableau (with VizQL), R, Python, and D3.
Ehrlich's research has received support from the U.S. Department of Education, the U3E, and from Falk College. He was awarded the Moore Best Ph.D. Dissertation Award from the University of Kansas School of Engineering, the Provost's Award for Academic Excellence in Teaching with Technology from Western Illinois University, and several awards from WIU's College of Business and Technology.
Ehrlich earned a Ph.D. in computer science from the University of Kansas in 2010. His dissertation was titled, "The Effect of Desktop Illumination Realism on Presence and Generalization in a Virtual Learning Environment." He also holds a computer science M.S. earned in 2007 from Wichita State University, and an accounting and business administration B.B.A., earned in 2004 from Friends University in Wichita, KS.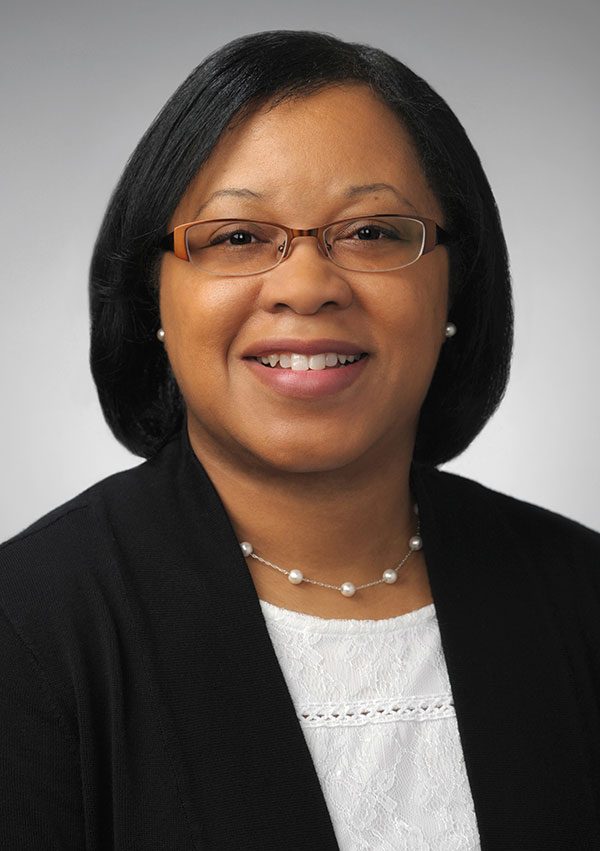 Chandice Haste–Jackson
Associate Teaching Professor, Department of Human Development and Family Science
Chandice Haste–Jackson is an associate teaching professor in the Department of Human Development and Family Science beginning Fall 2019.
In addition to working as internship coordinator in Falk College since 2016, Haste-Jackson has served as adjunct faculty in the Department of Human Development and Family Science since 2005, teaching courses such as Intimate Relationships and Gender Roles, Family Development, and Diversity, Equity and Inclusion. She has also taught as adjunct faculty for Onondaga Community College and the American Public University/American Military University System Department of Human Development and Family Studies. She previously served in Syracuse University's School of Education as director of the Liberty Partnerships Program and has held positions at the Chadwick Residence, Inc., the Dunbar Association, and Syracuse Model Neighborhood Facility, Inc.
Haste-Jackson serves on the School Counselor Advisory Board for the Syracuse City School District and is a consultant for My Brother's Keeper Syracuse initiative founded by President Obama.
Haste-Jackson has presented for the Society for Research on Adolescence in San Francisco, CA and the National Council on Family Relations in Orlando, FL. She has given presentations for the U.S. Department of Education Office of Innovation and Improvement in Washington, DC, the New York State Education Department Empire State Youth Summit in Albany, NY, Ethiraj College and Women's Christian College in Chennai, India, as well as for the National Diversity Council's Upstate New York College Diversity Summit in Syracuse, NY, among others.
Haste-Jackson's work in urban youth development, vulnerable families, cross-cultural family dynamics, and diversity education has received support from the United States Department of Housing and Urban Development, New York State Office of Temporary Disability Assistance, New York State Legislature-Joan Christensen, Onondaga County Department of Long-Term Care and Aging Services, Onondaga County Youth Bureau, Onondaga County Department of Health, Onondaga County Department of Social Services, United Way of Central New York, and Syracuse University.
Haste-Jackson earned a Ph.D. in child and family studies from Syracuse University in 2013. Her dissertation was titled, "Strengths and Risk Factors for Romantic Relationships: Perspectives of African American Women." She also holds a M.S. in behavioral sciences with a concentration in psychology, earned from Cameron University in 1999, and a B.A. in cultural anthropology, earned from Syracuse University in 1996.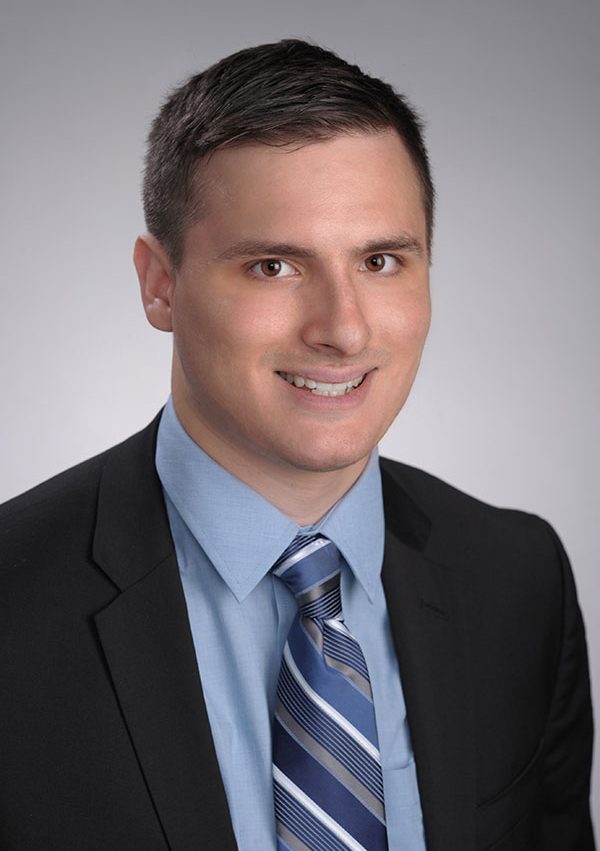 Jeremy Losak
Assistant Professor, Department of Sport Management
Jeremy Losak joins Syracuse University's Falk College Department of Sport Management as a tenure-track assistant professor in Fall 2019, where he will teach in the areas of sport management and sport analytics.
Prior to joining Syracuse University, Losak was a graduate assistant in the John E. Walker Department of Economics at Clemson University. His teaching experience includes positions as teaching assistant for Sport Economics, teaching assistant and later head teaching assistant for Undergraduate Principles of Microeconomics and Principles of Macroeconomics, and teaching assistant for Managerial Economics. In the sports industry, he was a baseball analytics consultant for Wasserman Media Group, marketing analytics consultant for The Madison Square Garden Company, and analytics intern for the Auburn Doubledays.
Losak's research focus is in sports economics, particularly sport labor markets and betting markets. He is published in Managerial Finance and in the Academy of Economics and Finance Journal. He has given several presentations at venues such as the 2019 Eastern Economic Association Conference in New York, NY; the 2018 Southern Economic Association in Washington, DC; the 2018 Missouri Valley Economic Association's Sports Economics Session in Memphis, TN, and; the Center for Research in Sports Administration's Sports, Data, and Journalism Conference at the University of Zurich in Switzerland.
Losak is the recipient of a Junior Researcher Award for the 2018 Sports, Data, and Journalism Conference at the University of Zurich and the Distinguished Student Paper Award at the 2018 Missouri Valley Economic Association Conference. He is also the recipient of travel grants from the Institute for Humane Studies Hayek Fund and Clemson Graduate Travel Grant Service. He was named a 2016 Falk College Class Marshal and a Falk College Scholar while at Syracuse University.
Losak earned a Ph.D. in economics from Clemson University in 2019 where he was a Koch Fellow in the John E. Walker Department of Economics. He also earned a B.S. in sport management from Syracuse University's Falk College in 2016.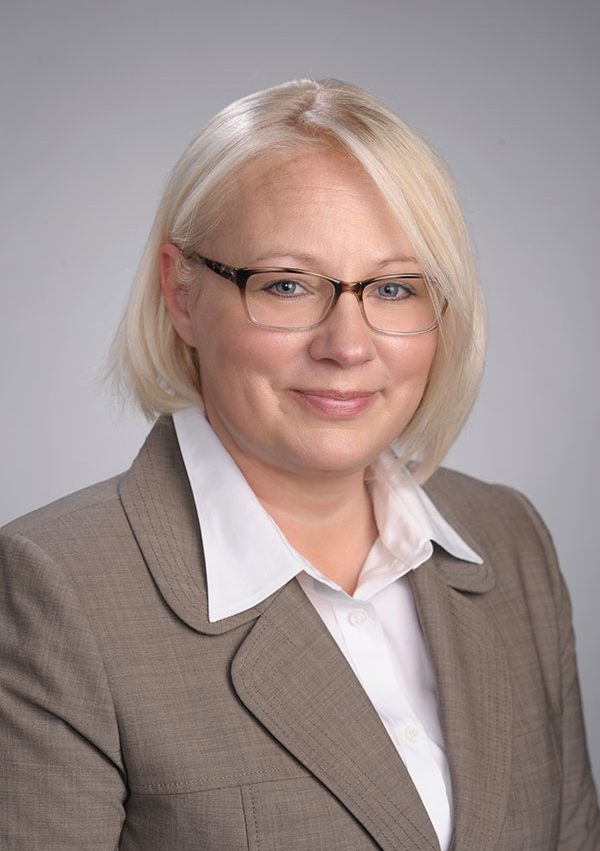 Stefanie Pilkay
Assistant Professor, School of Social Work
Stefanie Pilkay joins Syracuse University's Falk College School of Social Work as a tenure-track assistant professor in Fall 2019.
Before joining Syracuse University, Pilkay served as an adjunct lecturer at both Yeshiva University's Wurzweiler School of Social Work in New York, NY since 2018 and the University of Tennessee, College of Social Work in Knoxville, TN since 2015, teaching research methodology, trauma theory and practice, lifespan and neurophysiological development, and human behavior in the social environment. She was also a postdoctoral fellow at the Emory University School of Medicine, Department of Gynecology and Obstetrics in Atlanta, GA since 2017. She has served as a court-appointed special advocate for Anderson County Tennessee Juvenile Court. In 2014, she was a forensic social worker for the Community Law Office, Knox County Public Defender's Office. Specific to her research experience, Pilkay has served since 2018 as an early investigator trainee on "Developmental Origins of Health and Disease," an international cross-discipline research study with collaborations between Canada and the U.S.
Pilkay's research interests include trauma, early-life adversity, inter-generational transmission of adversity, adversity and trauma mechanisms for risk and resilience in human development. She is published in the Journal of Social Work Education, the Journal of Social Service Research, and has given several peer-reviewed presentations, most recently at the 64th Annual Program Meeting of the Council on Social Work Education in Orlando, FL, Connecting for Children's Justice Conference in Murfreesboro, TN, the International Congress on Child Abuse and Neglect in Prague, Czech Republic, and the 73rd Annual Scientific Meeting of the Society of Biological Psychiatry in New York, NY. Pilkay's work has been supported by the National Institute of Health/National Institute on Minority Health and Health Disparities and the University of Tennessee Health and Science Center.
Pilkay earned a Ph.D. in social work with a minor in graduate statistics from the University of Tennessee, Knoxville in 2017. She holds a M.S. in social work, an evidence-based interpersonal practice major with trauma treatment graduate certification, and a B.S. in social work with majors in honor's social work and psychology, earned in 2014 and 2013, respectively, from the University of Tennessee, Knoxville.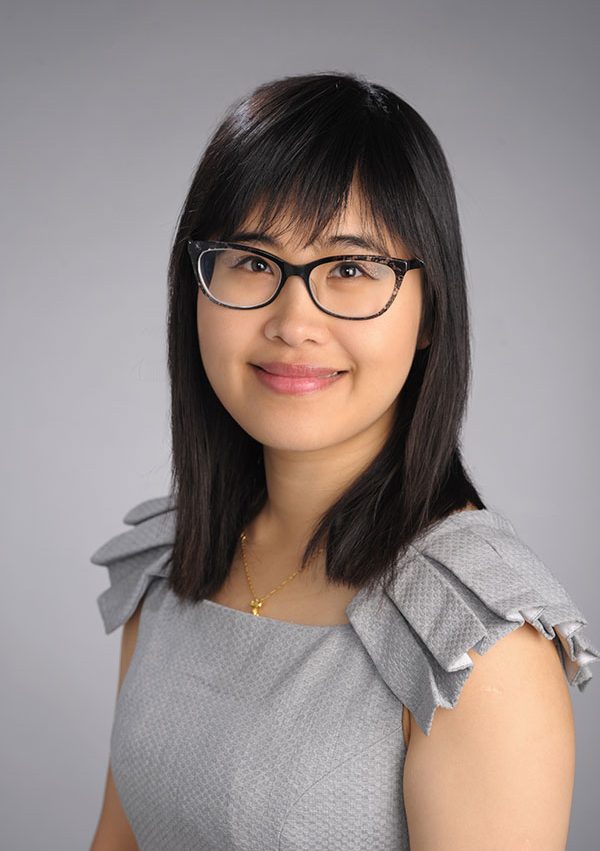 Xiafei Wang
Assistant Professor, School of Social Work
Xiafei Wang joins Syracuse University's Falk College School of Social Work as a tenure-track assistant professor in Fall 2019.
Prior to joining Syracuse University, Wang served as a research assistant on "Evaluation of Chinese National Working Committee on Children and Women & the United Nations Children's Fund Joint Child Friendly Spaces Project in China," funded by the United Nations Children's Fund: China since 2017, and on "Improving Child and Adolescent Mental Health and Health Outcomes: Integrative Family and Systems Treatment (I-Fast) Integrated Episode of Care Model" since 2014, funded by the Ohio Department of Mental Health & Addiction Services and Department of Developmental Disability.
Wang has published peer-reviewed articles in Social Work Research, Journal of Social Service Research, The Journal of Health Disparities Research and Practice, Children and Youth Services Review, Journal of Developmental Behavioral Pediatrics, PsyCh Journal, Community Mental Health Journal, Child Psychiatry and Human Development, Child Abuse & Neglect, and Social Work in Mental Health, as well as multiple book chapters.
Wang recently presented at the 32nd Annual San Diego International Conference on Child and Family Maltreatment in San Diego, CA, the Council of Social Work Education 64th Annual Program Meeting in Orlando, FL, National Association of County and City Health Officials 2018 Annual Meeting in New Orleans, LA, the Joint World Conference on Social Work, Education and Social Development 2018 in Dublin, Ireland, ResilienceCon 2018 in Nashville, TN, and the Society for Social Work and Research 22nd Annual Conference in Washington, D.C., among other presentations.
Wang's work has received support from the Society for the Psychological Study of Social Issues, Big Cities Health Coalition, Central Benefits Health Care Foundation, and the Ohio State University College of Social Work.
Wang earned a Ph.D. from The Ohio State University in 2019. Her dissertation was titled, "Breaking the Cycle of Intergenerational Trauma: A Mixed-Methods Study." There, she also earned her M.S.W. in 2015. She earned a M.A. in social work and social policy from Peking University in 2012 and a L.L.M. from the Peking University Law School & The Raoul Wallenberg Institute of Human Rights and Humanitarian Law in Beijing, China and Lund, Sweden in 2011, where she was named valedictorian. She also earned a B.A. in social work from Peking University in 2009.
---
Welcome Class of 2023!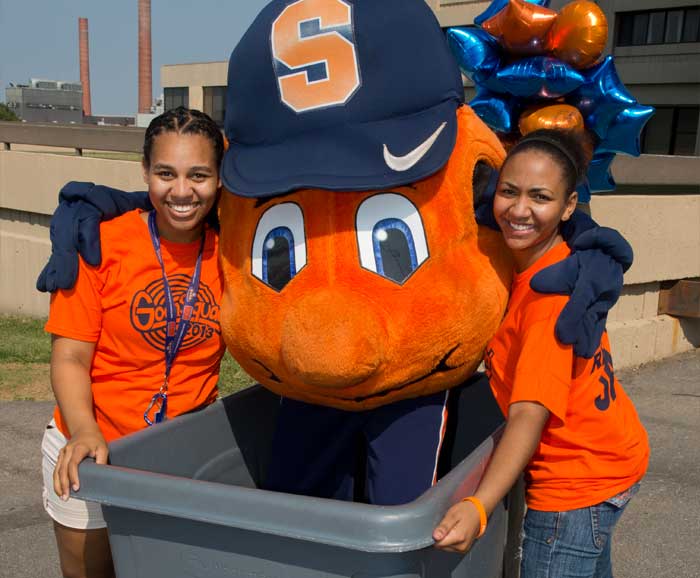 Falk College welcomes the Class of 2023 including 307 first-year and 20 transfer students who join 140 graduate students who are new as well. Welcome back to all Falk students who, this year, represent 40 states and 30 countries!
The entire welcome week schedule for new students can be found by visiting the Syracuse Welcome 2019 Guide.
---
Veterans, health and society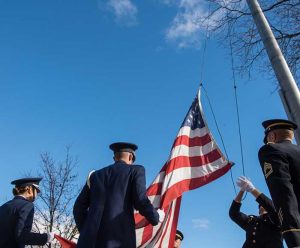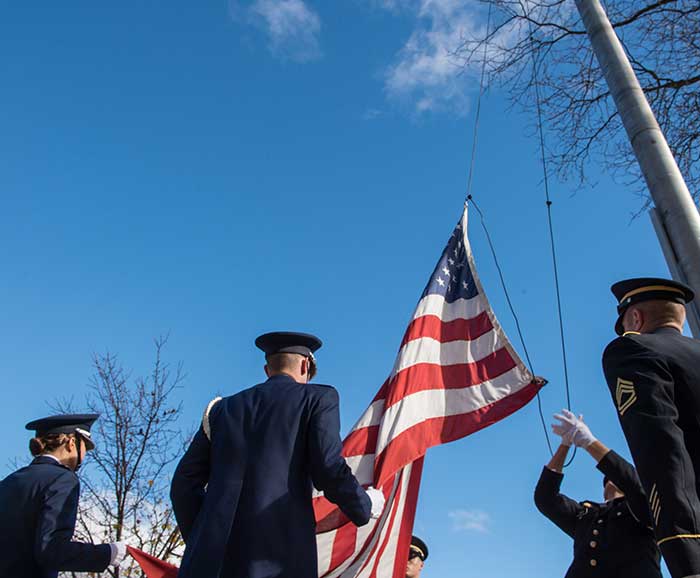 A recent edition of WCNY's Connect New York, "Beyond PTSD: Veterans, Health & Society," interviewed visiting teaching professor Kenneth Marfilius. The session, led by broadcast journalist Susan Arbetter, focused on the mental health challenges of veterans. Besides Dr. Marfilius, experts included Derek Coy, a Veterans' Health Officer with the New York State Health Foundation, Melissa Spicer, President, CEO and Co-Founder of Clear Path for Veterans, and Dr. Tanya Bowen, a Licensed Clinical Psychologist at the Syracuse VA Medical Center.
Active veterans often do not seek help because they fear a mental health diagnosis that could lead to a Fit for Duty examination and possibly to a discharge. Active duty mental health therapists can also have a difficult job of balancing the needs of the military and the mission as well as those of the individual on active duty service. These challenges can lead individuals on active duty to not speak up when they have a problem. Sometimes the feeling of not being able to talk about mental health carries over into their civil lives once they are out of the service.
While active duty, Marfilius served in the U.S. Air Force Biomedical Science Corps in multiple roles: active duty clinical social worker, mental health therapist, family advocacy officer in charge, and as manager of the alcohol and drug prevention and treatment program. He was commissioned in 2013 and was discharged in 2016 having obtained the rank of captain. At the Barksdale Air Force Base, Marfilius served in a variety of mental health roles related to sexual assault prevention and response, suicide prevention, and traumatic stress. Marfilius has also worked for the U.S. Department of Veteran Affairs at the Syracuse VA Medical Center in the Healthcare for Homeless Veterans Program.
Community groups are key in engaging veteran populations and providing a sense of belonging and purpose. One example of this is the Clear Path K-9 program, which has helped to shed light on the importance of animal-assisted intervention for health. Veterans dealing with depression, anxiety and chronic health issues sometimes have a hard time acknowledging the need for help and can be mistrustful of the system depending on their experiences. During the WCNY edition, Melissa Spicer explained that Clear Path was founded on building trust within the veteran's population. The organization originally started with a K-9 service dog program.
The K-9 Dogs2Vets program, provides emotional support to veterans with post-traumatic stress, military sexual trauma, or physical impairments by establishing a reliable relationship between them and a canine companion. Dogs are selected from shelters and matched with veterans based on specific needs and interests; some veterans bring their own dog.
The program is getting results. Veterans have become less isolated and more interactive, less hypervigilant and more physically active. The program has witnessed increases and reemergence of sense of humor, decreased levels of anxiety, increases in levels of trust and higher levels of confidence among participants. Participants have to problem solve and make important decisions with respect to their canine partners, and this spills over into decision making in other aspects of their lives.
Falk College's Dessa Bergen-Cico and Brooks Gump, professors of public health and Yvonne Smith, assistant professor of social Work have all worked with Clear Path's Dogs2Vets program doing research that seeks to quantify the gains, measuring things like post-traumatic stress, quality of life, and negative thoughts among participants in the program. Initial results of the program assessment looked good, including a marked decrease in PTSD symptoms and negative thoughts and increased quality-of-life scores—the opposite of outcomes observed in a control group waiting to enroll in Dogs2Vets.
Further research has reported significant reductions in PTSD symptoms, as well as reductions in perceived stress, isolation, and self-judgement, and significant increases in self-compassion when comparing the veterans that participated in the Dogs2Vets program over a 12-month period to veterans that were on the waiting list to receive a dog during that time period.
Falk College has been committed to helping veterans through research and educational opportunities:
The Undergraduate Trauma Research Training program is a National Science Foundation (NSF) Research Education for Undergraduates (REU) opportunity directed by Brooks B. Gump, a professor of Public Health in Falk College. This program brings together veterans and non-veterans in a safe environment to pursue trauma research activities.
The program, now in its eighth year, draws on personal experiences of veterans who understand the nature and context of traumatic events. The program has many successful stories to share that has impacted the lives of veterans and their families.
Falk College supports many other active research projects and has many veteran's students currently getting an education. If you are a veteran or individual interested in joining an educational program doing research with the veteran population, reach out to our Admissions team to find opportunities that fit your passions.
Falk College's many academic programs focus on touching the lives of individuals and making an impact within our community.
View a listing of all of Falk College's academic programs
Watch the full interview on WCNY Connect New York
---
Social Work Student Leads On and Off the Ice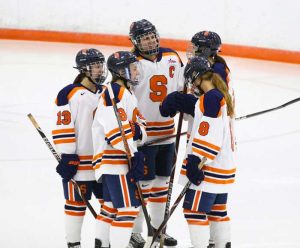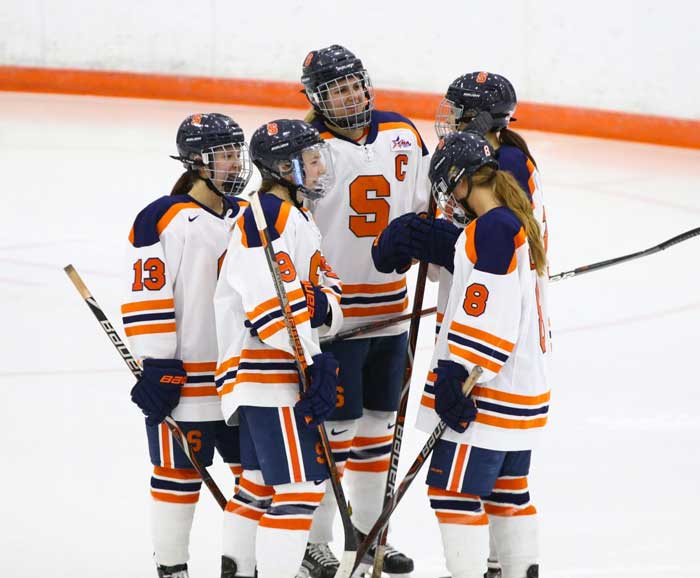 As Allie Munroe graduates with a bachelor's degree in social work from the Falk College, she looks back with deep gratitude on her experience as a student and a four-year defensive player on the Syracuse ice hockey team. After leading Syracuse University to its first NCAA tournament, Allie Munroe charts a course to play professional ice hockey.
Allie Munroe grew up at the hockey rink and soccer field in Yarmouth, Nova Scotia. Not one to sit on the sidelines, she strapped on her first pair of ice skates at age five. That was the first spark that ignited Munroe's passion for hockey.
That passion—and a fierce determination—led her to teams and camps in Canada, and eventually to Syracuse University, to develop her skill in the sport.
As a senior captain, she helped lead the Orange to the College Hockey America (CHA) championship and a spot in the NCAA tournament, the program's first in its 11-year history. She was awarded Best Defensive Player and Most Valuable Player honors at the team's annual banquet on April 25.
Becoming a student athlete
When exploring colleges, Syracuse quickly captured her heart. "I stepped on campus and fell in love right away," she says. "There is so much history here, and everyone knows Syracuse for its academics and athletics."
She learned to balance her life on the ice and in the classroom. As a part of the required internship for her major, she worked at Huntington Family Centers, a local organization dedicated to children and families. There, Munroe provided pre-counseling and post-counseling services. "My internship experience helped me to put everything in perspective," she says. "No matter what happened on the ice, I got to go to my internship and help people. Some days were difficult, but it was rewarding."
Munroe says being a student-athlete helped her to be a better student in the classroom, especially with time management skills. "When I was in class, I usually had to stop myself from trying to relate it to hockey," she says.
Munroe reflects on the growth she has experienced on the ice during her four years at Syracuse. "I was a little bit of an underdog; I am going to assume the coaches really didn't know how I would turn out," she says of her first year. "I am pretty proud of what we have accomplished, especially winning the CHA in my senior year."
In that first year, the team advanced to the CHA championship game, but lost, leaving a strong memory. "In the locker room, there was not a dry eye. You realize you are never going to play with these seniors—or this team—again," she says. "It's heartbreaking."
The experience was still fresh in her mind as the team closed in on the 2019 title. "I think there was about a minute left and I had the puck. I realized we were going to win and can't even describe the feeling," she says. "I had a flashback—there are no sad tears today. We get to throw off our gloves and celebrate."
"That moment, just skating on the ice, it was like, this is it—it has been an amazing four years at Syracuse. It just all hit me at that moment. Especially celebrating afterwards. I had tears in my eyes, just all of the emotion of past years," she says.
The Promising Path Ahead
With her Syracuse experience complete, Munroe is now focused on playing hockey professionally and working toward her goal of representing Canada in the Winter Olympics. She also plans to pursue a career in social work in the future.
Wherever her journey takes her, she says she will always bleed Orange.
"I am going to miss Syracuse more than you know," Munroe says. "It has a special place in my heart; I couldn't have picked a better school."
Adapted from Syracuse Stories – an article by Kelly Homan Rodoski
---
O'Donnell Honors Family Heritage in Military Service, Now Serves Fellow Veterans Through Social Work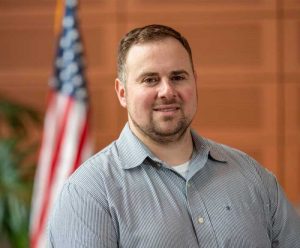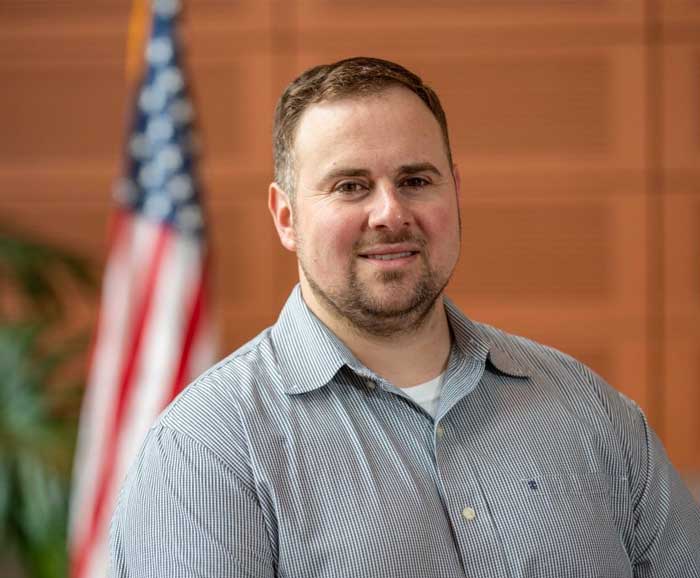 Everyone remembers where they were when they first heard the news. It was a day that lives were changed forever. Yet in the midst of devastating loss on Sept. 11, 2001, many responded in the spirit of courage and hope. Nathan O'Donnell '20 was one of them.
A high school student at the time, O'Donnell decided to join the U.S. Air Force upon graduation. "I felt called to serve my country," he says. "I wanted to be a part of something bigger than myself and use the skills that the Lord gave me to serve our nation."
O'Donnell shares in a family legacy of military service. His father served in the Army for four years, and his two younger brothers are in the Air Force. "Growing up, I was always proud of my family's accomplishments and service," he says. "I am very honored to have the opportunity to serve with them and continue to honor our family name."
His paternal grandfather, Edward Joseph O'Donnell, served in both the U.S. Navy and U.S. Army for a total of 26 years. He enlisted at age 17 before finishing high school. When he returned to Syracuse after World War II, he enrolled in business administration at Syracuse University in the late 1940s.
Today, his grandson Nathan is following in his footsteps as he finishes his junior year at the University.
Born and raised in Syracuse, O'Donnell has many memories of cheering on the Orange in the Carrier Dome. He always dreamed of attending his hometown university, but he had other goals in mind following high school. "I wanted to serve in the military and have the chance to see the world."
Little did he know his time in the military would later lead him to study at Syracuse University. "While in the military, I had the opportunity to do a few different jobs," he says. "I enlisted initially as an F-15 Eagle maintainer and later cross-trained into the medical career field as a mental health technician and substance abuse counselor. I really enjoyed working with my fellow service members and their families to overcome challenges."
O'Donnell's experience as a mental health technician inspired him to continue his life of service, this time in the field of human services. That's when he enrolled in the School of Social Work in Falk College. "I am so blessed to have the opportunity later in life to make my dream come true and attend Syracuse."
With the help of dedicated staff in the school's Office of Field Instruction and their many connections with agencies and organizations throughout the region, O'Donnell completed an internship at the Syracuse Veterans Administration (VA) Medical Center in the fall, where he hopes to start his career as a social worker. "I would first like to work at the VA in order to give back to fellow veterans." He envisions someday taking his skills to other settings, as well, including the Syracuse public school system.
In the meantime, connecting with others in the University's veteran community continues to be a major highlight of his college experience. "It has been fun to see what classes we have together," he says. "We are able to go through the same experiences together."
O'Donnell says he has found a supportive community at Syracuse: "Overall, my experience as a student veteran at Syracuse has been amazing. There have been so many people that have been put in my path that have been so helpful and welcoming. My transition from military service to civilian and student life could not have gone more smoothly. Syracuse University is truly a place for veterans."
After completing his bachelor's degree, O'Donnell plans to continue his education at Syracuse and pursue a master of social work degree.
---
Falk College honors faculty for excellence in research, service and teaching
Professors Rashmi Gangamma, Tracey Musarra Marchese, Yvonne Smith receive 2019 Falk College Faculty of the Year Awards
Faculty members from the Department of Marriage and Family Therapy and School of Social Work were honored for excellence in teaching, research and service with 2019 Falk College Faculty of the Year Awards on May 3. The honorees, who are nominated by their peers for outstanding performance and contributions to students, the Falk College, Syracuse University and beyond. They include:
To read more about the teaching, research, service and scholarship activities of the honorees on the Falk College website, visit the Falk faculty web pages.
---
Once a High School Dropout, Now a High Honor Student in Falk College
By Eileen Jevis | Syracuse University News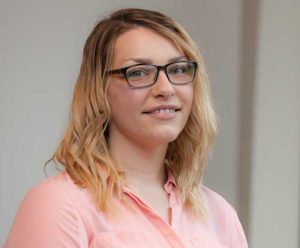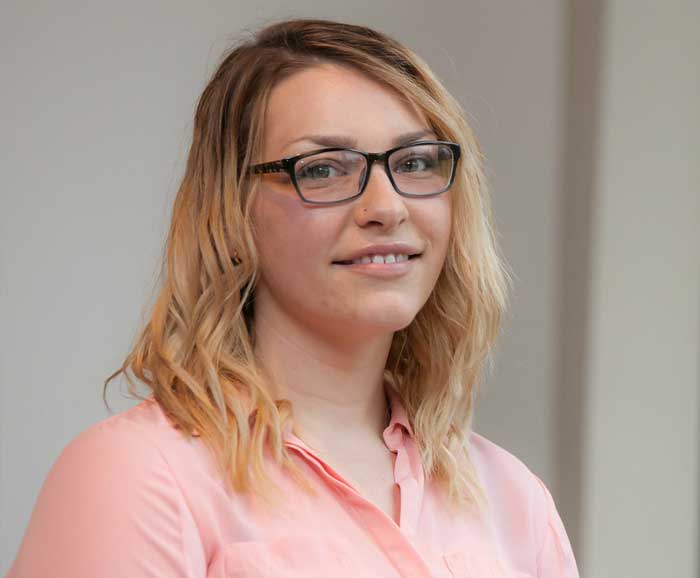 As a public school student in Massachusetts, Chevon Janczuk thought she had her life all figured out. "It turned out my teenage self was wrong," she says. Janczuk dropped out of high school in her sophomore year, but immediately recognized her mistake. She obtained her GED and after earning certification as a nursing assistant went to work in health care.
However, Janczuk couldn't make ends meet with the salary she was earning. "Dropping out of high school wasn't the best decision on my part," she says. "I knew my calling in life was to help people, so I began to search for jobs that appealed to me. I did an internet search for social work degree programs, and Syracuse University was one of the first to pop up."
Janczuk called University College and spoke to someone in the advising office who told her about the Arthur O. Eve Higher Education Opportunity Program (HEOP). "The next thing I knew, I was applying to college," she says.
Janczuk has four children—ages two to eight—and two stepchildren. She finds it challenging to balance raising her children, studying and doing homework. "If you want something bad enough, you find the time for it," she says. "Sometimes it requires waking up before the kids and staying up late. Other times it requires staying extra hours on campus to take advantage of the quiet in the lounge or library."
She also relies on family, friends or a babysitter to take care of the children for a few hours so she can write a paper or do research. "And sometimes, I involve my children in my homework," she says. "For whatever reason, helping me with statistics is fun for them."
Janczuk credits the strong support of her family for her success and recognizes that her husband is her strongest cheerleader. "He is incredible at cheering me on and encouraging me," she says. "There have been many nights where I've made him listen to long scholarly papers that I'm sure he doesn't want to hear about. I am constantly rambling off statistics and research that doesn't interest him, but he listens anyway."
Janczuk is a sophomore in Falk College with a double major in social work and psychology. On April 19, Janczuk, who has a GPA of 3.9, received an Academic Excellence Award at the HEOP Awards Ceremony. She was also selected to address the students, faculty and staff attending the event. "I know that you realize the opportunity to be in the HEOP program is one that would be foolish to turn down," she remarked in her address. "You have access to a network of individuals—staff at this very college [University College] who go out of their way to make sure you're successful. From the academic advisors, to the professors to the receptionist at the front desk; from the financial aid advisors to your peers, and even the dean—every person that surrounds you is here to support you. You have been handed that opportunity of a lifetime."
When she completes her undergraduate degree, Janczuk intends to pursue a master's degree in social work and perhaps a Ph.D. in psychology. Her interests lie within the criminal justice field, and she hopes to one day be involved in the criminal justice system addressing the mental health needs of inmates. Her goal is influenced by her husband's profession as a corrections officer. "When you see a pattern of repeat visitors to a correctional facility, you begin to wonder what can be done to help them become more productive members of society," she says.
"My hope is that I can give my children a better future due to my decision to earn a college degree and set myself up in a successful career," she says. "As a non-traditional student, it is not always easy. You have to want it, and you have to work for it."
---
Congratulations 2019 Falk Student Research Celebration Winners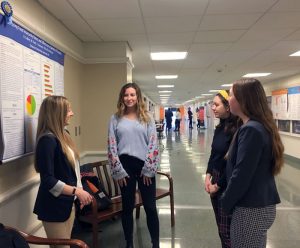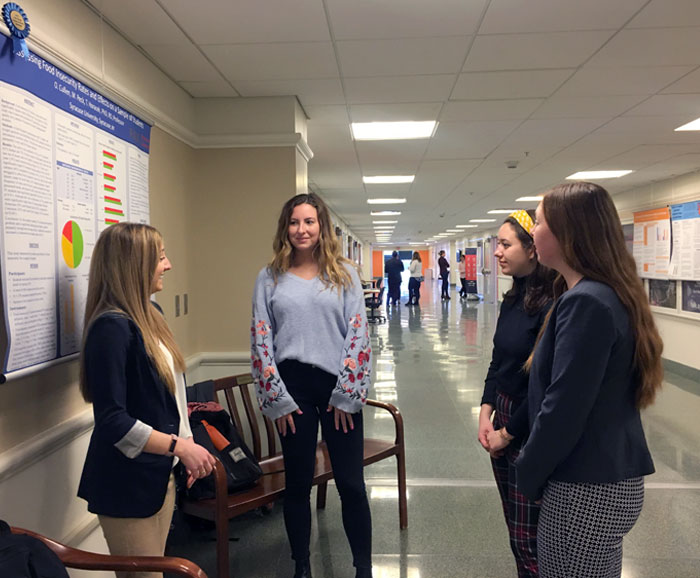 Falk College congratulates the following winners of the 2019 Falk Student Research Celebration:
Undergraduate Winners
Name: Bridget Clark
Kelly Brown, BS; Heather Brubacker, MS, Dietetic Intern; Laura Brown, MS, RD; Baylee Carroll, BS, Dietetic Intern; Elizabeth Gardner; April Hill; Sarah Mihalko, BS; Katie Obojkovits, BS, Dietetic Intern; Madeline Peck; Tanya Horacek, PhD, RD, Professor; Syracuse University, Syracuse NY.
Program/Major: Nutrition Science
Faculty Research Mentor: Tanya Horacek
Title: Process Evaluation of the Healthy Campus Environmental Audits
Name: Olivia Cullen
Madeline Peck; Tanya Horacek, PhD, RD, Professor; Syracuse University, Syracuse NY.
Program/Major: Nutrition Science
Faculty Research Mentor: Tanya Horacek
Title: Assessing Food Insecurity Rates and Effects on a Sample of Undergraduate Students
Name: CB Garrett
Program/Major: Sport Analytics
Faculty Research Mentor: Rodney Paul
Title: Impact of Birthplace on Player Performance in Different Weather Conditions
Graduate Winners
Name: Jennifer Guzzy
Program/Major: Master of Social Work (MSW)
Faculty Research Mentor: Ryan Heath
Title: Extracurriculars and Teachers as a Substitute for Parents: Do they support strong academic outcomes in students without parental involvement?
Name: Madeline Hilton
Program/Major: MSPH Global Health
Faculty Research Mentor: David Larsen
Title: Indoor Residual Spray Campaigns in Community Protection Against Malaria
Name: Ying Zhang
Program/Major: Human Development and Family Science
Faculty Research Mentor: Rachel Razza
Title: Positive Development in Adolescence: the Reciprocal Relationships Between Facets of Self-Compassion and Self-Regulation
---
A Tiny Home for Good, Lepa Jones of Mothers Against Gun Violence to Receive 2019 Rubenstein Social Justice Awards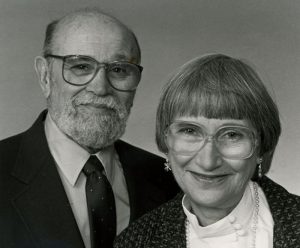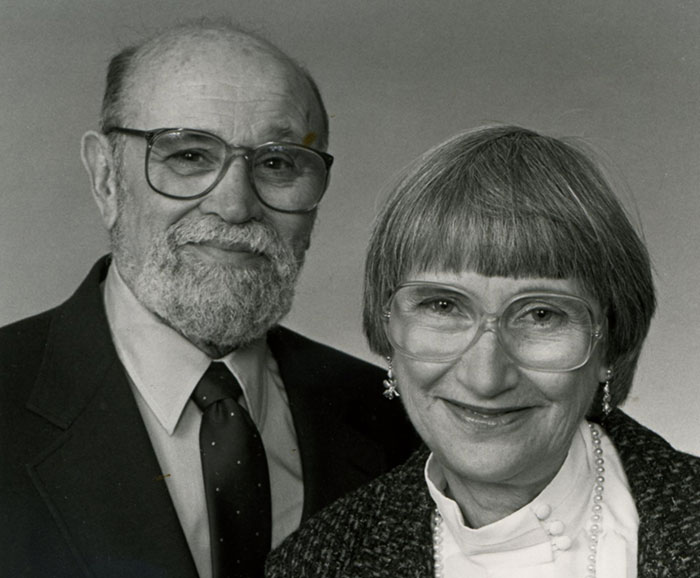 In commemoration of National Professional Social Work Month during March, the School of Social Work in Falk College will present its annual Dan and Mary Lou Rubenstein Social Justice Award program on Monday, March 25, at 6:45 p.m. in Hendricks Chapel. The keynote address will be given by Colonel Parker Schenecker, United States Army (retired), titled, "Overcoming Adversity: Embracing Resilience and Social Change."
Colonel Parker Schenecker was a senior leader and strategist in the U.S. intelligence community, responsible for support to the U.S. defense and counter-terrorism efforts in the Middle East. He finished his 27 year Army career at U.S. Central Command in Tampa, Florida, with combat tours in Iraq and Afghanistan and over 20 deployments in the Middle East. His unique story of service, honor and resilience overcoming adversity is inspiring. After 30-plus years of government service, this leader, role model and father has chosen to continue his service by remembering how his children lived.
Lepa Jones is the president of Mothers Against Gun Violence, who, along with A Tiny Home for Good, Inc. of Syracuse, New York, will be honored that evening with the 2019 Dan and Mary Lou Rubenstein Social Justice Awards for their respective demonstrated commitments to service and social justice in the Syracuse community.
Mothers Against Gun Violence is a grassroots organization that works with neighborhood leaders, politicians, media and local organizations to address and prevent gun violence. A Tiny Home for Good, Inc. supports those facing homelessness by providing affordable, safe and dignified homes and fostering strong community partnerships to ensure resident stability.
Presented for more than 30 years, the Rubenstein Social Justice Award is given in honor of the late professor Dan Rubenstein, a former faculty member in the School of Social Work and his late wife, Mary Lou, a former school social worker. Recipients of this award are role models whose courage and strength inspire others to stand up—and step up—to advocate and be a voice in the Syracuse community. The values of social justice are integral to their daily lives. The work of honorees each year, by their individual and collective examples, exemplify the true spirit of the Rubenstein Social Justice Award.
The event is free and open to the public. Reception to follow. R.S.V.P. to Laura Brown at ljmarra@syr.edu or 315.443.5562 by March 18. Communications Access Realtime Translation (CART) services will be provided. For accommodations requests, please contact Laura Brown at ljmarra@syr.edu or 315.443.5562 by March 18.
---
2019 Falk Student Research Celebration Takes Place March 26-29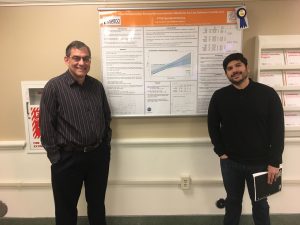 Falk students are invited to submit posters for completed or in-progress empirical, exploratory, policy analytic or hypothesis-driven research projects using qualitative, quantitative, or mixed methods for display, judging, and awards in the 2019 Falk Student Research Celebration March 26-29. The multi-day event will highlight Falk students' research collaborations and their dedication to advancing research knowledge.
Poster entry forms are due March 7 and poster submissions are due March 21. Posters will be on display beginning March 26 near the second floor student lounge and the Falk Café on 2 in the Falk Complex, with judging and awards taking place March 27. Students will present their posters from 12 to 1 p.m. on March 27 and 28.
The Falk College Research Center promotes a robust, collaborative research community in which students play an active role. At Falk, graduate and undergraduate students have the opportunity to work directly with faculty to collect data, analyze findings and draw conclusions on relevant topics surrounding public health, food studies, nutrition, sport management, human development and family science, social work, and marriage and family therapy.
"Conducting research as a student has many benefits, including building a strong relationship with Falk faculty members, improving writing and statistical analysis skills, and creating connections both on and off campus," says instructor Jessica Redmond. "Because much of the research in Falk College has real-world implications, we want students to be able to share their findings publicly, and the Falk Student Research Celebration is the perfect opportunity to do so."
"The student research days is a great showcase of the work our students are doing to understand the world and the human condition," says assistant professor David Larsen. "It's always fun to see the new ideas that our students have, and how they are seeking to improve the world we live in."
Assistant professor Bhavneet Walia agrees. "It's a great way to quench your curiosity," she says. "Come see what our students are up to at the Falk Student Research Celebration."
Winners of the 2018 Falk Student Research Celebration, held March 27-30, 2018, included research in a wide range of topics, such as maternal health, accessibility, and PTSD.
For more information about the 2019 Falk Student Research Celebration, contact Amy Dumas adumas@syr.edu at the Falk Research Center.
---
Page 1 of 13